Ski Resorts for Mixed Ability Groups
Use our ready-made list of ski resorts (below) to search the ski resorts that can be enjoyed by groups of family and friends with different ski or snowboarding abilities.
You can avoid the advanced skiers moaning that the pistes are too flat, or the beginners feeling terrified on the first day, but only if you choose a ski resort that's perfect for all levels of skiers and snowboarders.
Skiing as part of a group is in our view the very best kind of ski holiday, in fact the more skiers and snowboarders the merrier as far as we are concerned.  We love skiing as part of a group.  However bringing a group of friends together with often very different ski ability brings its own problems.
Ski Holidays for Mixed Ability Groups
Finding a ski resort that's just as good for the powder hound who takes the first ski lift up and never comes down until the last lift stops running; and the wish list of the leisurely blue cruiser who stops at every bar for a hot chocolate; and also finding a ski resort where the beginners will pick up the basics and manage to ski with the rest of the group on gentle runs by the end of the week is quite another issue.  If you are booking on behalf of a group like this, it's important that you choose the ski resort that's going to work well for everyone on the holiday.
Not all ski resorts work for all ski and snowboarder abilities but our list of the best ski resorts for a group of friends who all ski at different levels is shown below.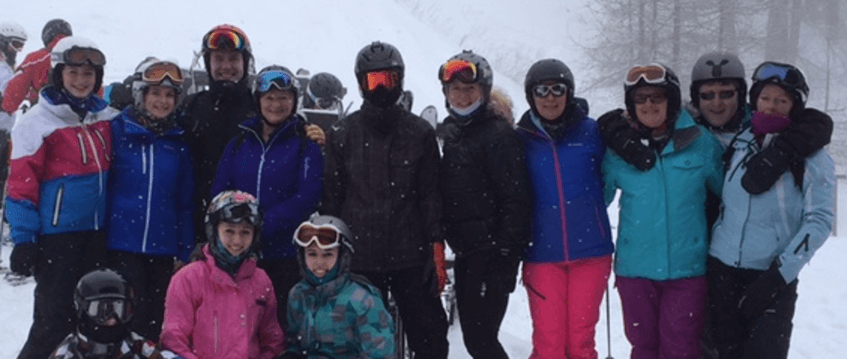 Unsurprisingly it's the biggest ski area of the Three Valley's that gets our vote as the best all-round ski area, simply because of its sheer size. The beginner's area in all the ski resorts making up the Three Valleys are all very good, and so too are the progression slopes for beginners to build up their confidence on.  Intermediate skiers of all levels will appreciate the massive linked runs, and advanced skiers are spoilt for choice between genuinely steep blacks are some glorious off-piste skiing.
Tignes makes it on to our list but Val d'Isere doesn't.  Tignes is and high snow sure and the linking between the easy, the not so easy and the more difficult runs makes it a great choice. However, Val d'Isere, which is one of the best ski resorts in the world isn't good for nervous beginners. The nursery slope in the centre is now very good following the new lift that's been put in, but on the mountain, the only network of progression green runs is good but requires new skiers to negotiate some quite steep blue runs to reach them.
This section of our website is about ski resorts but when we are talking to groups with different ski abilities a very popular solution for many of our groups have been a Club Med skiing holiday.
Think Club Med for Mixed ski ability, it will work out perfectly

As a holiday idea, rather than just thinking about the ski resort, we'd recommend a Club Med skiing holiday. Club Meds ski holidays include ski lessons and guiding, beginners benefit from 5 full day ski lessons, lunch is also provided so its an opportunity for the group to all meet up, Intermediate skiers have an instructor/guide in France it's the ESF ski school, and the advantage of skiing with an instructor is, you can jump the busy ski lift queues! The advanced skiers in your group also get to ski with an ESF instructor but in the most advanced groups, his role is simply to guide you, jump the ski lift queues and if conditions are right, act as an off-piste guide too. All the required safety gear is included in the price of your skiing holiday, and it's all-inclusive, which with Club Med also includes the ski pass, worth close to €230 in most ski resorts, all your meals, all your drinks from the bar, that's another good reason why groups like Club Med, no expensive rounds of drinks to buy! Snacks and coffee are available and are of course included in the price of the holiday.
Club Med have a special deal for Ski Line's clients who book groups
If you are booking your Club Med ski group with Ski Line we can arrange for your group to get special treatment to make your skiing holiday even more special. Things like your own "GO" (Club Med's reps) who will be on hand for any of your needs, ski lessons with just your group in the various ski classes, tables reserved in the dining rooms exclusively for your group use. We can even arrange a cocktail welcome meeting exclusively for your group.
If you need any advice or help on choosing a ski resort that will match all the ticks on your list or want to know more about booking a group skiing holiday with Club Med, please ask us, we have been doing this a long time and are really very good at it. Don't forget if you are booking a ski group, we don't show the very generous group discounts we are able to offer on this website, to get our best rates you need to speak to one of our team by calling 020 8313 3999
Top 10 recommend ski holidays for mixed ability ski/snowboard groups
| | | | |
| --- | --- | --- | --- |
| Resort | Country | Resort height | Ski area size |
| Alpe d'Huez | France | 1,860m | 250km |
| Courchevel | France | 1,850m | 600km |
| Meribel | France | 1,450m | 650km |
| Val Thorens | France | 2,300m | 650km |
| Tignes | France | 2,100m | 300km |
| Grindelwald | Austria | 1,034m | 165km |
| Ischgl | Austria | 1,400m | 238km |
| La Plagne | France | 2,100m | 225km |
| St Christoph | Austria | 1,800m | 340km |
| Lech | Austria | 1,450m | 340km |
... Read more