7 nights
Independent Travel
Ski Holidays in La Plagne
La Plagne has something to offer everyone, boasting reliable snow conditions, a wide selection of catered chalets, and a network of 130 lifts connecting its 11 distinct villages. The resort is particularly well-suited for intermediate skiers and families, with numerous accommodations located within a mere 100 meters from the slopes. For more information, refer to our comprehensive La Plagne Ski Resort Guide.
Eco-friendly
La Plagne is one of our most popular ski areas. La Plagne is doing its bit too with 100% renewable electricity powering the lift system it shares with Les Arcs.

Language


French

Currency


Euro
ski holidays found in La Plagne
Loading holidays ...
Why Ski in La Plagne?
La Plagne, a ski resort split into 11 stations, provides a wonderful opportunity to explore a variety of charming, unspoilt French villages such as Les Coches, Montalbert, Champagny, Montchavin, and purpose-built resorts at higher altitudes. The five main stations in the uppermost part of the area, including Plagne Centre, Bellecote, Belle Plagne, Plagne 1800, Plagne Aime Plagne 2100, and Plagne Soleil, offer high-altitude locations with reliable snow conditions.
Choosing a base among the La Plagne villages or stations is a matter of preference, except during the beginning and end of the season when the higher purpose-built villages provide more assurance of abundant skiing opportunities. All the villages offer convenient access to the slopes and modern, fast lifts.
Les Coches, situated at 1450m next to Montchavin, is an ideal starting point for accessing the connection to Les Arcs. Montalbert, at 1350m, retains its unspoilt and friendly character, surrounded by breathtaking scenery, with the Tarentaise valley on one side and Mont Blanc and the surrounding mountains on the other.
Skiers staying in Champagny can easily connect to the main skiing area of La Plagne by taking two lifts. They have the option to ski back to the village via a red run or take the Champagny cable car. Champagny is located on the back side of the ski map.
Montchavin, a traditional farming village at 1250m, sits just below Les Coches at the bottom of the La Plagne ski area. It offers an attractive car-free village centre with a few shops, a kindergarten, and a ski school. Its location makes it convenient to cross over to Les Arcs via the link.
Plagne Centre serves as the commercial hub and the focal point for après-ski activities. Constructed in the 1960s, it predates the realization that timber-clad buildings are more visually appealing than concrete apartment blocks. Though it may not be aesthetically pleasing, it provides excellent access to the skiing. There are newer developments located above that are more attractive in design.
Belle Plagne and Bellecote, situated at 2100m, are high-altitude villages located just above and to the left of Plagne Centre. They are closely connected by lifts and ski runs, offering convenient access between the two.
Plagne 1800 is where you'll find most of the catered chalets. It is located just below Plagne Centre and is connected by a chair lift. In the evening, there is a "good" walk along the road to Plagne Centre, but ski lifts also run buses directly to Plagne Centre. There are a couple of bars, such as Les Mines, that offer live music in the evening.
Aime Plagne 2100 is situated above and to the right of Plagne Centre. It is home to the popular Club Med 3 Trident all-inclusive resort, as well as a selection of apartments and chalets. Its higher elevation ensures reliable snow conditions until the end of the season.
Plagne Soleil features accommodations centred around a village square and is home to only two restaurants and two bars. The livelier village of Plagne Centre, with its wide selection of bars, restaurants, and shops, is just a short walk or bus ride away. From Plagne Soleil, it is possible to travel to and from each of the villages in La Plagne.
In addition to the extensive 225km of piste skiing that La Plagne Mountain offers, 85% of the runs are categorized as blue or red, making it an ideal ski area for intermediate skiers and snowboarders.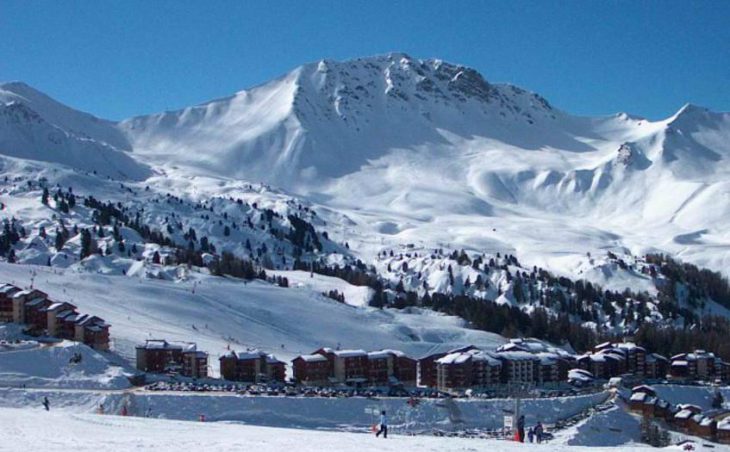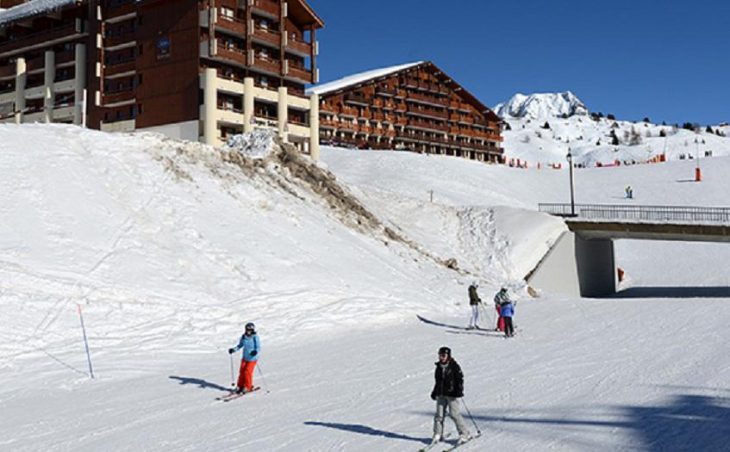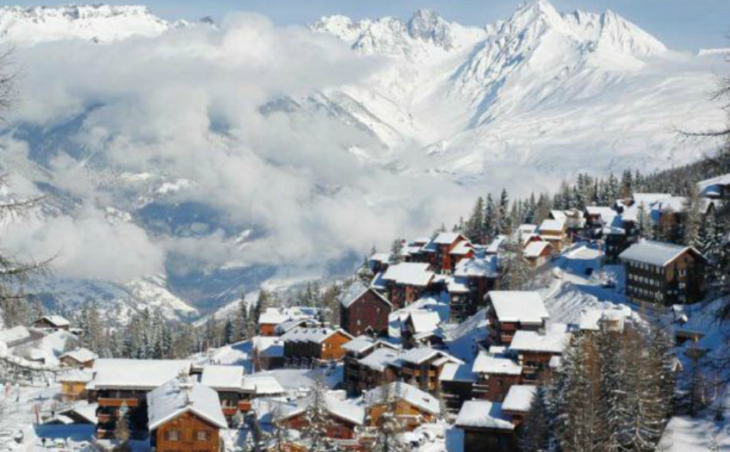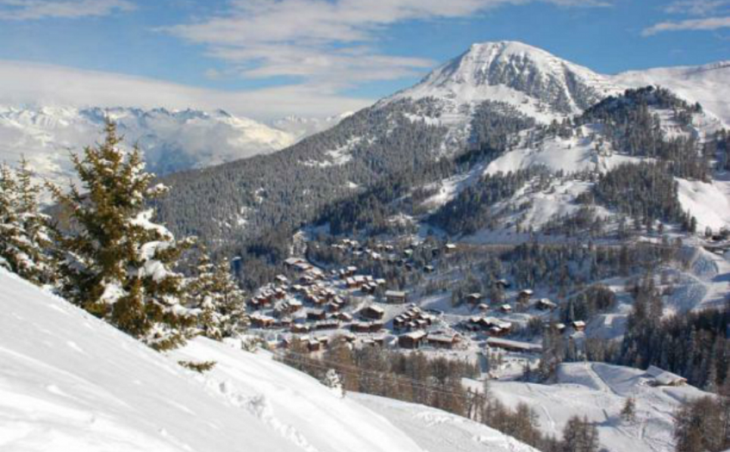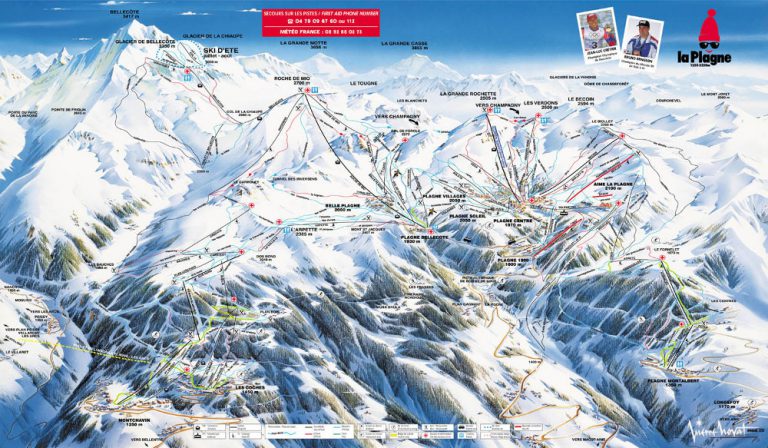 Upper Piste

depth

Lower Piste

depth

Weekly

Snowfall
0 cm
100 cm
200 cm
300 cm
400 cm
Based on weekly average snowfall data November 2000 - April 2018
Pistes
Altitudes
Resort Altitude


2100m

Highest Piste


3250m
Expert Ratings
Beginners skiing at ski resort of La Plagne
With gentle nursery slopes and highly proficient English-speaking ski instructors, La Plagne guarantees that beginner skiers will quickly embrace the multitude of blue and green runs spread throughout the resort. It's an exceptional destination for novice skiers to learn and build their skills.
Intermediate skiing in La Plagne
La Plagne is a paradise for intermediate skiers, offering an array of exhilarating motorway skiing and serene powder runs amidst the trees. With its diverse range of slopes, including the often undiscovered runs down to Champagny, this resort is a true delight. The fast red and blue trails gracefully navigate the mountain's contours, making La Plagne an exceptional choice for intermediate skiers at every level.
Advanced skiing in La Plagne
For an advanced skiing experience, head to Bellecote, where you'll discover two long runs with a vertical drop of 1000m. Another thrilling option awaits at Aime La Plagne, where the north-facing Emile Allais run winds through the forest. This run is often deserted due to the limited number of drag lifts to bring you back up. While there are plenty of challenging red runs to conquer, it's highly recommended to hire a guide to fully explore the vast off-piste potential in the area.
Although La Plagne is predominantly known as an intermediate skiers' paradise, the off-piste opportunities here are excellent. Since most skiers stick to the marked piste trails, the off-piste terrain remains in great condition even weeks after fresh snowfall. This is in stark contrast to places like Chamonix, where finding untouched off-piste snow becomes increasingly difficult as everyone flocks to those areas. Don't miss the chance to descend 2000m on the run from Bellecote to Peisey Nancroix, and for challenging on-piste skiing, the Biolley sector offers steep blacks that will put your skills to the test.
Snowboarding in La Plagne
La Plagne also provides a fantastic experience for snowboarding enthusiasts. Riders of all skill levels can enjoy the diverse terrain, including long and easy high open runs, as well as fantastic off-piste opportunities. Unlike many other resorts, fresh off-piste boarding in La Plagne can last for weeks after fresh snowfall. It's advisable to avoid the blue runs from the glacier, as they can be long and flat, less enjoyable for snowboarding.
The skiing in La Plagne
La Plagne boasts one of the largest single resort lift systems in the world, providing excellent access to a vast network of runs suitable for skiers of all levels. The resort is especially well-suited for intermediate skiers, with a majority of the runs (85%) classified as reds and blues. With runs extending in all directions, skiers can easily avoid the sun-exposed slopes in the afternoon.
With a remarkable 215km of pistes, the choices are endless, leaving you unsure of where to start first! The snow reliability is generally high, although the lower-lying villages may experience slightly less snow at the beginning or end of the season. In 2004, the highly anticipated link to Les Arcs was opened, effectively doubling the size of the already expansive ski area.
Après ski in La Plagne
During the low season, La Plagne has a relatively peaceful atmosphere. However, there is still a wide range of après ski options to choose from, especially catering to the younger crowd in Plagne Centre. Aime-la-Plagne, although quieter, offers various activities such as an ice rink, day and night snowshoe walks, ice climbing, cinema, as well as a selection of shops and restaurants.
Accommodation in La Plagne
We have 226 properties available in La Plagne. If you're hunting for your accommodation by name, then you'll find it here, or for availability and prices select 'Search Holidays'.