Whether it's because many of us have at least a minimal school boy/girl understanding of the French language; or it's because France has the biggest linked ski areas in Europe; one thing is for sure; British skiers and snowboarders love France. It's been our number one destination forever. Even when we started to fall out of Love with France when ESF (French Ski School) banned British tour operators from offering free ski guiding to its clients, we reluctantly for a while at least still continued to book our ski holiday there. Read more ...

It's thought that as many as 33% of British skiers choose France out of the other options, Austria, Switzerland, Andorra, Italy, and North America. For Ski Line it's about 50% of our clients who choose France first. It seems our love of high altitude big linked ski areas and fast modern lifts that is the driving force that keeps France at the #1 position for Ski holidays with us Brits.
It's nothing like Croydon in the snow! Not anymore anyway

It's true that in the 1960's France lost its way a little when they started building ugly high-rise concreate eyesores such as Tignes, Les Menuires and even in my view Flaine, which has somehow been listed as an architectural great by French Authorities. Even these ugly resorts are now getting a face lift with wooden facades and timber cladding making the ski in ski out locations a real contender for a ski resort short list for many of our clients. By choosing a smaller satellite village connected to a larger ski area you can enjoy a more attractive mountain setting with timber chalets rather than high-rise apartments. Resorts such as St Martin de Belleville or La Tania in the Three Valleys ski area, Samoëns in the Grand Massif and La Fornet or Tignes les Brevieres in the Espace Killy.
Rip off Prices in some but not all French ski resorts

A common moan among the French skiing supports is the grumbles about resort prices in some of the more popular ski resorts such as Courchevel, Meribel, Val d'Isere and Val Thorens. It's true some bar owners and on slope restaurants have pushed their prices beyond what might be considered reasonable. Some perhaps had been encouraged by the arrival a few years ago of the super-rich Russian Oligarchs who for a while at least seemed to have bought Courchevel for themselves. British skiers wanting a quick drink of coffee had been pushed aside by a fat cat Russian "businessman" demanding 20 bottles of Cristal Champagne for his harem of young attractive followers. Well it seems those days are behind us as Russians see it as patriotic to ski in Sochi now rather than Courchevel (or the crash of the Russian economy and its falling currency could have something to do with it too).
Catered ski chalet Holiday help keeps costs down
By far and away the most popular ski holiday in France is the Catered ski chalet holiday. Its one of the most cost effective ways to spend a week in the mountains. Tour operators rent mountain ski chalets for the season and often staff them with students on a gap year, or more mature couples who cook and clean. Typically a week's holiday on an off peak week costs around £600-700 that's around £100 a day for a bed for a week, included are return flights and transfers and 6x three course evening meals with in most cases unlimited wine, 7 x breakfasts and afternoon tea and cakes.

Club Med all-inclusive ski holidays
Nearly one in ten ski holidays we now sell is with the French tour operator Club Med, we believe their holidays represent exceptional value for money and the quality of food and drinks from the bar, ski lessons and ski passes which are also included makes sense for families in particular. Club Med ski holidays are more like a resort than just a hotel. We are sure that the all-inclusive nature of Club Med keeps most clients in the hotel for the duration of their holidays apart from when they are skiing. It makes sense! As soon as you step outside you need your wallet.

Self-catering apartments in France
Some French apartments are like shoeboxes, a 19sqm apartment for 4 people can't be much fun and certainly won't give any elbow room. However in recent years developments such as at Les Arc 1950 have seen the quality and space available improve beyond all recognition, and for skiers on a budget or who prefer to cook their own meals, booking a self-catered skiing holiday is a really great alternative to staying in a hotel or ski chalet.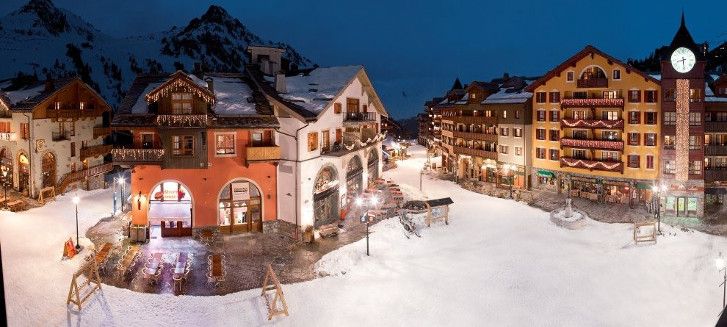 The big High Five ski areas in France
Such is our love for big linked ski areas that nearly 70% of our clients who prefer France, book a ski resort that's connected to a big ski area such as the ones listed below:
The Three Valleys ski area covers some 600km of perfectly groomed pistes and includes these popular ski resorts below. It's the most popular of the big five ski areas in France. Each of the villages is quite different and each has its own devoted followers.
- Courchevel
- Meribel
- La Tania
- Les Menuires
- Reberty 2000
- Val Thorens
- St Martin de Belleville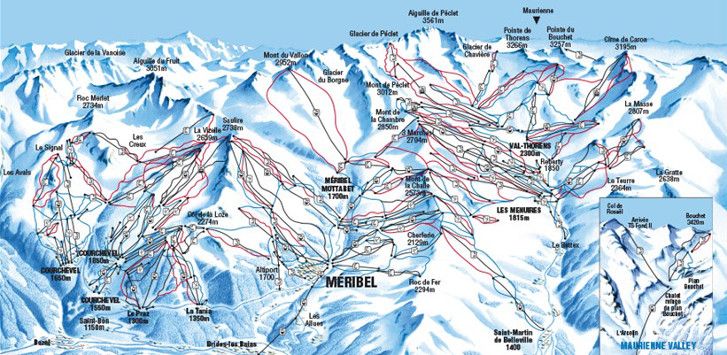 Espace Killy ski area connects Tignes and Val d'Isere to create a ski area covering some 300km of piste and some of the best lift served off piste skiing anywhere.
- Tignes
- Val d'Isere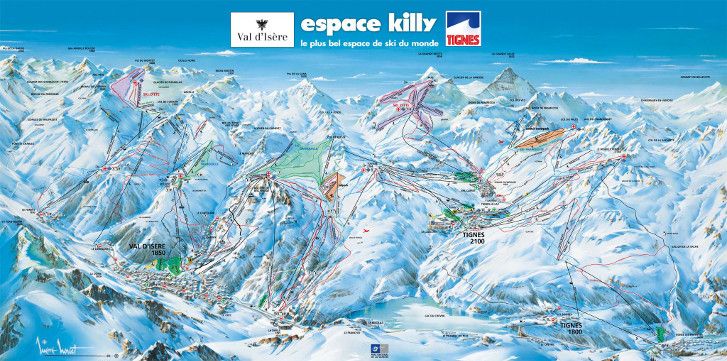 Paradiski ski area connects the ski resorts of La Plagne and Les Arcs offers 425km of piste. It's the most expensive ski pass of all the big five ski areas.
- La Plagne (11 villages)
- Les Arcs (8 villages)

Portes du Soleil ski area on the French / Swiss boarder offers 650km in a choice of quite different ski resorts seems to have dropped it claim to being the largest ski area in the World seemingly happy for the Three Valleys to take that crown, yet still claim to have 50km of piste more! See our blog about Ski Resort piste length Portes du Soleil is a wonderful ski area, even if we dispute how large it is, with the most popular ski resorts here being Morzine and Les Gets.
- Les Gets
- Morzine
- Châtel
- Avoriaz
- (Plus several villages on the Swiss side)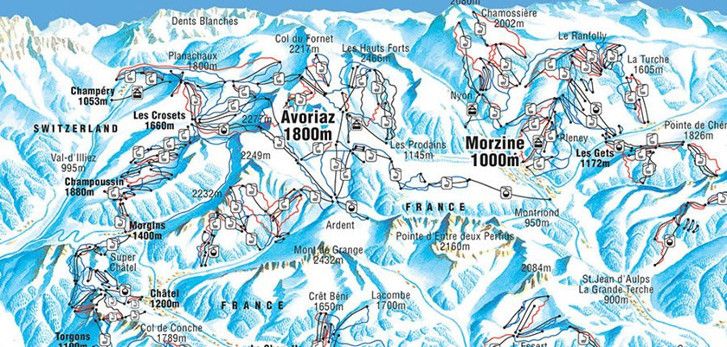 Grand Massif ski area is a linked ski area covering 285km of piste with plenty keep all levels of skiers happy for a week. It's the least favourite of the big five ski areas in France but is well worth a visit.
- Flaine
- Les Carroz
- Samoëns