7 nights
Independent Travel
Ski Holidays in Val Thorens
Situated at an impressive altitude of 2,300 meters, Val Thorens stands as Europe's highest ski resort. Nestled at the head of Belleville Valley, this purpose-built destination provides access to 140km of well-groomed pistes. Val Thorens takes pride in its state-of-the-art lift network, which is among the most advanced in France, enabling convenient exploration of the wider Three Valleys area with its interconnected 600km of slopes. If you're seeking a memorable skiing experience, consider discovering our comprehensive range of France Ski Holidays.

Language


French

Currency


Euro
ski holidays found in Val Thorens
Loading holidays ...
Why Ski in Val Thorens?
Val Thorens, in the 2018/2019 ski season, unveiled two new runs on its piste map: one black and one blue. The addition of the blue run, stretching 3.2km from the majestic Cime Caron, one of the resort's highest points, is a delightful and eagerly anticipated inclusion. Meanwhile, the new black run in the Boismint sector brings added excitement to an area previously dominated by blue and red runs.
As the highest ski resort in Europe and situated in the immensely popular Three Valleys ski area, which encompasses other renowned resorts like Meribel and Courchevel, Val Thorens stands out. Its elevated position ensures consistently good snow conditions from early to late in the season.
Nestled at an altitude of 2,300m, Val Thorens offers a ski range between 1,260m and 3,220m, encompassing an expansive 650km of piste in the full area. The valley below is adorned with Reberty, Les Menuires, and the charming village of St Martin de Belleville. Most of Ski Line's clients opt for the full area lift pass to fully explore the vast terrain.
Mid-rise apartment-style buildings dominate the landscape of Val Thorens, with many offering convenient proximity to the slopes, and a select few even boasting ski-in/ski-out accessibility. Ski Line provides a comprehensive range of catered ski chalets, self-catered apartments, and hotels of all levels in Val Thorens, catering to diverse preferences.
Val Thorens is a favoured destination for early-season holidays, attracting numerous guests. However, it's important to note that during inclement weather and high winds, the resort may close. In such cases, it is advisable to stay at a slightly lower altitude. If the sun is shining, you can always ascend to Val Thorens, while in unfavourable weather conditions, the tree-lined runs offer improved visibility. Please be aware that the bus connecting Les Menuires to Val Thorens is not free of charge.
Val Thorens provides excellent skiing opportunities for all skill levels, both on and off-piste, ensuring an unforgettable experience.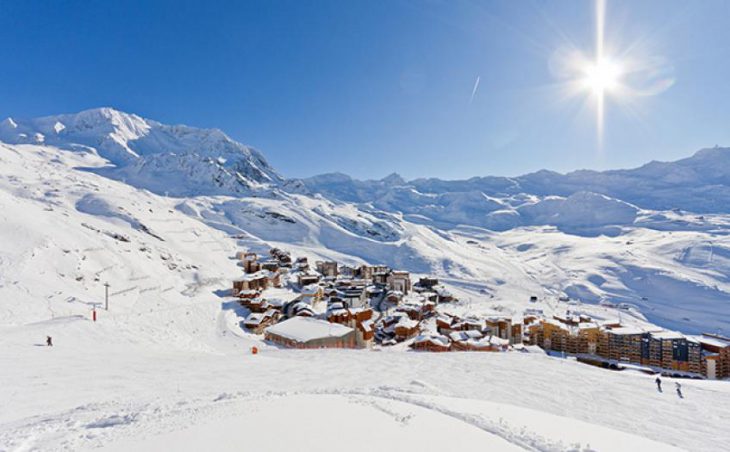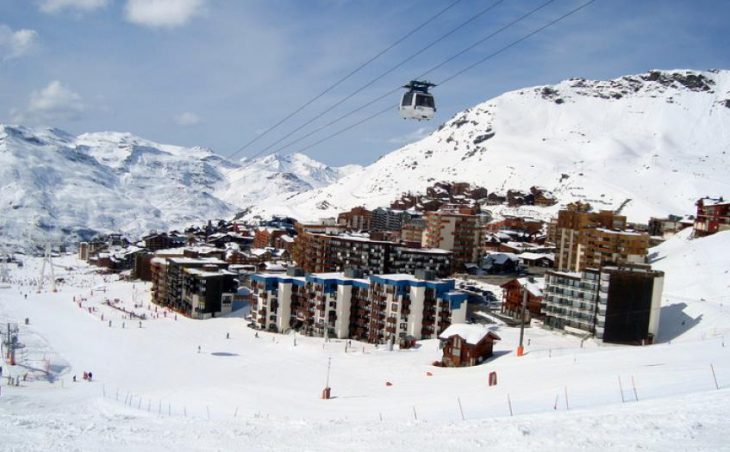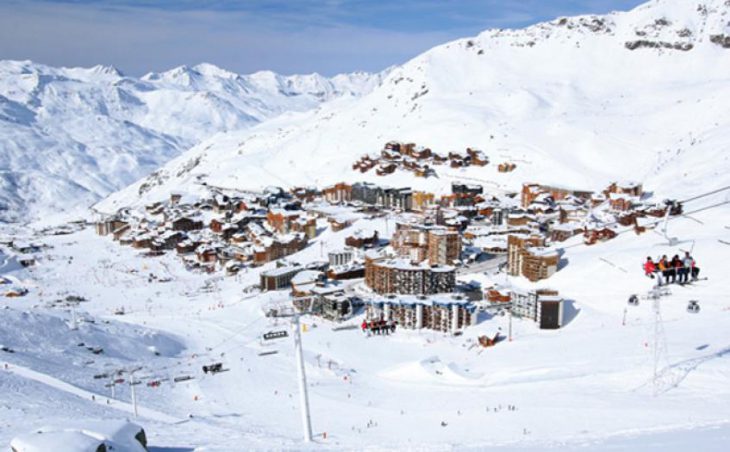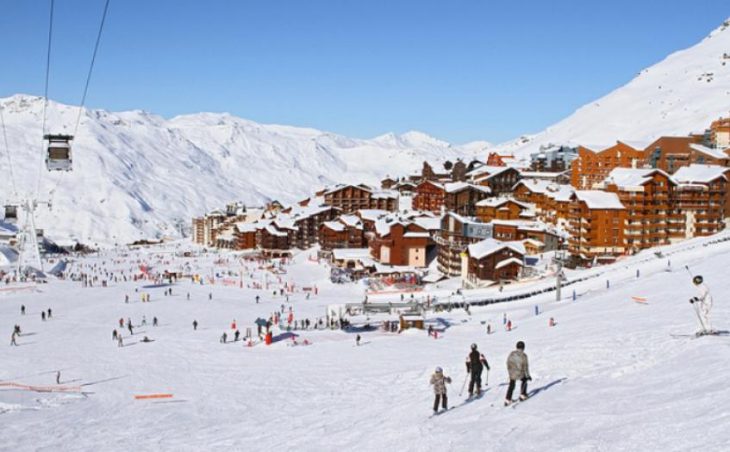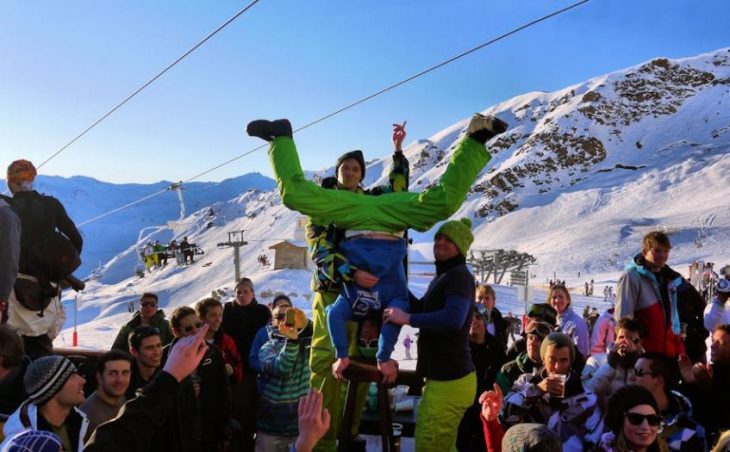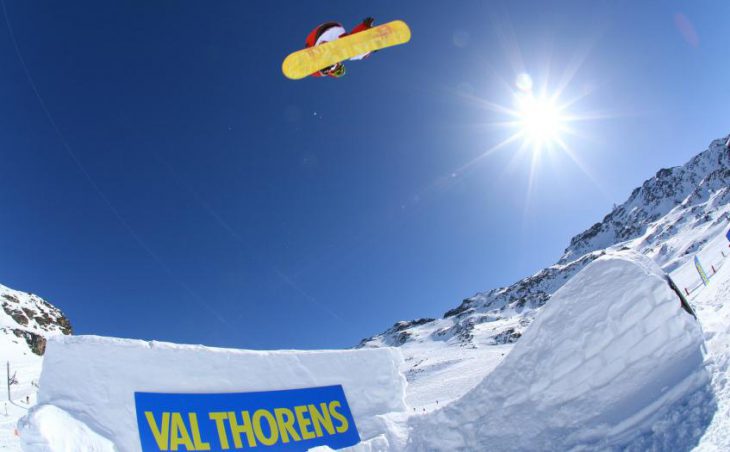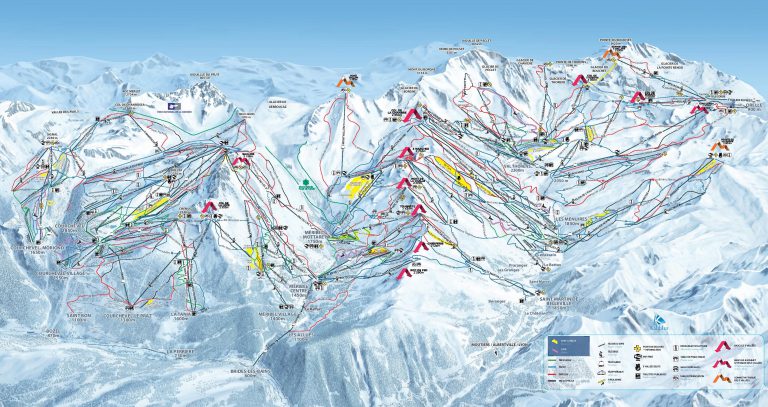 Upper Piste

depth

Lower Piste

depth

Weekly

Snowfall
0 cm
100 cm
200 cm
300 cm
400 cm
Based on weekly average snowfall data November 2000 - April 2018
Pistes
Black


10

Red


34

Blue


40

Green


16
Altitudes
Resort Altitude


2300m

Highest Piste


3230m
Expert Ratings
Beginners skiing in Val Thorens
The nursery slopes in Val Thorens offer an excellent learning environment for beginners, particularly children, with the added convenience of a moving carpet lift. These gentle slopes provide an ideal setting to master the basics of skiing. Once the fundamentals are confidently grasped, beginners can progress to the blue slopes located above the resort, which continue to offer a gentle terrain for skill advancement. It's worth noting that due to the resort's elevated position during peak winter, the temperatures on the slopes can be cold, and families with young children should take this into consideration when planning their skiing activities. For beginners, there is the option to purchase a beginner's lift package, which includes access to three lifts and provides opportunities to explore some fantastic runs.
Intermediates skiing in Val Thorens
Intermediate skiers in the expansive Three Valleys ski area have an abundance of options to explore. With a vast range of slopes available, including the far reaches of the ski area at Courchevel 1650, it's important to note that reaching these distant points can take approximately 90 minutes. However, the efficient lift system ensures swift transportation, and long queues are typically not a concern. For intermediate skiers who prefer blue runs, the runs in the 4th Valley, known as the Maurienne area, offer a delightful experience. These runs provide enjoyment and excitement, particularly on days when the sun isn't shining too brightly.
Advanced skiing in Val Thorens
Val Thorens boasts a remarkable collection of black runs that rival the difficulty of red runs found in other resorts. Advanced skiers will be enticed by the opportunity to explore the entirety of the Three Valleys, as well as the incredible off-piste skiing options available. These challenging descents can feature impressive vertical drops of up to 1400 meters. However, it is crucial to emphasize that tackling these runs should only be done with the guidance of an experienced ski guide, as they may contain hidden drops and crevasses that require expertise to navigate safely.
Extreme sports and things to do in Val Thorens this winter.

Fly two-by-two on la Bee! Val Thorens double zip-line has a length of 1800 meters and a maximal flying height of 65 meters!
Pedestrian or skier, Departs from the top of the Moutière chairlift!
Accessible to children from 14 years old and taller than 1.40m
Open every day from 9:45 am until 4:30pm
€35pp

The Ice Driving Val Thorens driving school gives you the opportunity to try ice karting.
A 300m long by 5m wide ice run is specially set up for karting at the Alain Prost driving circuit centre.
It's fun to do with friends or family, and great for trying out the sensations of sliding around on the ice for the first time.
Get there using the free shuttles from the P3 car park.
Ice karting sessions can be booked throughout the week.

Looking for an adrenalin rush? Discover the highest ice-racing track in Europe.
Your chance to learn steering, counter-steering, braking…. all the techniques are tried under the watchful eye of a trained professional.
The Ice Driving Val Thorens welcomes you on the « Alain Prost's » ice-racing track of VT:
Altitude: 2,200m
Length: 760m
Width: 10-12m

A new snow sport
Hurtle down from 3000m along the 700 m of height difference on the Tête Ronde blue slope. Accessible to sporty ones and experienced MTB riders every Wednesday, Thursday and Friday evening this season.
Departure at 4pm45 (5.15 from February), after the slopes, have closed, accompanied by Gérald Bigot, a state qualified instructor, for a sporty descent full of excitement. Experience riding on the snow with an MTB, your position on the bike, braking, turning and perhaps even falling during more than 45 minutes (6 km) at nightfall.
A well-deserved reward at the bottom: mulled wine for everyone who makes it!
It costs €40 with a valid ski pass or €50 without.

The mountains viewed for those with a head for heights.
Once you've have crossed the slopes, take to the heights and discover the mountains from another angle… from the air!
Beneath your, the Belleville Valley, facing the Mont Blanc is revealed. You will be led by state-qualified instructors.
Departure from 3000m altitude for a descent of 650m. Powerful sensations and unforgettable memories! Are you ready to fly?

Ice diving: cool adventure
Instructor lead diving in frozen Lac du Lou. Access the lake on snowshoes or cross country skis (40 minutes), followed by a 30-minute ice diving session supervised by our professional driving instructors (includes equipment briefing), then it's back to the resort on snowshoes or skis.
After putting on a waterproof dry suit and diving equipment (compressed neoprene drysuit, waterproof gloves, diving mask), it's time for 20 minutes of glacial exploration.
Open to anyone aged 16 and over, even if you have never been diving before.
Walk to the lake and ice dive session: €180.
Après ski in Val Thorens
Val Thorens offers a vibrant nightlife scene with a diverse range of options. One exciting addition to the resort is the Chalet de La Marine located on the Dalles piste, providing a similar atmosphere to the renowned Folie Douce in Val d'Isere. It's an excellent choice to kick off your après ski experience. As the evening progresses, popular bars like the Red Fox attract a lively crowd. For those seeking a lively late-night venue, Dicks Tea Bar is a bustling hotspot that remains open until the early hours.
Activities off the slopes in Val Thorens
Val Thorens boasts an impressive sports centre complete with a pool, saunas, and hot tubs, providing ample opportunities for relaxation and rejuvenation. Additionally, the leisure centre offers amenities such as pool tables and bowling, ensuring there's something for everyone to enjoy. Families with children will delight in the longest toboggan run in France, a perennial favourite among young ones. Moreover, the resort is home to several renowned restaurants, renowned for their delectable cuisine and breathtaking 360º views at the top of the Cime de Caron cable car.
Accommodation in Val Thorens
We have 132 properties available in Val Thorens. If you're hunting for your accommodation by name, then you'll find it here, or for availability and prices select 'Search Holidays'.