Find the perfect Espace Killy Ski Deals here at Ski Line. The Espace Killy is one of Frances mega ski areas covering some 300km of piste connecting Tignes and Val d'Isere. The ski area has terrain suitable for all levels of skiers particularly so for intermediate and advanced skiers, but beginners after a few days in ski school will find plenty of long wide and gentle runs they can enjoy.
Skiing Holidays in the Espace Killy Ski Area in France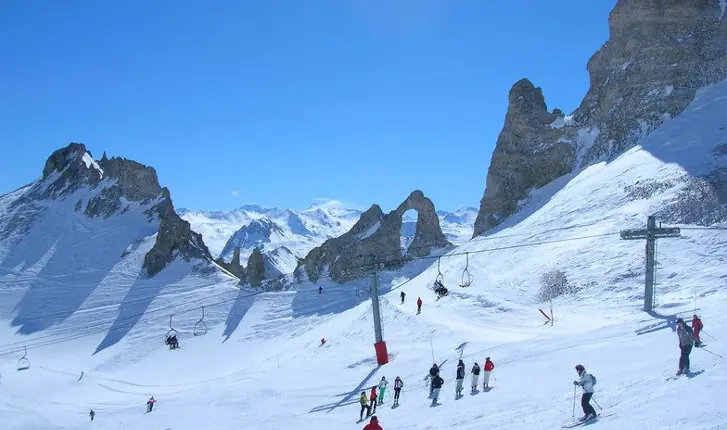 The Espace Killy covers train suitable for all levels of skiers and snowboarders. It's fair to say in Val d'Isere that some of the blue runs might be graded as a red in other resorts. The Espace Killy offers some of the best lift served off piste from its ever-improving lift system. With two great glaciers, it's a ski resort that we can't get enough of.
Most of our clients are very exacting about which of the villages they choose, Tignes or Val d'Isere. Both share the same ski area, but a devotee of Tignes is unlikely to want to stay in Val d'Isere and vice a versa.
Tignes has the convenience of being a purpose-built ski resort, it's high and snow sure at 2100m and offers a great variety of ski holiday accommodation in catered ski chalets, hotels, and apartments, Club Med all-inclusive skiing holidays are also available in both Tignes and Val d'Isere.
Espace Killy Ski Deals
Tignes is made up of Val Claret, being the highest village and closest route to the Grande Motte Glacier, Tignes La Lac, by the lake with great access over to the Val D'Isere side of the skiing and in the heart of the Tignes skiing; Lavachet which is slightly lower, Tignes Les Boisses, Tignes 1800 and the lower village of Tignes Les Brevieres which is still at a very respectable height of 1550m. We have chalets, hotels, and apartments in all the villages and a good bus service connects the villages.
Many of Tignes ski accommodation is built slope side so offers ski in ski out holidays. In Tignes, you are never far from a ski lift. 20 years ago when we started Ski Line, Tignes was one of Frances ugly ski resorts, high rise and very grey, however, today Tignes is a lot more pleasing on the eye with timber clad chalet styled buildings.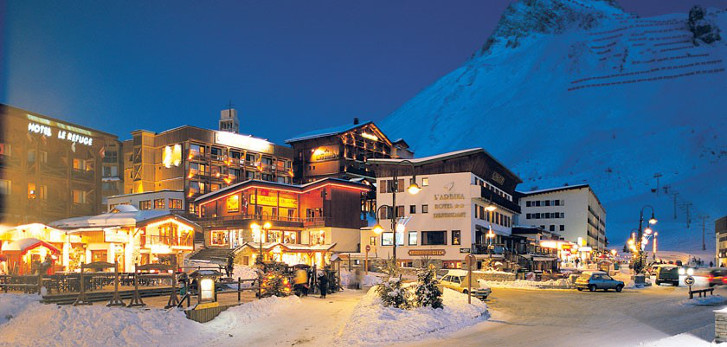 We have a huge choice of catered chalets in Tignes from simple places to stay up to 5* luxurious chalets many with hot tubs, sauna and most being close to being ski in ski out. For larger groups we have several very good chalet hotels, most are slopeside or just a short stroll to the nearest lift. We have several hotels and a wide choice of apartments available here.
Val d'Isere is located off the same mountain road beyond the turnoff for Tignes. At an altitude of 1,850m, it stretches along a long valley starting in La Dialle heading towards the main centre of Val d'Isere and then to the top of the valley at La Fornet. Personally I prefer to stay in Val d'Isere, the nightlife is good and there is lots of choice of après ski venues. Excellent local buses connect all villages, the lifts and accommodation.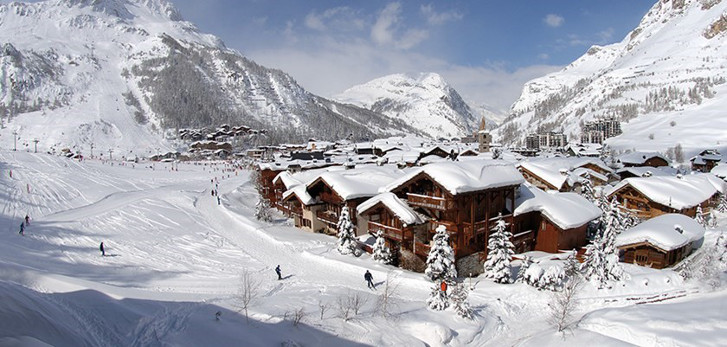 There are several small chalet enclaves around Val d'Isere such as Le Chatelard and La Leggettaz, located towards the higher part above Val d'Isere center and where Club Med Val d'Isere hotel is located, we also have a big choice of ski chalets here, many of which are slope side.
Heading out of the main village towards La Fornet you pass an area called Le Laisinant with a fast quad chair and several good chalets, ideal for skiers looking for a big ski area with a small village feel.
At the head of the valley is Le Fornet, located at 1930m it's a snow sure tiny village of around 100 chalets several of which we have available for you to rent. There's a handful of restaurants with a cable car and fast lifts to the top at 3300m on the Le Fornet glacier.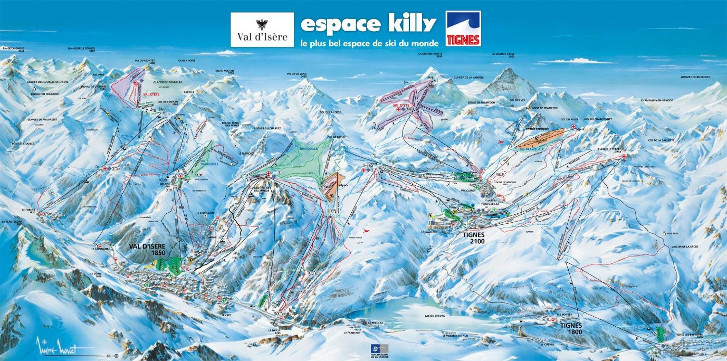 To see more details and about the ski resorts of Tignes or Val D'Isere follow these links or see all our ski chalets in Val d'Isere here or ski chalets in Tignes here.  Ski Line's staff can help you make sure you get the best ski deal when booking a skiing holiday in the Espace Killy.
We offer some great Espace Killy Ski Deals, so speak with a member of our experienced sales team on 020 8313 3999 for help finding your next ski holiday.
Popular Ski Resorts In The Espace Killy Ski Area
Top Places To Stay In The Espace Killy Ski Area
| Chalet | Resort/Country | Sleeps |
| --- | --- | --- |
| Chalet Violetta | Tignes, France | 6 |
| Chalet Aigle Royal | Tignes, France | 13 |
| Chalet Les Andes | Tignes, France | 20 |
| Chalet le Bel Air | Val d'Isere, France | 14 |
| Chalet Les Arolles | Tignes, France | 14 |
| Chalet Valpierre | Val d'Isere, France | 10 |
| Chalet Lys Martagon | Tignes, France | 12 |
| No.3 Club Bellevarde | Val d'Isere, France | 24 |
| Chalet Roc Merlet | Val d'Isere, France | 14 |
| Chalet O Valala | Val d'Isere, France | 13 |
... Read more
Loading holidays ...