The first snow in Europe usually starts to fall in mid October and is a sight for the sore eyes of skiers who have been waiting for the ski season to kick off again, ending the year in style with a ski deal for December 2019 is the perfect way to welcome the snow - and a popular choice for many looking to make the most of the slopes before the high season kicks off.
Ski Line has a partnership with ski resorts around the globe and can put together the best deal for you and those you're skiing with. On top of this, there is also plenty of ski options available for single travellers looking to enjoy early season skiing.
Whether you're looking to relive a skiing experience from the previous season, or something from the past, or thinking about skiing for the first time in December 2019, then Ski Line will surely have a deal to suit you - including ski holidays in Banff and Whistler, or those closer to the UK across Switzerland, Italy and France.
Why Ski in December 2019?
Most of us can't wait for the slopes to open and most will do so in the first few weeks of December - at which point the keenest skiers will head for the mountains, particularly where ski deals are available. At this time of year, you can take advantage of the 'Premiere Neige' weeks – which offer cheaper lift passes. Chalet prices are often lower in December too, so you can expect to find some great deals if you goon on a ski package holiday before the Christmas Holiday peak. This is a great option for families looking to ski early in the season, or those on a tighter budget looking to get their skiing fix for the season.
Throughout December ski slopes are often less busy as many skiers save themselves for Christmas and New Year Skiing, or even for half term skiing in February - most popular for family groups.
Christmas Skiing in December 2019
Those travelling later in December are often looking to spend the holiday period on a family skiing holiday. Christmas skiing and New Year Skiing are tremendously popular, you can't spend a more festive and wintery time in The Alps than during the holiday period, where impeccable Christmas scenes are shown for tourists.
Chalets and Hotels put up their Christmas trees and the resorts have special events; look out for Santa handing out gift and sweets and skiing on the slopes - a memory which is likely to stay with children for a long time to come. On top of this, sleigh rides and carols singing under lights and around Christmas trees make the festive season really is a special time to be in the mountains! At the end of the day, why not settle down around a log fire and enjoy a nice hot cup of cocoa?
You may also like to see our package ski holiday deals in January, February, March and April. Or how about joining us on our end of season ski trip.
All so see our ski deals on Peak holidays dates such as Christmas, New Year, Half Term and Easter weeks for our latest deals and offers.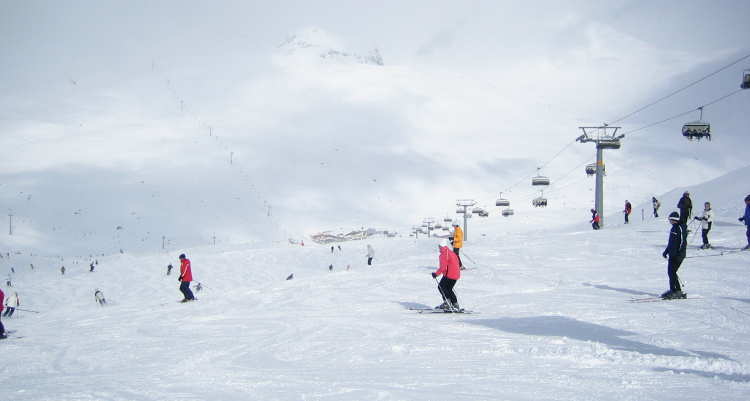 ... Read more