7 nights
Independent Travel
Tignes, a beloved choice among families, stands as one of the most reliable resorts for snow in the Alps. With an elevation of 2,100 meters and a selection of high-altitude runs, Tignes ensures excellent snow conditions throughout the season. The resort's crown jewel, the iconic Grande Motte glacier, extends the ski season almost year-round, providing an extraordinary opportunity for enthusiasts. Additionally, Tignes' connection with Val d'Isere expands the ski area, offering a spectacular and expansive playground for winter sports enthusiasts. Alternatively, explore our comprehensive selection of France Ski Holidays to discover even more enticing options.
Eco-friendly
Tignes became the first ski resort to obtain the Green Globe Label in 2015. In 2021 they have applied to get an even higher accolade, the Flocon Vert Label, and it will discover late in 2022 if it has made the grade.

Language


French

Currency


Euro
ski holidays found in Tignes
Loading holidays ...
Why Ski in Tignes?
Tignes stands tall at an impressive height of 2,100 meters, solidifying its reputation as one of the most reliable winter resorts for snow in the Alps. Its allure is further enhanced by the fact that it shares the expansive ski area, Espace Killy, with Val d'Isere. With a wide range of terrain suitable for skiers and snowboarders of all levels, it's no wonder that Tignes is a favourite destination among Ski Line customers.
The resort consists of three distinct villages: Tignes, Le Lavachet, Tignes la Lac, and Tignes Val Claret. Each village provides excellent access to the slopes, and most of the ski accommodations offer the sought-after convenience of ski-in/ski-out access. Even the accommodations that are not directly on the slopes are still conveniently close. For those planning to primarily ski on the Val d'Isere side of the ski area, we recommend staying in Le Lavachet or Tignes La Lac, as these villages offer the quickest access. If your focus is on the La Grande Motte glacier at 3,455 meters, Val Claret is the ideal base.
While Tignes may not boast architectural beauty, it compensates with exceptional skiing opportunities and an incredibly long season. The Grande Motte glacier provides the opportunity for summer skiing and snowboarding from late June to early August, and the resort itself opens early and closes late compared to its neighbouring resorts, giving the impression that the season never truly ends. One of the major highlights of Tignes is its excellent lift system, which ensures minimal queues even during peak weeks. If you haven't experienced the wonders of Tignes yet, it's definitely worth adding it to your list of must-visit ski resorts, and the team at Ski Line can assist in creating a memorable trip for you.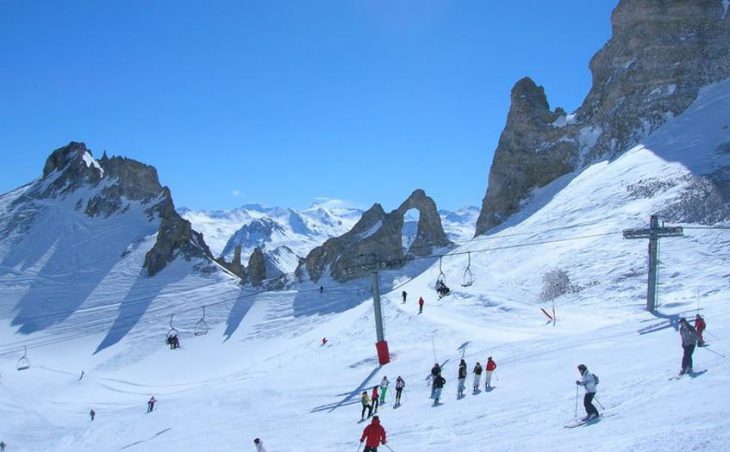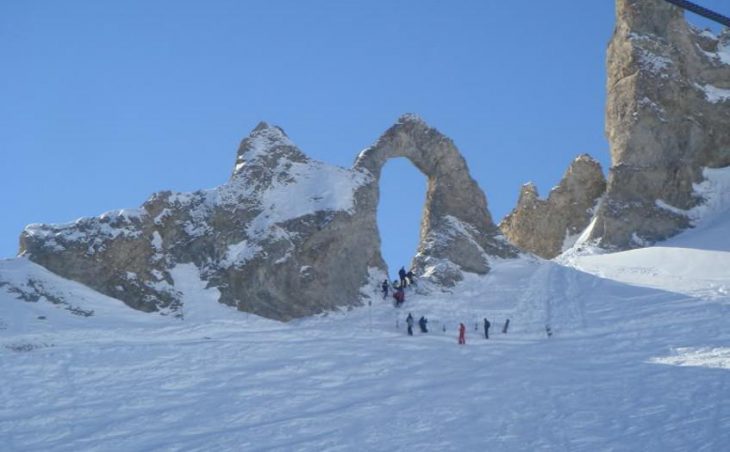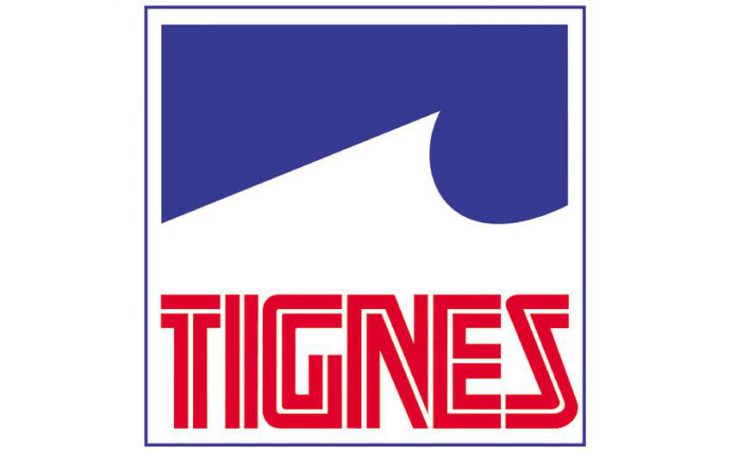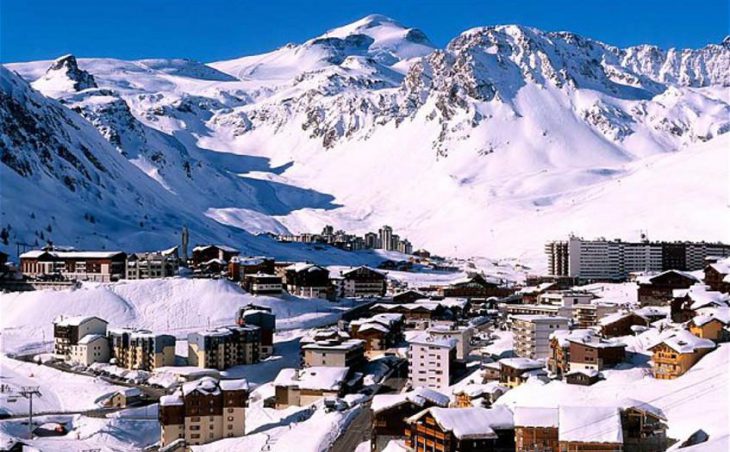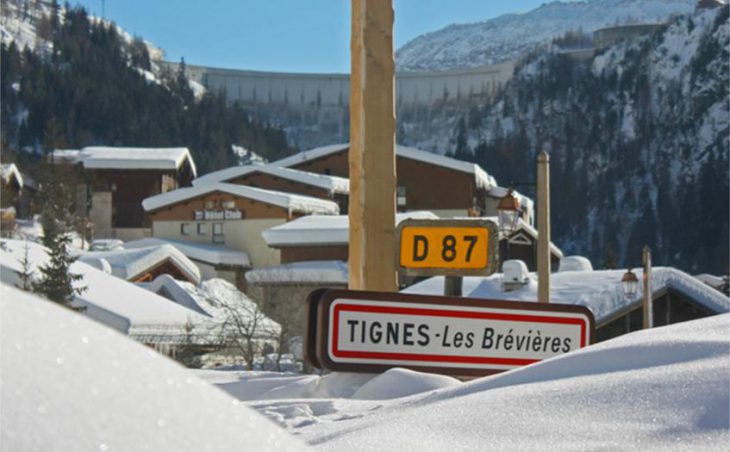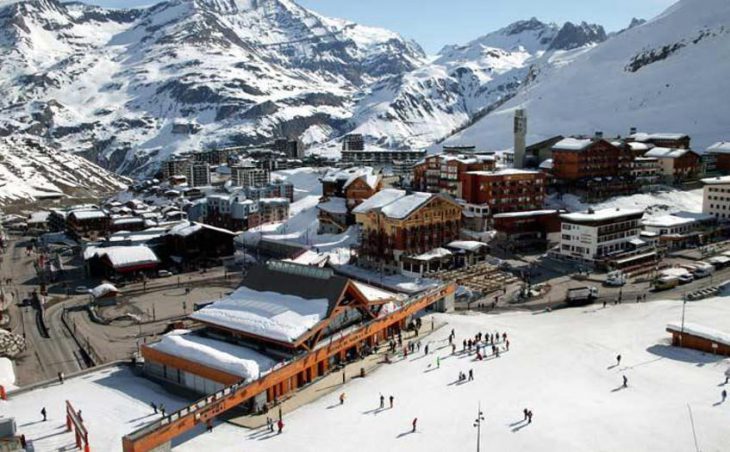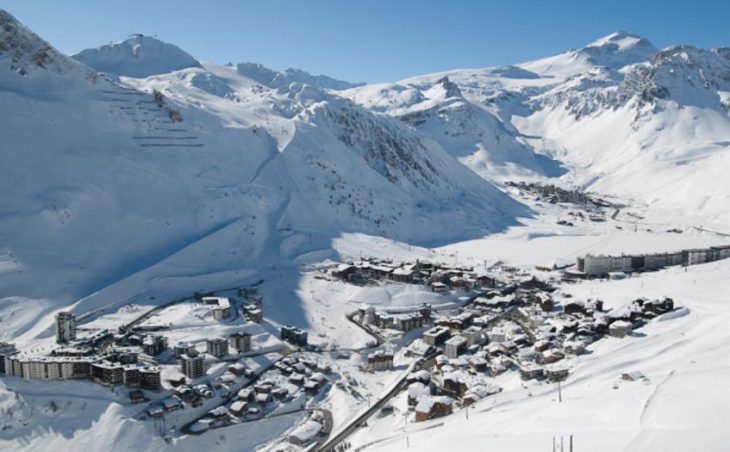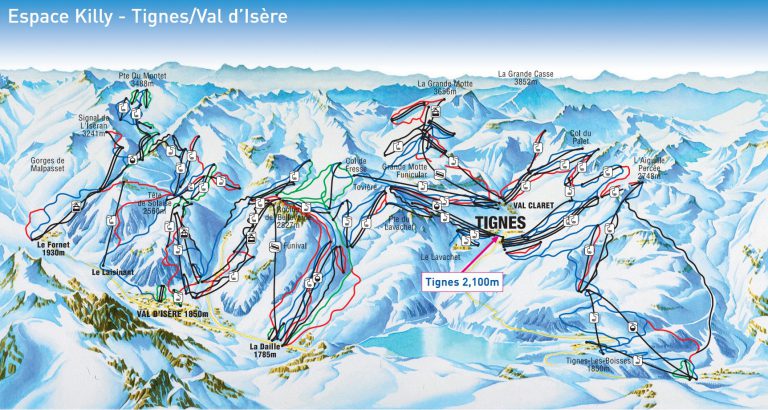 Upper Piste

depth

Lower Piste

depth

Weekly

Snowfall
0 cm
100 cm
200 cm
300 cm
400 cm
Based on weekly average snowfall data November 2000 - April 2018
Pistes
Altitudes
Resort Altitude


2100m

Highest Piste


3456m
Expert Ratings
Beginner Skiers In Tignes
The nursery slopes at Tignes Le Lac and Lavachet offer an outstanding experience for children and beginners. What makes them exceptional is their reliable snow coverage, convenient location, and absence of through traffic, ensuring a safe and worry-free environment. These slopes, gently inclined and accessible through slow chairlifts and drag lifts, are specifically designed to cater to beginners' needs. The slope in front of Le Rosset, though officially classified as a blue run, provides a level of ease compared to a green run. Moreover, the lifts and chairs serving this area, along with the Claret Magic Carpet, are all available free of charge. The overall setup for nursery and beginner skiers is truly impressive, guaranteeing a fantastic learning experience.
Intermediate Skiers In Tignes
At Ski Line, we highly regard Tignes as one of the premier destinations in all of Europe for intermediate skiers seeking extensive terrain to explore. The vast offerings in the Espace Killy area provide an abundance of choices. With reliable snow coverage, the runs on and around the Grande Motte glacier offer exceptional conditions. While some of the popular cruising runs near Tignes, such as the renowned "H" run, may experience crowding, they are meticulously groomed for optimal skiing pleasure. Furthermore, if seeking a change of scenery, the other side of the valley presents a delightful alternative. The runs descending from the Aiguille Percèe to Tignes 1800 and Les Brevieres offer breathtaking landscapes and exhilarating experiences.
Advanced Skiers In Tignes
Among the exhilarating black runs in Tignes, one that stands out as the ultimate challenge is the descent from Toviere to Tignes-le-lac. This run features steep sections and heavily mogulled terrain, testing even the most skilled skiers. Another notable black run is Le Sache, which takes you from the Aiguille Percee through a serene valley, descending 1200m until reaching Tignes-Les-Brevieres. It's worth noting that the base of Le Sache can become heavily mogulled, but you have the option to avoid it by transitioning to the red run partway down. Tignes and Val d'Isere also boast exceptional lift-connected off-piste runs, providing incredible opportunities for adventurous skiers. For a captivating and moderately challenging experience, consider the descent from the Col du Palet to Champagny and Peisey Nancroix, offering scenic beauty without overwhelming difficulty.
Ski Chalets In Tignes
At Ski Line, we take pride in offering a wide selection of over 60 ski chalets for you to choose from in Tignes, and it's no surprise that our ski chalets are consistently the most popular choice for a ski holiday in Tignes. These chalets are located in all three villages that make up Tignes, with the majority being the highly sought-after ski-in ski-out variety. We cater to families, large groups (whether corporate or friends), couples, and singles – whatever your needs may be, we can find the perfect chalet for you! Our range of options covers various budgets, and many family-friendly chalets even provide childcare services, which is always a great advantage. When it comes to ski convenience, many of our clients who book a winter holiday in the Espace Killy prefer Tignes over Val d'Isere, as Tignes tends to have a slight edge in that aspect. And for those who consider a hot tub a must-have amenity – and for many of our clients, it certainly is! – Tignes offers a fantastic selection of mid-range ski chalets that feature those coveted hot tubs.
Both Tignes and Val d'Isere boast one of the longest ski seasons in the entire Alps, with lifts typically remaining open until the first week of May in most seasons. This makes them two of the most snow-sure ski resorts we offer. And just in case that wasn't enough, there are also two glaciers in the area, ensuring excellent snow conditions.
If you're booking a ski chalet in Tignes for a group, make sure to speak to one of our team members, as our website prices do not include group discounts, which can be quite substantial on certain dates – with options like "1 in 4 going free." Our team can provide you with the best deals and offers to make your group booking even more enjoyable.
Ski Hotels In Tignes
At Ski Line, we are thrilled to provide a wealth of hotel options for our clients to select from. Once again, we cater to every budget, ensuring there's something suitable for everyone. Additionally, we have fantastic offers on ski passes, so be sure to explore those as well.
Ski Apartments In Tignes
Tignes offers a range of ski apartments that provide comfortable and convenient accommodations for visitors. Ski apartments are a popular choice for individuals, families, and groups looking for flexibility and the ability to self-cater during their ski holiday.
All-Inclusive Ski Holidays In Tignes
Situated at an impressive altitude of 2,100 m (6,888 ft) within the breathtaking Espace Killy area, Club Med Tignes stands as a remarkable destination for ski enthusiasts, widely recognized as one of the world's most stunning ski domains.
What sets Club Med apart is that it offers the UK's exclusive all-inclusive skiing holidays. This means that ski lessons, ski passes, entertainment, and a multitude of other services are all included in the price. When comparing the cost of Club Med ski holidays with other options on our website, it's essential to consider the incredible value provided.
By booking a Club Med ski holiday, you have the potential to save hundreds of pounds. This link elaborates on the savings you can enjoy.
At Ski Line, we take pride in our team's expertise on all things Club Med. We encourage you to contact us at 020 8313 3999 to discover why an increasing number of our clients choose Club Med skiing holidays year after year.
Off Piste Skiers And Boarders In Tignes
Tignes is widely renowned as a Mecca for off-piste skiers, boasting an impressive array of powder terrain that leaves a lasting impression. Notably, the area encompasses challenging and steep couloirs around La Grande Balme and La Petite Balme, two rocky outcrops located at the southern end of the valley. Tignes has rightfully earned its reputation for offering some of the world's finest lift-served off-piste skiing. With runs catering to all skill levels, from capable intermediate skiers to adrenaline-seeking free riders and seasoned off-piste experts, there is something for everyone.
It's worth mentioning that Tignes serves as a winter home for many top UK snowboarders, emphasizing the appeal and quality of the snowboarding experience offered. We highly recommend booking a guide to ensure the utmost enjoyment and safety when exploring the off-piste skiing options.
Furthermore, Tignes has been at the forefront of freestyle skiing, having established one of the earliest terrain parks in the region. Over the years, it has even hosted four Winter X Games, solidifying its status as a premier destination for freestyle enthusiasts. The park, located below the Grattalu chair lift, features rails and kickers designed for various skill levels, ranging from beginners to advanced riders. In Val Claret, you'll find the renowned XXL super-pipe, unrivalled in Europe, boasting impressive dimensions of 190 meters in length with 7-meter walls. Tignes is dedicated to providing an exceptional freestyle skiing experience for all enthusiasts.
Related Blogs
Restaurants In Tignes
Tignes has established itself as a delightful destination for food enthusiasts, both on and off the slopes. Whether you're in search of a high-end gourmet experience or satisfying and affordable meals, you'll discover a culinary haven to suit your preferences. Here are a few tantalizing suggestions:
On the mountain, L'Alpage awaits at the top of the Chaudanne Lift, offering an ideal setting for a delightful lunch on a sunny day. Its charming terrace and delectable food make it a top choice. Even if the weather doesn't cooperate, the interior is equally appealing. While prices reflect its mountainside location, the portions are generous.
For a more cost-effective option near the Chaudanne lift, consider Lo Soli. This establishment offers a range of choices, whether you prefer the restaurant, self-service section, or bar. You can enjoy your meal indoors or on the splendid sun terrace—a perfect spot for a mountainside lunch.
If you find yourself at the bottom of the Grande Motte in Val Claret, the Aspen Coffee Shop is an excellent choice, located just 50 meters from the slopes. Its popularity speaks volumes, so arriving early is advisable to avoid queues. The menu features hearty portions of burgers, salads, sandwiches, and omelettes.
In Val Claret, Daffy's Café exudes a retro ambience, offering a menu that reflects an American/Tex-Mex vibe. Indulge in Fajitas, Tapas, Chicken Wings, Ribs, and more, along with classic desserts and delicious milkshakes.
Located in the heart of Val Claret, Le Pignatta presents an enticing selection of pizza, pasta dishes, and Savoyard specialities. Their excellent steaks and vegetarian menu cater to a variety of tastes. This lively restaurant warmly welcomes families, making it a great choice for a delightful dining experience.
Vegetarian And Special Dietary Requirements
While French resorts may not have traditionally been known for their vegetarian-friendly options, they are catching up, and many restaurants now offer either a dedicated vegetarian menu or a selection of vegetarian dishes. Despite the prevalence of cheese in Savoyard cuisine, several establishments are willing to adapt their dishes for those who prefer or cannot consume cheese or meat. We always recommend that our clients call ahead before making reservations to discuss the available adaptations.
If you find yourself in self-catered accommodation or it's a night off for the staff, consider the convenient option of Huski. This takeaway company specializes in delivering oven-ready dishes that cater to various dietary requirements, including vegetarian options. Their offerings are reasonably priced, leaving you with the simple task of adding your preferred wine to complete the meal.
Après Ski In Tignes
Tignes offers a vibrant Après Ski scene for those in the know, and fortunately, Ski Line has got you covered! Val Claret is a hub of activity, with numerous bars that come alive as the lifts wind down. Take advantage of the enticing happy hour deals and make your way to Dropzone, known for its large south-facing terrace and some of the most affordable beer in town. From 3pm to 6pm, the place gets packed with up to 300 people ready to unwind. Enjoy a selection of snacks, DJs, live bands, table football, a pool, a large video screen, and free Wi-Fi. And when the clock strikes 10pm, it transforms into a lively nightclub, so put on your dancing shoes!
Another noteworthy spot is Grizzly's, a popular watering hole that draws in the British crowd. Step into this cosy log cabin with its inviting wooden interior, focal fireplace, and fur rugs. On chilly starry nights, the outdoor fire pit becomes a favourite gathering spot. Grizzly's is renowned as one of the most charming venues in Tignes Val Claret, especially when savouring a vin chaud or hot chocolate. Keep in mind that the cocktail menu can be on the pricier side, but the experience is well worth it.
Activities Off The Slopes In Tignes
During the winter months, the enchanting lake in Tignes transforms into a magical spectacle and offers a truly delightful outdoor ice rink with an impressive 500-meter circuit. Additionally, the lake is home to the Tignes 'Plongee sous Glace' ice diving club, where divers of all skill levels are warmly welcomed. The experienced dive instructors provide all the necessary equipment for an exhilarating ice diving experience.
For those seeking more thrilling activities, Tignes offers a range of options such as dog sledging, mountain biking, and ice driving. The leisure centre features a 6-lane swimming pool, as well as a leisure pool equipped with water slides and a wave machine, providing ample opportunities for aquatic fun. Furthermore, visitors can enjoy the wellness and fitness centre, which is complimentary with your lift pass, allowing you to relax and stay active during your stay. Tignes La Lac also boasts a bowling alley and an indoor climbing wall, catering to a variety of interests.
While the shops in Tignes predominantly cater to skiers and snowboarders, non-skiers may find a limited selection of items. However, be prepared to resist the temptation to bring home an excess of bobble hats, as they tend to be quite popular among visitors.
Accommodation in Tignes
We have 170 properties available in Tignes. If you're hunting for your accommodation by name, then you'll find it here, or for availability and prices select 'Search Holidays'.