The Espace Killy is a ski area shared by both Tignes and Val d'Isere, it's regarded as one of the best ski areas in the world for reliable snow, and normally the snow is skiable from mid-November to the first week in May.  With a combined ski area of 300km of piste and probably the best lift-served off-piste skiing anywhere, it's easy to see why the Espace Killy is one of the most visited ski areas by British skiers.
The difficulty is the two villages of Tignes and Val d'Isere are so different, no other ski area has two more contrasting resorts. Choosing which of the two ski resorts is going to offer you the best ski holiday needs careful consideration.  Each resort has its own devotees and a keen Tignes skier is unlikely to ever consider basing themselves in Val d'Isere and vice a versa for the Val d'Isere devotee.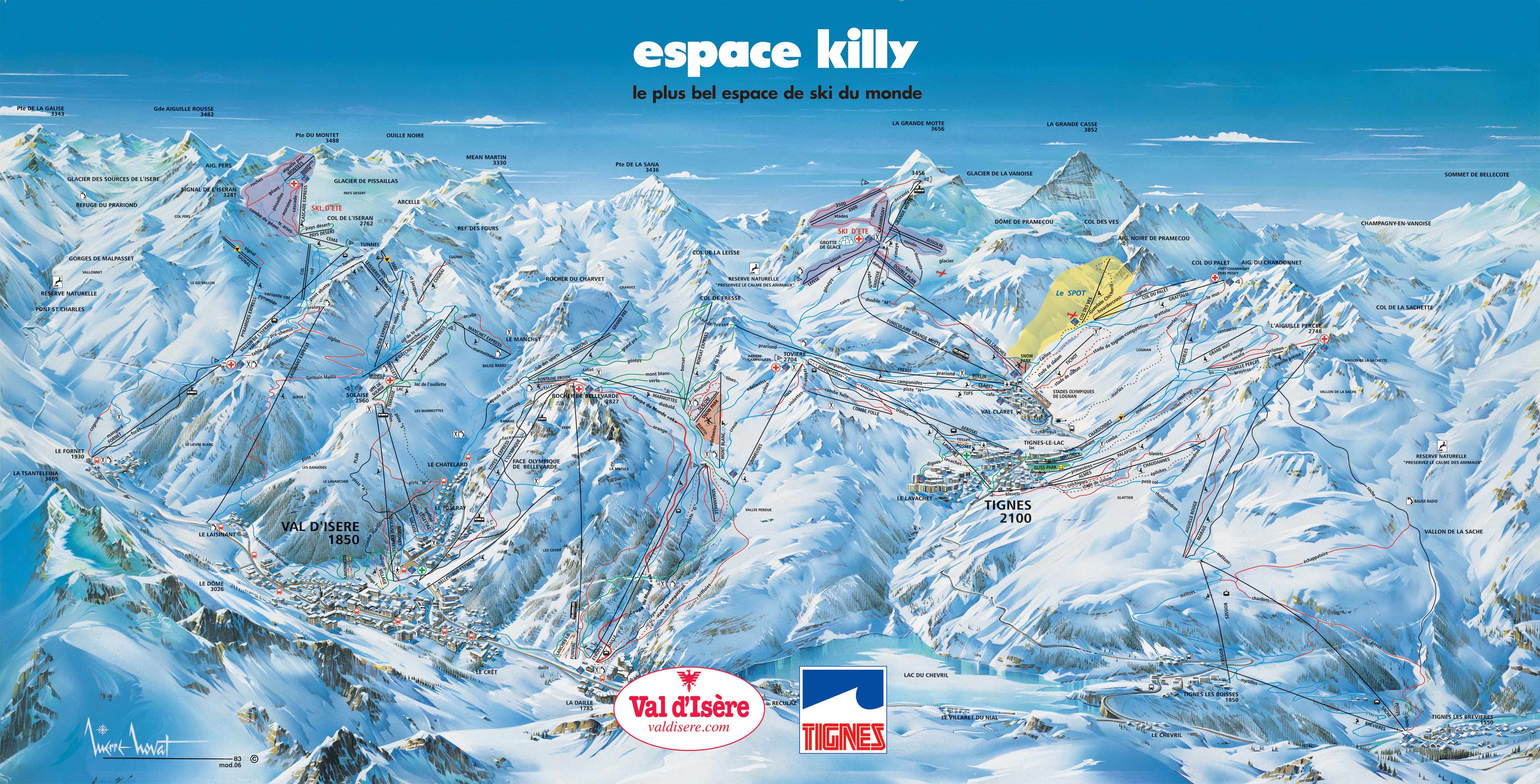 Is Tignes for you?
Tignes is purpose built and is never going to win an architectural beauty contest, most of its buildings were erected in the 1960's using mainly concrete, so out of keeping with the beautiful mountain and twin peaks of Le Grande Monte and La Grande Casse that dominate the skyline. In recent years some efforts have been made to clad the ugly concrete with wood and thankfully the new buildings are more pleasing to the eye.  Lower down the valley is Tignes Les Brevieres, (1550m) more rustic but not so nearly as convenient to reach the main ski area.
Tignes at 2100m it's some 250m higher than Val d'Isere and what it lacks in beauty it more than makes up for in ski convenience.  Most of the ski chalets, hotels and self-catered apartments in Tignes are very well located many being ski from the door.  There are 3 main villages to choose from in Tignes, Lavachet, Lac and Val Claret, all have excellent fast lifts and lift queues are rarely a problem.  We don't believe it really matters which one you choose as a base.
Most of the accommodation in Tignes is in self-catered apartments which range from pokey shoe boxes to modern larger more stylish units complete with swimming pool. There is a good choice of mainly apartment styled catered ski chalets in Tignes some offering exceptional value for money.  Club Med has an excellent 4 trident (4*) hotel in Val Claret offering an all-inclusive ski holiday.  There are a few good chalet hotels offered by British tour operators often at lower costs than staying in a similar French owned and run hotel.  A new development of mainly attractive styled ski chalets will be opening in 2016 in Les Boisse close to the reservoir which will bring many new ski chalets.
Highly recommended ski accommodation in Tignes
Tignes + points
High altitude with great snow
Fast ski lifts, serving great off-piste skiing
Lots of ski in ski out accommodation
Good choice of excellent restaurants in resort
Nightlife is OK if you know where to find it.
Le Grande Motte glacier has the best snow in the whole area
Tignes – points
No tree line skiing in poor conditions
Ugly concrete blocks spoil the otherwise perfect location
Beginners need to buy the full area ski pass to reach easy green runs
The resort has no heart, the lack of a village square almost means it has no sole
Limited choice of good mountain restaurants
Limited choice of off-slope activities
Is Val d'Isere for you?
Val d'Isere has a lot of history dating back to the 11th centre when it was a hunting ground for the wealthy local Duke. Its 17th centre church is located in the heart of the old village, which today is almost swamped by the recent development of mainly ski chalets and new hotels.  Nearly 38% of the visitors to Val d'Isere are British, not sure if that's a good or bad thing!
Val d'Isere could be the other ugly sister but unlike Tignes it has attractive pedestrianised areas where the resort has planted mature trees making it appear, at least to be more attractive.  There are still a few architectural horrors here too, particularly at La Daille but don't let that put you off La Daille is an excellent location to be in for easy fast access into the skiing and for getting to the centre of town.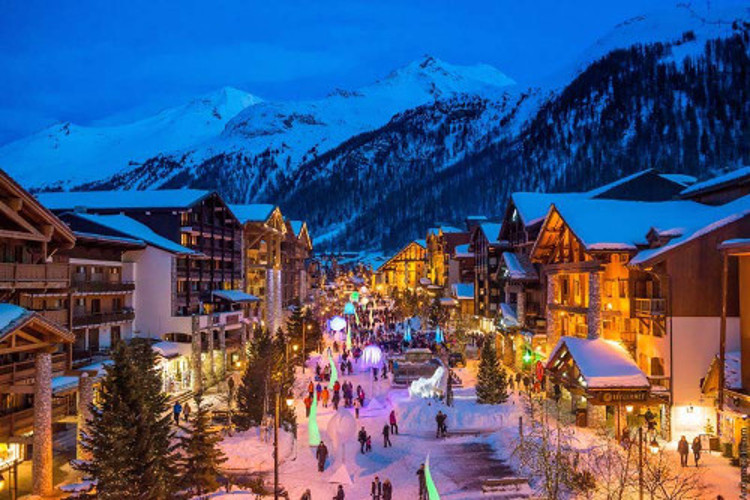 There are three main villages along the main road coming up from the valley below, La Daille, mainly apartments and a couple of good ski chalets. Val d'Isere centre with some wonderful family run hotels mainly 4* and 5*.  Club Med's Val d'Isere resort offers the only all-inclusive ski holidays in Val d'Isere and offers both 4 trident and 5 trident options, its right on the slopes so is ski in ski out.
La Fornet is at the far end of the valley, it's a very attractive village, with a real mountain feel, mainly timber and stone ski chalets although it has good lifts, there is little else here. All Three villages have excellent access to ski lifts and lift system upgrades are taking place every winter with old slower lifts being replaced with newer faster and even heated lifts with Wi-Fi.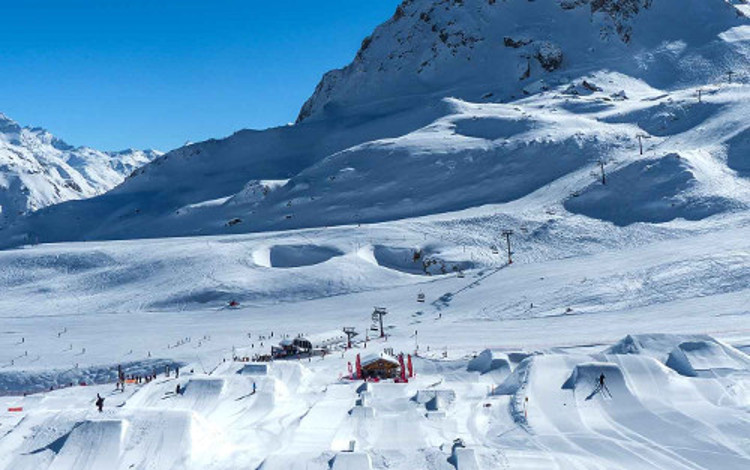 While the ski chalets, hotels and apartments are not nearly as convenient for ski access as in Tignes, the bus system in Val d'Isere is one of the best ski resort buses we know.  There are 9 lift access points along the valley and lift queues are rarely a problem.
The nightlife is very good in Val d'Isere with lots of choices to suit most tastes from banging late opened nightclubs to quieter Jazz bars. We have however been disappointed with the quality of resort restaurants.
Highly recommended ski accommodation in Val d'Isere
Best Hotel for groups
Best Luxury catered ski chalet
Best ski chalet with a hot tub
Val d'Isere + points
High snow sure skiing
Fast lifts, continually been upgraded
Very good English speaking ski school such as Oxygène
Some of the best ski chalets in the Alps
Great nightlife
Free ski lift for beginners in centre of the resort
Val d'Isere – points
Limited good resort restaurants
Some of the piste gradings don't reflect the true difficulty levels (Santons a good example)
Too many British for an international ski resort
Expensive bars and dining
Limited slopeside chalets
Could well start and end your day on a bus (although it's a good, reliable service)
So will it be Tignes or Val d'Isere for your next ski holiday?
Still can't make up your mind if its Val d'Isere or Tignes?  Speak to one of our sales advisors who will be able to point you the best ski holiday your money can buy. Most of our advisors have been working in the ski holiday business for many years and we are all skiers or snowboarders too.  Our sales team can be reached on 020 8313 3999 or use the live chat function on this website.