Nobody can dispute that Switzerland is home to the World's most attractive mountain villages. The traffic-free resorts of Murren and Wengen are spectacular in every sense of the word. Many other Swiss ski resorts offer a charm that's not found in the rest of Europe. France is home to high purpose-built ski resorts, Austria's ski villages are located near the valley floor but the Swiss have always had high villages which are and always have been, real working villages, both in the summer and the dead of winter. This all year round tourism helps give the villages a proper lived in feel with established businesses able to trade all year round.
The Swiss are a very ordered society! Even the way firewood is stacked outside the attractive Swiss ski chalets is regulated to be a certain length and stacked to an agreed height. It's perhaps this attention to details to make the difference between a ski holiday and a Swiss ski holiday.

For many skiers, only Switzerland will do as a destination for their skiing holiday but it is more expensive than a ski holiday in the Eurozone, the problem being the high value of the Swiss Franc against sterling and even the Euro too.
Catered ski chalets disappear after Switzerland changes employment laws
In other European ski destinations, the answer has always been to book a catered ski chalet so the flight, transfer and most of the meals are included (not lunch and one evening meal when the chalet staff have a night off) But in 2014 the Swiss Government passed laws which require even season workers like chalet staff to be on the Swiss minimum wage, which is a staggering £34,000 a year. So we have seen a very sharp decline in the numbers of ski chalets available to rent in Switzerland.
This hasn't been so much of a concern for some of the very high-end luxurious ski chalets we are still offering, as when a chalets sold for £30,000 to £80,000 a week a couple of minimum Swiss wages won't make a huge difference, but for our run of the mill catered ski chalets in Switzerland that sell for £600 to £900 per person per week it's made impossible for the tour operators to make a margin, so many have simply closed.
Some of these previously staffed ski chalets are now available without staff to get around the employment issues.
Club Med has one popular hotel in Switzerland offering an all-inclusive ski holiday.
Club Med has three popular resorts in Switzerland
Club Med the all-inclusive tour operator has three exceptional hotels in Switzerland, in Villars-sur-Ollon, the glitzy ski resort of St Moritz and the beautiful Swiss resort of Wengen.
Club Med skiing holidays have become very popular with our clients. The price you pay covers just about every ski holiday expense! Lift passes, ski lessons, ski guiding, drinks from the bar, snack during the day and canapes in the evening, full 3-course lunches with unlimited wine and 4-course evening meals with wine, flights with free ski carriage (Club Med charter flights only) and transfer. Thinking about it I should have listed the things that aren't included! That's beauty treatments and ski rental! You can expect to pay somewhere between, £900 to £1600 per person based a package holiday, flights are available from most regional airports.
Getting about in Switzerland, it has to be the train
Chances are for most skiers the route to Swiss Alps will be through Geneva or Zurich, either way the best way to reach the mountains isn't by road but by rail. Trains really do work in Switzerland, they arrive when you expect them to and depart the very second the timetable dictates. Swiss rail offers a number of different options but for around £130 you can buy a 1st class rail journey from any of the main Swiss airports to any Swiss ski resort. We recommend the Swiss fly rail ticket, for travellers arriving by air, you check your luggage in at your departure airports and they will be delivered directly to your hotel. It's a good idea to take an overnight bag with your essential as sometimes we have hear the luggage has arrived late in the evening or even perhaps the next day. To avoid the hassle of carrying your own luggage by train, it's worth it. The cost is about £10 per case and means you don't have to travel with skis, boot bags and your holiday luggage.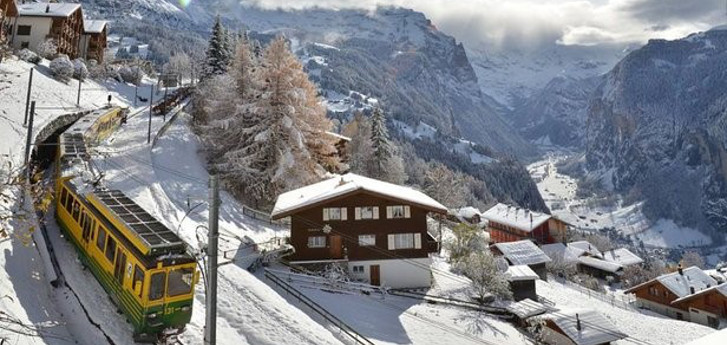 Heli-skiing is an option in Switzerland you can even book a helicopter to take to the top of the piste if you find the traditional lifts too slow. Helicopters are widely used in Switzerland, the Helipad in Zermatt is one of the busiest in the world with choppers taking off every minute.
Dining out and mountain restaurants
The standard of catering in Switzerland is generally very high and the variety of dishes available for more extensive than say in Austria. Wine, however, is expensive but do try the local Swiss wine, its really very good and not much gets exported such is the home demand.
When it comes to mountain food for skiers the choices of traditional piste side restaurants is vast and the standards are generally very high, below is a photo of a favourite of ours Bergrestaurant Blatten in Zermatt. This award-winning restaurant has a wonderful terrace for around 120 diners, space inside is a little more limited. You must try Rosti, a traditional mountain dish made from grated potatoes then fried.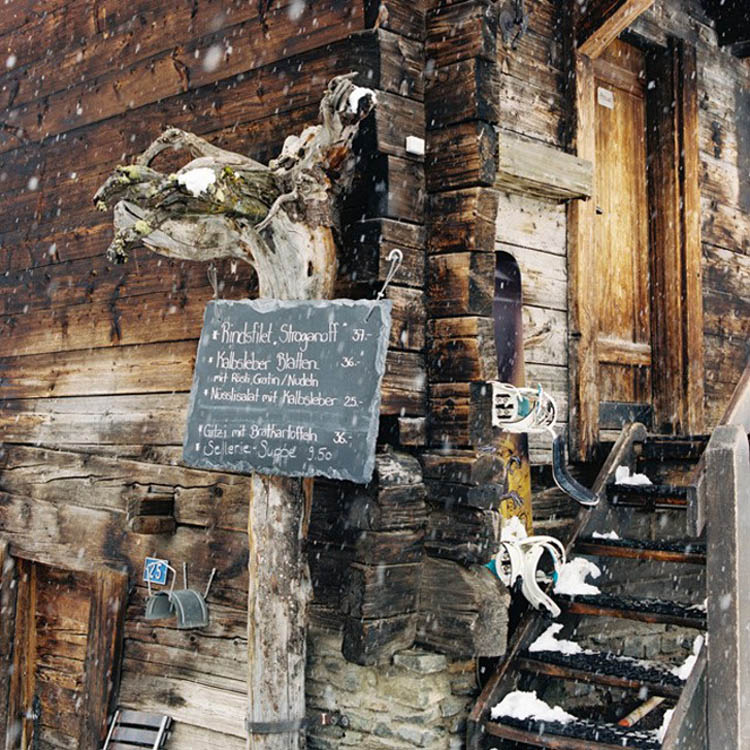 The most popular Swiss ski resort
With Ski Line clients the two big sellers are Zermatt and Verbier, two of the big Swiss ski resorts with a reputation for great skiing for advanced and good intermediate skiers and we still have a limited number of ski chalets in both resorts for skiing holidays to these two mega ski resorts.
For beauty, our clients choose Murren, Grindelwald and Wengen, skiing around these resorts will require a train journey to reach the peaks which is a wonderful way to start the day. The best accommodation here is in the hotels, most of which are 4* and 5* standard but we can also offer some wonderful family run hotels which offer good value for money.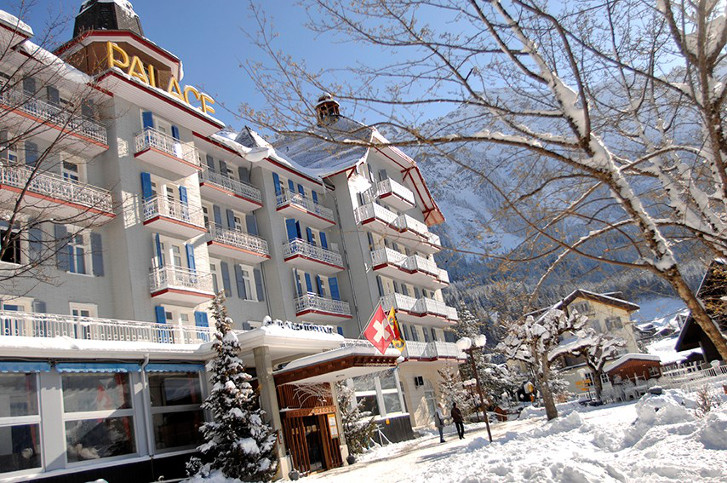 For skiing Families, the first choice seems to Saas Fee, although we have lost several of the family chalets after the change in employment laws. There are some excellent 4 and 5* hotels to choose from we particularly like the 5* Hotel Ferienart resort spa.
Other Popular Ski Resorts In Switzerland:
... Read more