For skiers and snowboarders, winter is always the best time to travel, play and enjoy the outdoors. Unlike others, adventurous-types like us, are not afraid of the cold weather. If you are a winter sports lover, you cannot wait for your next ski trip with your friends or family.
Here at Ski Line we have some great news for you. The best deals on group ski holidays from some of the most popular tour operators in the world are located right here on this page. We make finding the right accommodation property in your destination easier. Our extensive network of ski holiday suppliers, hotel owners, apartment managers and ski resorts allows us to provide the finest options to winter sports lovers from across the globe.
So plan your next group skiing holiday with us and prepare to cruise down the slope with your friends and loved ones. You can either choose yourself among the holiday suppliers and tour operators featured on this page or contact us for a bespoke deal.
Ski Holidays that Suit Your Budget
We know you want to have a memorable ski experience and cost-efficiency is always part of the equation. At Ski Line, we help you find the most affordable tour packages and accommodation deals in multiple countries, including France, Germany, Switzerland, Canada and more.
Book your ski holiday with us!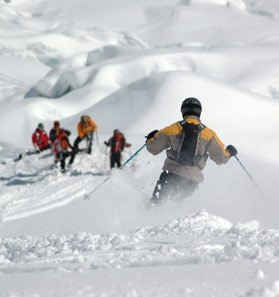 Group Ski Holidays Discounts
If you ski with a group of friends, it's very likely that one of your top priorities will be getting the very best deal for your ski or snowboarding group. Why wouldn't you expect a discount for booking a group ski holiday?
Ski Line have been a leading specialist in discounted group ski deals for over 20 years. 1 in 4 of our bookings are for groups of 8 or more people. As ski specialist travel agents we are able to offer a one stop shop, where we arrange every aspect of your holiday on your behalf, including the booking of flights, accommodation, transfers, ski lessons and equipment rental. Groups always get a better deal with Ski Line.
The most popular type of ski holiday for groups is a catered ski chalet. Ski line feature over 1000 different ski chalets in the best ski resorts in France, Austria, Italy, Andorra and Switzerland, we even have a few in the USA and Canada. However most catered chalets are in France. Some of our chalets offer hot tubs and ski in ski out chalets are always popular with groups.
All of the most popular ski resorts in Europe offer catered ski chalets suitable for groups including, Val d'Isere, Meribel, Tignes, Courchevel, Alpe d'Huez, Chamonix in France and St Anton.
Most catered ski chalets will offer additional discounts if you book the whole chalet, the discounts vary from supplier to supplier but could be a free place or more, or a set % discount. On some low season weeks up to 1 in 5 go free.
Ski Line's sale advisors are experts at negotiating for the very best prices for our clients as we know all the little tricks to squeeze just that little bit extra from the ski chalet tour operators we work with.

Tips to maximise your group discounts
Use your buying power to get discounts on ski rental. Don't wait until you arrive in the ski resort to buy. By booking your rental in advance you save up to 50% on resort prices.
Groups of 15 or more should be able to negotiate at least one free lift pass
Negotiate discounts on ski carriage if most of the group own their own equipment
Be ready to book when the best price has been agreed
Ski Line will help manage your booking and collect payments from individuals in your party
Once your holiday is booked Ski Line's customer service team will ensure our group leaders work is kept to a minimum by completing API details which are passed on to airlines and making sure that ski school reservations are completed. Ski Line never charge an admin fee for small amendments to bookings, for us, it's all part of our service.
Example of how group discounts are calculated in catered chalets by Ski Line
Based on catered Chalet Lucaval, in Val d'Isere on the 21st Feb 2016 with flights LGW to GVA
Basic price per person £839 if 2 people book.
Discounted price per person £639 if 10 people book
The amount of discounts available will depend on the date, for example group discounts on peak dates will be less than on non-peak date. Please call us for details of our discounts for groups.
Group ski holidays all-inclusive style
In the past few years number of our groups have started booking Club Med skiing holidays as an alternative to traditional catered chalets, of course this means you won't have a chalet just for your group but feedback from our group leaders suggest a Club Med skiing holiday is an excellent option for a group of friends. Full day ski lessons and guiding and the free bar being a big draw. Discounts for groups with Club Med are not as generous as available in our chalets. Please call for details about group discounts available on a Club Med skiing holiday.
Group ski holidays in self-catered apartments
We understand that budget restraints means that some groups opt to stay in self-catered apartments, to us this always seem a bit of a false economy, when you consider the cost of eating out, or worse still, the prospect of cooking in! However, if you group is on a budget Ski Line will always be able to find an option suitable for you. Most of our apartments are in France and we should point out that some apartments can be very small. We also offer some larger apartments and chalets on a self-catered basis some sleeping up to 14 people. Please call us for more information on 020 8313 3999
Here is an example of the kind of cheap self-catered ski holiday for groups on a budget that we can find for you
We suggest this particular example is best suited to students or young adults on a very tight budget. The apartment is called Le Domaine de l'Arselle which is in the French ski resort of Chamrousse, about a 30 minute taxi or bus ride from Grenoble airport (Easyjet)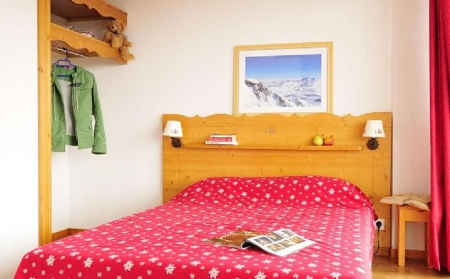 The apartment is 67 m2 and sleeps 10. The layout is 2 x twin or double bedrooms, 2 x alcoves each with a set of bunk beds and a sofa bed that converts to a double bed. So a squeeze!
Cost of a 10 person apartment on the 12th December 2015 is just £103 pp with a free lift pass worth €168.20, now that's a great deal!
Related blogs and pages to group chalet holidays
Top 10 ski in ski out catered ski chalets
Top 10 ski chalets with Hot Tubs
Top 10 chalet hotels for groups
New catered ski chalets for the 2016 ski season
Ski Lines Chalet hotel of the year
10 best ski resorts for snow cover
Cosmic sauna added to Tignes ski chalet
... Read more