Saas Fee is one of Europe's most snow-sure ski resorts, known as the "pearl of the Alps'', due to a combination of a glacier, altitude and north, west and East facing slopes.
It's a kind of mini Zermatt, like Zermatt it's car-free. Most of the hotels operate mini electric vehicles to get you to the slopes, although the walk through the narrow streets is never far if you choose a more central hotel from the skiing and the walk is very pleasant. Saas Fee has the feeling of a small village, it is in fact nearly 2 km long, cow sheds give a hint to its farming heritage.
The ski range is between 1800m and 3550m and offers 145km of pistes, the longest being 9km. The skiing in Saas Fee is suitable for all levels of skier and snowboarder. It's also an excellent choice for non-skiers with loads to do away from the slopes including 60km of walking trails.
The lift system is fast, but these include a few T-bar lifts, due to the glacier, that snowboarders might not enjoy. Queues are not a problem in Saas Fee.
The worlds highest revolving restaurant is a great place to enjoy lunches while taking in the magnificent 360-degree views, a table by a window is always in high demand, so booking essential.
We offer a good selection of the best hotels, one tour operator run chalet hotel, which is excellent value for money and will accept short stays, some include the price of the ski pass in the holiday cost.
Eco-friendly
Saas Fee in the Swiss Alps has been car-free since the 1950s, Electric vehicles transport visitors between their hotels and the ski lifts. The entire ski village is powered by Hydro energy.

Language


French/German

Currency


Swiss Franc
ski holidays found in Saas Fee
Loading holidays ...
Why Ski in Saas Fee?
The attractive Swiss glacial ski resort of Saas Fee is located at 1800m with a ski range of between 1800m and 3500m but the majority of the skiing is between 2500m and 3500m making it one of Europe's highest and most snow sure ski resort. Good snow is guaranteed even late in the season. The longest vertical run drops an impressive 1700m.
The village is car free with a car park at the entrance to the resort, small electric taxis similar to those in Zermatt connect the many hotels. Some of these hotels are very upscale and others more modest. Apartments and traditional chalets are located on narrow streets. The taxis will charge a small fee and train style buses are free with a lift pass. Many of the hotels run a shuttle service to the lifts.
Saas Fee still today has the feeling of a small mountain village with its farming routes still evident with small cattle sheds located around the village.
The skiing covers some 100km of piste but it's possible to upgrade the lift pass to include the local ski resorts of Saas Almagell and Saas Grund which can be easily reached by buses. It's also possible with a 6 day pass to add a days skiing in Zermatt for around CHF20, but this will require a train journey of around 2 hours.
Some of the views form the mountain restaurants are simply wonderful particularly so from the world's highest revolving restaurant at Allalin, but to get a table by the window requires advanced booking.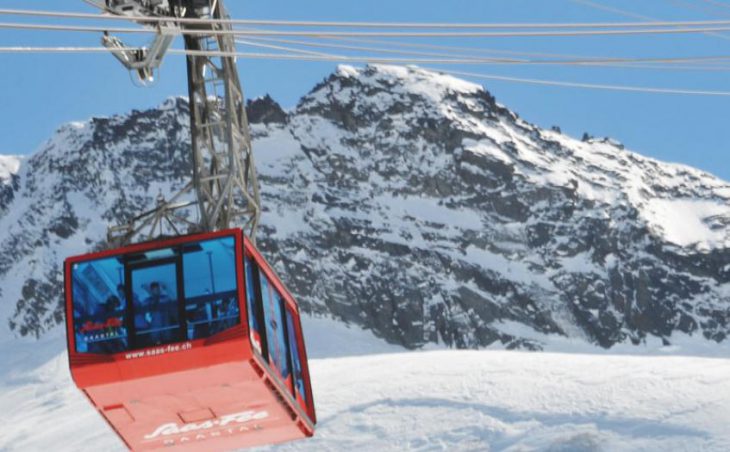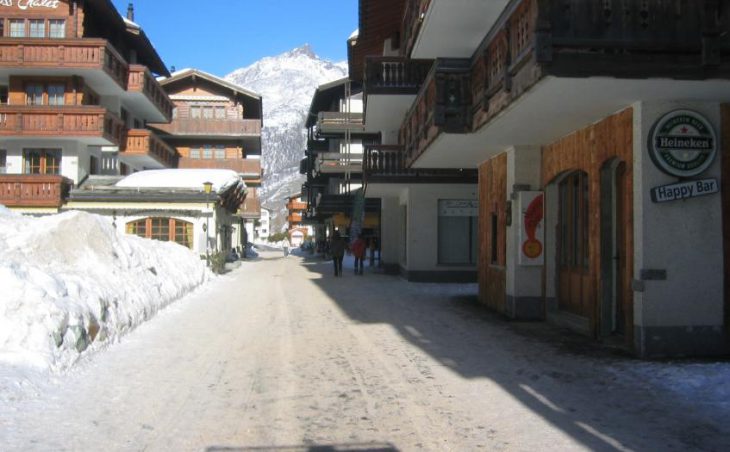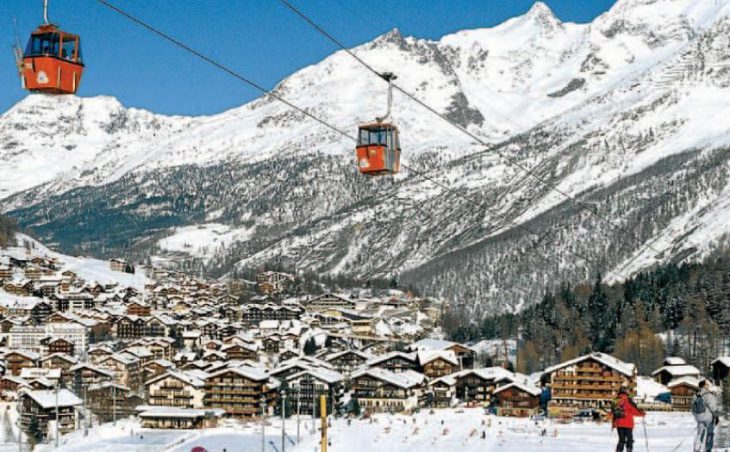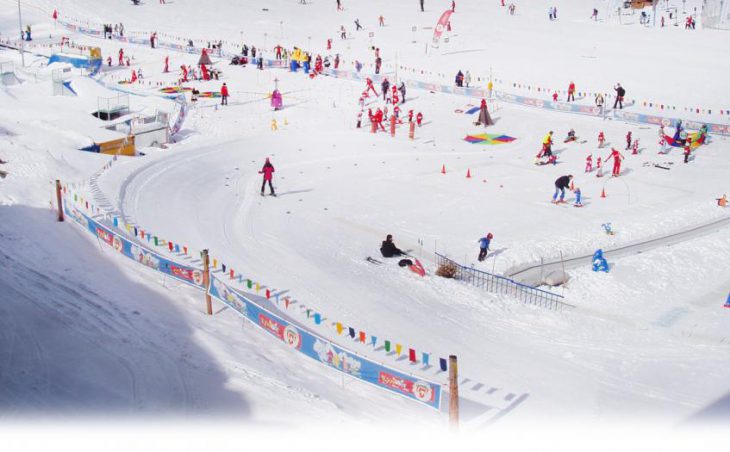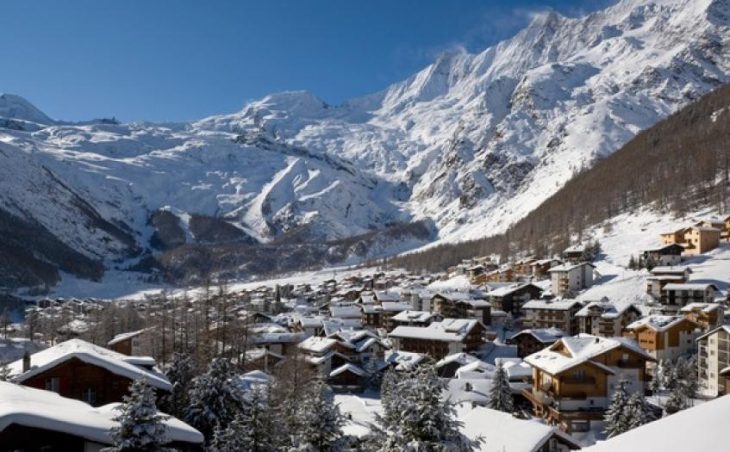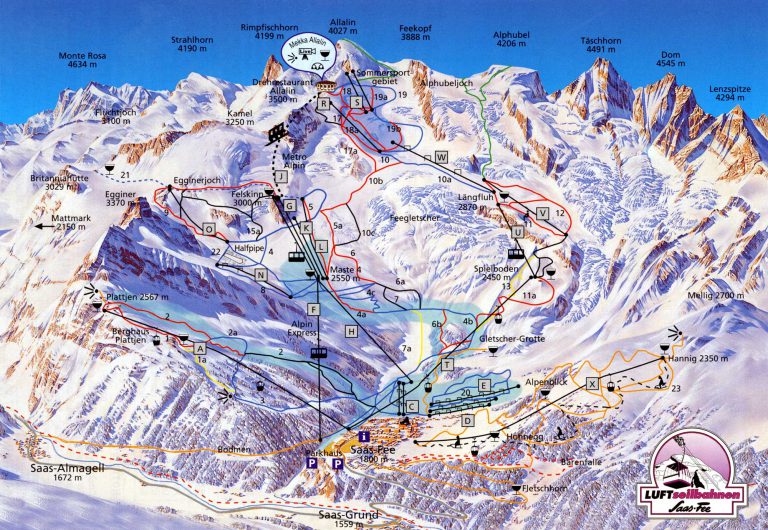 Upper Piste

depth

Lower Piste

depth

Weekly

Snowfall
0 cm
100 cm
200 cm
300 cm
400 cm
Based on weekly average snowfall data November 2000 - April 2018
Pistes
Altitudes
Resort Altitude


1800m

Highest Piste


3500m
Expert Ratings
Beginners skiing in Saas Fee
The nursery slopes are set away from the main piste so nervous beginners don't have to worry about other speeding skiers, and are normally covered by perfect snow. The progression slopes are on gentle blues but many may prefer to come back down by the cable car as some of the runs down to the base can be narrow and steep. It's unusual for early beginners to be able to ski at the very top of the mountain but in Saas Fee serveral of the top runs are easily reached and allow beginners a real sense of achievement. Beginners can buy a beginners pass that covers all the shorter village lifts that will save money.
Intermediates skiing in Saas Fee
For early intermediate skiers Saas Fee is perfect with plenty of long cruisy blue runs and slightly steeper Reds, often with excellent snow due to its height. For the more mile hungry intermediate we'd suggest upgrading the pass to includeSaas Almagell and Saas Grund
Advanced skiing in Saas Fee
For piste hungry advanced skiers Saas Fee is limited many of the black runs are at lower level so if the snows not great they can be disappointing. The off piste skiing is limited because of the glacier and with some hidden crevasses so is not advisable.
Après ski in Saas Fee
In late afternoon the après ski starts at serveral of the on slope bars, later on serveral of bars stay open till beyond 1:00 am. For even later partying head to Poison where they have shots and dancing or Night-life disco which gets busy later on.
Activities off the slopes in Saas Fee
Not many ski resorts offer much for non skiers, but Saas Fee is surprisingly different, with fantastic mountain walks arranged by the tourist office daily. If you like Ice caves Saas Fee has the worlds biggest. For those seeking more thrills paragliding and tobogganing is also available. The resorts sports centre has a good pool and indoor tennis.
Accommodation in Saas Fee
We have 8 properties available in Saas Fee. If you're hunting for your accommodation by name, then you'll find it here, or for availability and prices select 'Search Holidays'.