Going on a skiing holiday on your own doesn't mean skiing on your own.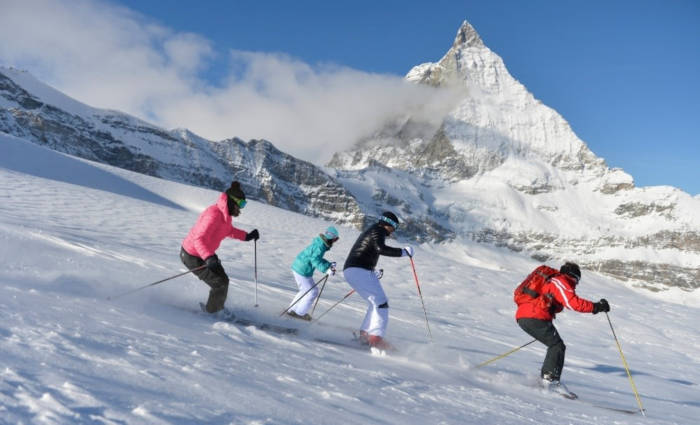 Booking a single ski holiday doesn't mean skiing on your own
Not all single skiers are 'single'! Some have a partner who doesn't enjoy skiing whilst others are limited on the dates they can get away, so often have to take a last-minute holiday which may not suit their friends.
While single skiers are happy to travel alone, not many would relish skiing alone for a whole week, so holidays that bring single skiers together work best if you are skiing on your own.
Catered ski chalets work well, either joining a chalet booked by one group who took all but one room, or where chalets are booked by the room. Joining a group of like-minded people works well, people are generally very welcoming when a stranger joins a ski chalet and friends are quickly made.
CATERED SKI CHALETS AND CHALET HOTELS WITH SINGLE ROOMS
This is a list of ski chalets with single bedrooms, where you can avoid empty bed and single room supplements. Some chalets will offer same-sex single travellers an opportunity to share a room together to avoid extra empty bed charges.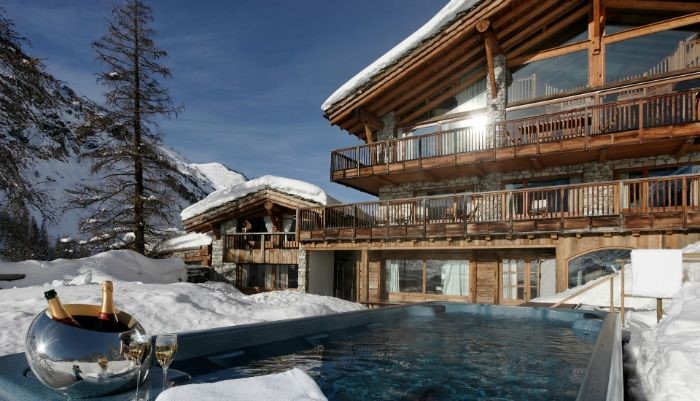 A ski chalet is a great idea if you are travelling alone, join a readymade party
Popular Catered ski chalets and chalet hotels with single rooms
Chalet Ecureull, Val d'Isere
Chalet Cherrier, Val d'Isere
Chalet Marilyn, Tignes
Chalet Arktic, Tignes
Chalet Rosanna, St Anton
Chalet Rosmarie, St Anton
Chalet Baren, St Anton
Chalet Cascades, Couchevel 1650
Chalet Elodie, Meribel
Chalet Poire, Val Thorens
Chalet Hotel Montfort, Lech
Chalet Hotel Elisabeth, Lech
Chalet Vieux Logis , Alpe d'Huez
Chalet Mazot, Zermatt
Chalet Hotel Cristallo, Courmayeur
Chalet Hotel Berangere, Les Deux Alpes
HOW TO GET THE BEST SINGLE SKI DEALS?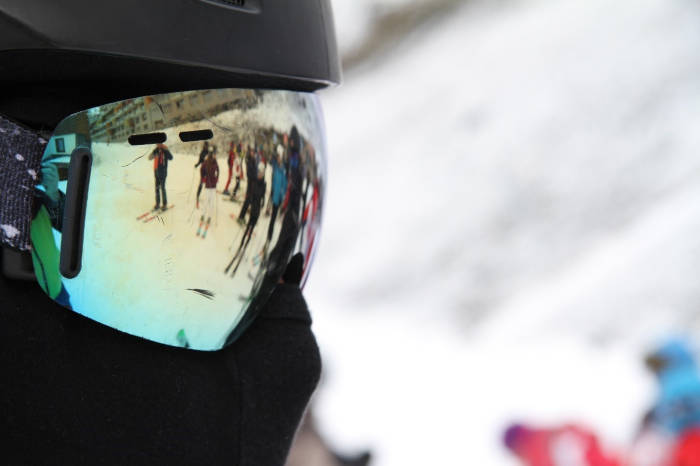 Avoiding single room charges is most single skiers top priority
If the thought of sharing a room with a stranger horrifies you, we can sometimes talk our suppliers into letting our clients book a room for sole use without any extra charges, there are often restrictions on dates, but our team of advisors will know where to look.
Mark Warner are one of our 'go to' tour operators when we are looking for holidays for our single skiers. Mark Warner operate a successful social skiing programme in all of their chalet hotels. Unfortunately for some years now, tour operators haven't been able to offer ski guiding to their guests, however, Mark Warner's social skiing is about as good as it gets. Guests of similar standards are given a suggested route to follow around the mountain and recommendations of the best mountain restaurants to stop at for a quick break or for lunch. The route will take into account the ski ability of the group, local weather conditions and which slopes have the best snow at certain times of the day.
Single? Or skiing on your own. Think Club Med!
One of the skiing holiday's that have proved to be especially popular with our single travelling clients is Club Med.
Club Med offer an all-inclusive skiing holiday, the only true all-inclusive skiing holiday as far as we are concerned. Everything, except travel insurance and ski rental, is included, that's because most of us have an annual policy and many of Club Med's guests own their own skis! The expensive add on's, such as a ski passes, ski instruction and the bar bill, are 'wallet pleasingly' included in the price of the holiday, which is an important consideration when comparing them to other skiing holidays.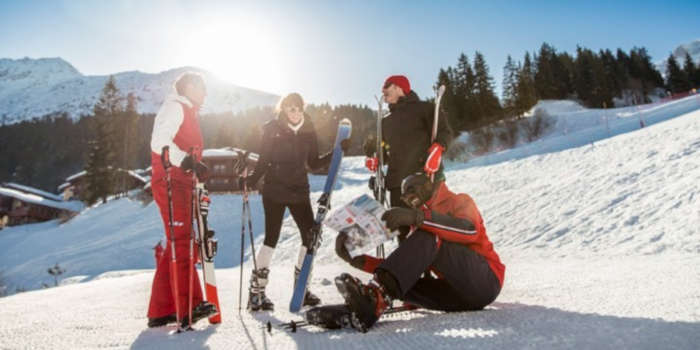 Skiing in a group means making friends quickly
It's the all-inclusive nature of the holiday that works so well for single travellers, for a start, the price of your holiday covers everything, not normally included. 5 full days of ski instruction or guiding is included, which is great if you are trying skiing for the first time. If you can ski already, you will be in a group of other skiers, or snowboarders, at the same level. The instruction needn't be "Bend zee knees" type lessons, in most cases the instructors act as your personal guides. These groups are not normally more than 8 people. This guiding and instruction also helps to jump the lift queues at congestions points via the "priority line".
If you are an advanced skier or boarder, your instructor is a trained off-piste guide too. With all safety equipment and training supplied within your holiday cost, this is a big draw and makes a Club Med skiing holiday, seem even better value. You'll know how expensive it can be to book an off-piste guide, so this is an added bonus.
Friends are quickly made, especially over long lunches, with unlimited wine (also included).
The single room supplements at Club Med are quite reasonable, and from time to time double rooms are available for single people, without any additional costs. If they are available, book fast, as they are never available for very long!
Club Med have hotels in the most popular destinations in the Alps, Japan and from 2020, North America too. At Ski Line, we love Club Med, and we think you will too!
Our team of advisors, have between us, stayed at all of the Club Med resorts so can offer first-hand knowledge and tips.
Call us for a quote for a Club Med skiing holiday, and you won't believe what great value a Club Med skiing holiday can be, if you book early, we offer a 15% discount!
Skiline.co.uk End of Season ski trip is very popular with single skiers, this year's trip is for 4 days from the 21st April 2019 staying in one of three excellent chalet hotels in Val d'Isere. Prices start at just £399 per person, discounted ski passes, and ski rental are available. Single room supplements are available from £159 or we will find a same-sex roommate for you to avoid extra charges.