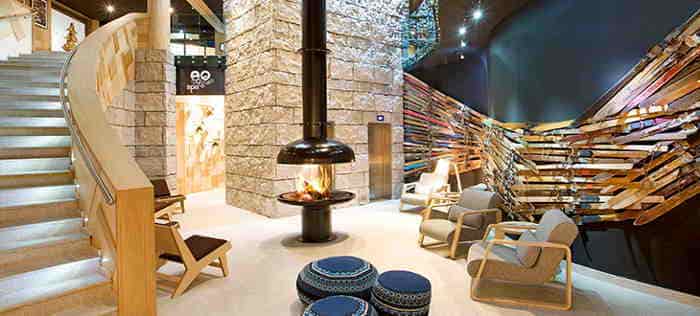 Over 800 of the best ski hotels
Many skiers prefer to stay in a hotel rather than a catered ski chalet or self-catered apartment.
We offer over 800 of the best ski hotels in ski resorts from luxury 5* hotels offering half board packages, to simple family run hotels or pensions offered on a B&B basis.
We can offer a skiing holiday with a hotel and transfer arranged through one of the many ski tour operators we deal with. The benefits of booking with a tour operators are that they become responsible if snow prevents you from reaching the ski resort or if the airline cancels your flight. You also get financial protection of the ATOL, which all tour operators who package holidays have.
Another benefit is that the transfer between the airport and ski resort are provided in a package holiday, the distance can be 2 to 3 hours by road which can be expensive to arrange yourself.
In many cases different tour operators will be offering the same hotel, perhaps with different flight times but basically the same holiday. Wouldn't it be nice if you knew in advance which was the best price before you chose to book or it could be a holiday with the exact flight times you want. When you ask skiline.co.uk to find you the perfect skiing holiday that's exactly what we will do for you. In addition to our H/B and B&B hotels we have also listed on these pages our chalet hotels, a chalet hotel is an accommodation that is taken over by a British tour operator who run and manage the hotel with British staff, the only difference is that that Chalet hotel will in most cases include wine with the evening meal and one night a week the chalet staff have a night off, so meal are only supplied on 6 evenings a week.
Browse Ski Hotel Holidays by Country
Searching the Whole Market to Find You a Deal
To make sure no stone is left unturned in pursuit of the best deals for our clients to hotels in ski resorts; skiline.co.uk deal with several overseas tour operators, from Germany, Italy, Austria, France and Switzerland, some of which include a free ski pass.
DIY Ski Packages
As well as offering ski hotels with tour operators, skiline.co.uk also deal directly with many of the best hotels in the Alps, this can sometimes mean that we are able to offer short breaks, ideal if your time on the slopes is limited. If you buy your own flights we can arrange the transfers or car hire as well as the hotel for you to stay in. If you prefer, we can book the flights for you and cover the holiday with our own ATOL.
We also utilise our sharp contract rates for corporate ski trips where we often book large groups either for a full week or indeed for shorter stays.
Popular Ski Hotel Holiday Resorts
All Inclusive Skiing Holidays
We are one of Club Med's leading agents in the UK, selling more of their skiing holidays than any other agent in the UK. Club Med now have hotels in most of the popular ski resorts in the Alps. Our team of advisors have first-hand knowledge of all of Club Med's hotels and can help you select the one that's right for you.
Some of Club Med's hotels are ideal for families, even child care is included in the price. For older children full day skiing lessons are included in the price of your holiday - you can imagine how well children do when lessons last the full day.
Chalet hotels
Our chalet hotels are tour operator run and managed hotels. These hotels are staffed by mainly British staff, some of whom will be students taking a gap year. The board basis is the same as in one of our catered ski chalets, so include breakfast, afternoon tea and cake and a three course evening meal, which in most cases includes unlimited wine. The catering staff in these Chalet hotels will be trained chefs. Feedback about the standard of catering is normally very positive. Often our chalet hotels will sleep up to 100 people, some of which specialise in Family skiing holidays with in-house crèches with British nannies.
Browse Ski Hotel Holidays by Type
... Read more