4 nights
Independent Travel
Zermatt is one of the most popular and iconic Swiss ski resorts in Europe in a spectacular setting beneath the majestic Matterhorn mountain. It shares it skiing with the Italian ski resort of Cervinia.
Zermatt's accommodation is spread far and wide up and across the valley, it's a car-free resort but has electric buggies that act as either hotel's shuttles or expensive taxis. The town is stunning, one of the most beautiful in the Alps.
Zermatt has managed to combine the old with the new, so many high-end modern chalets sit side by side comfortably with older traditional buildings.
Zermatt's ski range is between 1525m to 3870m and together with Cervinia offers 360km of pistes. These high snow sure slopes are ideally suited to intermediate and advanced skiers, lower level skiers and snowboarders would be better off staying in Cervinia where the slopes have less pitch.
The lift system is good, with mainly fast modern lifts, slower connections are easy to avoid. Lift connected off-piste skiing is excellent, so too is the Heli-skiing, but booking a guide is essential as some of the routes can be very dangerous without local knowledge.
We offer a good choice of high-end chalets, self-catered chalets and smart luxury hotels offered as part of an ATOL bonded package plus accommodation only.
Eco-friendly
Zermatt is an iconic ski resort but it too is doing its bit to reduce carbon emissions. The resort has been an Energy town since 2016. The resorts' electric vehicles further reduce the reliance on fossil fuels. Zermatt Bergbahnen AG is certified ISO 14001.

Language


French/German

Currency


Swiss Franc
ski holidays found in Zermatt
Loading holidays ...
Why Ski in Zermatt?
Zermatt is a 'must ski' resort for advanced skiers and intermediate and is one of Switzerland's most popular ski resorts. Located in the shadow of the impressive Matterhorn Mountain, the resort is linked to the Italian ski resort of Cervinia. If you like the skiing in Val d'Isere and St Anton you will love it here!
Zermatt is located at 1620m with the slopes rising to 3820m making it some of the highest skiing in Europe.
The town has immense charm and is car free with fine 5* hotels to simple chalet style hotels offered by UK tour operators. We also offer catered ski chalets and some truly luxurious chalets that can be rented by the week are often offered on a self catered basis too. Chocolate box styled chalets are scattered around the hills that surround the town and other buildings built in a local style add to the charm of this most popular of ski resorts.
Reaching the resort is either by coach from Geneva or more popular, is a train that travels on single track lines through the mountains which is always our clients preferred way to arrive, as the station is just on the edge of town.
Lifts depart from the two ends of the town know as Sunnegga and Gornergrat but the two areas are connected higher up.
The mountains themselves are home to what are regarded as some of the best mountain restaurants anywhere in the world. Zermatt has the highest tree line in any European resort so makes it ideal if the weather closes in.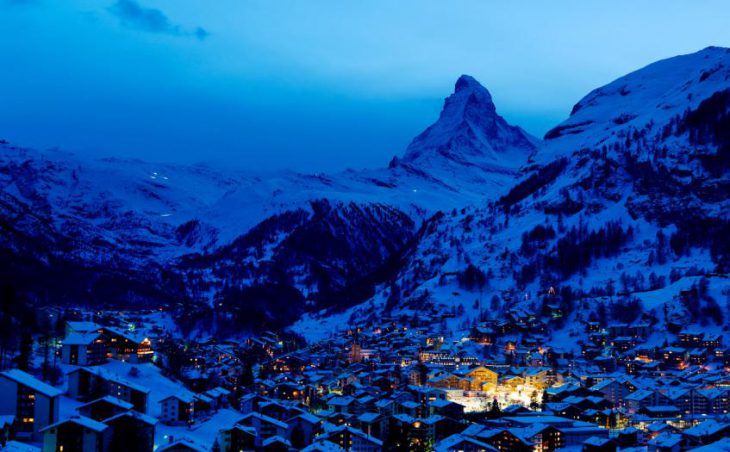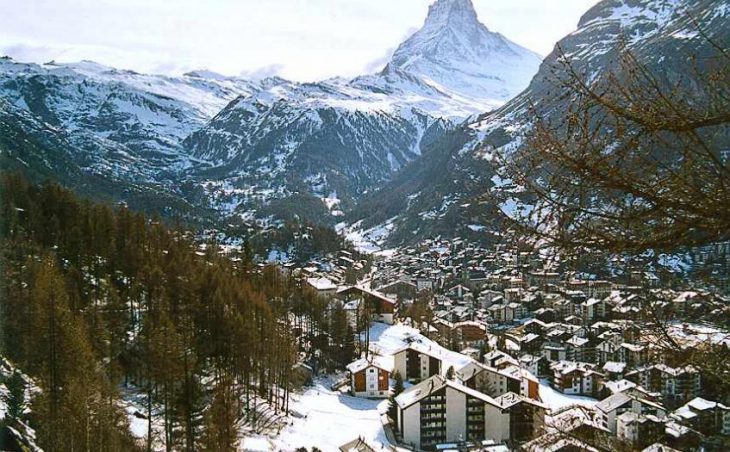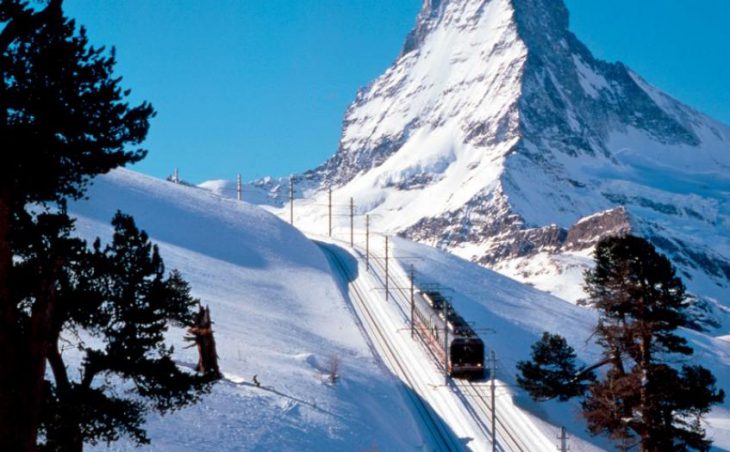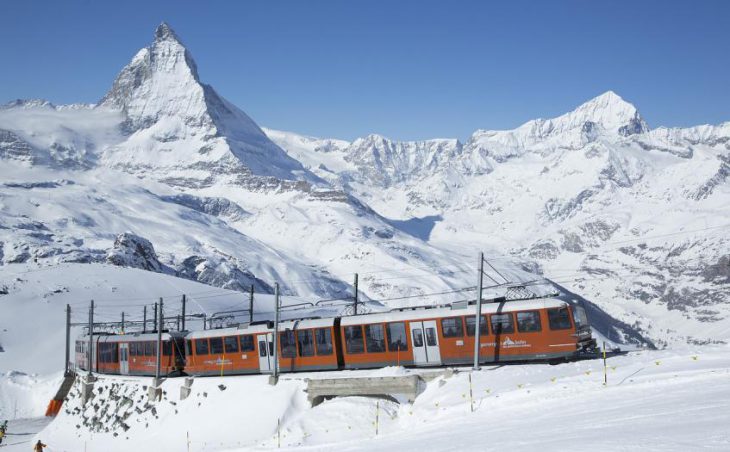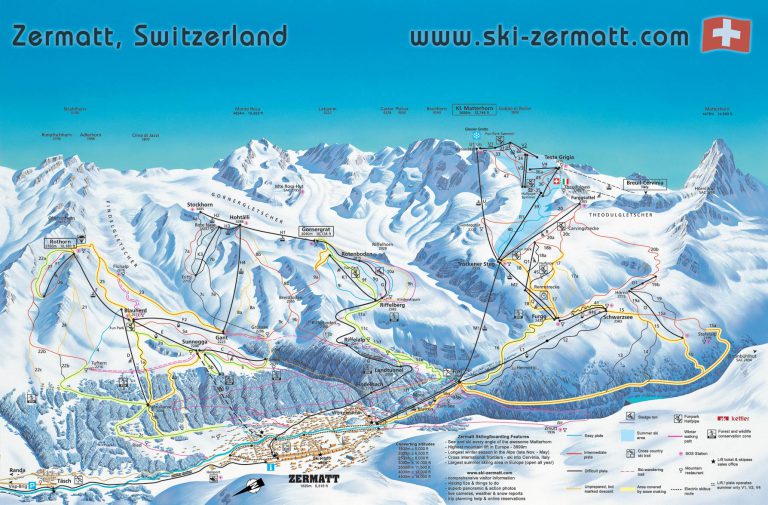 Pistes
Altitudes
Resort Altitude


1620m

Highest Piste


3820m
Expert Ratings
Beginners skiing in Zermatt
Zermatt is not a good place to learn to ski as the progression slopes can be daunting for beginners.
Intermediates skiing in Zermatt
Perfection is the one word that springs to mind for intermediate skiers. The slopes are designed with you in mind. Many of the Blues and Reds tend to be at the steep end that in other resorts might be differently classified. Some of the off piste skiing is great for first timers to get to grips with the challenges of off piste skiing. We only recommend this with an experienced guide as some of the areas are through steep glacial areas with a high avalanche risks after heavy snow. With Mile after mile of wonderful piste what are you wanting for? Book your ski holiday to Zermatt now.
Advanced skiing in Zermatt
Some of the blacks don't deserve their black classification but it's the off piste skiing in Zermatt that will appeal to you. The lost valley is wonderful and highly recommended. It's possible to heli-skiing in Zermatt and at times helicopters take off every few minutes so advanced booked is recommended. The longest off piste starts at 4250m and drops 2300m amongst stunning scenery. Only go off piste in Zermatt with a guide please, some areas are very dangerous with hidden rocks and avalanche risks can be high.
Après ski in Zermatt
There loads going on when the lifts close, from sophisticated to informal, including night clubs and music bars. The choice of fine dining is impressive too, so if night life is important to you, you won't be disappointed in Zermatt.
Activities off the slopes in Zermatt
Shopping is the main activity away from the slopes, anything from expensive jewellery to designer clothes outlets can be found here. You can also take a free guided tour around the village. If you are looking for a bird's eye view of the town you can even book a helicopter trip. Zermatt has a cinema and the wide choice of restaurants caters for all tastes and budgets.
Accommodation in Zermatt
We have 73 properties available in Zermatt. If you're hunting for your accommodation by name, then you'll find it here, or for availability and prices select 'Search Holidays'.