Once you've tried skiing in the USA, you may find that you are hooked! Not just the awesome snow records but also the quality of the snow will hook you, champagne powder days are common in North America! We tend to see the snow fall in the USA is far more frequently than in Europe. Many ski resorts in America receive between 6m to 12m each winter, much more than falls in Europe in a normal winter. The deserted slopes and fast modern ski lifts are another big draw along with the huge range of accommodation and the excellent service provided.

The huge choice of skiing really makes a ski holiday to the US. Whether its beginner's greens to super steep double Diamond runs which rival the steepest runs in Europe there is something for everyone. There is also the beauty of the off piste areas and back bowls which in Europe are never patrolled or avalanche controlled However in USA you get the peace of mind that you have both.
In North America they don't measure the lengths of the ski runs as they do in Europe, the runs are often very wide and the pitch could be very different one side of the run than is on the other, one might even be a mogul field. Instead the ski areas are measured in square acres, resorts like Breckenridge offering 2,358 acres. The other difference is the two grades of black runs, only called simply a Black and steeper runs are called "double diamond".

The draw back to skiing in the USA is the distance and time difference, particularly a problem if you are traveling with young children. Few of the flights are direct, so you may have to clear US customs before you have reached your final airport. Finally the cost of both travel and the higher charges for ski lift passes and ski lessons.
Accommodation in the USA
Ski Line offer a now very limited choice of catered ski chalets, far more available are hotel bed and condo's (which in Europe are referred to as self-catered apartments.) The standard of accommodation is generally very high. Bedrooms are larger and so too are the ensuite bathrooms. Most hotels are sold on a room only basis, although breakfast is available it's charged as an extra. Some hotels also have an evening restaurant although many of our clients choose to dine out at local restaurants. There is always a lot of true ski in ski out lodging available in the USA.
USA Skiing Resorts are quite different from Europe
Many of the resorts in the USA don't have the vast ski runs that the large areas of Europe have – but if you are prepared to car hire and travel you can pick up some pretty spectacular skiing. For example a trip to Colorado could mean that you can combine Breckenridge with Vail and Beaver Creek or Copper Mountain.
Aspen and Snowmass can be combined with a trip out to Steamboat a real cowboy town.
Winter Park can also be combined with other resorts in Colorado and is a particularly good destination for disabled skiers.
If you are flying over to the Utah region into Salt Lake City you can combine the resorts of Park City and Snowbird.

Over on the California/Nevada region you can ski and gamble – it's a very different type of holiday. Heavenly has fantastic Lake views and is one of the USA's largest mountains. Mammoth Mountain is a larger resort (for USA) – although only a third of the size of the Espace Killy but has very quiet slopes and some great terrain parks.
We have ski hotels, ski chalets and ski apartments in all of the USA resorts. Some have distinct 'cowboy themes' and others are more modern. Aspen is as high class as you can imagine and has some beautiful old clapper board houses and various swish shops, bars, and restaurants – celebrity spotting here is the norm.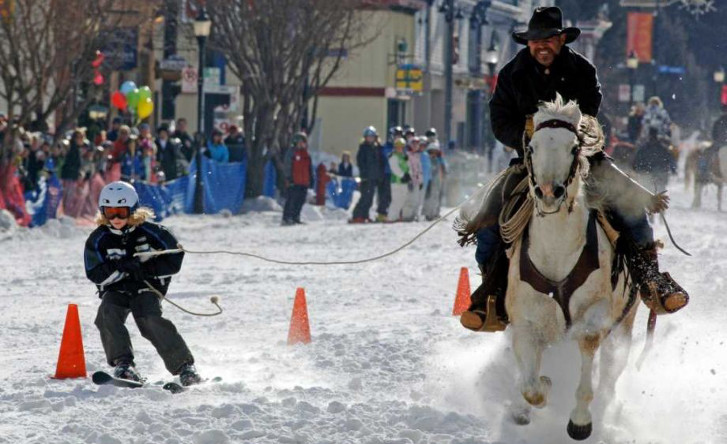 It has to be said that the extras in USA don't come cheap but as they say you get what you pay for, so with the excellent snow, perfect grooming and spot on service and the powder, you'll feel like a ski "God" and you will certainly get your monies worth!
Many of Ski Lines clients who regularly ski in North America stay for 10 days to allow time to get over the time difference. It's possible to buy a ski pass that allows for 7 days skiing out of 10, so you can combine skiing with shopping in some of the many outlet stores. Why not also combine a city break with a few nights stop over, the cost difference can be surprisingly little.
If you are planning a skiing trip the USA, speak with one of our team, we can make sure you get the most value and stay in the best accommodation for your budget.
Popular ski resorts in the USA
... Read more