When it comes to ski chalet holidays, Ski Line offers the best options! We feature major ski tour operators and offer properties in countries the world over. Some of the most popular destinations for skiers and snowboarders include France, Italy, Austria, Switzerland and the USA.
Choose Ski Line for the best ski chalet holidays
Most of our catered ski chalets are traditional free standing detached chalets or semi-detached chalet styled buildings. However, apartment styled ski chalets are increasing in number and are now becoming very popular as many are in ski in ski out locations and benefit from shared spa with sauna, hot tubs and sometimes even swimming pools.
Our most popular type of ski holiday
In Europe, the most popular type of ski chalet holiday is a catered ski chalet holiday, which typically includes flight transfer, accommodation, and freshly prepared meals. At Ski Line we offer around 1500 different catered ski chalets, some are part of a ski package holiday and include flights from a choice of regional airports. These are financially protected by the ski tour operators own ATOL. Many holidaymakers prefer this type of travel package because of the many benefits it offers. For winter sports lovers, staying in a chalet is one of the best ways to enjoy the slopes and relax after a long day of skiing. For those who prefer to drive to a ski resort, we also offer a wide selection of ski chalet accommodation options which don't include flights or transfers.
Browse Ski Chalet Holidays by Country
Catered Ski Chalets
A typical chalet serves breakfast, dinner and afternoon tea. Chalets vary in sizes and styles, but the ones in Europe boast a traditional style with native features. These generally feature a dining and lounge area and some feature balconies, hot tubs, game rooms, swimming pools and open fireplaces too.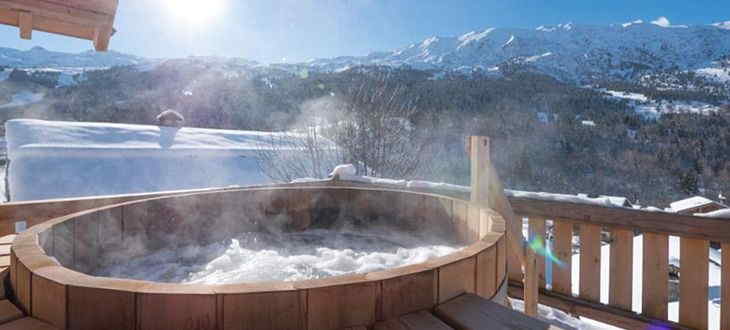 Our ski chalets vary in size from 2 person chalets up to chalets that suit even the largest of groups. We provide ski chalets to suit all requirements, so if you are interested in chalets with hot tubs, or a ski in ski out chalet, we are bound to have one that's ideal. Some of our chalets offer in-house childcare for family skiing holidays where younger children are travelling.
Why Choose a Ski Chalet?
Chalets offer a full mountain ambience and a variety of amenities. Wake up to a breath-taking view of the powdery mountains. Experience the tranquility of an exclusive accommodation property in a location away from the main ski drag. You have access to experienced ski instructors and tour guides who speak different languages. Booking a catered chalet ski holiday is a wonderful way to enjoy the slopes with your friends, family or colleagues.
Popular Ski Chalet Holiday Resorts
ATOL bond
Ski Line is an ATOL bonded company and as such we are able to financially protect chalet holidays by adding a scheduled or charter flight and private transfer to a tailored package holiday. Doing so will allow your personally selected holiday to meet key requirements for the full financial protection offered by the Civil Aviation Authority ATOL.
Ski Chalet Holiday Prices
Our chalets are available to suit all budgets. From simple and affordable up to the most luxurious chalets - there is something for everyone! If your planned holiday dates are over the peak weeks of the year such as Half Term skiing holidays 2020 or the New Year skiing holidays 2019/20 we would urge you to book early as these dates always sell out quickly.
Ski Line Limited helps you find the best accommodation for your next ski trip. Browse our huge selection of ski chalets and choose the one that best suits your needs and budget.
Get in touch or chat with one of our travel agents so we can help put together your dream ski chalet holiday.
Popular Catered Ski Chalets
| Chalet | Resort/Country | Sleeps |
| --- | --- | --- |
| Chalet La Chapelle | Alpe d'Huez, France | 14 |
| Chalet Ice | Avoriaz, France | 17 |
| Chalet Sirocco | Verbier, Switzerland | 8 |
| Chalet Narnia | St Anton, Austria | 12 |
| Chalet Saskia | Alpe d'Huez, France | 26 |
| Chalet Cerf Rouge | Meribel, France | 10 |
| Chalet Arktic | Tignes, France | 18 |
| Chalet Le Chardon | Val d'Isere, France | 20 |
| Chalet Cairn | Tignes, France | 14 |
| Chalet Yukon | Meribel, France | 4 |
... Read more