Once you have experienced the joy of skiing away from your ski chalet and back at the end of the day, without boarding a bus, or even worse a long walk, we know that this is a box that will be needed to be ticked for your next skiing holiday!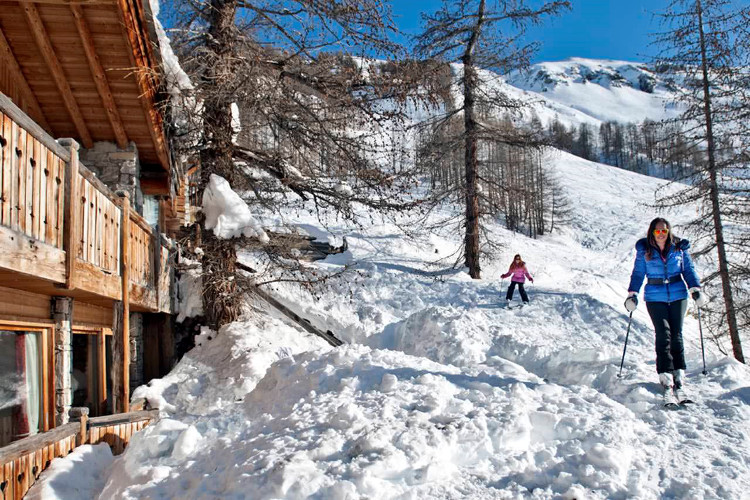 A ski in ski out ski chalet is one of the most popular requests from our clients who book catered ski chalets with us.
Ski in, ski out chalets are available in most of our ski resorts, you can expect to pay a little more for the ski convenience but we think it's money well spent.
As a rule of thumb, to us a ski chalet is ski in ski out if its within 100m from the slopes, that's less than a minute's walk, although many of our ski in/ski out chalets are right on the slopes.
Ski In ski out chalets are perfect for families with young children.
If you are booking a chalet with young children a ski in ski out chalet is perfect, but make sure you can easily reach the ski school meeting point, or all the benefits will be lost! Many of family ski holiday chalets are located on the slopes.
Our slope side ski chalets are available to suit all tastes and budgets and come in a wide choice of sizes to accommodate most group sizes.
If you are booking for a group, don't forget additional group discounts may be available, we are one of the leading specialist ski booking agents and our experienced team can help you find, the perfect ski in ski out chalets with the best group discounts achievable.
It's amazing just how much more enjoyable a ski chalet holiday is when it's located right on the ski slope!
A ski in ski out chalet located on the piste in Alpe d'Huez, France
We once had a client who complained that the piste bashers disturbed his sleep as his chalet was located too close to the pistes, well I guess we are never going to please all the people all the time!
Advantages of booking a ski in ski out chalet
Be first on the lift each morning, book a ski in ski out chalet
Save all your energy for skiing
Put your skis on at the door and go
Never carry your ski again
Never walk in ski boots again
Be one of the first on the lifts in the morning
Be one of the last on the mountain at the end of the day
Top Ski In Ski Out Chalets
... Read more