7 nights
Independent Travel
Ski Holidays in Courchevel
Nestled within the awe-inspiring Three Valleys ski area in France, Courchevel stands as an exquisite and renowned ski destination. This opulent resort comprises four distinct villages and boasts an unparalleled selection of accommodations, ranging from family-friendly hotels to charming traditional chalets.

Language


French

Currency


Euro
ski holidays found in Courchevel
Loading holidays ...
Why Ski in Courchevel?
Courchevel, a renowned ski destination, comprises four distinct villages. In all four villages, we offer chalets, hotels, and apartments, and our accommodation pages specify the village location for each property.
Courchevel is part of the immense Les Trois Vallées ski area, which also includes Meribel and Val Thorens. It is the largest interconnected ski area globally, boasting 650km of meticulously groomed slopes.
The four villages of Courchevel—Courchevel 1850, Courchevel 1650, Courchevel 1550, and Courchevel 1300 (La Praz)—each possess a distinct character. From the upscale hotels and chalets in 1850 to the charming, narrow streets of Courchevel 1300, every resort offers a unique experience. Courchevel 1850 is renowned for its luxurious ski hotels, with some charging over £1000 per night. Recently, there has been an influx of wealthy Russian clientele, particularly during New Year's, and the best bars and restaurants prepare for their arrival with fine Cristal champagne. However, it is worth noting that Courchevel 1850 also offers affordable accommodations, and the nightlife in this resort is surprisingly limited.
While Courchevel is a well-known name among skiers and snowboarders, many associate it specifically with the village at 1850m. However, choosing Courchevel 1650 as your destination might be a better option for several reasons. Situated at the far left-hand edge of the 3 Valleys ski area, it experiences less crowded slopes, as many skiers from the Meribel and Val Thorens sides do not venture beyond Courchevel 1850. The quieter slopes also mean excellent snow conditions. Additionally, staying in Courchevel 1650 is more budget-friendly, with affordable bars and restaurants, and the nightlife is livelier. Lift queues are rare in the tranquil slopes of Courchevel 1650, which is a noticeable improvement for those who haven't visited in recent years, as the older, slower lifts have been replaced with high-speed ones.
Courchevel 1550, the original village of Courchevel before skiing arrived in the valley, presents an ideal choice for those who prefer not to pay the higher prices of its sister resort, Courchevel 1850. Situated just below Courchevel 1850, with a mere 300m difference in elevation, Courchevel 1550 is well-connected to the rest of the expansive 3 Valleys ski area. Two lifts link it to Courchevel 1850, facilitating easy access to other parts of the region. Moreover, a free local bus service operates regularly, connecting Courchevel 1550 to Courchevel 1650, Courchevel 1850, Courchevel 1300 (La Praz), La Tania, Meribel Village, and eventually Meribel Center.
Courchevel 1300 La Praz, known for its ski jumps as a legacy of the 1992 Winter Olympics, is situated at 1300m and stands out as the most picturesque among the four Courchevel resorts. Formerly the original village before skiing took hold, Courchevel 1300 (La Praz) maintains its authentic mountain village charm. From the village, two bubble lifts depart—one heading to Courchevel 1850 and the other to Chenus at 2243m—providing numerous skiing possibilities across Courchevel, La Tania, Meribel, and beyond. Courchevel 1300 offers a good selection of ski chalets, ski hotels, and a few ski apartments for those seeking self-catered ski holidays.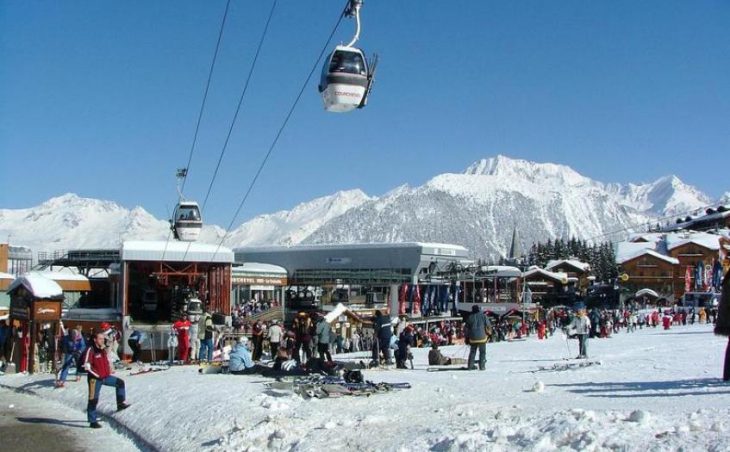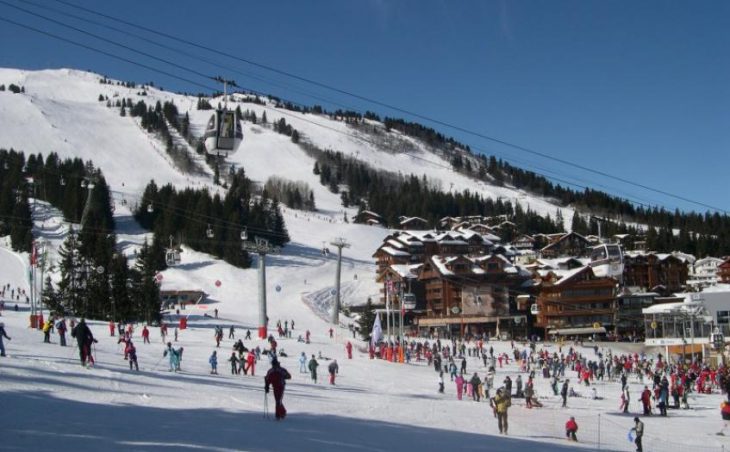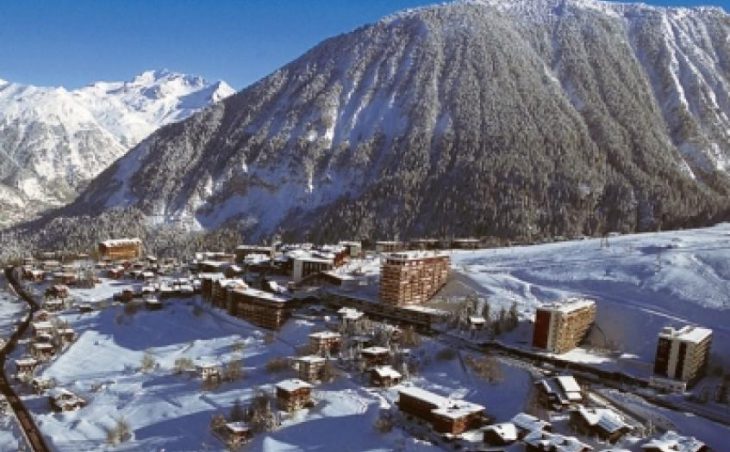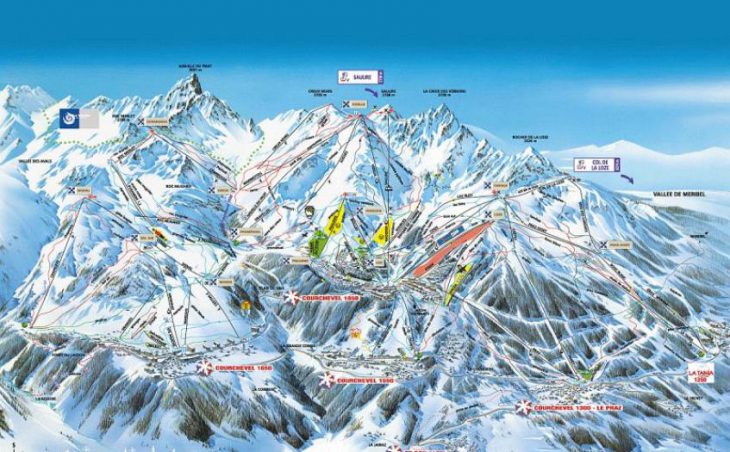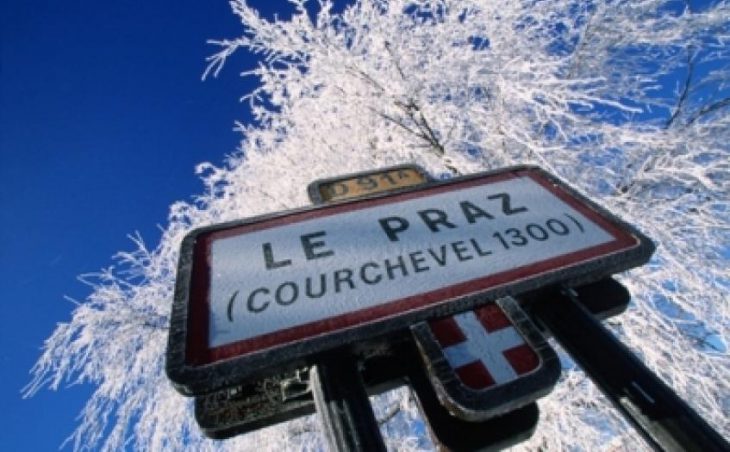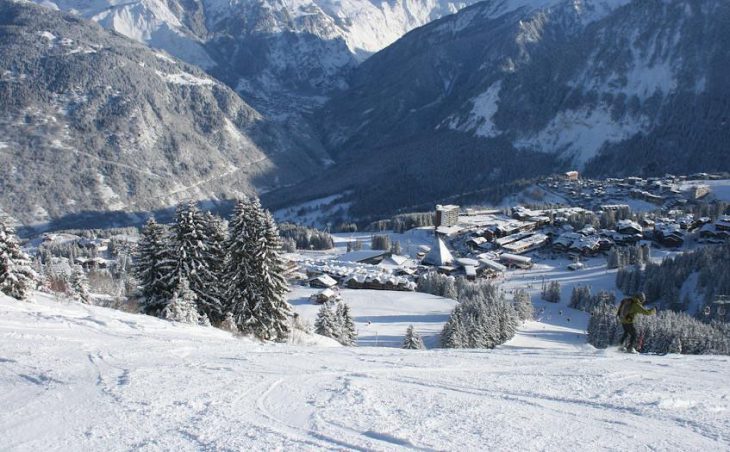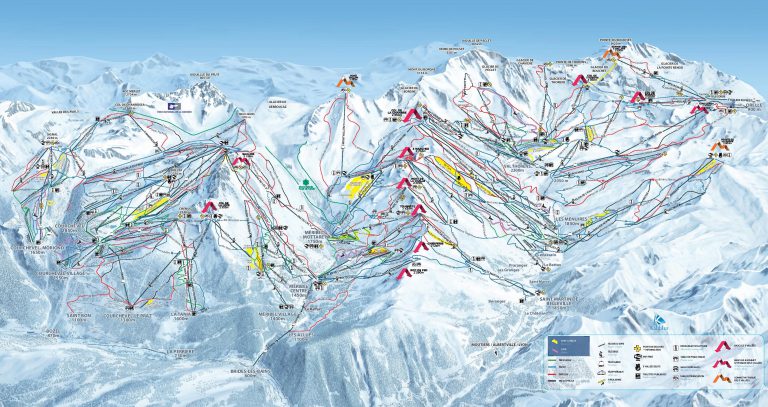 Upper Piste

depth

Lower Piste

depth

Weekly

Snowfall
0 cm
100 cm
200 cm
300 cm
400 cm
Based on weekly average snowfall data November 2000 - April 2018
Pistes
Altitudes
Resort Altitude


1850m

Highest Piste


3250m
Expert Ratings
Beginners skiing in Courchevel
When it comes to beginner-friendly ski resorts, Courchevel 1850 stands out as one of the finest. With excellent independent ski schools and private instructors at your disposal, you'll have the perfect guidance to start your skiing journey. The slopes surrounding the village offer wide and gentle green runs, allowing you to build your confidence effortlessly. As you progress from mastering the basics, you'll discover a plethora of delightful blue runs to cruise on in Courchevel 1850, 1650, and 1550.
Courchevel 1650 is an excellent choice for beginners, offering a superb selection of green and gentle blue runs. The quieter slopes in this area of the Three Valleys ensure a worry-free experience without the concern of collisions with other skiers.
While Courchevel 1550 features a small nursery slope, most beginners prefer taking the lift to Courchevel 1850. This elevated village boasts fantastic, gentle, and lengthy green runs, allowing beginners to solidify their skills. By the end of the first week, you can expect to be skiing on blue runs above 1650, which remain pleasantly quiet and less crowded, even during peak weeks.
For beginners, both the Le Praz bubble lift and Foret lifts provide access to green runs around Courchevel 1850, making it an ideal ski resort. Just keep in mind that returning to the base will require taking the bubble lift back down.
Intermediates skiing in Courchevel
For skiers comfortable on red runs, Courchevel offers an abundance of options both within the local area and throughout the entire ski area. Each sector boasts lengthy and challenging red runs, with some easier black runs and even accessible off-piste routes to keep you thrilled throughout the week. If you prefer a more relaxed intermediate experience, the long blue runs near the ridge above La Tania provide excellent skiing opportunities. Don't miss the exhilarating and sweeping blue piste called "Folyeres" that leads down to La Tania, offering a dream run and a fantastic spot for a lunch break away from pricier mountain eateries.
Intermediate skiers of all levels will find any of the three valley villages perfect for their needs. The extensive selection of skiing options across the 650 km of pistes caters perfectly to intermediate skiers and snowboarders.
In fact, any resort within the expansive Three Valleys ski area is an ideal choice for intermediate skiers and snowboarders at any level. With a staggering 487 km of blue and red runs, the possibilities are endless, making it the perfect destination for intermediates.
Courchevel 1300, in particular, is a superb option for intermediate skiers, as the opportunities within the Three Valleys ski area are boundless. Taking the Foret bubble lift from the village connects you to Chenus, from where you can descend to Meribel, opening up even more thrilling slopes to explore.
Advanced skiing in Courchevel
Expert skiers will find an abundance of thrilling opportunities both within the local area and throughout the vast expanse of the Three Valleys ski area. For an adrenaline rush, make your way to the top of the Saulire cable car and descend one of the three challenging couloirs, known to be among the steepest in Europe. Another exciting option is the black run leading down to La Praz, featuring a descent of over 1000m.
Advanced skiers and snowboarders will be spoiled for choice in this area. Within the local ski area above 1650, there's a great black run that descends from the Chanrossa chairlift. However, the options extend far beyond, offering an endless array of thrilling possibilities throughout the entire ski area.
Just like any of the villages within the Three Valleys ski area, this is an ideal choice for advanced skiers and snowboarders. With an impressive 48% of the skiing terrain consisting of black or red runs, there are countless exhilarating slopes to conquer and enjoy.
Après ski in Courchevel
In Courchevel 1850, you'll find a variety of après ski bars offering lively entertainment. Cap Horn is a popular spot with DJs, and later in the evening, there are nightclubs available for those seeking more excitement. The Cave, Kalico, and The Grange are well-known clubs that stay open until the early hours. Keep in mind that some bars in this area can be pricey. Many of our clients opt to take the bus down to Courchevel 1650 to enjoy the vibrant party scene there.
Courchevel 1650 also offers excellent après ski options, with a selection of lively bars featuring bands or DJs. The Bubble bar, located in the heart of the village, is particularly favoured by British skiers.
In Courchevel 1550, the nightlife is more relaxed, with a handful of good restaurants and bars to enjoy after a day on the slopes.
For those looking for fine dining experiences, Courchevel 1300 now boasts the Michelin-starred restaurant Azimut. While it offers great value, it tends to be busy. Additionally, there are several good bars in the area, although the nightlife in Courchevel 1300 is generally more laid back compared to other ski resorts in the 3 Valleys area.
Activities off the slopes in Courchevel
In addition to the exhilarating skiing experience, there are plenty of off-slope activities to enjoy in Courchevel. Ice skating is a popular option, and for the more adventurous individuals, skydiving from a small plane departing from Courchevel's mini airport can provide an adrenaline rush. If relaxation is what you seek, the upscale hotels in the area offer spa facilities, or you can arrange for a masseuse to visit your chalet, hotel room, or apartment.
There is a wide range of activities to explore, including tobogganing, ice skating, climbing walls, visiting cinemas, experiencing hot air ballooning, and much more. You can also take a bus to Meribel, where a fantastic sports centre awaits, complete with a swimming pool and bowling alley.
Accommodation in Courchevel
We have 105 properties available in Courchevel. If you're hunting for your accommodation by name, then you'll find it here, or for availability and prices select 'Search Holidays'.