7 nights
Independent Travel
If you're seeking the enchantment of one of Europe's most expansive and exceptional lift-linked ski resorts, then look no further than a ski holiday in Les Arcs. Nestled within the Paradiski ski area in France, Les Arcs boasts a diverse range of slopes that cater to skiers of all skill levels. With snow-sure pistes reaching approximately 2,000m in altitude and north-facing snowfields, you can expect excellent snow conditions throughout your stay. Furthermore, a Les Arcs ski holiday offers more than just thrilling slopes; it also provides a vibrant après-ski atmosphere. You'll find popular restaurants, bars, shops, and spas conveniently located near the slopes, allowing you to indulge in post-skiing delights.
Featuring an extensive 425km of pistes, high-altitude skiing opportunities, and a spacious terrain park, a Les Arcs ski holiday ensures there's something to delight every winter sports enthusiast.
Eco-friendly
Les Arcs holds the Mountain Riders Flocon Vert Certification. It has powered its ski lifts on 100% renewable energy since 2011. In 2020 the resort has also added to its commitment to reducing plastic waste, improving energy, increasing electric transport, and preservation of its environment.

Language


French

Currency


Euro
ski holidays found in Les Arcs
Loading holidays ...
Why Ski in Les Arcs?
For the 2018/2019 season, Les Arcs underwent a significant transformation by relocating mud and stones to replace the previous back run, Comborciere, with a brand new Red run. The new run spans over 2km just below Arcs 1950 and aims to provide a more enjoyable and less intimidating skiing experience for both beginners and returning visitors. The bumpy terrain has been smoothed out, making way for a thrilling slope that caters to a wide range of skill levels.
Les Arcs is part of the expansive Paradiski area, which is seamlessly connected to the neighbouring La Plagne ski area. The combined ski area offers an impressive variety of slopes, ensuring there is something suitable for everyone, from novices to experts. You can find heart-stoppingly steep, ungroomed black runs as well as easy cruising runs. With approximately 70% of Paradiski's pistes located above 2,000m, you can expect excellent snow coverage throughout the season. With an altitude range of 1,200m to 3,250m and a staggering 425km of pistes, Les Arcs and Paradiski promise an exceptional skiing holiday experience.
Les Arcs now comprises four main villages: Arc 1600, Arc 1800, Arc 2000, and Arc 1950 (which exclusively offers self-catered apartments, and yes, we sell them too!). The numerical designations represent the approximate altitudes of each village. Additionally, there are two smaller villages, Vallandry and Plan Peisey, which are conveniently located for accessing the link to La Plagne via the Vanoise Express. Ski Line predominantly offers chalets in Arcs 2000, Vallandry, and Plan Peisey. However, we also have a limited number of chalets in the traditional village of Villaroger, situated across from the ridge above Arc 2000. The chalets in Arcs 2000 are primarily apartment-style, with many offering indoor pools and some providing in-house childcare. Furthermore, our most popular all-inclusive adult-only hotel, Club Med, is located here in Arcs 2000.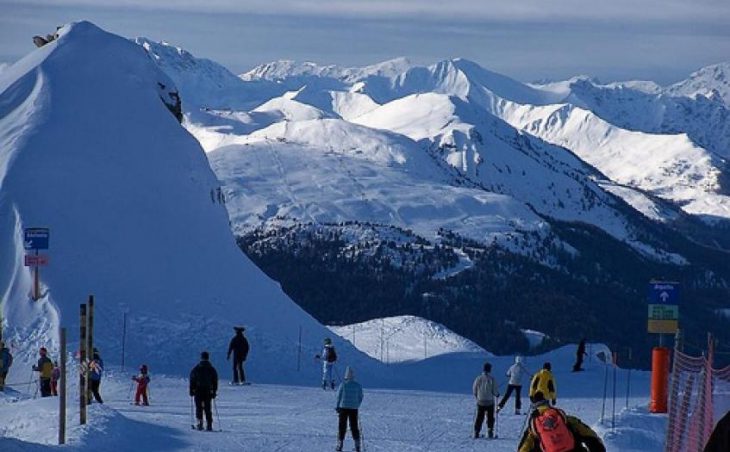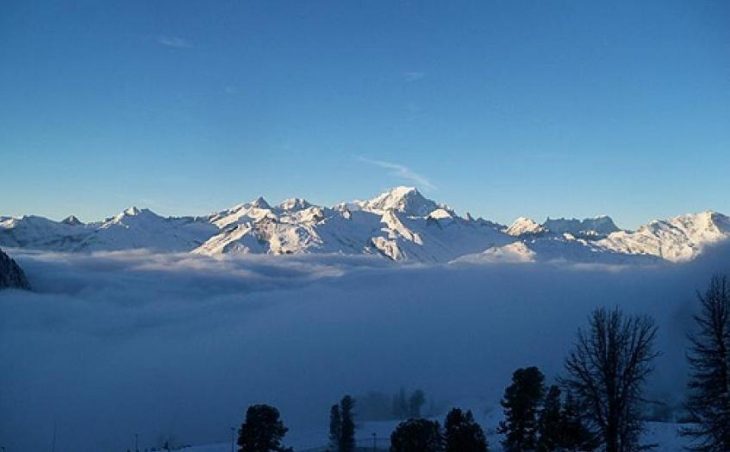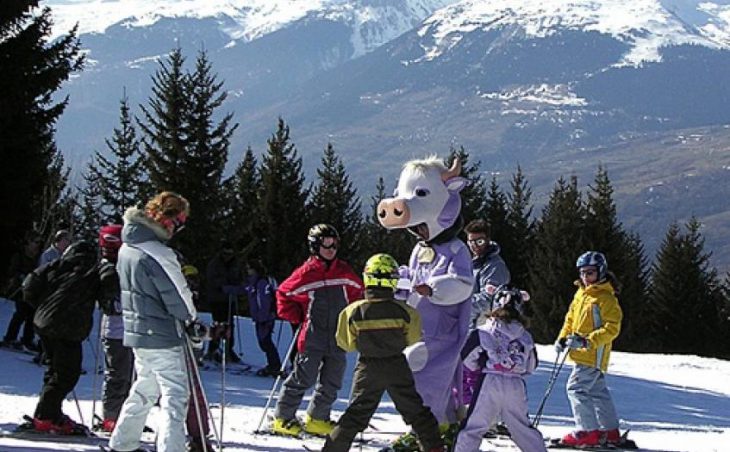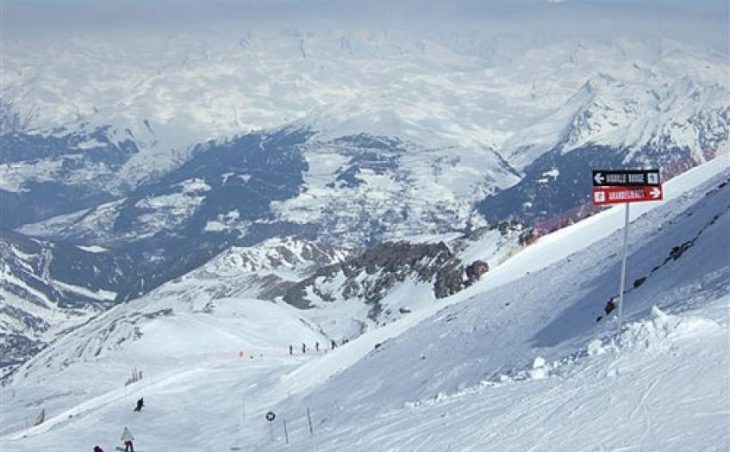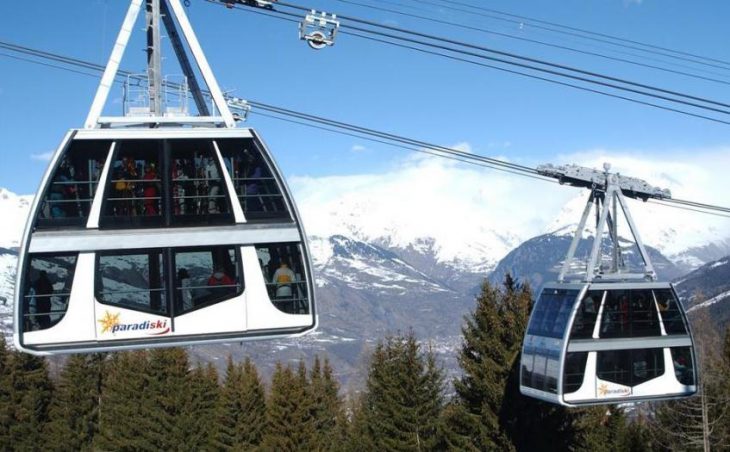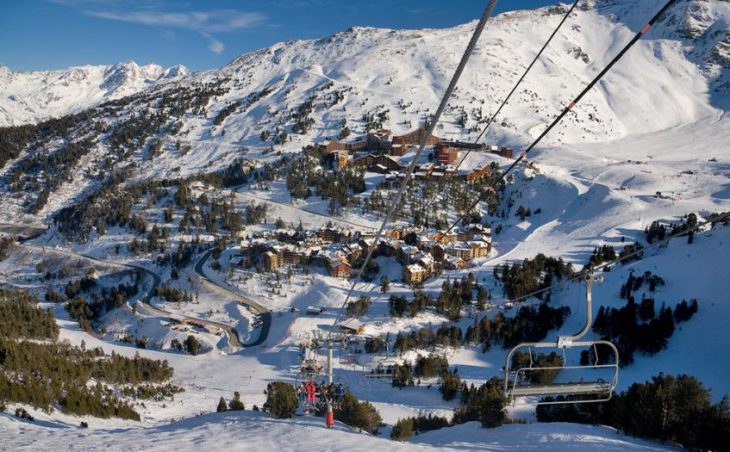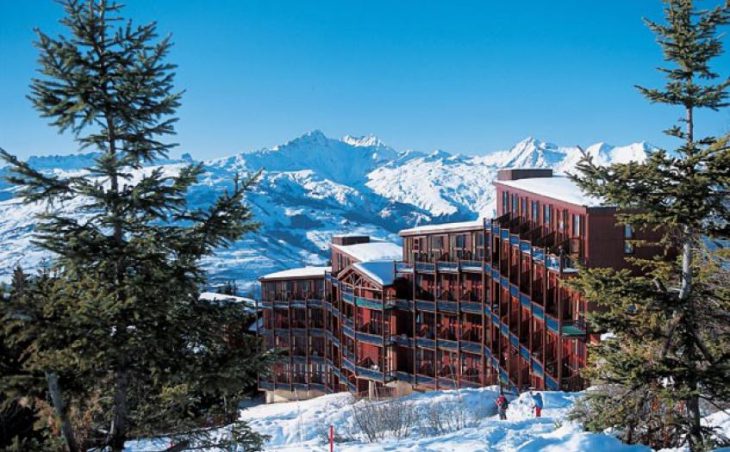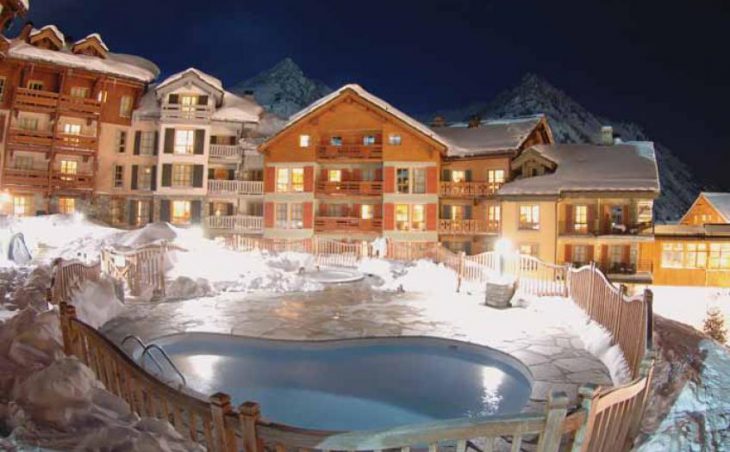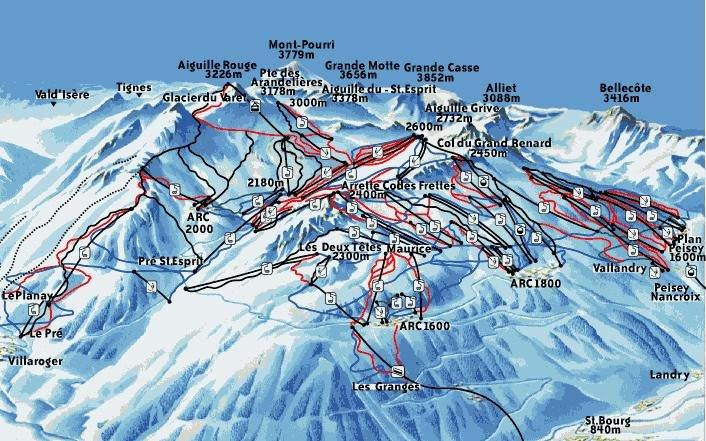 Upper Piste

depth

Lower Piste

depth

Weekly

Snowfall
0 cm
100 cm
200 cm
300 cm
400 cm
Based on weekly average snowfall data November 2000 - April 2018
Pistes
Altitudes
Resort Altitude


2000m

Highest Piste


3250m
Expert Ratings
Beginners Skiing In Les Arcs
Every village in Les Arcs features a designated "Ski Tranquil" area, complemented by a free lift service on weekends. For a convenient and enjoyable experience, you can take the Villards Gondola, covering a distance of 600m, to reach the Mille 8 zone. At the top, you'll find Le Lodge, an excellent spot to pause and grab a bite or drink. Adjacent to it is a gentle green run, serviced by a covered Magic Carpet lift, which becomes a particular delight in the evenings when it's illuminated. From there, the natural progression leads to the Cabanes piste.
Intermediates Skiing In Les Arcs
One of Les Arcs' greatest assets lies in its remarkable variety of skiing and snowboarding options for intermediates. The mountain is abundant with blue runs, making it an ideal choice for groups with varying skill levels. Most of the blue runs are appropriately classified, although there are a few that lean towards the more challenging side. The red runs offer thrilling experiences and are spread across the ski area, providing enjoyable diversity. Don't miss the delightful woodland runs around Villaroger and the descent to Plain Peisey. With over 80% of the runs in Les Arcs classified as blue or red slopes, you'll truly be spoiled for choice in this resort.
Advanced And Off Piste Skiing In Les Arcs
Expert skiers and boarders will find plenty of challenges, both on and off-piste, in Les Arcs. Many of the black runs are left ungroomed as the season progresses, creating extensive mogul fields. However, the real allure for powder enthusiasts lies in the abundance of off-piste skiing available, with snow that lasts much longer compared to more renowned off-piste destinations like Chamonix, where fresh tracks disappear within hours. Additionally, there is a satisfying selection of black runs on the Aiguille Rouge, although they may not be lengthy, they are certainly worth experiencing.
Ski Chalets In Les Arcs
At Ski Line, our most sought-after accommodation choice in Les Arcs is undoubtedly the catered ski chalet – it's no wonder this resort is renowned as 'Chalet Central'! We take pride in offering an extensive selection of chalets that cater to various group sizes and budgets, ensuring we can find the perfect chalet holiday to meet our client's needs. Additionally, we also provide several chalets in the charming village of Villaroger.
Ski Hotels And Apartments In Les Arcs
When it comes to choosing your base village, Ski Line offers options to suit your preferences. Les Arcs 1600 and Les Arcs 1800 provide the best nightlife and captivating views of Mont Blanc, which might influence your decision. Arcs 1950 is a ski-in ski-out village with American-style architecture, offering some of the finest self-catered apartments in the Alps. Peisey Vallandry is a popular choice among guests looking to explore the entire ski area, as it is where the Vanoise Express double-decker cable car connects to La Plagne.
All Inclusive Holidays In Les Arcs
For an all-inclusive ski holiday experience, Club Med stands as the epitome of excellence. It's no wonder their hotels are increasingly becoming the preferred destination for winter vacations, especially for group and family travel. Ski Line proudly presents three Club Med hotels in Les Arcs: Les Arcs 2000 (adults-only) with Arcs Extreme, a fabulous 4-trident hotel that opened in time for the 2018/19 season in Les Arcs 1600 (Panorama), and a third option in Peisey Vallandry, conveniently located near the link to La Plagne. With their exceptional value and comprehensive packages, Club Med holidays are simply unbeatable. As one of Club Med's largest ski specialist travel agents, we began offering their ski holidays in 2008 and are extremely proud to be appointed as Club Med Infinite agents since 2011. This distinction allows us, and in turn our clients, to access exclusive rates not available to many other agents. When you choose to book with us, rest assured that you are getting the best available price.
Snowboarding In Les Arcs
Situated between 1600 and 1800, there is an exceptional Terrain Park called The Apocalypse, easily accessible via a boarder-friendly J Bar drag lift. Renowned as one of the most progressive parks in the Alps, it has long been considered on par with the esteemed park in Avoriaz. For enthusiasts of snow cross runs, there are also options available under Col de la Chal, providing an exhilarating experience for those seeking fast-paced action.
Restaurants In Les Arcs
Les Arcs' dining establishments can sometimes lack inspiration, but fear not, as there are notable exceptions that are definitely worth discovering. The restaurant selection has seen significant improvements over the years, providing a much wider array of options. On the mountain, there's a gem called Le Bulle Café, also known as The Bubble.
This place boasts a vast terrace, often featuring live music, and an alluring transparent igloo, making it the perfect spot to relish their incredibly affordable, generously sized pizzas, ideal for sharing between two. Alternatively, you can enjoy their delectable sandwiches and snacks or indulge in one of their magnificent seafood platters, a true feast for the senses! You'll find Le Bulle just before the base of the Arcabulle chairlift above Arc 2000.
For those venturing off the mountain, The Savoy awaits… Don't be deterred by the name! This traditional French brasserie resides in Arc 2000, offering a restaurant and a separate bar where food and drinks are served until midnight. Their extensive menu features mouthwatering steaks, tender escalope de Veau, and succulent lamb shank, alongside beloved Savoyard classics like fondue and tartiflette. A commendable wine list further enhances the experience.
Vegetarians, vegans, and individuals with special dietary requirements need not worry either. Most restaurants offer vegetarian options on their menus, with some gradually incorporating vegan choices as well. Additionally, there's the highly regarded and increasingly popular Huski Catering company, which delivers delicious oven-ready meals to your doorstep, including a wide range of vegetarian and vegan options. Simply switch on the oven, pour yourself some wine, and enjoy! We also recommend contacting any restaurant you plan to visit and inquiring about their willingness to accommodate your specific dietary needs – many establishments are happy to oblige.
Apres-Ski In Les Arcs
Les Arcs 1800 takes centre stage when it comes to après-ski activities, making it the prime destination for those seeking a lively party scene! If you're looking to let loose, this is where you should head. Here, you'll discover a variety of bars and clubs to suit every taste, whether you desire a relaxed drink after the final runs or want to dance into the early hours alongside fellow party enthusiasts.
The après-ski festivities kick off around the main square at Villards and extend to the two clubs located at the Charvet end of the resort. With so many options to choose from, it's difficult to settle on just one favourite, but Chez Boubou certainly earns its claim to that title. Over at Place des Villards, revellers will find the Red Hot Saloon, the largest bar in the resort. It's worth stopping by to enjoy fantastic live music in the evenings, and for sports enthusiasts, they showcase events on a massive TV screen. If you're seeking delicious food in a friendly atmosphere throughout the day, Bar King Mad is the place to be.
For the diehard partygoers, make your way to Apokalypse, the largest and most popular club in Les Arcs. Spanning three floors, this establishment delivers the classic Euro beats that keep the energy flowing until 4 am.
Activities Of The Piste
Apart from the fantastic Mille 8, which offers an array of activities suitable for both children and adults, such as an indoor leisure pool and outdoor tobogganing, Les Arcs resort boasts additional recreational options. With two bowling alleys and a cinema, there are ample opportunities for entertainment. Moreover, a new addition for the 2018/19 season was the introduction of electric snowmobile racing for kids at Les Arcs 2000, providing an exciting experience for young visitors.
Accommodation in Les Arcs
We have 150 properties available in Les Arcs. If you're hunting for your accommodation by name, then you'll find it here, or for availability and prices select 'Search Holidays'.