7 nights
Independent Travel
Why Ski in Tignes?
With its impressive height (2100m) making it one of the most snow-sure winter resorts in the Alps, it's not hard to see why Tignes is such a favourite. Add to this the fact that it shares the massive ski area Espace Killy with Val D'Isere and with terrain to suit all abilities of Skiers and Boarders, it comes as no surprise that Tignes is one of our most popular Ski Holiday destinations here at Ski Line.
The 3 distinct villages making up the resort are Tignes, Le Lavachet, Tignes la Lac and Tignes Val Claret. Each village offers excellent access to the slopes and most of the ski accommodation is of the ever-popular ski in/ski out variety and even those that aren't are very close to the slopes. We would recommend that those clients intending to ski mostly on the Val d'Isere side of the ski area, would be best advised to stay in either Le Lavachet or Tignes La Lac as these villages have the quickest access. If you intend to head for the glacier at La Grande Motte, (3455m) stay in Val Claret.
What Tignes lacks in architectural beauty, it more than makes up for in fabulous ski-ing and an incredibly long season – the Grande Motte glacier opens for Summer Skiing and Boarding from late June to early August and the whole resort opens early in and closes late compared to most of its neighbours, sometimes giving the impression that the Season never really ends! Another major attraction of Tignes is the lift system here which really is excellent meaning there are very few queues even in peak weeks. If you haven't been here yet you really should add it to your list of ski resorts to visit and we at Ski Line can help make it a memorable visit.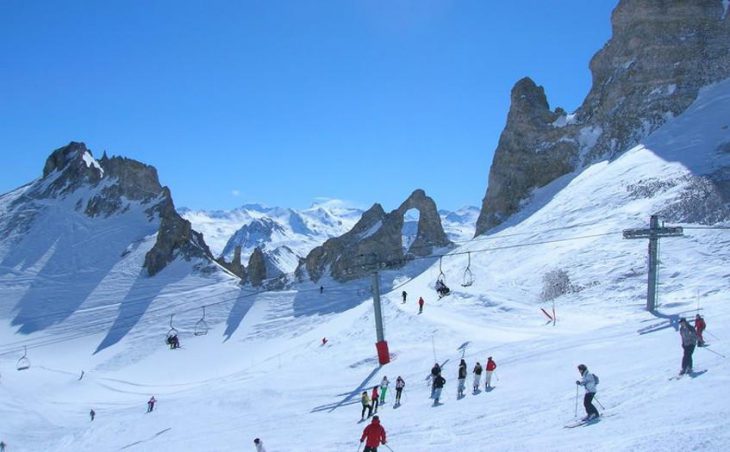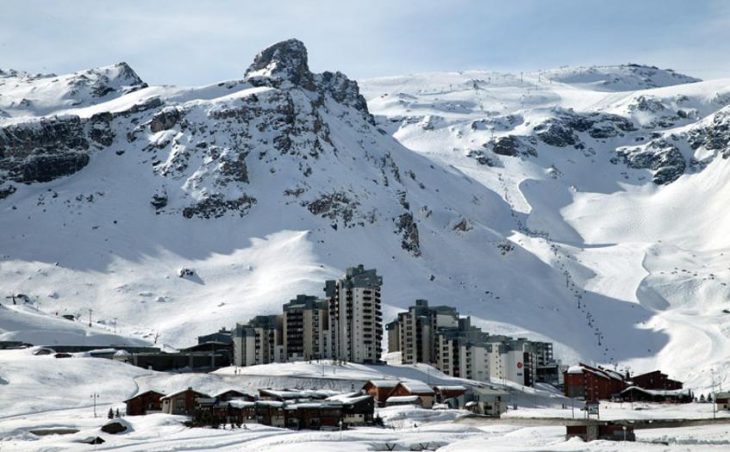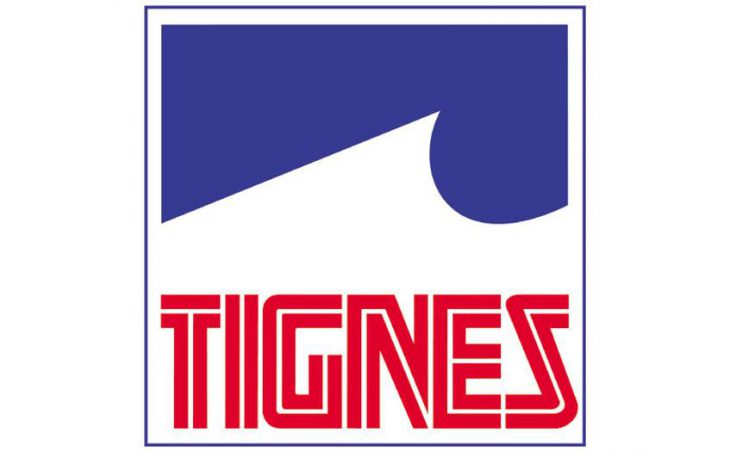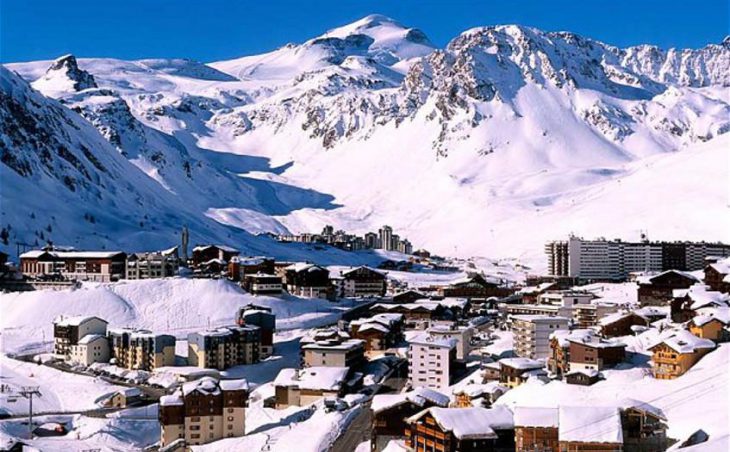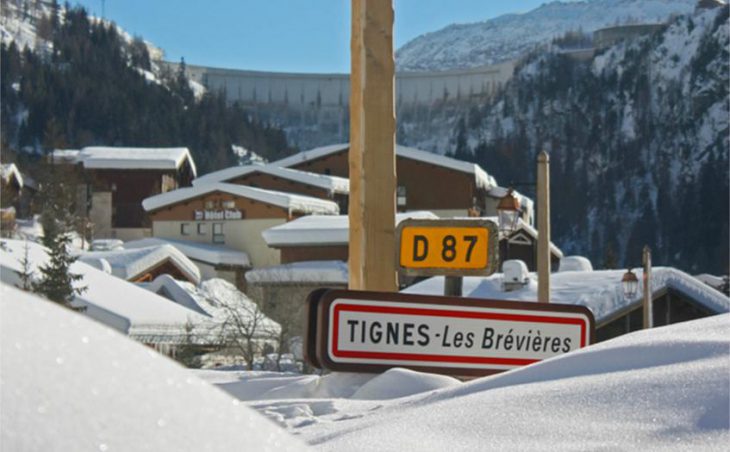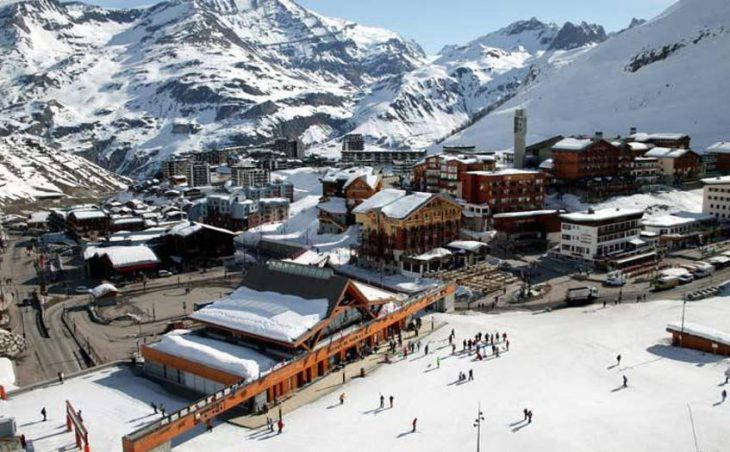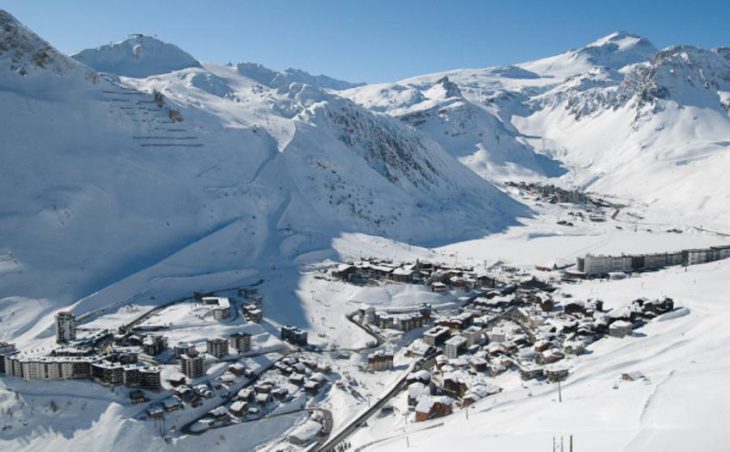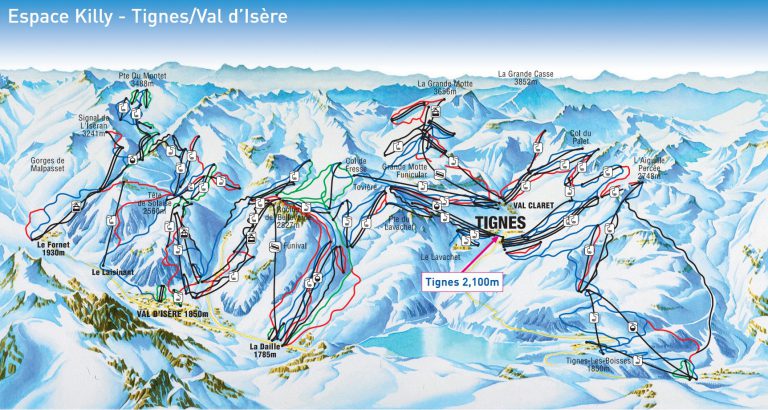 Upper Piste

depth

Lower Piste

depth

Weekly

Snowfall
0 cm
100 cm
200 cm
300 cm
400 cm
Based on weekly average snowfall data November 2000 - April 2018
Pistes
Altitudes
Resort Altitude


2100m

Highest Piste


3456m
Expert Ratings
Beginner Skiers In Tignes
The nursery slopes at Tignes Le Lac and Lavachet are excellent due to the fact that they are snow sure, convenient and free of through traffic making it ideal for children and beginners as they remove the worry of collisions with speeding skiers or boarders. These slopes are gentle and served by a slow chair and drag lift. The slope in front of Le Rosset although classified as a blue, could easily be considered a green run and the lifts and chairs which serve this area are all free as is the Claret Magic Carpet – the whole nursery/beginner setup is very impressive.
Intermediate Skiers In Tignes
Ski Line considers Tignes to be one of the best resorts in the whole of Europe for intermediate skiers who like to rack up the miles. There is so much to choose from in the Espace Killy. The runs on and around the Grande Motte glacier always have great snow cover. Some of the best cruising runs around Tignes can get crowded particularly runs like the "H" run, but it's always well groomed and there is always the other side of the valley to move to where the runs down from the Aiguille Percèe to Tignes 1800 and Les Brevieres are set in beautiful scenery and are great fun.
Advanced Skiers In Tignes
Probably the most challenging black run is from Toviere to Tignes-le-lac with steep, heavily mogulled sections. Le Sache is another black well worth trying – it runs down from the Aiguille Percee through a secluded valley dropping 1200m on its way into Tignes-Les-Brevieres – watch out as it can become very heavily mogulled at the base, but you can avoid this by taking the red run part way down. Tignes and Val d'Isere offer some of the best lift connected off-piste runs. The drop from the Col du Palet down to Champagny and Peisey Nancroix is very attractive and not too challenging.
Ski Chalets In Tignes
Ski Line have over 60 ski chalets for you to choose from in Tignes, and our ski chalets are always the most popular type of ski holiday we offer in Tignes. These ski chalets are in all three of the villages that make up Tignes and the majority are the ever-popular ski in ski out variety. We have Chalets for Families, large groups (Corporate or friends) couples, singles – you name it, we can source it! The choices cover all budgets and those suitable for families often offer childcare which is always a bonus. Many of our clients who choose to book a winter holiday in the Espace Killy often favour Tignes over Val D'Isere when weighing up the ski convenience of both resorts as Tignes probably just has the upper hand. If a hot tub is an absolute must – and for many of our clients it is!, Tignes has a really good choice of mid-range ski chalets with must have hot tubs.
The ski season in both Tignes and Val d'Isere is one of the longest in the whole of the Alps and the lifts remaining open until the first week in May most seasons, this qualifies them as 2 of the most snow-sure ski resorts we offer and just in case that isn't enough, there are 2 glaciers too!
Don't forget if you are booking a ski chalet in Tignes on behalf of a group you MUST speak to one of our team as our prices on this website do not include group discounts which on some dates can be up to 1 in 4 going free.
Ski Hotels In Tignes
Ski Line has an excellent selection of hotels for our clients to choose from – whether you are looking for value for money, or a budget blow out we find the perfect base for you to make your 'home' in the snow.
Ski Apartments In Tignes
Ski Line is delighted to be able to offer a plethora of hotels for our clients to choose from – again we have something for every budget and some have some great offers for Ski Passes so check these out.
All Inclusive Ski Holidays In Tignes
Tignes Club Med Val Claret sits at an altitude of 2,100 m (6,888 ft), in the Espace Killy area, renowned for being one of the most beautiful ski domains in the world
Club Med offers the UK's only true all-inclusive skiing holidays. Included in the price are ski lessons, ski passes, entertainment and much, much more so it is important to take all this into consideration when comparing the cost of Club Med ski holidays with other holidays offered on our website.
Booking a Club Med ski holiday could save you £100's this link explain how.
Here at Ski Line, our team are experts on everything to do with Club Med, so give us a call on 0208 313 3999 to find out why more of our clients are booking Club Med skiing holidays every year.
Off Piste Skiers And Boarders In Tignes
Tignes is regarded as a bit of a Mecca for off-piste skiers and has some of the most really impressive powder terrain. This includes a selection of punishingly steep couloirs around La Grande Balme and La Petite Balme, two rocky outcrops at the southern end of the valley. Tignes has a well-earned reputation for having some of the best lift-served off-piste skiing in the World. There are runs to suit all levels of ability from able intermediate skiers to adrenalin junky free riders and those who consider themselves to be off-piste experts. It is worth noting that many top UK snowboarders make Tignes their Winter home. We always advise you to book a guide to get the most out of off-piste skiing safely.
Tignes was one of the first resorts to build a terrain park and it has played host to no less than 4 Winter X games over the years. The park is below the Grattalu chair lift and has rails and kickers from beginner through to advanced ability. In Val Claret, the famous XXL super-pipe, which is unmatched in Europe with its 190m long with 7m walls, can be found. Tignes takes freestyle skiing very seriously!
Restaurants In Tignes
Tignes prides itself on being a bit of a foodie haven both on and off the slopes. Whether you are looking for a budget-stretching gourmet experience or some rib-sticking reasonably price fare, you will find what you are seeking. Here are a few suggestions to whet your appetite!
On the mountain – L'Alpage found at the top of the Chaudanne Lift, this is the perfect place to enjoy lunch on a blue sky day – with its lovely terrace and great food and if the weather isn't cooperating, then the inside is very attractive too. The prices are slightly elevated to suit its mountainside status, but the portions are generous.
Also at the top of the Chaudanne lift is the more value for money eatery, Lo Soli. You can order from the Restaurant, self-service section or bar and then eat indoors or on the wonderful sun terrace. It's a great spot for a mountainside lunch.
Alternatively, head to the Aspen Coffee Shop found at the bottom of the Grande Motte, and only 50 metres from the piste, in Val Claret. It is always busy, which is a good sign, so go early to avoid a queue. Here you can choose from burgers, salads, sandwiches and omelettes – all served in hearty portions.
In Val Claret, Daffy's Café is a retro cafe where the menu reflects the American/Tex-Mex vibe offering Fajitas, Tapas, Chicken Wings, Ribs etc along with classic puds and great milkshakes.
Le Pignatta in the centre of Val Claret serves a great range of pizza and pasta dishes in addition to the Savoyard specialities and excellent steaks and there is a Vegetarian Menu. They welcome kids, so this lively restaurant is a great place to take the whole family.
Vegetarian And Special Dietary Requirements
Although French resorts are not renowned for being Vegetarian-friendly, they are on a catch-up and many restaurants offer either a vegetarian menu, or some vegetarian options. Although Savoyarde cuisine is known for its liberal use of cheese, many eateries will adapt certain dishes for those who cannot or prefer not to eat it, and likewise for meat dishes so we always advise our clients to call ahead before booking to discuss what adaptations are available.
If you are in self-catered accommodation, or its the staff night off Huski is a great option to consider. This takeaway company will deliver oven ready dishes to suit all diets and are very reasonably priced – all you need to do is add the wine!
Après Ski In Tignes
Tignes has plenty to offer by way of Après Ski if you know where to look and fortunately for our clients, Ski Line does! Val Claret has lots of bars which start to get lively as the lifts start to close with many wishing to take advantage of the many happy hour bars and Dropzone, which boasts the resort's biggest south-facing terrace and some of the cheapest beer in town deserves a mention. Happy Hour kicks off at 3pm to 6pm and as many as 300 people will squeeze in for it. The bar area serves a good selection of snacks and has DJs, live bands, table football, pool, a big video screen and free Wi-Fi. At 10pm the place transforms into a nightclub so get your dancing shoes on!
Grizzly's deserves a mention, a popular watering hole with the Brits who are drawn into this log cabin by the attractive woody interior complete with a focal fireplace and fur rugs – there's also an outdoor fire pit which proves very popular on those cold starry nights. – Grizzly's has a reputation as one of the most attractive venues in Tignes Val Claret especially enjoyable when sipping a vin chaud or hot chocolate. It can be on the expensive side, especially the cocktail menu.
Activities Off The Slopes In Tignes
The wonderful lake in Tignes takes on a magical quality in the winter months and provides a truly delightful (and large with 500m circuit) outdoor ice rink. It is also home to the Tignes 'Plongee sous Glace – ice diving club. All levels of ability are welcome and it is run by experienced divers with all necessary equipment provided. It's possible to book dog sledging, mountain biking or ice driving. The leisure centre has a 6 lane swimming pool together with a leisure pool which has water slides and a wave machine. There is also a wellness and fitness centre which are free with your lift pass. Tignes La Lac also has a bowling alley and an indoor climbing wall. The Shops mostly cater for the skiers and boarders so if you are a non-skier you might feel a bit like a fish out of water, or come home with more bobble hats than anyone needs!