7 nights
Independent Travel
Courchevel Ski Resort Guide
Why Ski in Courchevel?
The ski area of Courchevel is made up of four separate villages. We have chalets, hotels and apartments in all four villages and our accommodation pages indicate which of these villages each property is located.
Courchevel has always been one of our most popular ski destinations, it's part of the massive Les Trois Vallee's ski area (The Three Valleys) which also includes Meribel, and Val Thorens and is the largest linked ski area in the world, covering 650km of perfectly groomed pistes.
There are four quite different villages of Courchevel. Courchevel 1850, Courchevel 1650, Courchevel 1550 and Courchevel 1300 (La Praz) with the numbers donating the highest point in the village in metres. Each resort has a very different feel from the swanky upmarket hotels and chalets of 1850 to the quaint small cobbled streets of Courchevel 1300.
Courchevel 1850 is home to some of the most expensive ski hotels, some charging up to and over £1000 per night. Recent years have seen an influx of wealthy Russian clients who arrive over New year and stay for 2 weeks, reports of the best bars and restaurants stocking up on fine Cristal champagne for the arrival of wealthy  oligarchs have done nothing to dampen the reputation of high prices here. However travelling to Courchevel 1850 needn't break the bank we have some affordable accommodation here too.  The night life is surprisingly limited in this resort.
Every skier or snowboarder will have heard of Courchevel but for many this will mean the village at 1850m. Choosing to Courchevel 1650 might be a better option for you for several reasons. Being at the far left hand edge of the ski area of the 3 valleys (as you look at the piste map) means that the slopes are less busy, many skiers who travel over from the Meribel and Val Thorens side of the valleys wont venture beyond Courchevel 1850. Being less busy means that the snow is normally in great condition too. It's cheaper to stay here so the bars and restaurants won't break the bank and the night life is busier. The slopes of Courchevel 1650 are quieter and therefore it rarely has lift queues.
If you haven't skied here for a few years you will notice the older slower lifts have now been replaced with high speed lifts.
The ski resort of Courchevel 1550 is an ideal choice for those who can't or won't pay the higher prices for its sister resort of Courchevel 1850. Courchevel 1550 was the original village of Courchevel in the days before skiing came to the valley.
Courchevel 1550 is immediately below (300m) Courchevel 1850 which is serviced by 2 lifts both linking to 1850; thus making it easy to reach other parts of the massive 3 valleys ski area. There is a free local bus service which runs a regular services to either Courchevel 1650 and 1850 or down to Courchevel 1300 (La Praz), La Tania and eventually to Meribel Village and Meribel centre.
Famous for the ski jumps, a legacy of the winter Olympics in 1992, Courchevel 1300 La Praz is located at 1300m and is the most attractive of the 4 Courchevel resorts.
Courchevel La Praz also known as Courchevel 1300 was the original village in the days before skiing started and still today has the charm of a real mountain village. Two bubble lifts depart the village one heading to Courchevel 1850 the other to Chenus at 2243m which opens up lots of possibilities to ski to the ski resorts of Courchevel or La Tania, or to Meribel and beyond.
Courchevel 1300 has a good selection of ski chalets, ski hotels and a few ski apartments for those who prefer self-catered ski holidays.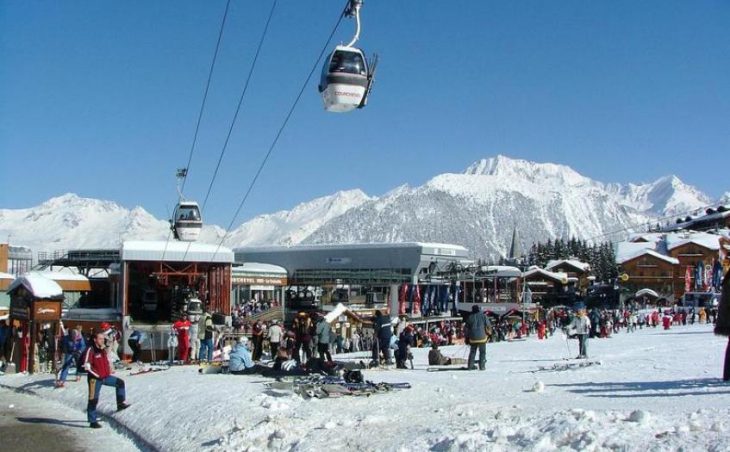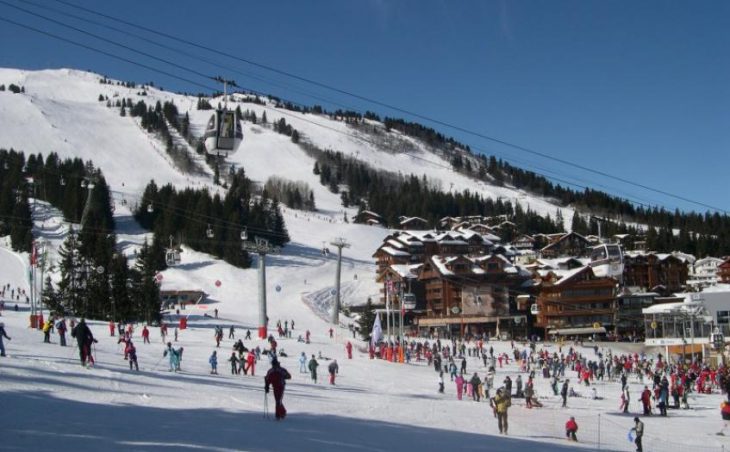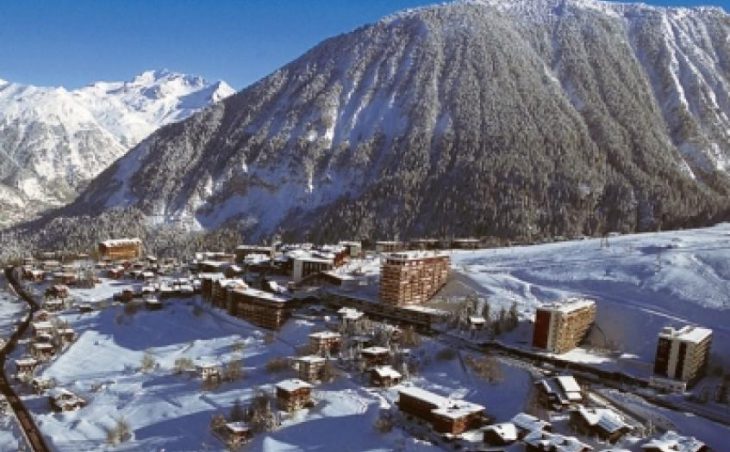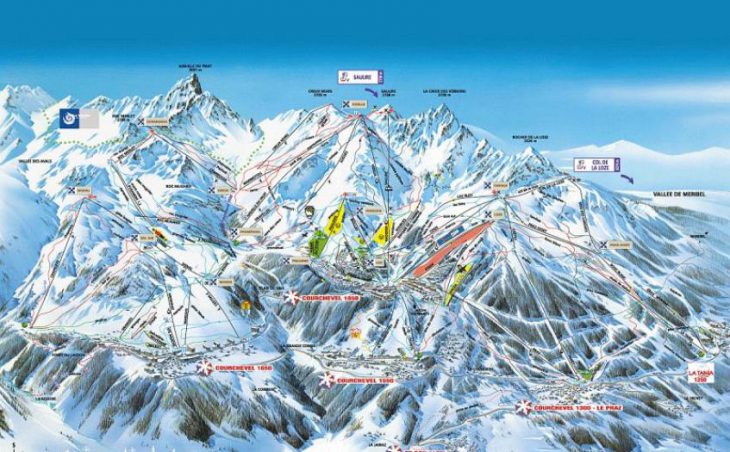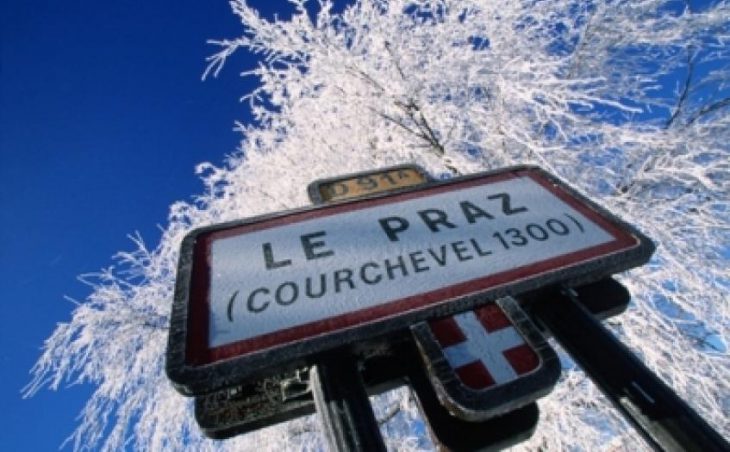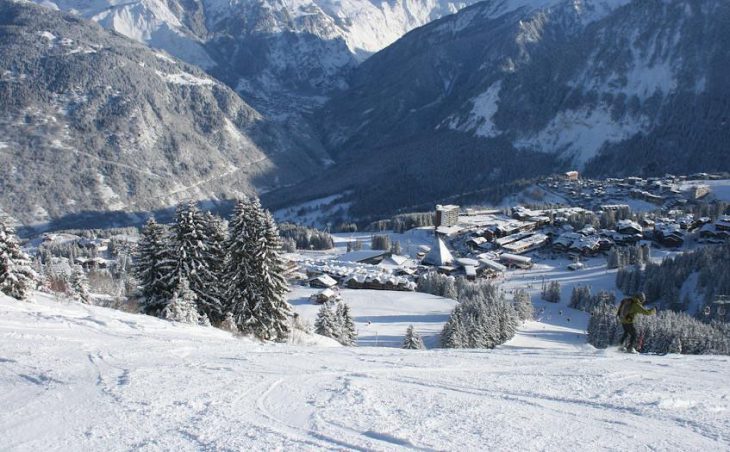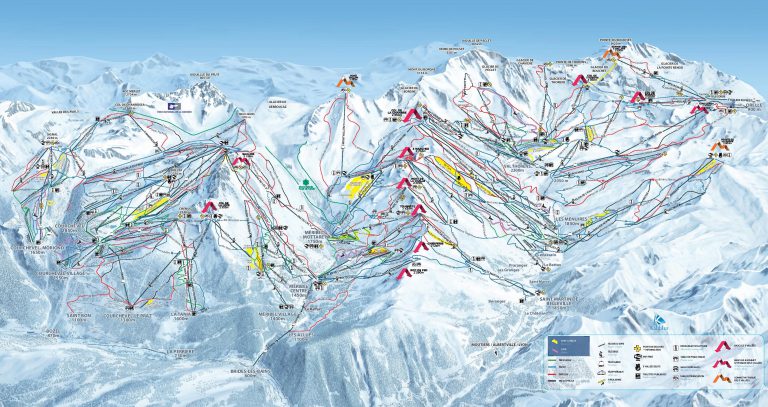 Upper Piste

depth

Lower Piste

depth

Weekly

Snowfall
0 cm
100 cm
200 cm
300 cm
400 cm
Based on weekly average snowfall data November 2000 - April 2018
Pistes
Total Runs


221

Km of Piste


650km
Altitudes
Resort Altitude


1850m

Highest Piste


3250m
Expert Ratings
Beginners skiing in Courchevel
Courchevel 1850 is one of the best ski resorts for beginners anywhere, some great independent ski schools and private instructors are available to get you started. Many of the slopes around the village are wide gentle greens and prefect to build up confidence. Once you have mastered the basics there are some wonderful cruising blue runs around 1850 1650 and 1550.
Courchevel 1650 has a great selection of Green and gentle blue runs which are great for beginners and with the slopes quieter than other areas in the 3 valleys area you won't have to worry about collisions with other users on the slopes.
Courchevel 1550 has a small nursery slope but most beginners will take the lift to Courchevel 1850 which has some fantastic gentle and long greens to learn the basics, by the end of the first week you should be skiing on blue runs above 1650 which even on the peak weeks seem quiet and less crowded.
Both the Le Praz bubble lift and Foret lifts connect to green runs around Courchevel 1850 making this ski resort ideal for beginners but be prepared to come back down in the bubble lift.
Intermediates skiing in Courchevel
For Red run skiers it's simply perfect with so much to choose from in both the local area and further a field in the whole ski area.
Every sector has long testing reds and some easier blacks and even some easy off piste runs to keep you happy all week. For more timid intermediate skiers the long blues close to the ridge above La Tania offer the best runs and don't forget that wonderful long sweeping blue piste 'Folyeres' down to La Tania which for many is a dream run and a great place to have lunch avoiding the higher priced mountain eateries.
Any of the 3 valley villages are perfect for intermediate skiers of all levels the choices of skiing within the 650 km of pistes are ideal for intermediate skiers and snowboarders.
Any of the resorts within the massive 3 valleys ski area would be ideal for intermediate skiers and snowboarders of any level. The choice of runs are endless with 487 km being on Blue and red runs so the perfect choice for intermediates.
Courchevel 1300 is a perfect choice for intermediate skiers as the opportunities within the 3 valleys ski area are endless. Taking the Foret bubble from the village connects to Chenus from here you can drop down to Meribel.
Advanced skiing in Courchevel
Expert skiers will have loads to keep them happy both in the local area and in the rest of this massive ski area of the 3 valleys. For a thrill, head to the top of the Saulire cable car and descend down one of the three shady couloirs which are some of the steepest in Europe. Also the black down to La Praz can be fun and drops over 1000m.
For advanced skiers and snowboarders the choices are endless, in the local ski area above 1650 a good black drops down from the Chanrossa chair lift but within the whole area you will be spoilt for choice.
As with any of the villages within the 3 valleys ski area this is a perfect choice as there are so many runs with 48% of the skiing on Black or Red runs.
Après ski in Courchevel
In Courchevel 1850 there are some après ski bars such as Cap Horn which has DJ's and later on there are some night clubs are available. The Cave, Kalico and The Grange are popular clubs and stay open until the small hours.  Some of the bars can be expensive. Many of our clients take the bus down to Courchevel 1650 and party there instead.
In Courchevel 1650 Après ski is good with a selection of lively bars some with bands or DJ's. The Bubble bar in the centre of the village is particularly popular with British skiers.
Night Life in 1550 is more laid back with a handful of good restaurants and bars to entertain when you finish skiing.
Fine dining is now an option in Courchevel 1300 with the opening of a Michelin star restaurant Azimut which is great value but always busy. There are a number of good bars although the night life is more laid back than in other ski resorts in the 3 Valleys area.
Activities off the slopes in Courchevel
There is plenty to do off the slopes including ice skating, for the more adventurous try sky diving from a small plane that departs from Couchevels mini airport. If it's pampering you are after why not go to one of the smart hotels? Many have spas or you could even ask one of the masseuses to come to chalet, hotel room or apartment.
Why not try tobogganing, Ice skating, Climbing walls, Cinemas, hot air ballooning and much more. It's possible to reach Meribel by bus which has a good sports centre with a swimming pool and bowling.