7 nights
Independent Travel
La Plagne Ski Resort Guide
Why Ski in La Plagne?
La Plagne is split into 11 stations that give you an opportunity to ski a number of quaint unspoilt French villages like Les Coches, Montalbert, Champagny, Montchavin and some purpose built resorts at higher altitude which include the five main stations at the upper most part of the area, high and snow sure which include Plagne centre, Bellecote, Belle Plagne, Plagne 1800, and Plagne Aime Plagne 2100 and finally Plagne Soleil.
We don't think it really matters which of the La Plagne villages or stations you choose as your base, apart from the beginning and the end of the season when the higher purpose built villages will offer more snow sure skiing. All have good access to the slopes and fast modern lifts.
Les Coches is a small village located at 1450m next to Montchavin so is ideally placed to give access to the connection to Les Arcs.
Montalbert is delightfully unspoilt at 1350m. It remains a traditional, friendly, village surrounded by stunning scenery: the Tarentaise valley to one side, Mont Blanc and surrounding mountains to the other.
Skiers staying in Champagny need only take two lifts in order to connect up into the main skiing area of La Plagne and can either ski back to the village via a red run or take the Champagny cable car. It's located on the back side of the ski map.
Montchavin is a traditional farming village located at 1250 just below Les Coches at the very bottom of the La Plagne ski area, but ideally located to get across on the link to Les Arcs. The centre of the village is car free and has an attractive feel to it. There are a few shops, a kindergarten and ski school.
Plagne centre is the commercial centre and the focal point for après ski. It was built in the 1960's before ski resorts realised that timber clad buildings are more pleasing to the eye than concrete apartment blocks. To be honest is quite ugly, but with very good access to the skiing. There are some newer developments above that are more attractive.
Belle Plagne and Bellecote are high altitude villages at 2100m just above and to the left of Plagne centre and are very close together, linked by lifts and ski runs.
Plagne 1800 is where most of the catered chalets are located. It's just below Plagne centre connected by a chair lift. In the evening it's a "good" walk via the road to Plagne centre, when the ski lifts run buses connect directly to Plagne centre. There are a couple of bars such Les Mines that offer live music in the evening.
Aime Plagne 2100 is located above and to the right of Plagne centre. Home to Club Meds popular 3 trident all-inclusive resort and a selection of apartments and chalets, its height means its snow sure to then of the season.
Plagne Soleil accommodation is centred on a village square and is home to just 2 restaurants and 2 bars. The more lively village of Plagne Centre, with its' wide selection of bars, restaurants and shops, is a short walk or bus-ride away, and from Plagne Soleil, it is possible to travel to and from each of the villages of La Plagne.
In addition to being able to ski the 225km of piste skiing that the La Plagne Mountain offers. 85% of all these runs are on either Blue or Red runs making it an ideal ski area for intermediate skiers and snow boarders.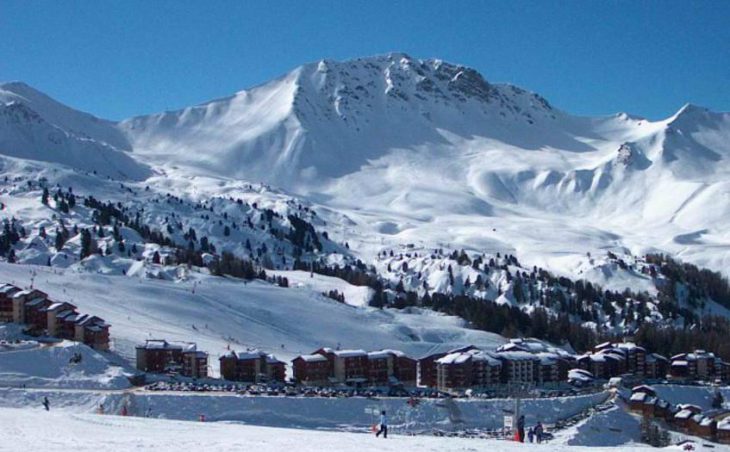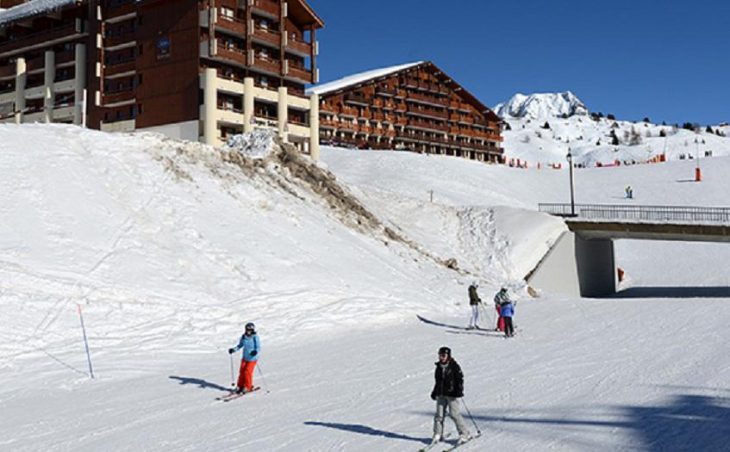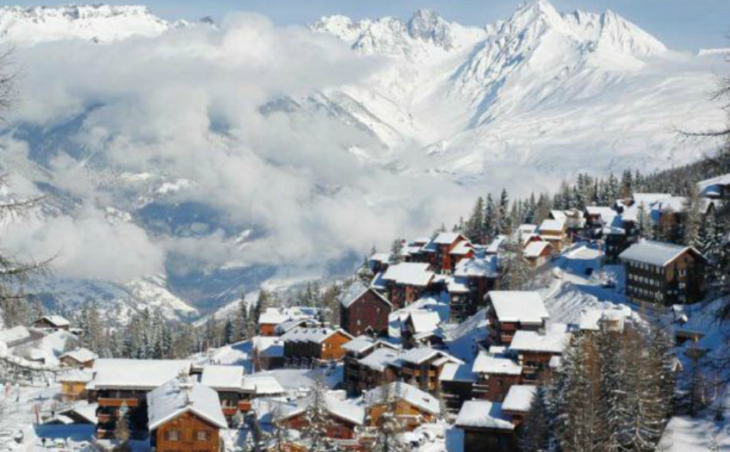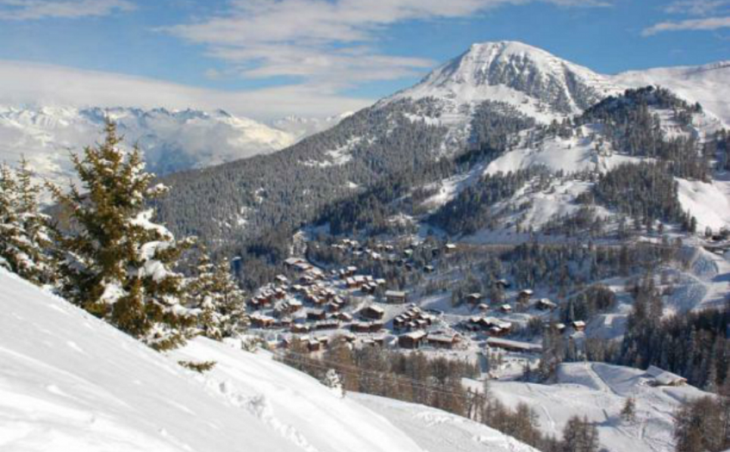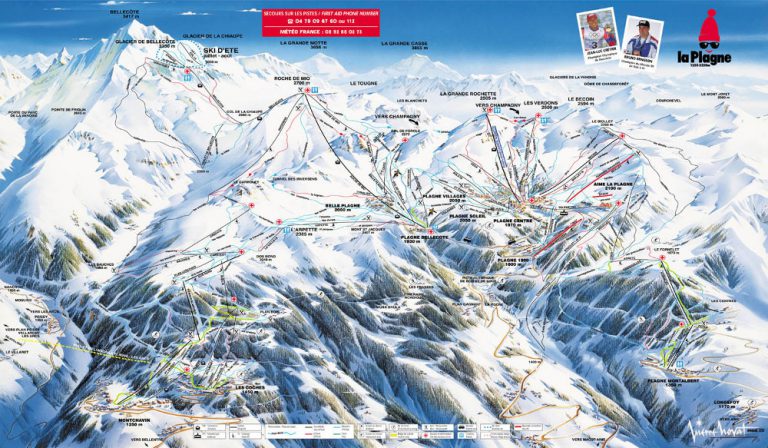 Upper Piste

depth

Lower Piste

depth

Weekly

Snowfall
0 cm
100 cm
200 cm
300 cm
400 cm
Based on weekly average snowfall data November 2000 - April 2018
Pistes
Black


14%

Red


25%

Blue


53%

Green


8%
Altitudes
Resort Altitude


2100m

Highest Piste


3250m
Expert Ratings
Beginners skiing at ski resort of La Plagne
Gentle nursery slopes and excellent English speaking ski instructors ensure that novice skiers will soon be enjoying the multitude of blue and green runs across the resort. This is a great resort for beginners to learn.
Intermediate skiing in La Plagne
The La Plagne ski area is an absolute dream for intermediates! From exhilarating motorway skiing to quiet powder runs in the trees, La Plagne has it all! Not skied by many, the runs down to Champagny are a real treat. Fast reds and blues bend round the contours of the mountain. This resort is highly recommended for intermediates of all levels.
Advanced skiing in La Plagne
Head for Bellecote where you will find 2 longs runs with vertical of 1000m. At Aime La Plagne you will find the north facing long Emile Allais run through the forest which is usually deserted as there are only a couple of drag lifts to bring you back up. There are lots of long reds to get your teeth into but you really should hire a guide to explore the vast off piste potential that the area has to offer. We and every advanced skier will know that La Plagne is an intermediate skiers are above all else, but the off piste is excellent here and because most skiers stick to the marked piste trails the off piste remains good even weeks after fresh snow. Compared to say Chamonix when everyone is off piste and it's difficult to find fresh un- tracked snow even hours after a fresh dump. Some of the drops descend 2000m; try the run from Bellecote to Peisey Nancroix. For on piste the Biolley sector offers the best challenges where some of the blacks are seriously steep.
Snowboarding in La Plagne
Good terrain for all standards of rider, there is a good mix of long, easy high open runs but the more experienced boarder will find some fantastic off piste boarding, and unlike many other resorts with a reputation for off piste where the snow is quickly carved up – here after fresh snow, off piste boarding will last for weeks! Avoid the blue runs from the glacier, they are flat on long, no fun on a board!
Snowboarding in La Plagne
Avoid some of the slopes above Bellecote as there are a few flat runs, but these can be avoided. We think the La Plagne area has something to offer all levels of snowboarder. Beginners will love the wide varied slopes, so too the intermediates. Advanced free riders should hire a guide and head off piste, but never tackle the off piste away from the slopes as some areas can be very dangerous without the experience of a mountain guide.
The skiing in La Plagne
La Plagne offers possibly the biggest single resort lift system in the world and has superb and extensive runs for all levels of skier. The area is most suited to intermediates and large distances can and will be covered with 85% of the runs being reds and blues. The runs, which radiate out in all directions means sunny south facing slopes can be avoided in the afternoon.
With 215km of pistes there is so much to choose from you won't know which one to choose first! The snow reliability is very good – but the low lying villages can be a little sparse on snow at the beginning or end of the season. In 2004 the much publicised link to Les Arcs was opened and doubled the size of the ski area.
Après ski in La Plagne
La Plagne is fairly quiet during low season, although a wide choice of après ski is available, catering particularly for the younger crowd in Plagne Centre. Aime-la-Plagne is also quiet although it does offer an ice rink, day and night snowshoe walks, ice climbing, cinema, shops, restaurants.