The first all-inclusive holiday I tried, was to Olu Deniz in Turkey back in 1996, I can remember looking forward to enjoying a free bar and the copious amounts of food and ice cream for my children. The reality was quite different. The only drinks were the local (poison) spirits and beer, the food was a buffet style, covered in flies and with a very limited choice. I recall everything seemed to come with sliced tomatoes (and flies)!
The trouble with an all-inclusive holiday back then was the tour operators constant drive to reduce costs. This meant that the hoteliers only cost-cutting was around what was included in an all-inclusive deal. The food options became smaller, the choices more limited, the bar would remain closed for much of the day and the ice cream fridge was always locked. In the end, it really wasn't all-inclusive, at best it might have been described as full board.
Club Med's 'all-inclusive' is just that when it comes to the food.
When we became the UK's, first online ski agent to offer Club Med skiing holidays in 2008, the reaction of some of our clients made us think that they too had been to the same Thomson all-inclusive hotel in Olu Deniz that I had! We had a job on our hands to convince them otherwise. Some thought it was the Club 18-30, and others recoiled at the idea of a cold food and fly infested buffet.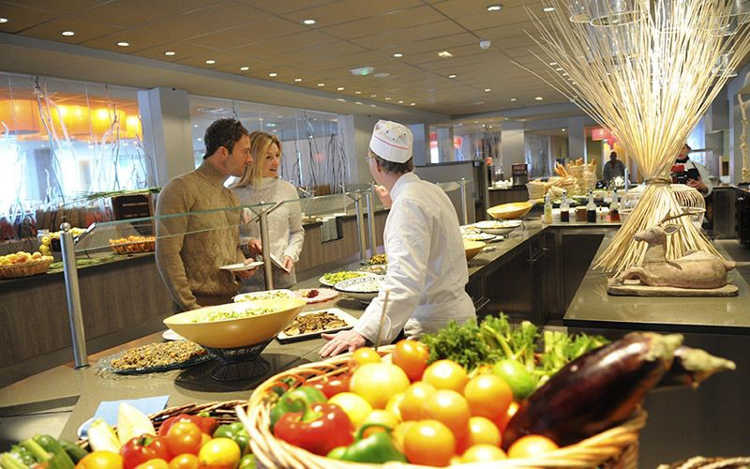 The reality of the food at Club Med couldn't be further from that Thomson run hotel in Turkey.
The French have always had a reputation for enjoying fine food and wine, even today many businesses there close for lunch, such is the French love affair with dining. Any great chef will tell you the quality of the ingredients is so important when delivering the best dishes. Everything served at Club Med is made from scratch from only the finest suppliers around the globe.
We asked Club Med for numbers about the quantities of dishes required to keep up with the hunger of its clients and some of the numbers are truly remarkable.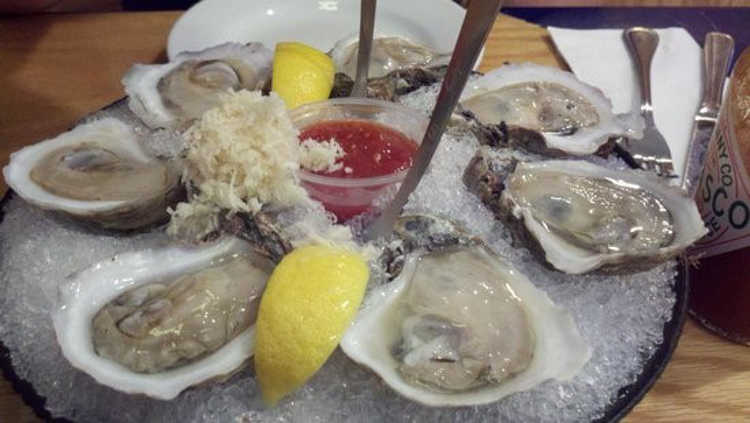 Last year in the Alps, Club Med served:
3.5 tons of smoked salmon
26 tons of fresh oysters
43 tons of Lobsters
160,000 bottles of Champagne
45 tons of fine French cheeses
62 tons of Fillet steak
600,000 bottles of delicious house wine
Club Med refused to divulge the quantity of Foie Gras that was served, knowing how some Brits feel about this dish, but we know it's a lot and there are 7 different variety's available!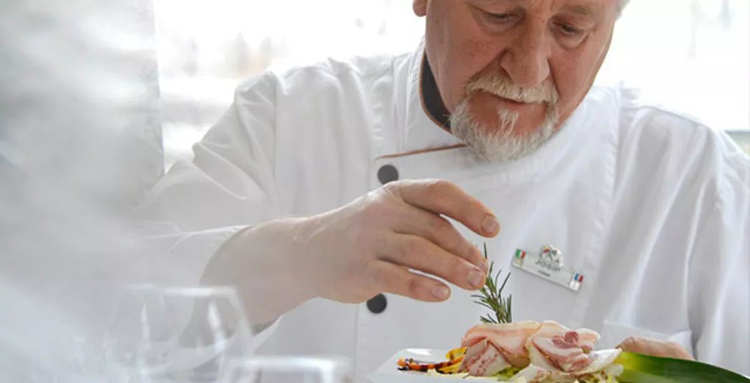 Here is an idea of the choices available on a typical day in a Club Med alpine resort. The day starts with Breakfast of course, if you are skiing you need to fill up, fresh croissants, various bread, toast, jams, cereals, freshly squeezed fruit juices, a full cooked English breakfast if you want it, with all the trimmings; cold cut meats and chesses. Smoked salmon, patisseries, fresh fruits, sliced or whole. Fresh coffee, teas and hot chocolate.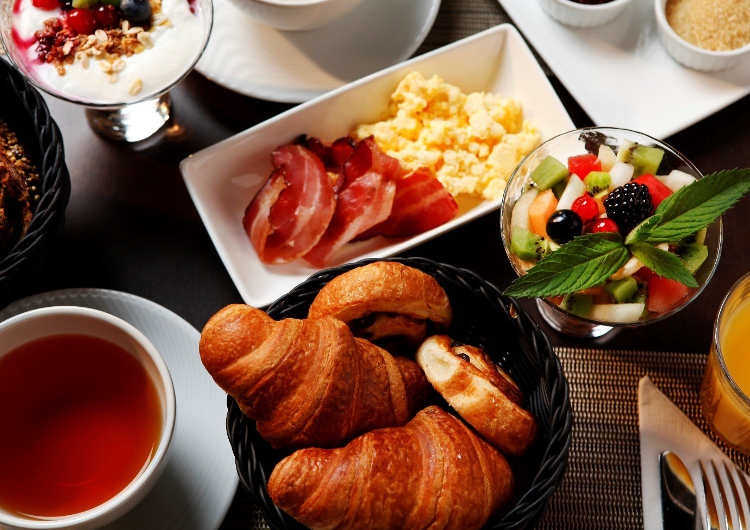 Lunch is also included with Club Med, imagine how much you will save not dining in a slopeside restaurant? The choices are huge again and will include amongst other dishes, regional dishes, stews, roasts, pasta, pizzas, curry, rice, goulash, fresh salads, fresh fish dishes, fresh vegetables, tartiflette, steak cooked as you like it, mussels and shellfish. You have a choice of unlimited bottles of wines, all delicious in white, red and rose, a huge choice of deserts from delicate pastries, to fresh fruit and up to 20+ different cheeses.
3 of Club Meds resorts also have a private slope-side restaurant where you can enjoy a scaled down lunch on the mountain, without the need to return the hotel, these are in Pragelato, St Moritz and Cervinia.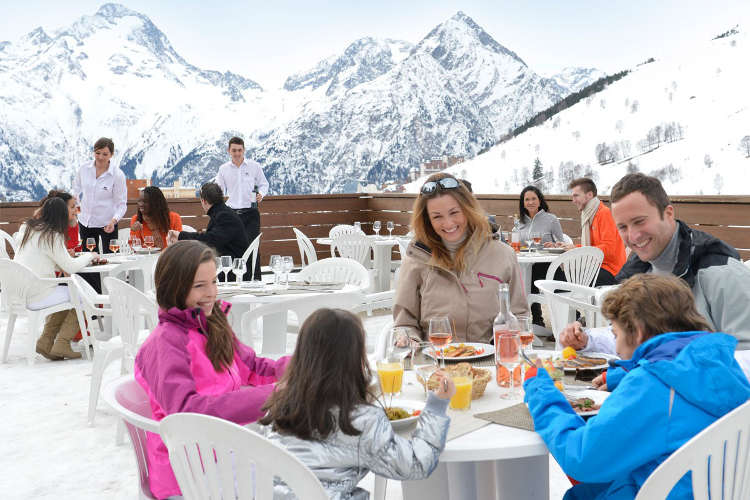 When it comes to your evening meal there is a choice. All of the Club Med alpine resorts offer a specialist à la carte restaurant in addition to the buffet dining arrangements. You will need to reserve a table, but the cost is included in the price of your holiday. Here you can enjoy local speciality dishes such as Raclette or Fondue.
The buffet choice in the evening is once again huge in the evening. Each night has a different theme, the seafood night is always very popular and might include lobsters, oysters and shellfish and other fresh fish.
If you are travelling as a family group, chances are your children will prefer the choices available in the main restaurant, as fussy eaters are very well catered for. My son Max was as fussy as they came, but he always returned with a huge plate of food and a smile. The choices include steaks, lamb cutlets, pork loins, pasta, pizza, fish dishes such as salmon or trout, you should be getting the picture by now, Club Med is a foodies skiing holiday.
We couldn't not mention the drinks. Every Club Med has a great bar for your pre-dinner or après ski drinks, cocktails are always the most popular but if you fancy a G&T or a glass of Prosecco that's included too.
For some of our clients who don't stay with Club Med, the bar bill is one of the biggest items on the credit card bill when they get home. At Club Med, you don't need to worry if it's your round, as when staying at Club Med you can encourage everyone to have a cocktail, or if you are staying in one of the 5 Trident resorts even the champagne is included!
If you have ever had a poor meal when staying in a catered ski chalets, (it often happens with an amateur cook), perhaps it's time upgrade to Club Med, you really won't be disappointed.
Club Med offer 20 hotels in ski resorts in Europe and Japan, our team of sales advisors have visited them all. Club Med's ski resorts including the new Club Med resort at Samoens which opens in December 2017, we are also the only agent in the UK to be invited to the official opening of new Club Med hotel in Hokkaido in January 2018.
It's not just the food that's all-inclusive with Club Med, your holiday price also includes the ski pass, ski lessons/guiding, childcare and much more, call our team and find out which of Club Med's ski destinations best suits you. Club Med offer short breaks and full week stays, all are packaged as an ATOL fully bonded holiday, or you can make your own way there. We are the UK's most successful Club Med agent for very good reason. To find out why call us now.