The French call them crêpes, the Brits call them pancakes and the Austrians call them Kaiserschmarren.
This Austrian pancake was first served around the turn of the 20th century to Austrian Emperor Franz Joseph as a dish fit for a king!
When skiing in Austria it's a favourite dessert for many of the team at Ski Line. Kaiserschmarren is a delicious pancake that can be a savoury or sweet dish, made with eggs and starch, often enriched with raisins, rum and sugar.
What You'll Need
3 tablespoons raisins soaked in 3 tablespoons rum (or more if you like rum)
4 eggs, separated
Pinch of salt
1/2 tsp. Vanilla extract (omit if you use vanilla sugar)
Lemon zest (optional)
3 tablespoons sugar or 2 tablespoons regular sugar plus 1 tablespoon vanilla sugar
1 5/8 cups milk
1 cup cake flour or all-purpose flour
1 to 2 tablespoons butter
Icing sugar Applesauce, currant jam, preserves or other fruit accompaniment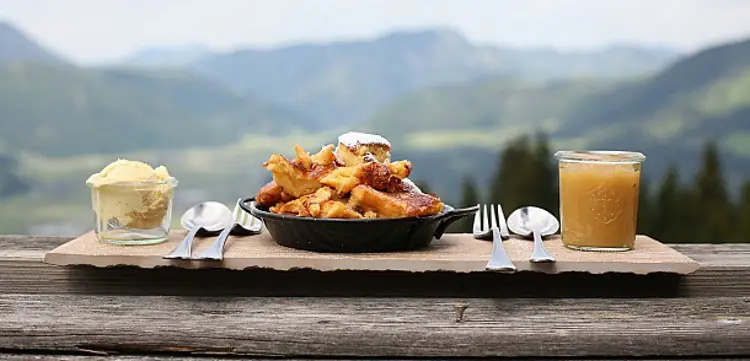 How to Make Kaiserschmarren
Pour the rum over the raisins.
Microwave the rum and raisin mix for 15 to 30 seconds and let them soak until the rum is absorbed (around 20mins). Set aside.
Beat the egg whites to soft peaks, adding a pinch of salt toward the end.
Beat the egg yolks, vanilla, lemon zest (if you are using them) and sugar until the mix is light yellow.
Add the milk and flour, a little at a time to avoid lumps, and blend well.
Fold in the egg whites and let the batter rest for about 10 minutes.
Melt 1 to 2 tablespoons of butter in a 10- to 12-inch frying pan.
Stir the batter again gently and pour it into the hot pan.
Sprinkle the raisins evenly over the top.
Cover the pan and let the pancake cook for 10 minutes over medium heat. Flip over and cook about 10 minutes more; you might have to cut it into several portions to flip.
Cut or pull the pancake apart into bite-size pieces while it continues to cook.
When it is browned a bit, it is ready to serve.
Sprinkle with powdered sugar and serve with a warm applesauce or preserves of your choice. If you like a chewier consistency, let the pancake cool down a bit