Club Med 2018/2019 Prices On Sale NOW!
Club Med ski holidays prices for the 2018/19 ski season are on sale NOW.

---
Club Med vs Crystal Ski Holidays
Since the Brexit vote results came in, Sterling has been falling in value against the Euro. This makes an all-inclusive skiing holiday all the more appealing when you could leave your wallet and credit cards at home!
Club Med have not adjusted prices to reflect the increased costs from currency fluctuations for ski passes or ski schools, some of these costs have risen in real terms by 20%.
As long as you book 6 months in advance you could receive an additional 15% discount. When you book a Club Med skiing holiday with Ski Line you know you are getting a deal.
We sell more Club Med all inclusive ski holidays than any agent in the UK, are you looking for a deal on a Club Med ski holiday?
The all-inclusive nature of a Club Med skiing holiday could save a family of four up to £4,074 compared with a similar holiday with Crystal Ski holidays.
Price Comparison
See how a Club Med skiing holiday stacks up against a Neilson and Crystal skiing holiday.
We compared prices of Club Med's 4* La Plagne 2100 with Neilson's 3* Chalet Hotel Turquoise and Crystals Hotel Vancouver 3.5*
Over the February half term week based on a family of 4 sharing an interconnecting room via LGW.
The Club Med hotel has the best Trip Advisor reviews too!
 
Club Med 4*
Neilson 3*
Crystal 3.5*

Basic Holiday Price

£8,093

£8,036

£6,002

Room Sups (interconnecting rooms)

Included

N/A

£756

Full Area Lift Pass

Included

£120

£940

Ski Lessons (Full Day)

Included

£920

£828

Ski Carriage

Included

£80

£80

Lunches, Drinks And A Bottle Of Wine

Included

£480

£480

Wine With Evening Meal

Included

£60

£60

Drinks and Snacks

Included

£60

£60

Alcoholic Drinks From The Bar

Included

£120

£120

Cost Of A Meal On The Staff Night Off

Included

£120

£120

Discounts

N/A

-£1,080

N/A

 
Total Holiday Cost
£8,093
£8,916
£9,446
*Assumptions
Children's ages 9, 12, Flights from LGW, Adults have their own skis, Children require rental, children's snacks and drinks £10 per day,
Adults drinks and snacks, including 2 alcoholic drinks per day £20, one bottle of wine with evening meal per night £10. Lunch for a family of 4 with drinks and bottle of wine £80 per day.
Prices correct at 12/6/17
Result = Club Med will save this family of 4 a whopping £4,074.20!
Ski Line and Club Med
Ski Line started offering Club Med skiing holidays to our clients in 2008, our sales have steadily grown year by year and now they are one of the most popular type of ski holidays we offer.  Ski Line are proud to be one of Club Med's biggest ski specialist travel agents and in 2011 we became Club Med Infinite agent giving access to special rates not available to many other agents, meaning our clients can buy from us knowing they have paid the best price available.
Club Med pioneered the 'all inclusive' package holiday, and their prices include everything you need on a skiing holiday apart from ski rental and insurance, so you can leave your spending money at home, as flights, transfers, lift passes, ski lessons, lunches, snacks and drinks from the bar are all included.
The Tasty Ski Holiday
Feedback from Ski Line's clients has always been very positive especially regarding the quality of the catering. It's not unusual for Lobster and Oysters to appear on the menu and Club Med being a French owned company take food and wine very seriously and are proud of the 7 different varieties of Foie Gras available throughout the week which suggest with such attention to detail regarding food most guests won't fail to be impressed!  In addition to the main restaurants, each Club Med hotel offers a speciality restaurant which needs to be booked in advance (included in the price).
Club Med ski hotels just keep getting better!
Club Med has made huge investments to its hotels in recent years, older hotels are slowly being replaced with purpose built Club Med designed hotels, most being slopeside, but where they are not Club Med have their own mountain restaurants  (private and free for Club Med guests)
Club Med ski tuition (also included) are full day, ideal for families, and allow children and adults alike to see big improvements in their skiing in just a week. For advanced skiers the instructors act as guides and when safe to do so will venture off piste with guests.
Club Med also offer hotels with in-house childcare in several of their hotels (also included except in the baby club where the charges are around £250 for the week)
Ski Line staff have become real experts in everything Club Med and our staff have all visited their hotels and can give our clients first-hand knowledge of how they operate.
Club Med staff are called GO's (don't ask we don't know why) and perhaps the only area that our guests raise an eyebrow to, is the evening entertainment laid on by the GO's! Club Meds unique French style of entertainment includes dancing and comedy theatre and is lively!, but don't worry there are areas of the hotel you can escape to. Many of our clients tell us by the end of the week they join in and learn the Club Med song! Parents will enjoy the end of week show put on by their children and some of the late evening shows for adults are amazing, even though we would never admit to this!
Club Med holidays are sold around the World so don't be surprised to meet Australians, Russians, Brazilians, South Africans, other Brits and of course the French, but we think that's part of the charm of booking a Club Med holiday and we highly recommend them.  The Club Med staff are all multi lingual.
All-Inclusive Club Med Ski Holidays
| Resort | Country | Resort Altitude | Kids Clubs | Ski In/Ski Out |
| --- | --- | --- | --- | --- |
| Club Med Val Thorens Sensations | France | 2,300m |   | ✔ |
| Club Med Aime La Plagne | France | 2,000m | ✔ | ✔ |
| Club Med Les Arcs Panoramic | France |  1,750m | ✔ | ✔ |
| Club Med Les Arcs Extreme | France |  2,000m |   | ✔ |
| Club Med Cervinia | Italy |  2,050m | ✔ |   |
| Club Med Serre-Chevalier | France |  1,400m | ✔ | ✔ |
| Club Med Tignes Val Claret | France |  2,100m | ✔ | ✔ |
| Club Med l'Alpe d'Huez | France | 1,850m | ✔ | ✔ |
| Club Med La Plagne 2100 | France |  2,100m | ✔ | ✔ |
| Club Med Pragelato Via Lettea | Italy |  1,600m | ✔ | ✔ |
How to make the cost of a Club Med holiday even cheaper!
Our clients love Club Med skiing holidays and we are sure you will too! We want you to spread the word about what fantastic value for money a Club Med skiing holiday is.  If you recommend your family and friends to try a Club Med holiday, we will reduce the cost of your friends Club Med booking by £80 and reduce your next Club Med booking by £180 as a special thank you for recommending both Ski Line and Club Med!
We will manage these "recommend a friend" discounts for you to make sure Club Med show these special discounts on your Club Med invoice.  Terms and conditions apply, call us for details.
Club Med Ski Rental Prices
Although we offer Ski Set ski rental at cheaper rates than Club Med, most of our clients prefer to use the Club Med equipment, the quality of ski is superb and convenience of an in-house rental rather than walking to the nearest Ski Set shop. Below are the current pre-booked rates, charges in the hotel will be higher, so we recommend you book Club Med ski equipment in advance.
We have been very impressed with the high quality of the ski equipment rental available from Club Med, it's not a problem if you want to change skis or boots or even switch to a snowboard, that's OK.
| Ski Hire 2018 | Adult Cost (12yrs+) | Child Cost (4-11yrs) |
| --- | --- | --- |
| Beginner Skis - Leisure | £85 |   |
| Intermediate Skis - Sport | £107 | £54 |
| Advanced Skis - Performance | £126 |   |
| Expert skis - Prestige | £160 |   |
| Advanced Snowboard - Performance | £126 |   |
| Snowboard (Sport) | £109 |   |
| Snowboard Boots | £52 |   |
| Standard Ski Boots | £52 | £39 |
| Prestige Ski Boots | £70 |   |
| Adult Helmet | £20 |   |
| Child Helmet |   | Free |
Club Med Dress code
The Club Med dress code in ski resorts during the day is smart casual. However, in the evening there is a dress theme, it's up to you if want to take part, many of our clients love the evening entertainment and embrace the evening dress codes.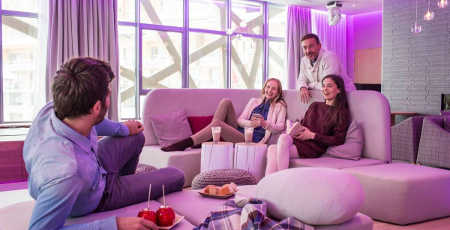 Club Med Theme Nights
Sunday - Black and White
Monday - Elegant
Tuesday - Black Elegant, (time to get out the L.B.D)
Wednesday - 45 night, (an excuse to buy a 45 shirt)
Thursday - Cappuccino (brown and White)
Friday - Black and Fluorescent
Saturday - Very Elegant (big party night, dress to impress)
Dress code at breakfast
Most guests appear for breakfast wearing their ski gear, eager to hit the slopes, its very casual. I've even seen someone appear in a onesie!
Dress code for lunch and mountain dining
Lunch is a big affair with Club Med, everyone is in their ski gear, with Jackets, helmets and gloves stowed away in the ski lockers.
In St Moritz, Pragelato and Cervinia, there is no need to return to the hotel for lunch, as Club Med have their own mountain restaurants, directly on the slopes. 3 course lunches are served in approx. 45-minute sessions, with younger children in ski classes taking the earlier slots.
If you are staying in a ski area with more than one Club Med hotel, its possible to book lunch in another Club Med, it saves you returning to your hotel and makes for a nice change of environment. The only rules that apply to this are: You can only dine in a similar standard hotel, i.e. If you are staying in a 3-trident hotel, you can't book a table in a 4-Trident hotel, the other way around is fine!
Club Med offer the option to have lunch at another Club Med hotel in the following ski resorts; Meribel, Val Thorens, Les Arcs, La Plagne, Val d'Isere and Tignes. These can be booked on the day at the reception.
Whats with Club Med and 45!
On Club Med's 45th year in business the company decided the event should be marked so they designed a 45 logo and printed in shirts and top, which were then sold in the all Club Med hotels shops around the World. The plan was the next year to print 46 on the next year's shirts but the plan backfired. Guests didn't want the 46 shirts, they only wanted the 45 ones!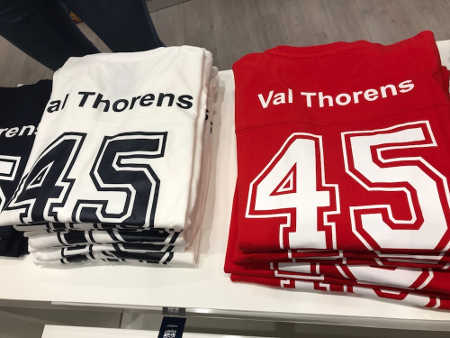 Club Med then registered the number 45 as a Worldwide trademark, it's the lowest number to have been trademarked! It's now a number and logo that's very much associated with the brand of Club Med. Today one of Club Med dress themes is a 45 night, a chance to sell a little extra merchandise and see which Club Med your fellow guests have visited.
Club Med Summer Holidays
We are now also offering Club Meds summer and winter sun holidays
Related blogs about Club Med
Club Med 2018 prices on sale now
Club Med opens new hotel in Samoens for 2018
Ski Line chooses Club Med Sensations for its end of season ski trip
Planning a corporate ski trip? Think Club Med
Club Med Arcs Extreme is now Adult only