Tignes is one of the most snow-sure ski resorts in Europe and has been one of our top selling ski resorts, along with Val d'Isere forever! The snow is normally guaranteed between November and the beginning of May. They even ski here in the summer when the various ski race teams from across Europe train here.
As most of the skiing in Tignes is above 2100m, when the weather forecast is for rain below 1800m that means there is fresh snow in Tignes!
Connected with Val d'Isere the combined area of Espace Killy offers 300km of piste with some of the finest lift-served off-piste skiing to be found anywhere. It's certainly worth buying the full area ski pass.
Resort Key Facts
Height – 2100m
Ski Range – 1550-3455m
Advanced Skiers

★★★★★

Intermediate Skiers

★★★★★

Beginner Skiers

★★★

Snowboarders

★★★★★

Km Piste (Tignes) – 150km
Km Piste (Espace Killy Full Area) – 300km
Perhaps the only negative point about Tignes is obvious if the weather is bad, the lack of tree line skiing can mean that Tignes is bleak on poor visibility days. So, it's a trade-off between high snow-sure runs and a lack of trees.
Who Loves Tignes?
If your idea of a perfect ski resort is a chocolate box type of beautiful village squares and quaintly painted ski chalets against a backdrop of tree covered mountains, Tignes might not be for you!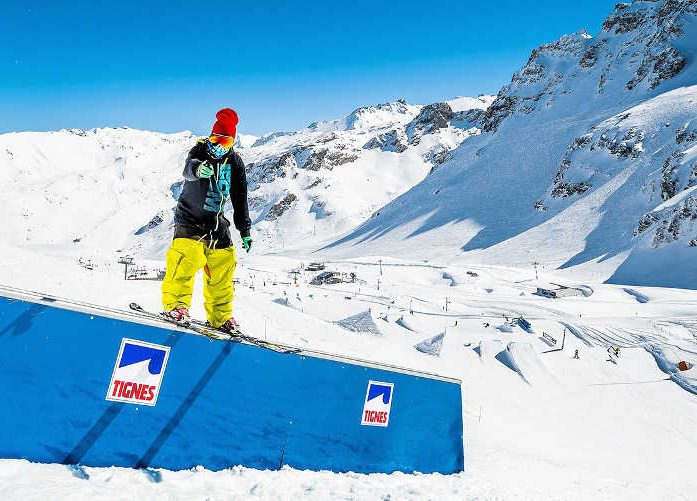 Tignes was constructed in the days before architecture and design were really appreciated by the French and it's never going to a contender in a ski resort beauty contest. Particularly the tower blocks which look out across the Lac. These look set to stay until they are eventually demolished. Major improvements have been made in other parts of Tignes with wooden cladding to cover the ugly concrete apartments with timber to help soften the edges. New low rise chalets are being built and Tignes is starting to transform its ugliness.
What Tignes is all about is high, snow-sure skiing, with fast modern lifts covering a big ski area, what's not to love?
The problem for most keen skiers is choosing between Val d'Isere or Tignes, everyone seems to have a favourite.
Advanced and intermediate skiers and snowboarders will get the most out of the varied and snow sure ski slopes. Even complete beginners are well catered for, although lifts to reach the local green runs will be required. The nursery slopes at Lac and Lavachet are ideal for beginners, with slow lifts, a gentle slope pitch and clear of any speeding skiers or snowboarders.
Family Skiing in Tignes
Tignes has a British run crèche called T4Nanny, but most of our client's skiing with children prefer to choose one of the ski chalets or chalet hotels in Tignes that are dedicated to family skiing holidays.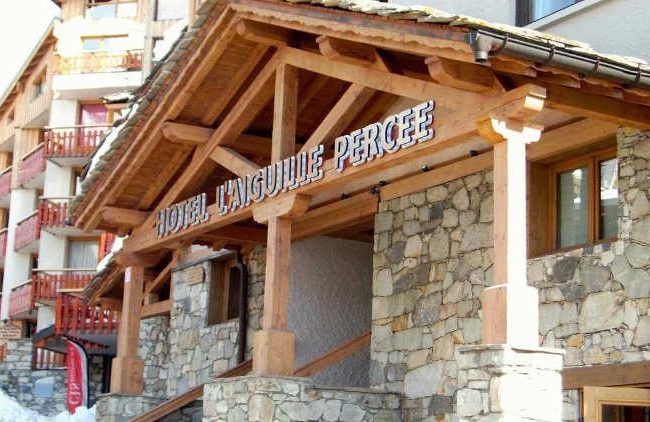 These chalets are especially popular with families. All, offer full day childcare or a combination of ski lessons and afternoon childcare for children aged from 17 weeks old.
There are a couple of great larger chalet styled hotels which are ideal for families with children aged over 1 years run by Mark Warner. As one of Mark Warner's largest travel agents in the UK we are always able to offer the best deals and discounts.
For an all-inclusive skiing holiday, Club Med is a perfect choice for families with children aged over 2 years. The lift pass, full-day ski lessons, all inclusive board and lunches (which can also be booked in Club Med Val d'Isere hotel) means that families benefit from the great value offered by Club Med. We are Club Med's largest travel agent in Europe, nobody offers better prices and deals on a Club Med skiing holiday.
Club Med Tignes is the all-inclusive option that's proved so popular with our clients
Après & Nightlife in Tignes
At first glance, you might miss the best of Tignes nightlife and après ski, it's a little hidden away but very good. Tignes Le Lac seems to be the focus of the après ski fun, the Loop plays dance music and its DJ's get the party started with its happy hour running from 4 until 6pm.
For the slightly older crowd, (I'm in my 50's) we recommend Embuscade, which offers great beer and music.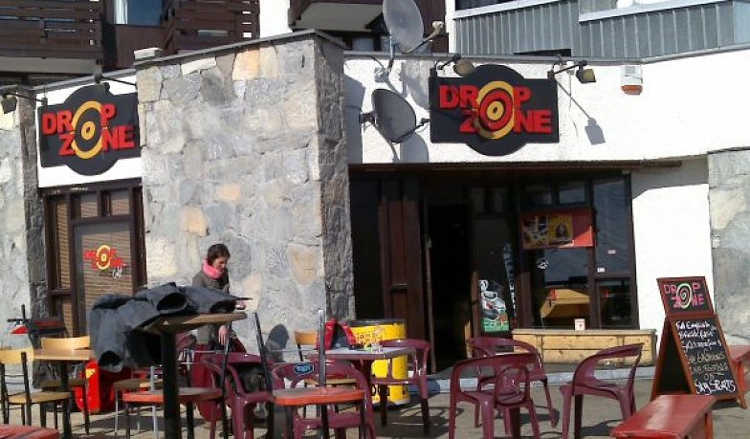 The Drop Zone at Val Claret is popular early on and offers live music and has a great atmosphere around the dance floor. In the evening head for the Melting Pot night club, its where the Seasonaires go, mainly because of its good value drinks. For a more expensive evening, Grizzly's Log Cabin is fun but pricy.
Where to Stay in Tignes
The three sectors are so well connected, we don't have a preference of which village is better. Most of our clients choose a catered ski holiday as the base for a week's stay in Tignes. We offer around 49 different ski chalets in Tignes, some offer hot tubs which is always a popular request, here are some of the most popular catered ski chalets in Tignes and are the first to get booked.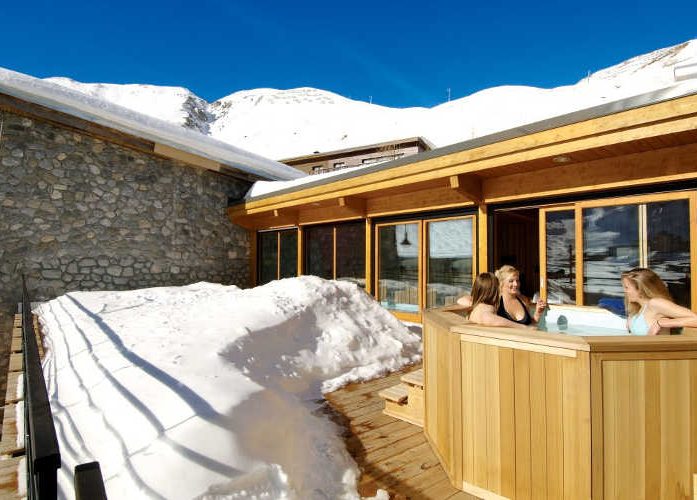 Ski Line offer a huge choice of catered chalets in Tignes as well as a good selection of hotels in Tignes. For those on a budget or we also offer a choice of good self-catered apartments in Tignes.
Ski Schools in Tignes
There is no shortage of good ski schools in Tignes and around 3 specialist snowboarding schools. Our favourites are both offering English speaking instructors, New Generation and Evolution 2 are highly recommended. ESF do the instruction for Club Med, this is where most of the English speaking ESF instructors tend to work.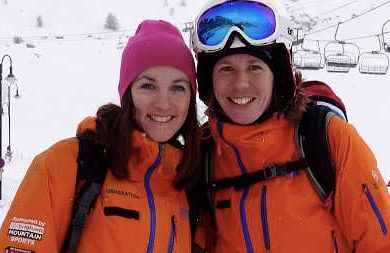 Ali Ross has been running his 5 day's ski clinics in Tignes for many years, his 5-day courses definitely require early bookings.
When Is the Best Time to Visit Tignes for the Best Ski Conditions?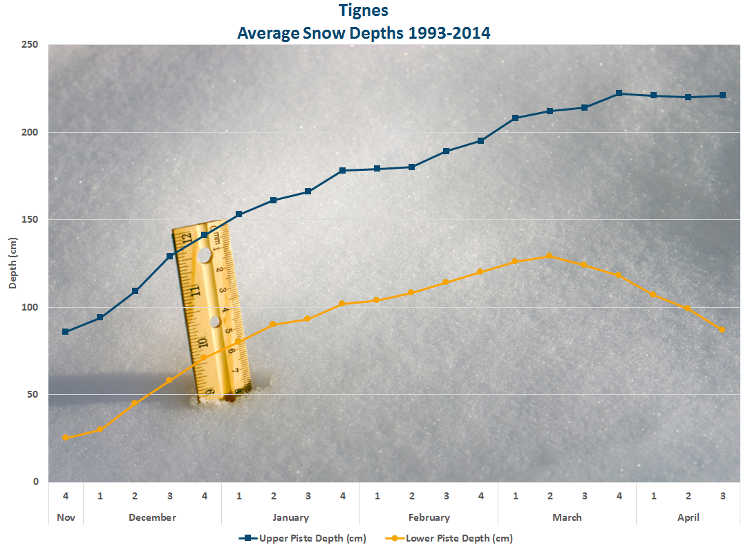 As one of the most snow-sure ski resorts in Europe, Tignes has reliable snow from November to May, the above graph shows the average snow depth over a 10-year period. Tignes is a ski resort that's good all winter long.
Restaurants in Tignes
Tignes isn't a gastronomic area, like some ski resorts have become. A few of our favourites are on the mountain. The Lo Soli at the top of the Chaudannes chair has to be one of the best. Otherwise, I tend to choose one of the restaurants on the Val d'Isere side.
In the evenings, the Ferme Des 3 Capucines is reasonably priced and serves great food, its located in Le Lavachet. The Arbina in Le Lac offers a smaller bistro type dining area on the ground floor with a smarter and larger space on the first floor.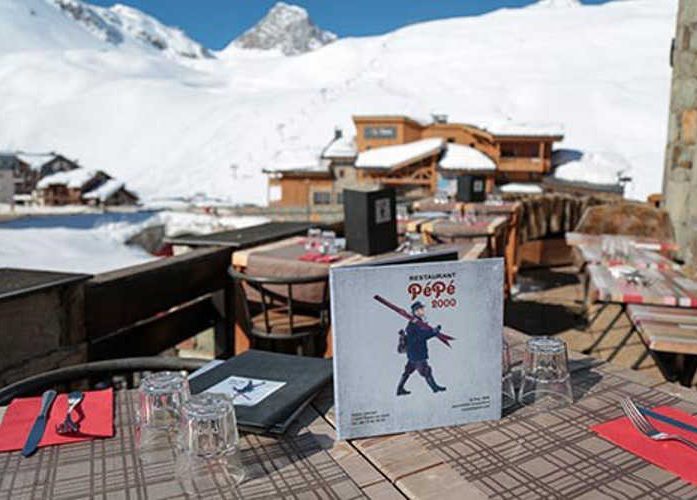 For a cheap pizza type dinner, head for the Pepe 2000 in Val Claret.
Glacier Skiing in Tignes
Tignes has one of the most famous glaciers for skiing anywhere in the world the 'Grande Motte' which offers the highest skiing in the area at 3,445m. Wind can sometimes be an issue here which can mean the gondola is closed, but this is where the snow is always fantastic (even in August).
From the top of the Grande Motte glacier, its possible to ski all the way back to Tignes on a wonderful red run, a vertical drop of over 1,300m.
In addition to the Grande Motte glacier, there is another Glacier on the Val d'Isere side of the ski area at La Fornet.
As with everyone connected with the ski industry, climate change is a major concern, but we were surprised to learn that Tignes is planning to install a 400m long indoor ski slope on the mountain at 2000m. We love the name of this new project, Ski Line! at a proposed cost of €62 million.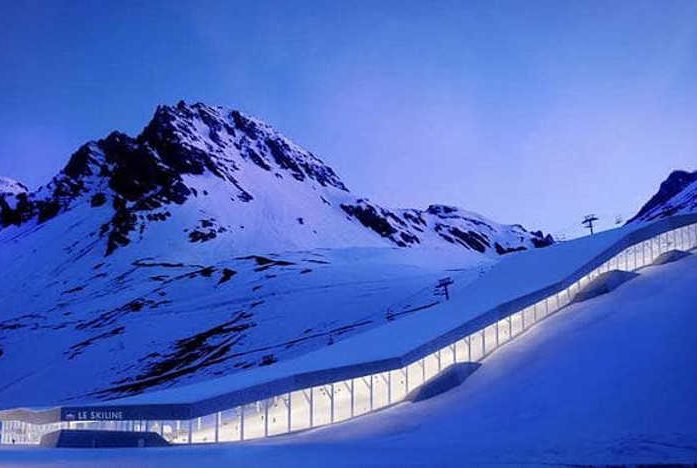 As well as the indoor ski run, the complex is proposed to include and indoor pool complete with wave machine and 1050 room new Club Med hotel to join or possibly replace the Club Med hotel at Tignes Val Claret.
Getting to Tignes
Most of our clients choose to fly to Tignes, serval airports are close by, Geneva is about 3 hours, Chambery airport is about 2.15 hours, Grenoble airport is 2.5 hours. Lyon airport is another option if using budget airlines and is about 2.5 hours away. All the airports offer bus services which are available with up to 3 connections a day to Tignes.
It's also possible to take a train, either the direct Eurostar service from London to Bourg St Maurice which operates a Saturday day service or a Friday overnight service. Rumours that Eurostar are considering a Sunday direct service to the Alps are rife.
The other option for taking a train is a Eurostar to Paris, then TGV train, this can be a lot cheaper, but will require a short metro journey to reach the TGV service. Several trains a day operate on this route, please call us for more details.
Most of the skiing holidays we offer in Tignes are offered as ATOL bonded package holidays which include flights from the UK, return resort transfers and accommodation. This is the most convenient and cost effective way to visit Tignes. Most British ski tour operators favour Grenoble and Chambery airports which offer the shortest transfer times.
If you prefer to take your car, driving to the Alps is an option, it should take around 9 hours from Calais. I'm always surprised why more British skiers don't drive.
Non-Skiers, Things to Do in Tignes
The best ski resorts for non-skiers tend to be proper towns rather than purpose built ski resorts such as Tignes, but Tignes is trying to sell itself as a summer destination too, so for a high-altitude ski resort there is plenty going one. Diving beneath the frozen lake is surprisingly popular and requires "balls of steel" or at least a very insulated dry suit. You can also skate on the lake on a 500m circuit.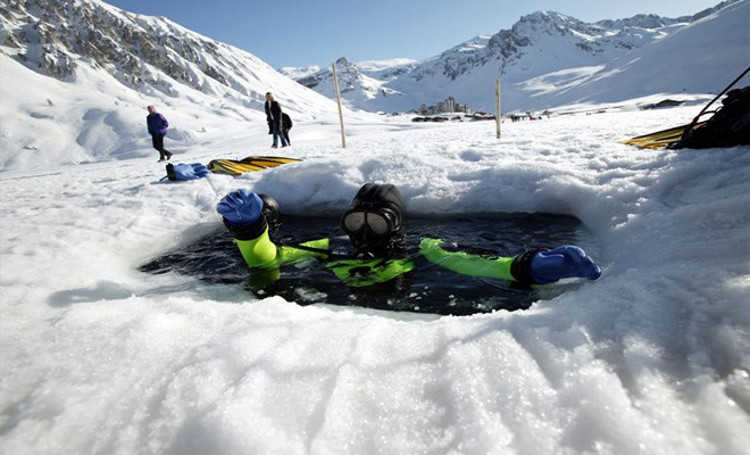 Tignes has an excellent sports centre with pool and ice rink and you have 2 days' free access with your ski pass. Its offers various pools, slides and spa facilities. 10 pin bowling is available at Le Lac. On the slopes, you can snow shoe, snowmobile and mountain bike (on snow).
The Lift System at Tignes
The lift system is modern and fast, and huge investments having been made recently to keep the lifts one of the major selling points of Tignes. The lifts going high are nearly all now fast, although a few slower chairs such as Col des Ves chair and the Aiguille Percee above Tignes le Lac need upgrading.
Related Tignes Blogs