Courchevel ski resort has everything for a great skiing holiday
2nd December 2015
Courchevel is one of the best ski areas in France and possibly even the world, and for many British skiers it's the first choice for the annual ski holiday.
The Courchevel valley makes up one third of the largest and perhaps most famous ski area in the world, The Three Valleys. The pisteurs are regarded as the best in the world, the corduroy stripes on the slopes around Courchevel are famous.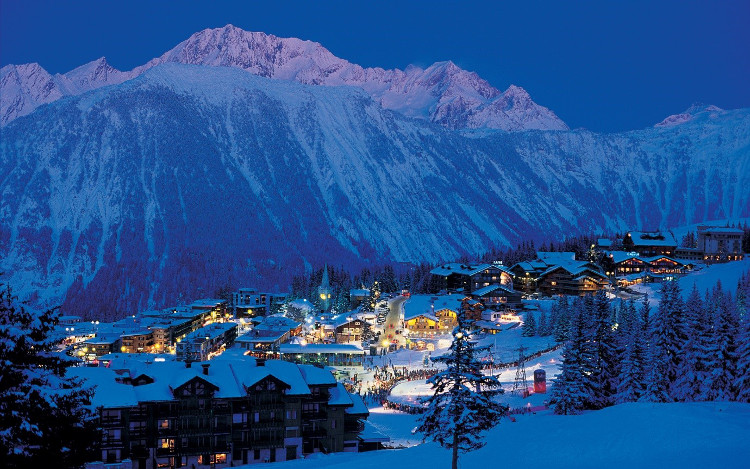 For foodies everywhere the Courchevel valley is good choice as there are no less than 12 Michelin starred restaurants.
There is more to Courchevel than just great skiing, its five villages are quite different from each other and each has its own personality. www.skiline.co.uk features 178 different ski chalets, apartments and hotels in the Courchevel valley to suit all pockets.
A few years ago three of four villages In Courchevel changed their names, we couldn't understand why some of the best know ski resorts would do this, utter madness, we thought!
It was simple, the villages where all Courchevel but with the heights of the villages added. I.e. Courchevel 1850 is at 1850m above sea level. We had heard rumours that the more upmarket village of 1850 didn't want its wealthy Russian Oligarchs booking into the wrong resort! However as the Russians seem to be staying away from Courchevel apart from over the New Year and first week of January and now seem to favour other resorts like St Moritz, 1850 could have shot itself in the foot!
In The Ski Line office's we still continue to use the old names, at least until our clients know which is which. Courchevel 1850 has become just plain Courchevel. Courchevel 1650 is now Courchevel Moriond and Courchevel 1550 is now Courchevel Village! Confused? So are we! Courchevel 1300 was always sign posted on the piste as Courchevel La Praz, so we get that one. The other village in the Courchevel valley is La Tania, a personal favourite of many of the team at Ski Line.

Courchevel 1850 (AKA Courchevel)
Guests preferring 5* hotels will certainly opt for Courchevel 1850 as it has the highest concentration of Luxury hotels anywhere, many costing €1000's a night. This won't put off the mega rich who ski here, many of whom arrive in private jets or helicopters in to the local Altiport. Courchevel has more than its fair share of upmarket boutiques, maybe only the Champs Elysee in Paris has more!
However you can still ski in Courchevel on a budget, our Chalet hotel Dahu is in a central location and only a 3 minute walk to the skiing. It's a bit tired now, but our clients don't seem to mind, the food is great and you can stay here for a month for less than the cost of just one night in the neighbouring hotel. There are some very upmarket catered ski chalets available, we offer a huge choice. However, don't come here if you are expecting good nightlife as you will be very disappointed. For a ski resort with such a big reputation there is very little going on in the evening and drinks are pricey. I once paid €10 for two pumped cokes and felt totally ripped off by the greedy bar owners.
For families looking to teach the children to ski on some of the best green runs, the Cristal 2000 is the perfect choice, the hotel is always well received by our family groups, it has everything an experienced dad wants from a skiing holiday, great skiing for himself and somewhere good for wife and kids to stay on ski slopes that won't scare them so much that they refuse to go skiing next year!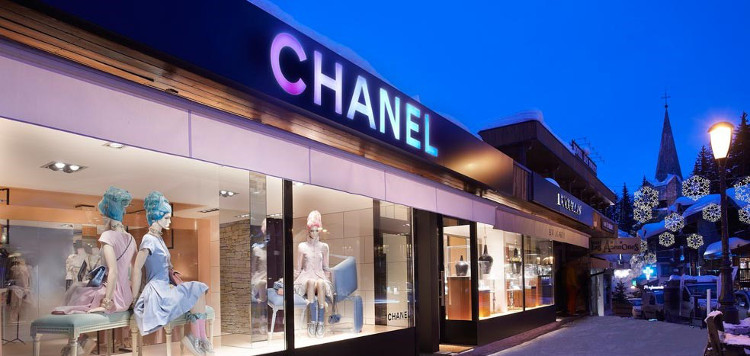 Courchevel 1650 (AKA Moriond)
Skiers wanting quieter slopes but bigger night life should choose 1650. The reason that the slopes are quieter in Courchevel 1650 has nothing to do with the snow or piste quality, its simply that skiers staying in all the other Courchevel ski villages and even in Meribel, tend to ski towards Val Thorens and the more slopes available in the wider ski area. This has the added advantage for skiers staying in 1650, that not only are the slopes less busy, but the snow tends to last longer as fewer people are skiing on it.
The choice of great accommodation in 1650 includes stylish hotels and catered ski chalets, a few of which are slope side and offer ski in ski out locations. The night life is good with a choice of great music bars. New chalets and swanky upmarket hotels seem to launch each season, we particularly love the Hotel Portetta whose owners also own the renowned Limewood hotel in the English New Forest.
When it comes to ski chalets there are plenty to choose from, many operated by British tour operators offering exceptional value for money.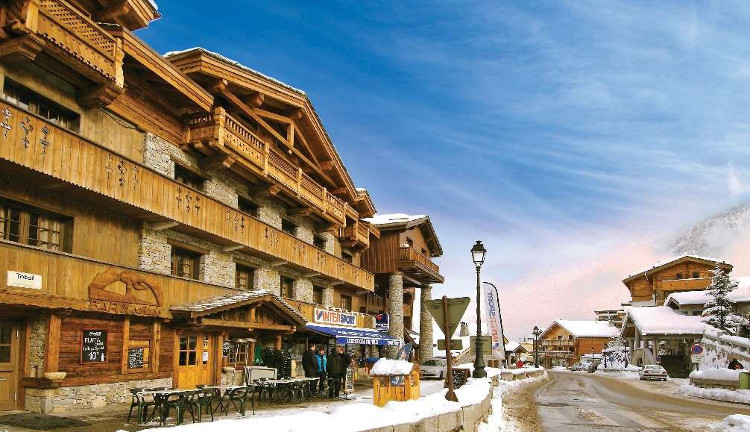 Courchevel 1550 (AKA Village)
Guests on a budget will choose Courchevel 1550 as accommodation costs are the cheapest in the Courchevel valley, plenty of French (small) self-catered apartments and budget chalets such as the recently upgraded chalet Trois S. It's a good destination for a cheaper lunch too.
It's connected via high speed lifts that run until 19:30 directly to 1850.The new swimming pool complex opened in 2014 and will be a big draw for families. It has six pools including a surf pool! The reported build cost was €67 million!
Great fun in the evening is the toboggan run from Courchevel 1850, not for the faint hearted and defiantly only to be done with a helmet on, it's a fast run under lights and runs until 19:30 throughout most of the winter and makes for a great start to the evening. If you are in search of Nightlife, you be best advised to catch the bus to 1650 which runs until just before 2:00 am.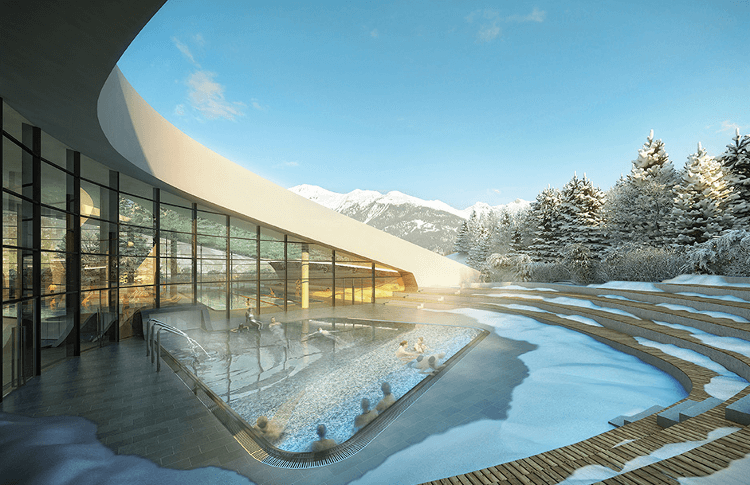 Courchevel 1300 (AKA Le Praz)
By far and away the most beautiful of all of the Courchevel villages, it's a proper alpine village with school, supermarket, butchers and bakers. There are some great restaurants too and because its where many of Courchevel ski instructors live, some of the bars are busy with ski chatter.
The ski jump at Le Praz is a legacy of the winter Olympics and dominates the village. Recently a new sports centre opened and offers a choice of sports on non-ski days and the evenings.
The choice of catered ski chalets is constantly being added too, many are new luxury chalets.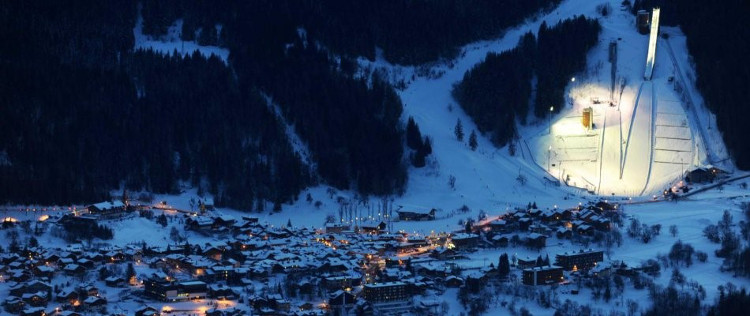 La Tania
At Ski Line we love La Tania, it's located at 1450m in the Courchevel valley on the road between Courchevel Le Praz and Meribel. The connection to the ski area is via two excellent runs, a blue and red, so good is the blue run that many keen skiers say it's the best blue in the whole of the Three Valleys ski area, whenever I ski around Courchevel, its often my first run of the day. If you can bag yourself one of the catered chalets on either of these great runs you will enjoy the door step skiing and I'm certain you will want to return.
La Tania is also a great place to head for a cheap lunch, there is fabulous terrace right on the slopes in the centre of town that catches the afternoon sun.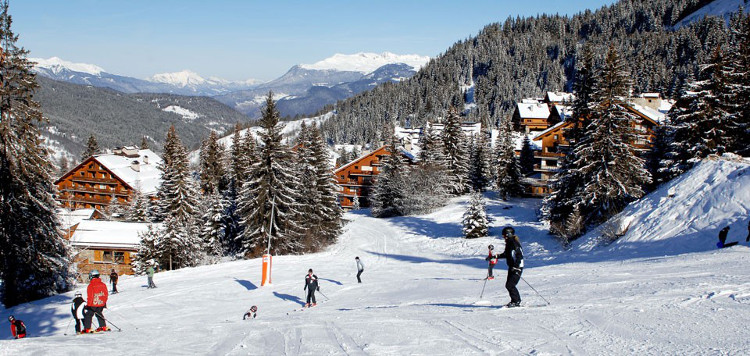 Related Blogs
The perfect family ski holiday in Courchevel 1850
New luxury ski chalet in Courchevel 1850 for the 2016/17 ski season
The Thinking Skiers 3 Valleys Skiing