The perfect family ski holiday in Courchevel 1850
20th March 2015
When booking a successful family ski holiday there are a number of considerations that don't apply when you are skiing with your rugby mates! Here are some of the questions you should be asking:
– How far will you be from the nursery slopes?
– What are the beginners slopes like?
– Will the ski school speak English and how many will be in the class?
– Who will look after my children when it's our time to relax?
– How safe is the hotel for my children, and can I book interconnecting bedrooms?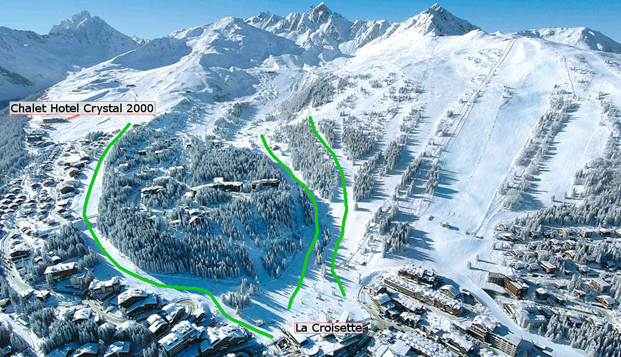 Courchevel 1850 has always appealed to families, the runs around the resort are always perfectly groomed and the green runs of the Pralong and Bellecote are possibly some of the very best places for total beginners to master the basics of skiing or snowboarding.
What makes the Crystal hotel 2000 so ideal for families?
Location, Location, Location. The family Crystal hotel 2000 in Courchevel 1850 ticks all the boxes and is perhaps the penultimate hotel for families with young children. The ski area of the Three Valleys will appeal to the parents too, so you won't have to make any compromises to your ski resort selection just because the children are skiing too. At the start of the day simply ski down the green warm up run to La Croisette, which is the main departure point in 1850 where you can connect to Meribel, La Tania or Courchevel 1650, or 1550.
Ski Area access. The Crystal Hotel 2000 is located right next to the Pralong ski area with its drag lift and is perfect for young children learning the basics in a safe area well away from speeding skiers and snowboarders. The tree lined runs of the Bellecote green are ideal even if the weather closes in and lead to La Croisette, the main lift departure point in the resort with lifts heading off in every direction.
Family room types. The bedrooms are all located on the first, second and third floor. There is a lift, and many of the rooms have balconies. The rooms are available in a variety of different sizes sleeping 2-3 or larger interconnecting suites sleeping 4-6 naturally all the rooms are ensuite and all have a bath.
Getting to the Chalet Hotel Crystal 2000 is simple we sell this as a package holiday which includes flights, transfers and accommodation. Flights are available from several regional airports including, London Gatwick, Stanstead and Heathrow, Manchester, Birmingham and East Midlands, Bournemouth, Bristol and Southampton and Edinburgh. Please note that the transfers are by coaches which do not accommodate a child safety seat. We can arrange a private transfer where a child safety seat are supplied, costs vary depending on how many people travel.
Play time The Crystal 2000 now offers its youngest guests the most amazing space of their own in which to play and let off steam. The entire lower ground floor has been redesigned to incorporate two separate play areas – a smaller one for babies and toddlers up to three years old, with a slide, a see saw and other age-appropriate soft play activities, and a larger multi-level playzone (12 x 5.5 x 3.7 metres) for 4-12 year olds, with a double slide, a ball-pool, building blocks and a whole host of other attractions and adventures too plentiful to mention!
Children are able to enjoy the soft play under parental supervision at any time during the day.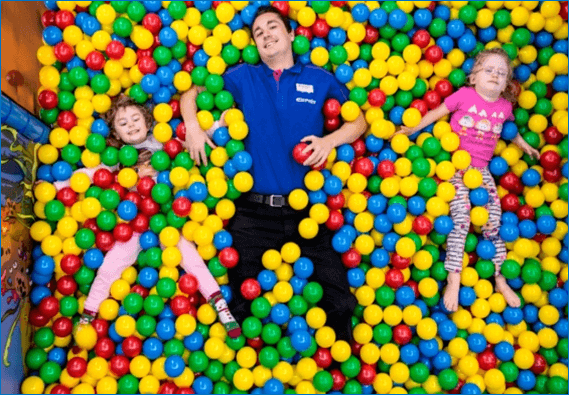 Child care options. The hotel is run and operated by family ski specialists, Ski Esprit, we have worked with Ski Esprit for 20 years and Ski Line are their biggest agent. We believe they are one of the best family chalet companies you can choose. ONLY family groups are able to book with Ski Esprit. All the staff are CRB checked and their nannies are all qualified to NVQ level 3 in childcare or similar standard, all are British.
Nursery
Children from 17 weeks to 40 months are offered full day childcare, so you can enjoy your skiing, ratios of staff to children depends on ages but ranges between 1 nannie to 2 children up to 1 nannie looking after 4 children. The days are structured to ensure the children have as much fun as you. The nursery is open from 8:30am to 5pm and includes supervised lunch. Cost is around £315 for 6 full days.
About the ski lessons, most classes have between 6 to 8 children in a class, the instructors all speak English and have been selected for their ability to work well with young children.
Ski Lessons for 3 -4 year olds, (Spritlets) at this age children are ready to be introduced to skiing for a half day, a member of the nursery staff stays on hand to assist the instructor just in case one of the children needs a cuddle, nose wipe or just a little encouragement. Spritlet classes are run on 5 afternoons, when it's a little warmer than first thing in the morning. Cost around £215.
Ski Lessons for 5 to 9 year beginners (Sprites beginners) groups are divided in ability levels and age group levels, these are 2.5 hour morning lessons who are complete beginners and can't yet make a snow plough turn/stop. The aim is to get them used to ski lifts and by the end of the week they should be able to ski down the resorts blue runs. Cost 5 x morning lessons at £215.
Ski Lessons for 6 to 10 years Improvers (Sprite improvers) these classes are 2.5 hours morning lessons for children who are confident on all types of ski lifts and can confidently execute a snow plough on a blue run. 5 x morning lessons cost around £215, cost 5 x morning lessons costs around £215. Children 6 to 11 years who want to ski in the afternoon can book on the Sprit Improvers Extra with an additional 2 hours afternoon lessons ie. 5 x 2.5 morning and 5 x 2 hour afternoon lessons at around £289.
Intermediate ski lessons 7 to 11 year olds with at least 2 weeks skiing experience who are starting to parallel ski but still snow plough on steeper red runs, these lessons have a structured morning lessons for 2.5 hours and 2 hour ski fun in the afternoon. Costs around £289.
Children aged 8 to 12 years advanced skiers. These classes are aimed at children who are happy on Blue and red runs but now looking for new challenges and could include small jumps, and soft snow lessons at the edge of the piste and slalom courses. Morning lessons are 5 x 2.5 hour costs £215. We recommend the guided afternoon ski fun for children who don't want to stop skiing cost of 5 x 2 hour lessons are £215.
At the end of the week instructors issue awards, medals and certificates, an event the children look forward to greatly.
Supervised lunch's means you don't need to be back at the hotel to look after your children, they will have more fun without you and you can enjoy your full day on the slopes. The cost of lunch for 5 days is £85.
Children for whom just a mornings ski is enough can join the snow club, this includes delivery to and from lessons and afternoon childcare, in either the soft pay area or on good weather days could include bum boards and other structured play outside with the hotels own nannies and snow rangers. The cost for 6 half days is £199, feedback from clients has always been very positive, as Ski Esprit understand if the children aren't happy, you won't be either!
The evening meals at the chalet hotel Crystal 2000 are in two settings, children under 12 years have high tea early, it's supervised by the nannies and meals are designed to be the food littles ones enjoy, this allows the adults and older children to enjoy their evening meal without disruption. Smaller babies sleep while the nannies listening service is available free of charge. While the adults dine the nannies and snow rangers organise the cocoa Clubs, Children these run between 7:30 the adult meal time and up to 9:30 to 10 depending on ages, this is structured play and includes storytelling, movie nights and lots of games… The kids love it. For older children this will include 3 outings in resort and may include snow dependant the toboggan run down to 1550. The costs of the Cocoa Clubs varies on the age of the children £29 to £199, the younger children requiring a higher ratios of nannies to children. Please note there is no option for Children under 12 to dine with the adults, this have acted as a barrier for families, but the rules are designed for both the adults and children's enjoyment.
Related Blogs
Courchevel ski resort has everything for a great skiing holiday
New luxury ski chalet in Courchevel 1850 for the 2016/17 ski season
The Thinking Skiers 3 Valleys Skiing