No two catered ski chalets are ever the same, there is the perfect ski chalet out there for your group, and we just need to find it for you!
We asked Mal Sargeant, senior sales consultant at skiline.co.uk to give a few tips on how he narrows down his search for clients and how he weeds out the chaff.
There is still a wide choice of ski chalets on the market, some operated by large well known ATOL bonded operators, and others by smaller independent ski businesses. The level of service and standard of accommodation varies enormously so it's very important to get it right. The Ski Line website features over 500 catered ski chalet holidays.
The best deals and discounts will always be available for off-peak dates at the beginning and towards the end of the season. The school holiday dates are not only more expensive, but the slopes are more crowded too.
Access to skiing and the differing skiing abilities of the group members should be your first consideration. The best and most popular ski chalets are selected for their easy access to the ski slopes, the very best and most desirable being located right on the slopes. Walking in ski boats or waiting for a bus, just won't do!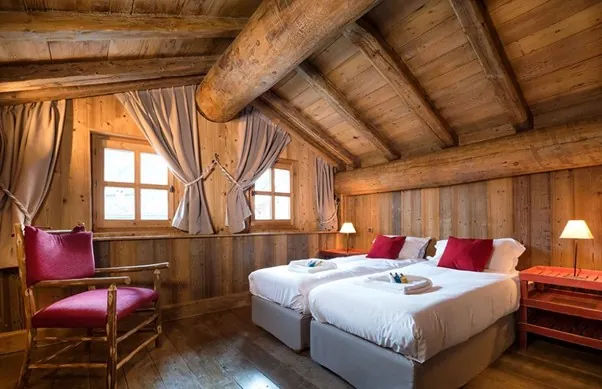 There is no point in a ski in ski out chalet located on La Face Piste (a black run in Val d'isere) if most of the group are novices. They certainly won't appreciate the long walk to the bus stop, as they watch the advanced skiers ski from the door.
Don't get hung up on finding a ski chalet that matches the exact number in your party, people and families can often drop out when it comes to paying deposits, in skiline.co.uk 's experience, dropouts can easily be replaced, especially if you have found a good ski chalet. There is often a degree of flexibility on capacity in lots of chalets if you ask.
Top of our client's wish list is often a ski chalet with a hot tub. The perfect location for a hot tub is one with a view which is enjoyed all the more if it starts to snow. Chalet owners know this, and they are now becoming more widely available. Steam rooms, saunas and even indoor pools are also popular, and some of the apartment-style ski chalets have shared pools in their basements.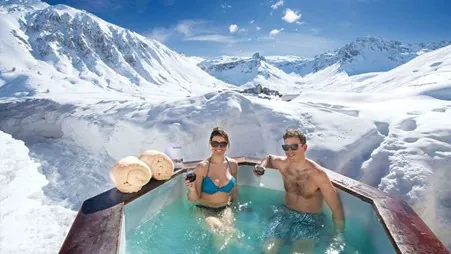 Don't ever think that your ski trip will be hard work when you get there! All ski chalets will have chalet hosts and resort managers who are used to welcoming groups and are experts in guiding your group for all manner of scenarios that will occur. For ski equipment pick up and lessons, they will give you the shop and ski school location and will often take you there on the first morning. They will have first-hand knowledge of the best places to ski at certain times of the day and in which weather, they will also no doubt know the best spots to lunch on the mountain and the best après ski spots too. Their job is to welcome and help you, so use them!
A successful family ski chalet works especially well if you ski with other friends with children of similar ages. Think about access to the ski school meeting points and try to avoid buses if you are travelling with small children. Some chalet operators provide a minibus shuttle service which is a huge plus. Some chalets will offer childcare too.
A second lounge area and access to safe outdoor space is also a very good idea if travelling with a few children. Children love room shares, and chalets with multi-occupant rooms often attract good discounts. Additionally, some bedrooms in catered chalets can often take an extra bed and from this, you will gain extra child discounts.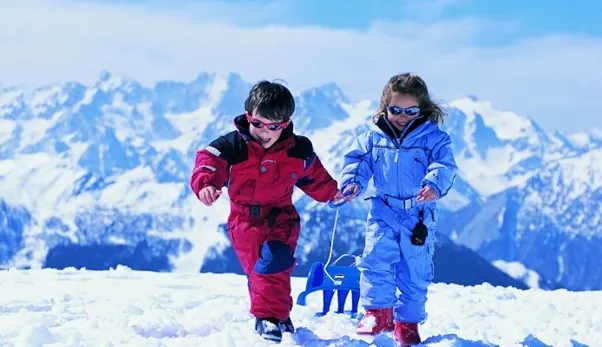 The resort you choose should be suitable for the group you are taking. Do you have a group of friends who like their après ski? If so you will have to choose a lively resort. Do you have mainly beginners? You'll need a resort with lots of nurseries and green slopes. Do you have powder hounds who chase the piste miles? Then you will need a large resort. Do you have any non-skiers in the group? If so, you will need a good town and activities available for them. If you have families some children might like to take a break and go swimming for an afternoon so a cracking leisure complex is a must! Do you have a group of ladies on a fun weekend away who love their food, spas, après and shopping as well as their skiing? Then you will need a resort that caters for all of those things. Our staff have years of knowledge so that they will be able to immediately put their finger on the right resorts for your ski group and they will also know first-hand (as they have visited many) which chalets will suit you best.
Be inspired by some of Mal's clients' favourite catered ski chalets.
Mal Sargeant has been a senior sales advisor at Ski Line for 19 years, he completed 3 ski seasons in Courchevel. Mal has 1,000's of clients that come to him each winter for his advice and ability to secure brilliant holidays winter after winter. Here are some of the chalets Mal has booked for his clients this winter.
High, snow-sure and great for Families, think La Rosiere!
La Rosiere in the French Tarentaise mountains has become a firm favourite, especially with groups with children. Linked to the Italian ski resort of La Thuile, its sunny south-facing ski slopes are perfect in the chill of a January winter, but less so as spring approaches. The link to Italy provides alternative slopes and better-value lunches.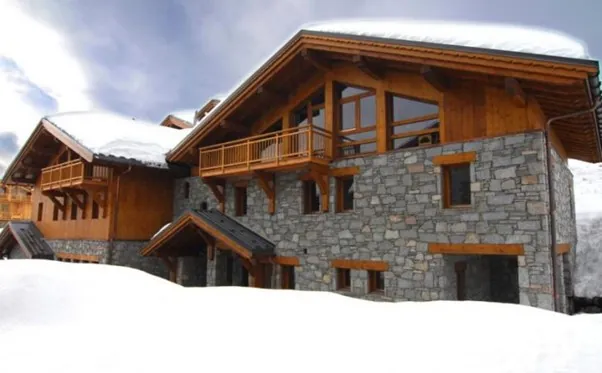 Chalet Papillon is a building with 6 apartment-styled catered ski chalets located 50m from the slopes and 75m from the Les Eucherts express chair lift and the ski school meeting point.
Chalet Papillon is sold as an ATOL bonded package with flights and transfers on full catered chalet board. All the rooms are ensuite with a shower and WC and prices start at just £649pp for off-peak weeks.
Three valleys in ski in ski out dream ski chalet
The Three Valley's ski area is a skier's dream, the largest linked ski area on the planet. Chalet Michele is located in the lesser-known resort of La Tania which is part of Courchevel and is situated right on the piste. An easy ski down to the lifts in the morning. Chalet Michele is a great choice for small groups, sleeping up to 8 in 4 twin or double rooms.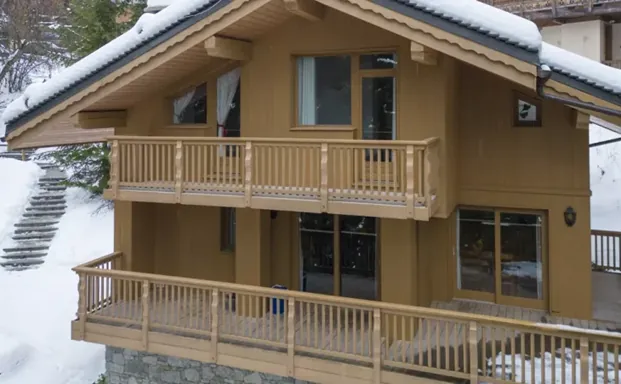 Prices start at £1,309pp the prices include flights from either LGW or MAN including resort transfers The package is ATOL protected.
Après ski party chalet that's in the thick of it
For skiers that like to be in the heart of the après ski party Chalet Alaska in Morzine is a great choice. It's as easy to get to the bars as it is the nearest ski lift, both are less than 100m away. This 6-bedroom ski chalet sleeps 12 in a high level of comfort. There are lots of options for cheap single-room supplements and extra bed discounts in Chalet Alaska.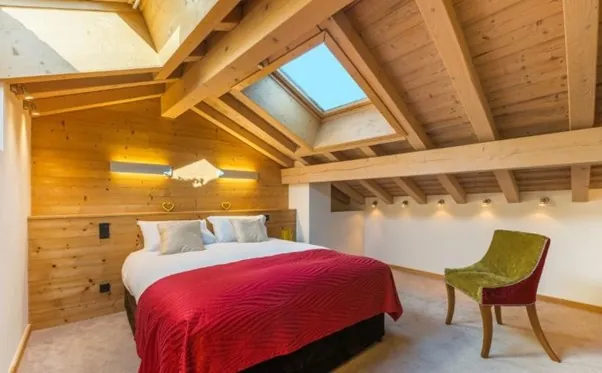 Chalet Alaska is priced from £1,081 per person which includes the cost of transfers from Geneva airport.
A ski chalet to Après ski with the Folie Douce Music bar.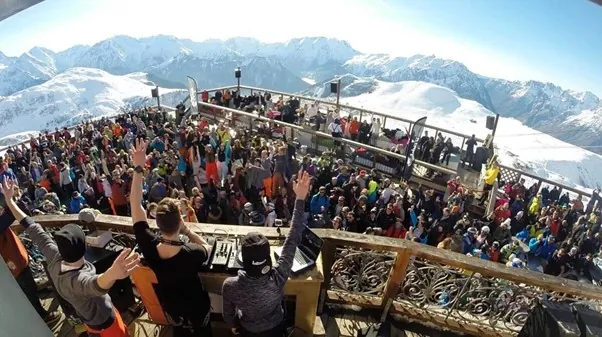 The Après ski parties in ski resorts are a huge draw for many booking a ski chalet. It's hardly surprising that resorts with the famous Folie Douce après ski bars are top of the list. One of these ski resorts is Alpe d'Huez, its draw is much more than a party, it's a good choice for a mixed-ability ski group. Its extensive network of blue, red and even black ski runs allows access to the whole mountain. The off-piste skiing is better than you would expect.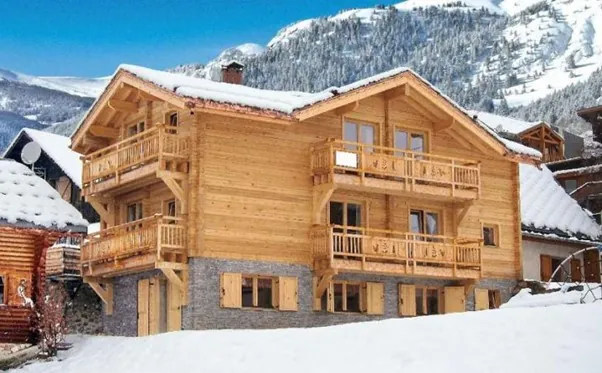 Chalet La Breche is unusual in that its large, sleeping 16 guests, but it also ticks a lot of the other popular boxes, ski in ski out being just, 50m from the ski lift, with a hot tub and sauna.
Chalet La Breche is sold as an ATOL bonded package with a choice of flights from many regional airports. With transfers included, it represents excellent value for money with prices starting at £1,349 per person, based on a full chalet board.
Avoiding the February half-term crush with ski convenience.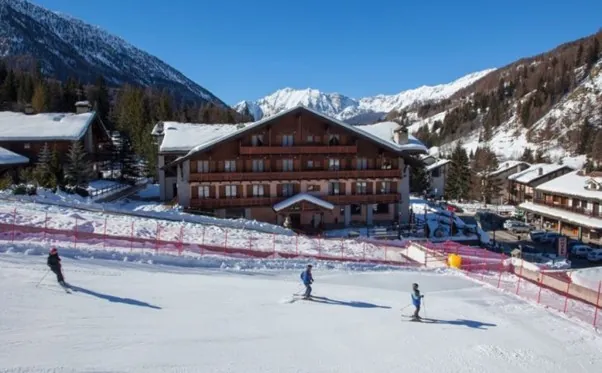 This year's UK February Half Term (2024) clashes with the Parisian Half term. This puts pressure on accommodation capacity, meaning higher prices and makes for longer lift queues while skiing.
Many of Ski Lines's clients have chosen to miss France next February. A good choice for many has been the Chalet Hotel Champoluc in the gorgeous Monterosa ski area, Italy's very own Three Valleys. The skiing is all between 1,597m and 3,275m and with 180km of piste, it's an excellent snow-sure alternative to a French ski holiday.
The chalet hotel is perfect for large groups with children. Doorstep skiing returns via a red run or via the gondola for blue run skiers. There is a creche for non-skiing children, run by English-speaking staff. Children are served high tea, so their parents can enjoy their evening meal, while kids' clubs and baby monitoring go on behind the scenes.
Adult group bookings are NOT accepted, only family groups can stay here.
Stay at the Hotel De Champoluc for just £934 which includes a flight from the UK and resort transfers on full catered chalet board. Half Term week is priced at £2,123pp.
Luxury Ski Chalets in Austria's premier ski resort, Lech.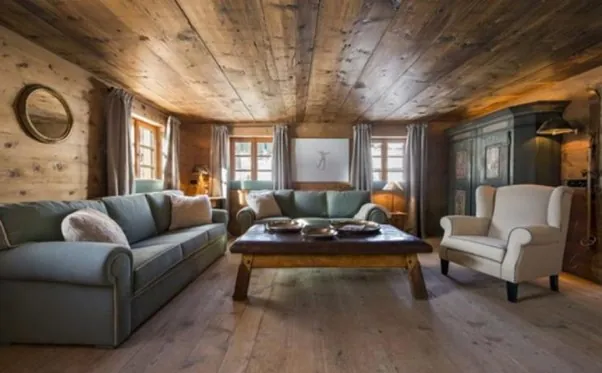 Certain ski resorts appeal to the well-heeled, perhaps Lech in the Austrian Alps personifies the luxury ski holiday more so than most. 5* hotel guests are no longer restricting their choices to just 5* hotels, of which there any many in Lech. There is a level of Luxury available in some chalets that surpasses even what is available in the best hotels. These are the homes of Millionaires and Billionaires, and the service levels to match.
Chalet 1597 is one such ski chalet, it's operated by Bramble Ski, the premium supplier of high-end luxury ski chalets. It sleeps 12 and is a perfect choice for a Luxury ski chalet, especially in the spring, when the large south-facing terrace and balconies come into their own.
Expect the finest service and Michelin-star quality food and wine. A week's stay at Chalet 1597 starts at £33,598 per week on a full catered chalet board.
If you need help finding your group's perfect ski chalet, you really should call us, we have been doing this for 28 years and we are really very good at it. Call our experts on 020 8313 3999.