Ski Chalets with a Hot Tub
If you're looking to relax at the end of a long day of skiing or snowboarding, then a ski chalet with a hot tub is for you. Nothing is quite like kicking back and relaxing in a hot tub surrounded by breathtaking mountain views. Choosing a ski chalet with a hot tub is the perfect opportunity to enjoy a glass of bubbly and recuperate on an evening – whether you're away with friends, family or that special someone. For many, a ski chalet with a hot tub is the number one requirement when booking a getaway, so we offer plenty of cosy chalets and luxurious ski lodges with hot tubs, saunas and spa treatments for ultimate rejuvenation.
If staying in a ski chalet with a hot tub sounds like heaven to you, take a look at our range of ski chalets with a hot tub to find your perfect getaway.
What are Ski Chalets with a Hot Tub?
Ski chalets with hot tubs are a popular choice for skiers and snowboarders looking for a comfortable and relaxing accommodation option after a long day on the slopes.
The hot tubs in these chalets are usually located outside and offer stunning views of the surrounding mountains and scenery. They are often heated to a comfortable temperature, allowing guests to relax and unwind in the warm water while enjoying the breathtaking views.
Popular ski destinations that offer chalets with hot tubs include Chamonix, Tignes and Val d'Isere in France, St Anton in Austria and Zermatt in Switzerland. These destinations offer a range of chalets to suit different budgets and preferences, from cosy cabins to luxurious villas.
Whether you're looking for a romantic getaway or a family holiday, a ski chalet with a hot tub can provide the perfect setting for a relaxing and rejuvenating experience.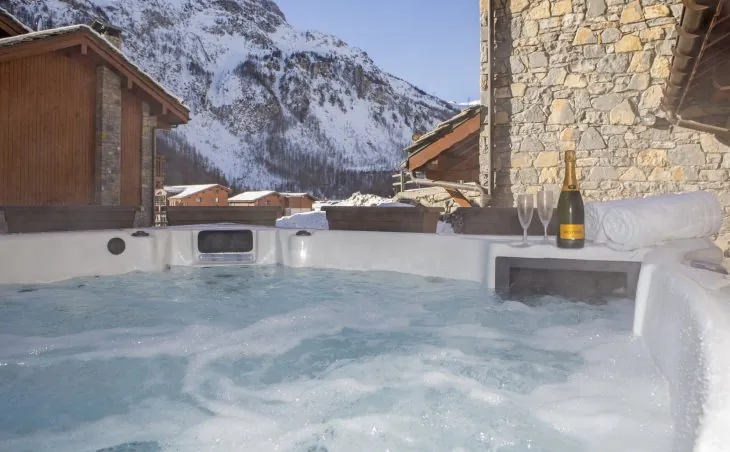 Popular Ski Chalets With A Hot Tub
... Read more
Loading holidays ...