Wheelchair access in hotels and chalets in ski resorts across the Alps
11th November 2016
When our client Steve, first asked us to book him a ski holiday, I thought it would be quite straight forward. He and 8 friends, 4 of whom have disabilities and ski using an adaptive sit ski, If it was just Steve it might not have been so tough, but finding a hotel with 4 disabled friendly rooms wasn't as simple as I first though. Very few hotels have more than one or two rooms that would work for Steves group, apart from Club Med.
As I started searching I found some tour operators are better than others when it comes to booking a skiing holiday when you have disabilities. I don't know if it's the fear of something going wrong with access, or concerns about travel arrangements and boarding a transfer bus. Sadly very few of our tour operators seemed able to help. One tour operator stood out as being head and shouders about the rest. Well done Club Med, for us you are the first choice, when it comes to booking clients with mobility issues as 15 of their hotels in the Alps are suitable and have adaptive rooms.
Our clients who use a wheelchair are very resiliant and tough people, but the last thing you want to if you are disabled is to have to shuffle up some wet steps on your backside to get in to your chalet or hotel.
A skiing holiday from a wheelchair isn't as straight forward as it is for able bodied skiers, transfers bus access, door widths of bedroom and bathrooms and access around the accommodation all become important to make sure your skiing holiday goes without a hitch.
We have several clients who use sit skis booking with us each winter. Sadly, not all of our chalets, hotels and apartments are suitable for skiers with reduced mobility. We have put together a list of some of the best hotels below that are suitable for disabled skiers with adapted rooms and ease of access from a wheelchair
New to skiing and disabled
Whether you are a regular sit skier or are thinking of skiing for the first time, we will make sure you holiday runs smoothly. There are now a number of ski schools offering specialist sit ski instruction as well as ski resorts with special areas exclusively for disabled people to learn to ski with specialised ski lifts and instruction. Most ski resorts in Europe and North America offer reduced ski passes for wheelchair users and their companions. Some resorts are even able to offer free tuition too.
Here's our guide to the best accommodation in the Alps for skiers with reduced mobility.
Club Med are leading the way in the ski market for disabled skiers and as Europe's biggest agent we are well placed to make sure you get the best deals.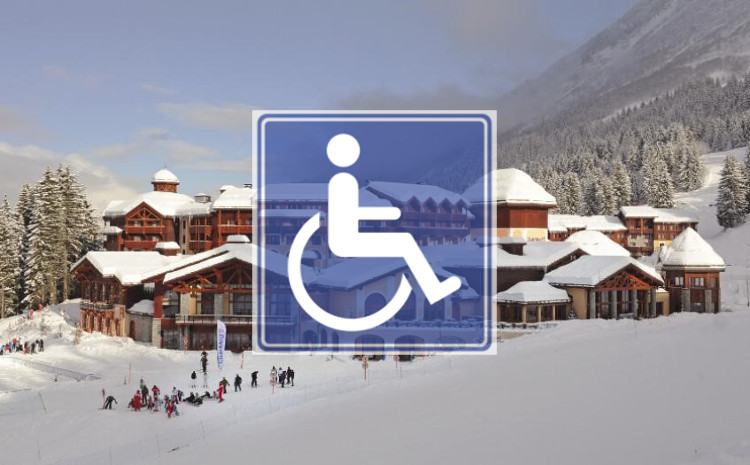 Club Med Valmorel a 4* standard all inclusive hotel with a 5* space also available. Both areas of the hotel have a good number of rooms suitable for skiers with reduced mobility. The hotel is located right on the slopes.
Club Med's all-inclusive hotel is a good choice for skiers with limited mobility, internally the lifts connect to all floors and ramps and mini lifts make lift easy for getting about the hotel.
When it comes to ski time the hotel is slope side for easy and convenience of skiing from the door the ski room. The nearest ski lifts from here is a chair where your sit ski can be loaded.
The hotel has a number of rooms suitable for skiers with reduced mobility, these larger rooms have wide doors and adapted bathrooms.
The all-inclusive option in Alpe d'Huez is slope side and adapted rooms are available. A popular choice with skiers of all levels.
Club Med's Aime La Plagne is slope side 3 * stand hotel offering an all-inclusive ski holiday. A number of adaptive rooms available. La Plagne is a ski resort that has made a lot of efforts for skiers with a disability. Oxegene ski school's instructors are trained to instruct skiers in a sit ski and for young children with severe mobility issues, their sit ski taxi is a great opportunity to experience the thrill of skiing, with an instructor doing the tough bits!
La Plagne is a great choice of ski resort in France for disabled skiers (see above) Club Med La Plagne 2100 is a 4* standard hotel, its ski in ski out and the hotel layout works from a wheelchair.
Club Med's Val d'Isere resort has two sides, one a 5* and the other a 4*, both offer adaptive rooms. The hotel is located above the main ski resort, directly on the piste, so access inside and out are good for skiers with reduced mobility.
This popular Club Med hotel is located by the slopes and I would image leaving the boot room to access the slopes may require some effort as it's on a bit of an incline but staff will be on hand to assist wheelchair users. A good number of reduced mobility rooms are available.
Club Med Tignes
Club Med's Tignes hotel is located on the slopes towards the Val Claret end of the valley. A good choice of adaptive rooms is available here. The hotel is a 4* standard and being an all-inclusive package offers a good value for money option for skiers with reduced mobility.
This hotel is a former Olympic ski village and the bedrooms are located in a number of blocks around the resort. Connected by paths linking to the main hotel building. Wheelchair users may require a buddy to help them get from the bedrooms to the main building. The location of the hotel is ski in ski out, but a cable car departure cannot be avoided to reach the skiing. The hotel has a number of rooms suitable for disabled skiers with suitable bathrooms and wide door. Lunch is included either by returning to the hotel or at its own private restaurant located on the slopes above Sauze d'Oulx.
Another slope side hotel by Club Med, access around the hotel is good for wheelchair users. Several of the rooms are adapted for wheelchair users. This 3* standard, all inclusive hotel is a popular choice in Serre Chevalier.
Club Med flag ship hotel which we awarded our ski hotel of the year 2015. The highest ski resort in Europe is popular at the beginning and end of the ski season because of its snow reliability. This hotel has lifts to all floors and ramps suitable for wheelchair users.
Catered ski chalets with rooms suitable for skiers with reduced mobility
This popular chalet hotel is located in Vallandry, right on the piste, access around the hotel is good apart from one step in the bar area. I understand that the chalet is now building a ramp for this step. A couple of the rooms are suitable for wheelchair users.
While its not ski in ski out the rooms and the hotel are good for wheelchair access. The hotel is about 3 minutes from the nearest ski lift where you can leave your wheelchair. The chalet staff are happy to help you reach the ski lift and get back to the hotel at the end of the day if assistance is required.
Thank you to our sit ski clients for helping and encouraging us to write this blog.
We'd like to thank Jo Willouby a former British ski Paralympian and sit ski users for allowing us to use her film and to her friend and our client, Steve Derwin for helping me with advice about the issues facing wheelchair users in ski resorts.