The Ultimate skiers guide to Val Thorens
27th June 2019
The highest resort in the Alps, Val Thorens lies at 2300m and with 3 glaciers it can always guarantee good snow. It has a long season being open from Mid-November to early May and is part of the famous Three Valleys in France which comprises Courchevel and Meribel as well as the Val Thorens Valley.
With 600km of pistes literally on your doorstep, you will be in seventh heaven if you book a ski trip to this resort.
In recent years Val Thorens has steadily drifted more upmarket with many new 4 and 5* residences opening, improvements to its lift system and with the tourist office and local resort facility modernisation programmes too.

The Skiing in Val Thorens
This resort gives you doorstep skiing with a plethora of different piste runs of all levels, however, it also has many off-piste possibilities and fabulous snow park and boarder cross areas too.
There are 3 different ski passes you can buy when skiing in Val Thorens, the first and most widely used is the Three Valleys pass which covers all 600km. However, did you know that you can also get just the Orelle pass which covers 150km and the 'Les Vallee des Belleville' which covers 300km of runs?
The three Glaciers comprise Glacier de Peclet which is at a height of 3100m, the Glacier de Thorens at a height of 3130m and the Glacier de la Pointe Renod at 3230m. The tops of these glacier runs offer either red or black runs down from the top, however, there are easily accessible blue runs which run down from about the halfway mark on all of them.
The 'Plateau' snow park in Val Thorens can be accessed from the Moutiere Chairlift and the Plateau drag lift will take you from the bottom to the top of the park itself. This park includes an airbag as well as all of the usual features. There's a separate snow cross park lower down the slopes too.
In the heart of the resort, you will find an excellent gentle beginners' area with covered moving carpets and a drag lift. The beginner's lifts are free of charge too. The beginner green runs are all situated right in the heart of the resort in and around the nursery slopes and lifts. Progression will be on blue runs many of which are easy and wide so that beginners can gain confidence.
Intermediate skiers are spoilt for choice in this resort. We particularly liked the runs over in the Orelle Valley which were both long and quiet. The steepest intermediate runs can be found higher up in the Val Thorens valley. The more daring intermediate skiers might like to try the black Combe de Caron run down from the top of the Cime Caron Telepherique which is nice and wide and gives a good introduction to something a little trickier.
Of course, the wider area of the three valleys is an intermediates paradise with plenty of long red and blue runs in all resorts.
Expert skiers will adore the off-piste opportunities that Val Thorens has to offer (we recommend hiring a guide) there are many black runs in this valley although they are not the most challenging and the wider area of the three valleys would be best if you like to be tested. Saying that, the black runs at the top of the Grand Frond gondola and the short run from the top of the Cascades chair are all recommended by us.
Ski passes
Be sure to get the right pass for your trip – there's a few to choose from which could save you money.
The Family pass for a family of 4 or more is a great money-saving pass if you have children aged 5-17 years old as the whole family only pay the child rates!

A group of 3 skiers is considered a 'group'! The pass is called the 'Tribe' pass and gives you a discounted rate for 3 or more.
There's also a price for 2 people purchasing at the same time – this gives both or you a discount!
Of course, there's the standard ski pass too if you are purchasing as an individual.
Prices are issued in the Autumn before the season starts.
The following Prices are correct and per person at the time of writing June 2019
All based on a 6 day 3 valleys pass
| | |
| --- | --- |
| LIFT PASS | PRICE |
| Individual | €312 |
| DUO pass | €302 |
| TRIBU pass (3 or more) | €297 |
| Family Pass – 2 adults 2 children age 5-17 | €249.60 |
| Child | €249.60 |
| Senior | €280.80 |
Ski Schools
There are many ski schools to choose from in Val Thorens, but our recommendation is the British run New Generation who get great reviews and offer group lessons or private lessons for all age groups including a specially designed one for teens.
The ESF in this resort has had many good reviews as do Oxygene and Evolution 2.
What else can I do in Val Thorens?
There's so much more to Val Thorens than just skiing, we have listed a few activities below to whet your appetite!
Zip Wires
One of the most exciting new activities to try is the Bee Line 1800m double Zipline which runs from the top of the Moutiere Chairlift. This zip wire above the slopes of Val Thorens is accessible for both skiers or non-skiers so long as you are 14 or over and taller than 1.40m. The thrill of being suspended mid-air on this zip wire will have you coming back for more and at only €35 it's a good price too. Perhaps its someone's birthday? you can buy them a gift voucher for this experience at the lift pass office.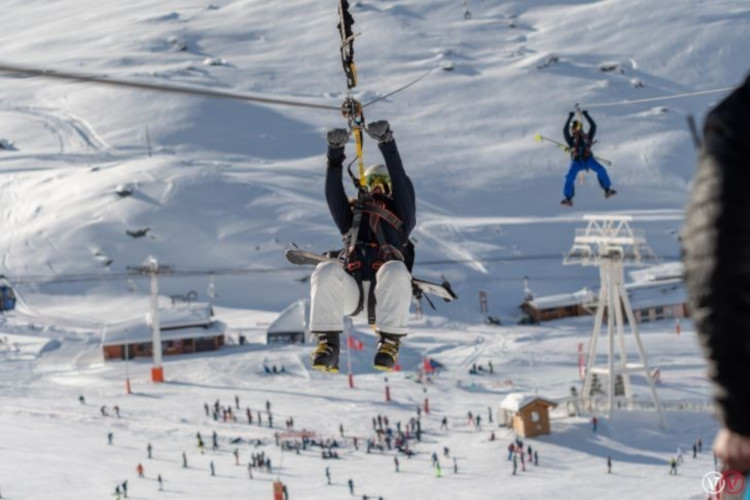 Very similar but situated over at the top of the Bouchet chairlift in the Orelle valley is the Tyrolienne zip wire. This zip wire is at a higher altitude than the double Beeline zip wire and gives breathtaking views of the three valleys over the Val Thorens 3000m peak at the top of the Thorens Funitel. At over 100km per hour, this one is not for the faint-hearted as it lifts you through the air like a bird of prey. At over 250m above the ground and situated at 3230m this experience is available for skiers aged 8 – 88 with a minimum weight of 40kg per person. Tickets for this can be brought at the lift pass office.
Dog sledding
Run first thing in the morning when the dogs are at their liveliest, these 30-minute dog sledding sessions are available for all ages from 2 upwards so long as the total weight does not exceed 150kg. Experience the thrill of being pulled along by an experienced team of dogs over the snowy mountain landscape as close to nature as you can get!

There are 2 sledges available throughout the winter if you'd like to experience this activity with friends and this increases to three in February in the height of the winter season.
Ice karting
Ice karting can be experienced at the bottom of the Plein Sud chairlift any day of the week during the winter season. It's a purpose-built track which is 300m long and 5m wide and is enormous fun for thrill seekers wanting to slide around and have some fun at any time of the day. If its all too much for you can easily watch the fun from the piste!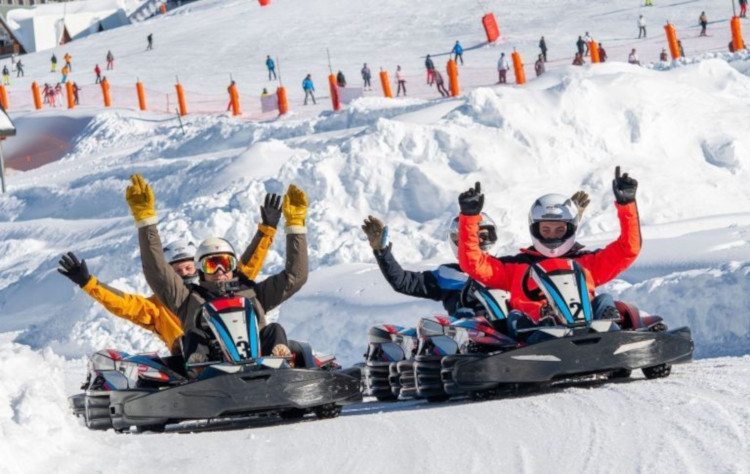 Tobogganing
Good old fashioned tobogganing is simply a must do, especially if you have young children. It's fun and exhilarating for all the family. The Cosmojet is the longest toboggan run in Europe, you'd be mad not to try it! It costs just €16 per person and includes your sledge and helmet and is a full 45 minutes of entertainment. Accessed via the Peclet Funitel you arrive at 3000. And then start your descent via a fabulous purpose-built track which includes tunnels, varied slopes and raised bends, all you have to do it let yourself go! The evening descents are great fun as the run is lit up and for a fee of only €24 you can enjoy mulled wine and local Beaufort cheese under the stars.
Watch the descent here!
Fat Biking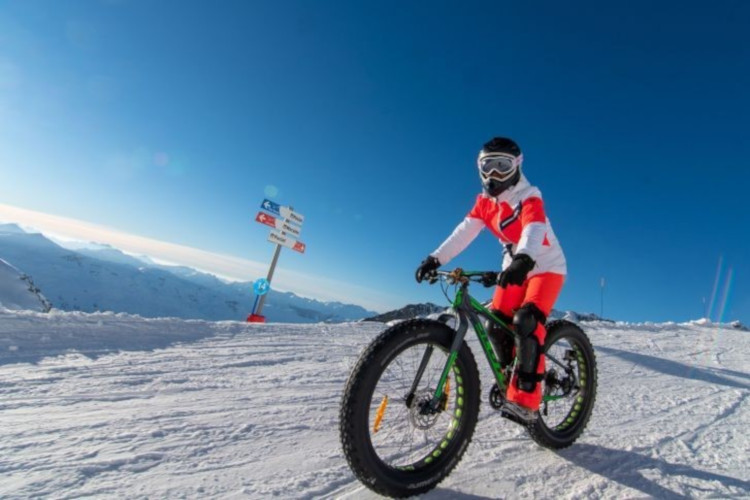 I don't know about you, but seeing these bikes with the ultra-fat tyres on the slopes has always intrigued me, I've always been just a little bit jealous of the riders and wondered how it would feel. Well, my wait is over as Val Thorens resort has sessions every week when the pistes have closed at 300m. The descent is hosted by Gerald Bigot who is a state qualified instructor, so you will be in safe hands. Gerald will instruct you sporty types on the basics of the bikes and will accompany you down the 700m descent on the snow and reward you with a mulled wine at the bottom! What's not to like?!
It costs €40pp for groups of 5-10 and this includes the bikes and all safety gear. Meeting at the Peclet Funitel.
Okay, okay, not everyone wants to hare around! So, if that's you, there's a fabulous Aqua Spa available in Val Thorens which is linked to the sports centre.
So, if you would rather be pampered the spa has saunas, steam room and Jacuzzis as well as 2 swimming pools and a balneotherapy pool too. You can book your usual treatments and massages or just relax in this calming environment. You must be aged 16 or over for entry to the spa.
The sports centre has all the usual gubbins including swimming pool which is a fabulous way to stretch the muscles after skiing or to amuse your children between the end of skiing and bedtime.
Other off slope activities in Val Thorens include Yoga, Snowshoeing, Ice climbing, Ice diving, Ice Driving, Paragliding, Snowmobiling, Cinema, and Luge. Our staff will be very happy to tell you about all of these things and how and where to book them as part of your holiday, just give us a call.
Après Ski
There's plenty to choose from in this town with all types catered for. You have your traditional dancing on the table in your ski boots places straight after skiing, sophisticated bars with live music, wine bars and then later on a wide choice of bars and night clubs to suit all ages.
Après ski really starts at the Folie Douce, situated at the top of the Plein Sud chair it aims to catch all those skiing back from Meribel and Courchevel. This is a 'dancing on the table in your ski boots bar' and you will find it really rocks each afternoon from about 3pm until the last lift closes. When you've finished here you can ski back down on the blue Plein Sud run back into town.
Le Malaysia has long had an excellent reputation with its huge 1000sq m space under the pistes with the largest dancefloor in the alps. It opens at 11pm so all you night owls will be happy as that's when the happy hour is. There're live bands from 11:30pm most nights followed by DJ sets until 04:30am.

The Frog and Roastbeef has long been a favourite with the Brits and can be found at the top of the village serving up a pleasant vibe and a good selection of tipples.
There are many après ski spots to choose from wherever you are situated in the resort, Val Thorens long ago shrugged off its quiet label and is now a total player!
Restaurants slope side and in resort
With over 60 restaurants to choose from in resort (11 being on the slopes), there is bound to be something to suit all tastes in this resort.
Let's start with the favourite slopeside restaurants. Spacious Chalet de la Marine (just above the centre off the Bluets blue run) comes with good reviews for its good value menu and amazing dessert buffet!
One of the original mountain restaurants La Moutiere can be found at the top of the Moutiere lift at the bottom of the Plateau piste. It has a large sunny terrace however if the weather has set in there's a real fire inside. This restaurant has an excellent reputation for serving honest good quality and reasonably priced food. If you're on the run, you will find a convenient snack hut outside.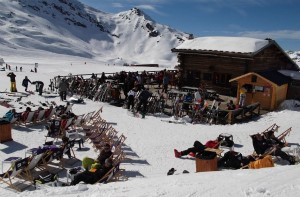 Les Aiguilles de Peclet can be found at the top of the Funitel Peclet and has both a bar and self- service restaurant on the ground floor and a sit-down restaurant upstairs. If you're meeting non-skiers, they can access this slope side restaurant easily and you can also book it in the evenings with a torchlight descent too.
Notable resort restaurants to try start with Johns American Restaurant which is one of the most reasonably priced places in town. Popular with a young crowd this place serves up a great range of homemade burgers and Tex Mex fare.
La Maison can be found in the heart of the resort. It has a modern feel, smart attentive waiters and a huge sun terrace, it delivers a sound traditional brasserie menu at affordable prices.
If you want a Michelin experience head for the Les Explorateurs in the Hotel Pashmina. Their chef Josseline Jeanblanc will deliver an exciting menu in a contemporary setting.
What's new in Val Thorens?
For the season 19/20 Val Thorens will be getting a new large Igloo!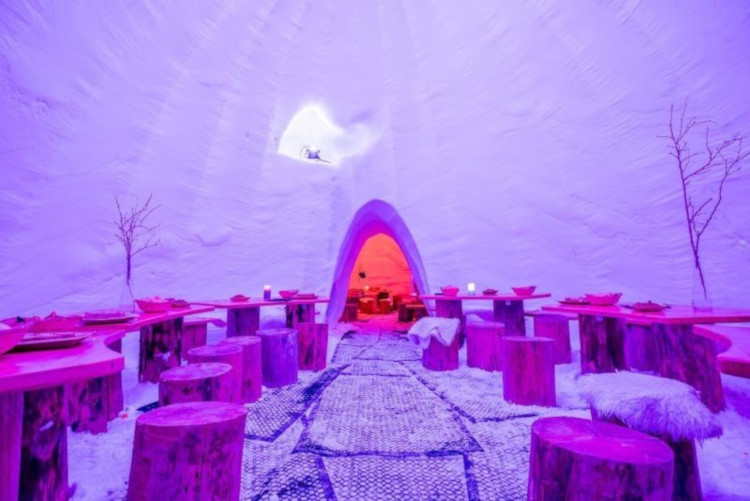 The new Igloo will be based close to the town so that is can be easily accessed by all for various events and seminars. It will be a 'cool' place to meet up with friends and family with an ice bar and restaurant with fondues too!
The huge Reservoir Lac 2 in the resort which is used for snowmaking is being expanded to increase its capacity from 88,000 sqm to 306,000 sqm.
New snow cannons are being added at the top of the Plateaux piste to improve conditions in the busy area between the snow park and the family park.
The descent speed of both the Cairn and Caron gondolas to increase capacity.
Lastly, the load carrier cables are being replaced on the Cime Caron cable car at a cost of €6 million just in time for the opening of the new season in November 2019.
Where to Stay
We have listed our top places to Stay in Val Thorens to suit all budgets
Hotel Altapura
Hotel Altapura is situated in an unbeatable location in the centre of the resort opposite the Plein Sud chair. It's 5* rating is well deserved as it serves up seamless service with contemporary sophistication. We thoroughly recommend this hotel for its wide range of facilities which include a huge 100sq m spa with sauna, Hamman, Jacuzzis and gym. The three restaurants serve up an excellent array of cuisine and there's a large sun terrace on which to enjoy a relaxing drink.
If you have children, it also offers a babysitting service too.
Club Med Val Thorens Sensations
The Club Med all-inclusive 'Sensations' hotel in this resort is modern and fresh and delivers excellent value for money when you consider everything that it includes.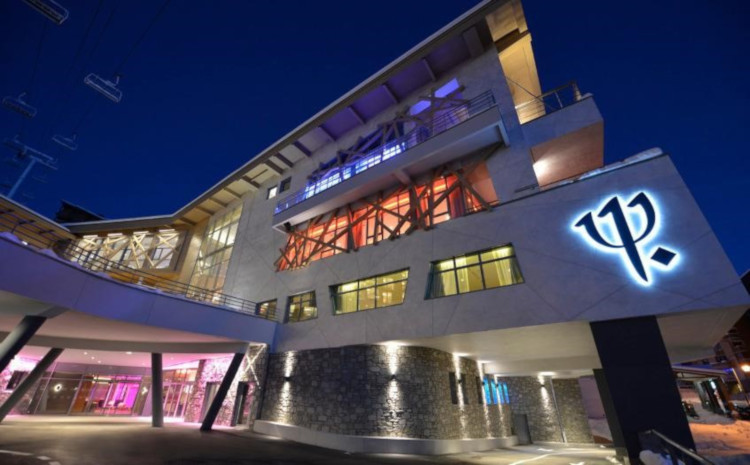 We have stayed here many a time for its convenient ski in-out location, its wonderful cuisine and the fabulous all-day lessons or guiding that it provides as part of the package.
Catered Chalets
If you are looking for a traditional catered chalet then don't leave it too long to book in Val Thorens as it's fast becoming a resort of mainly hotels and apartments.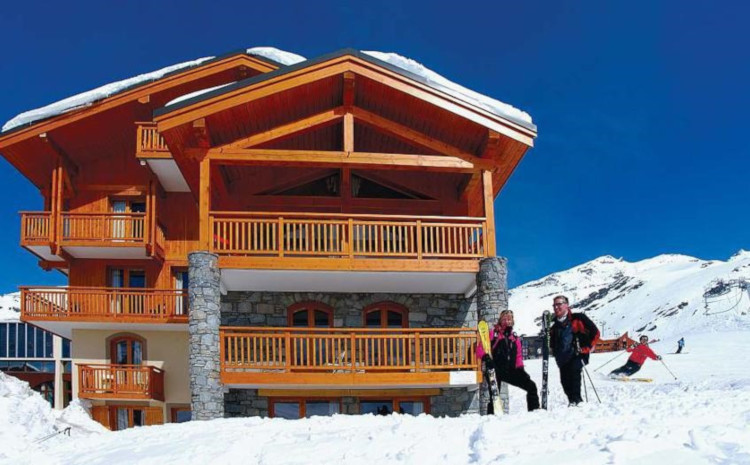 There are a handful of chalets to choose from, one of which is the Chalet Catherine. This chalet sleeps up to 18 and can be booked on a whole chalet basis or as individual rooms. There are many regional flights to choose from with this chalet so if you have a group of friends scattered across the UK and want to all meet up here you will find that this one will do the job nicely. Ski in out on the nursery slopes this chalet also boasts a hot tub and sauna.
Chalet Ibex is a chalet apartment sleeping up to 12 and is situated in the Chalets des Neiges complex which means that you have access to the buildings shared pool and sauna. Bookable on a room by room basis or for a whole group we can include regional flights too.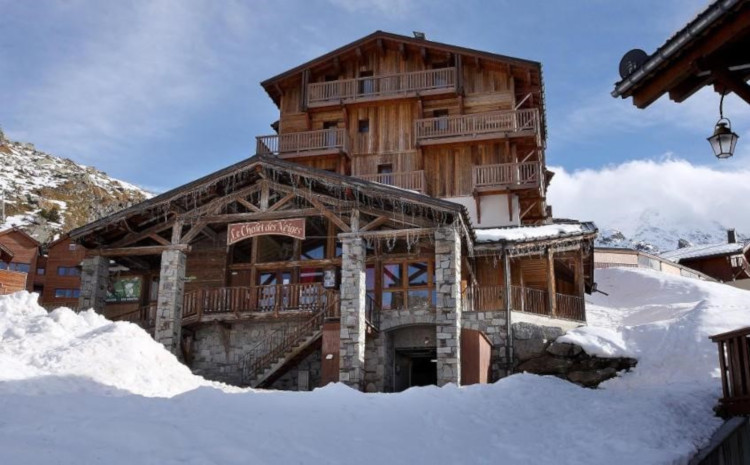 This chalet is definitely a more affordable option as not all rooms are ensuite so for those in your group on a budget, the shared facility rooms are good value. Also, the view from the chalet set at 2300m is amazing.
Residence Koh-I-Nor
Residence Koh-I-Nor is a selection of luxurious self-catered apartments in the Koh-I-Nor complex which houses both the Koh-I-Nor Hotel and apartments. There are a wealth of facilities including an indoor pool, sauna, and fitness centre and access to upgrading to a half board option at the adjacent Koh I Nor hotel. From 1 bedroom up to 4-bedroom apartments varying sizes of groups can be catered for.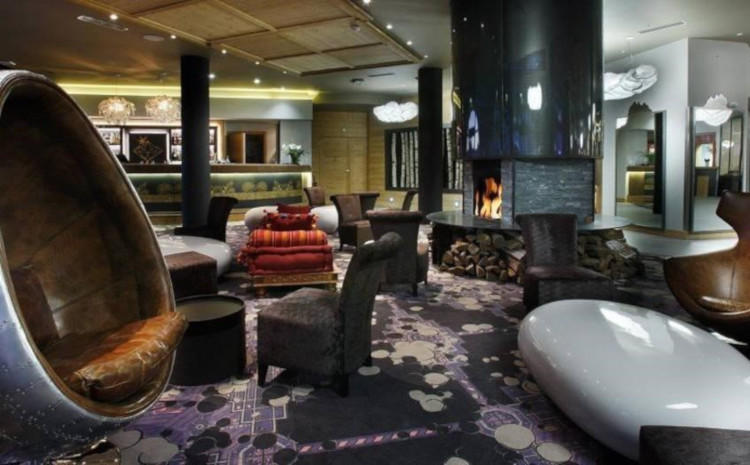 One of the largest self-catered apartments you will find in this resort sleeps 14. The Chalet Altitude can be found in the Balcons district at the entrance to Val Thorens. This is also where the famous Red Fox pub is situated! Gusts using this chalet apartment have the convenience of being able to use the on-site shared indoor heated pool and sauna.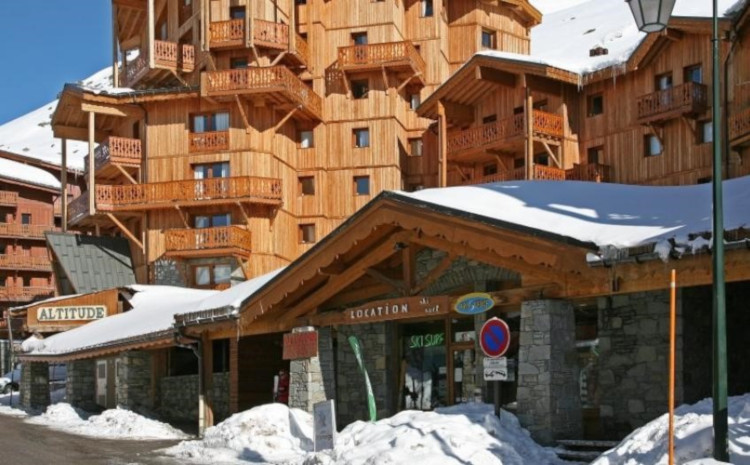 This affordable 3* option is popular, and its size means that it's in high demand so don't hang around to book if this is what you are looking for in this resort.
Hotel Val Chaviere
The Hotel Val Chaviere has been a popular choice with our clients for many years. Family run, this hotel has a great location and is ski in out. Don't expect the height of contemporary décor – this one does what it says on the tin!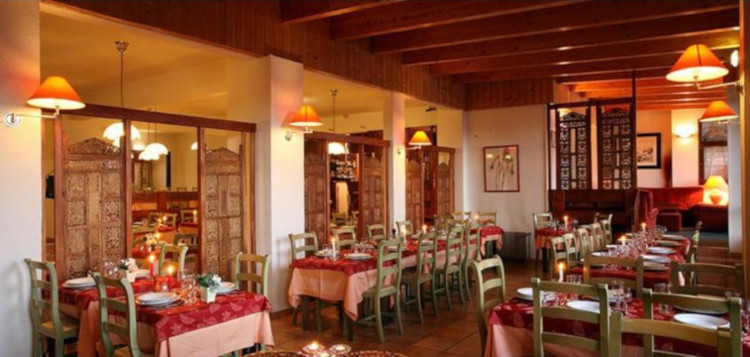 It's basic but homely and gives a great value holiday in this resort. The restaurant food has been praised, it has a games room to keep the kids happy and a sun terrace, oh and its ski in out, what more can you want from a budget option?
This hotel can come with regional flights too.
---
Ski Line is a Specialist Ski Agent and has been running for almost 25 years. Our staff are passionate about the ski industry and this is shown by the many awards that we have both won and been nominated for.
Call our friendly knowledgeable team who will be more than happy to give you a sound, non-pushy quote backed up by a wealth of experience and a love of the mountains.