A proper all-inclusive skiing holiday, that includes everything, you leave your credit card at home.
Nestled like a hidden gem in a mountain clearing at an elevation of 1,750 meters, Club Med Les Arcs Panorama seamlessly blends into the picturesque landscape of the Les Arcs 1600 ski area within the vast Paradiski® domain. Named for its breathtaking panoramic views, this all-inclusive ski resort is a haven for families seeking an unforgettable mountain escape. With dedicated kids' ski classes and a convenient locker service ready to equip you for your alpine adventures from the moment you arrive, Club Med Les Arcs Panorama promises an extraordinary experience.
Enchanted Scandinavian Design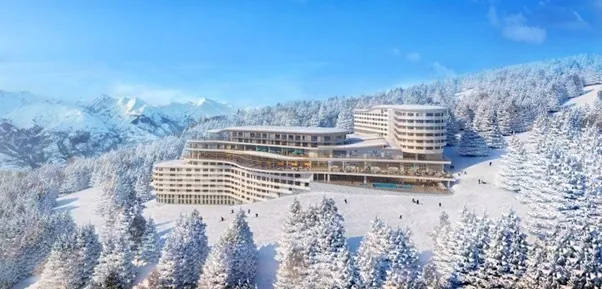 As you step into this alpine sanctuary, you'll be transported to an enchanted forest adorned with playful animal sculptures, all set against the backdrop of chic restaurants and lounges. The plush Scandinavian design adds a touch of magic to every corner, making your stay as whimsical as it is luxurious. For those seeking the pinnacle of opulence, opt for a suite in our 5-Trident Luxury Space and relish the exclusivity of your own lounge, terrace, and open-air jacuzzi.
Architectural Wonder
The resort's architecture is a marvel in itself. Designed by Didier Rey and his Design Studio, it seamlessly weaves traditional and natural mountain-inspired elements into its structure. But the true masterpiece lies in the views, both inside and outside the resort, where you'll be treated to awe-inspiring vistas of the Tarentaise Valley.
Prime Location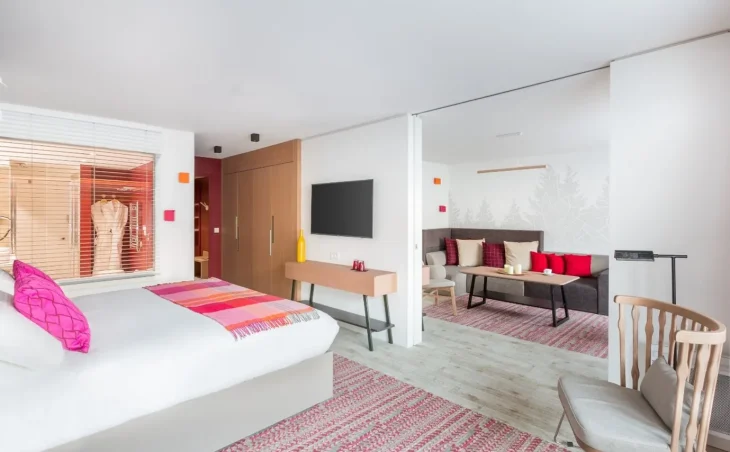 Situated just 7 minutes away from Bourg-Saint-Maurice, Club Med Les Arcs Panorama is cocooned within a fir tree forest at an impressive altitude of 1,750 meters. The resort offers direct access to Paradiski®, boasting a staggering 425 kilometres of ski slopes. It's a south-facing resort that perfectly blends modernity and tradition, promising you a unique and unforgettable experience.
Incredible Features
Prepare to be pampered beyond your wildest dreams. Enjoy complimentary alcoholic drinks from the bar around the clock, with your ski pass included from the age of 4. And don't forget about lunch—it's included too. Adults can enhance their skiing prowess with free Club Med Ski Lessons (please note that beginner lessons/guiding are not included with short breaks). For the ultimate luxury, indulge in the 5-Trident Space, which boasts 24 opulent suites, exclusive services, a 390m2 terrace overlooking Mont Blanc, and a jacuzzi with a view. There's also a cosy welcome lounge and a private concierge to cater to your every need.
Mouth-watering dishes
Foodies, brace yourselves, Club Med built its reputation with Ski Line's clients because of its food, fussy eaters won't believe the choice. Whether, it's the mammoth skiers' breakfast, cooked, cold cuts, breads, cheese, eggs, fruits and juices, or a 4-course lunch with complimentary wine, if you fancy, you can even reserve a lunch in the other Club Med resorts in the same ski area, such as La Plagne or Plan Peisey.
Whenever you are feeling a little peckish at Club Med, there are always snacks and pre-dinner canapes just when you want them.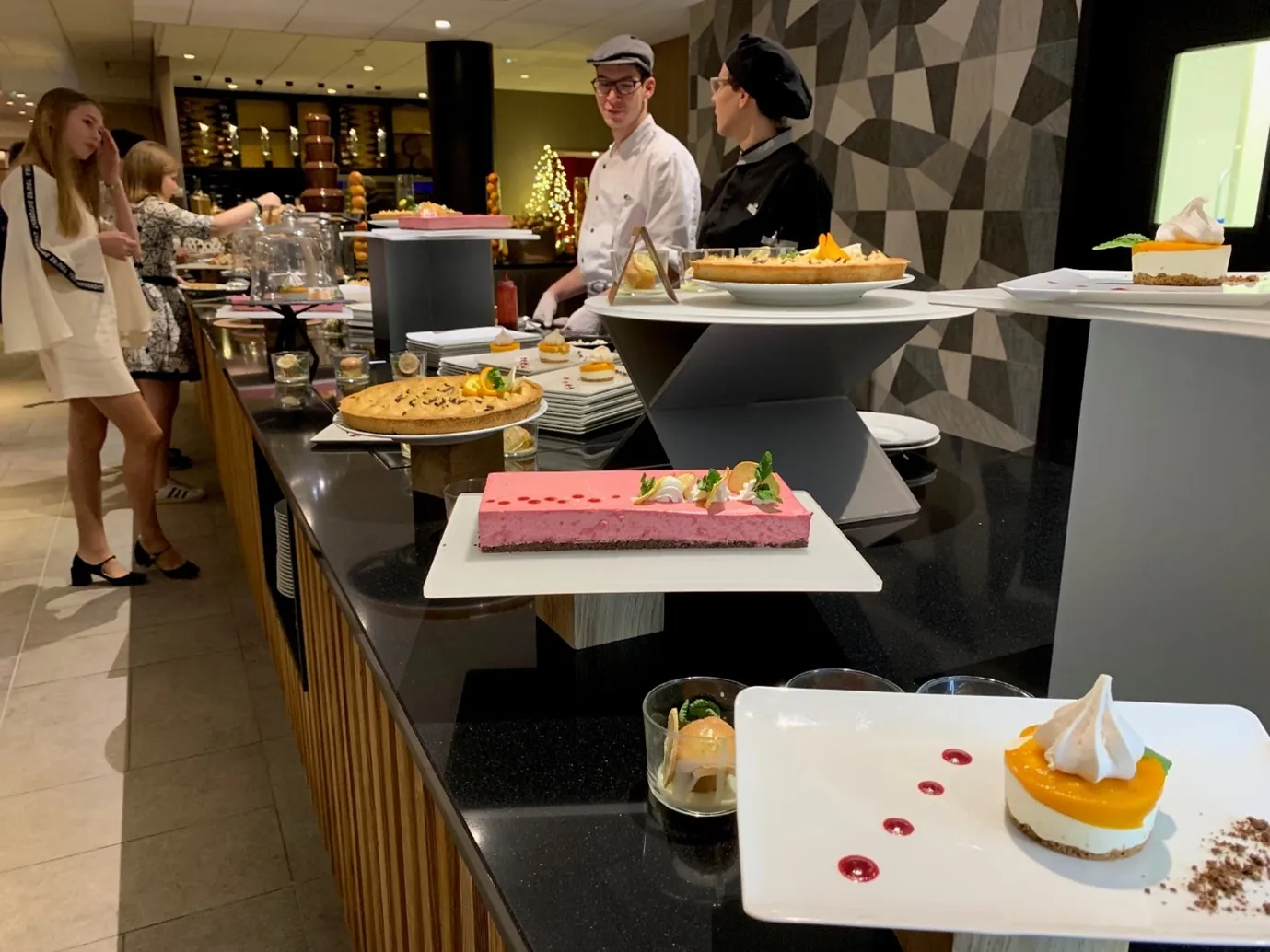 The evening meal is the highlight, meats, fish, international dishes, and Savoyard favourites are all on the cards. Of course, Club Med table wines are included. If you fancy it, there is even an al la carte speciality restaurant, included in the price of your holiday.
Wellness Oasis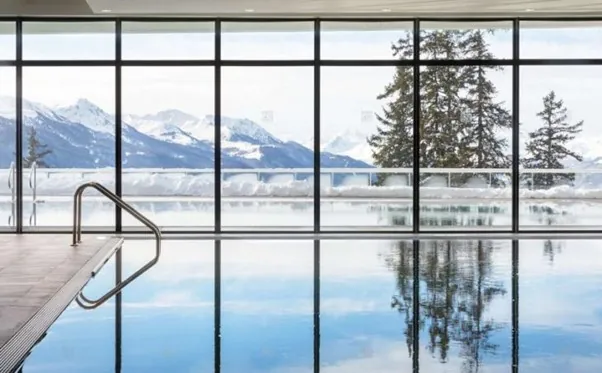 Your well-being takes centre stage with dedicated spaces featuring an interior pool and heated outdoor pools, Club Med Spa, gym, sauna, jacuzzi, and more. Unwind and savour the breathtaking views from this sanctuary that overlooks the valley.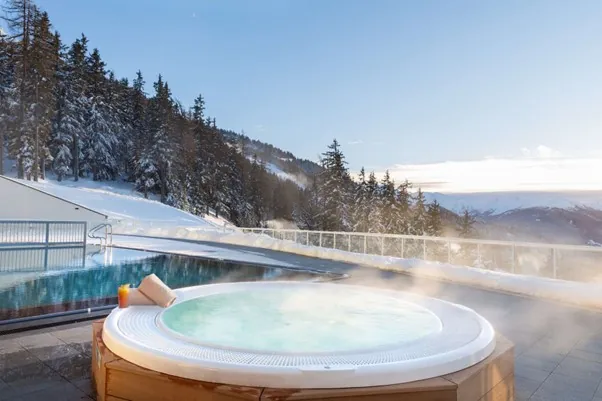 Adventure Awaits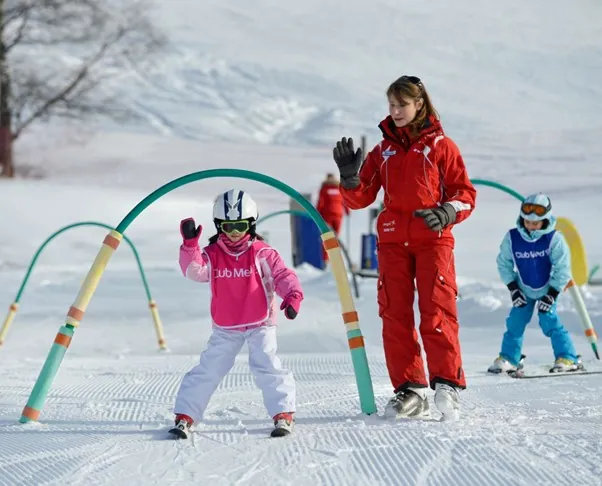 Ski and snowboard enthusiasts will revel in lessons with ESF ski instructors, suitable for all levels. For those seeking more than just skiing, explore Nordic walking or indoor activities like swimming, weights, and cardio training. There's something for everyone, whether you're conquering the slopes or pampering yourself in the wellness facilities.
Child's Play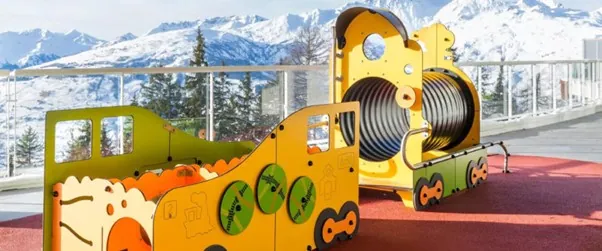 Club Med Les Arcs Panorama is the first resort in Paradiski to provide complete childcare services. From the Baby Club Med® (4-23 months) to the Club Med Passworld® (11-17 years), your children will forge new friendships and enjoy a wide range of activities prepared by experienced and qualified G.O's®. Plus, ski and snowboard lessons with ESF ski instructors are included in your stay from the age of 4, ensuring your little ones have an unforgettable time on the slopes.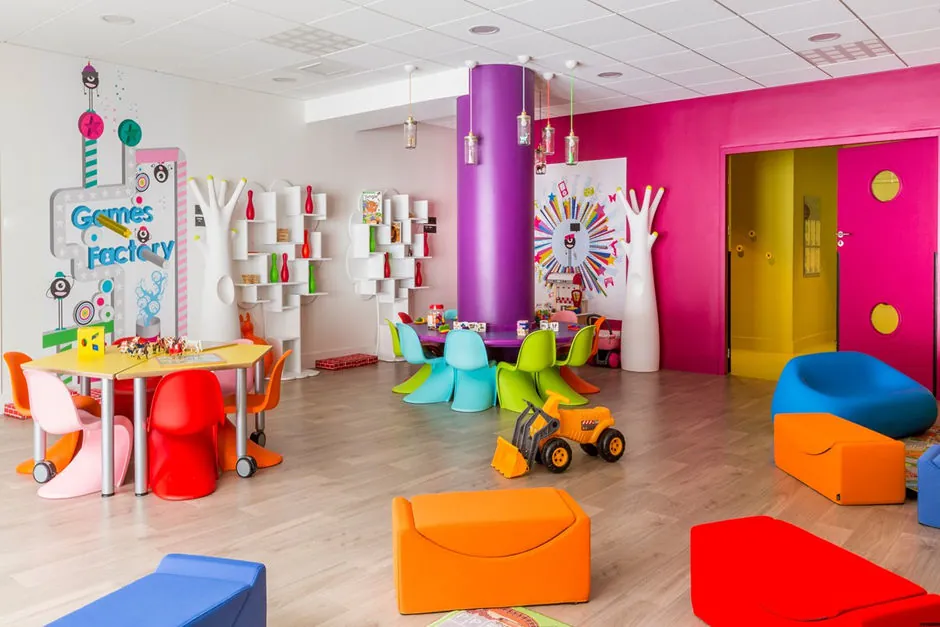 Summary
Intrigued? Come, and discover the Alpine paradise of Club Med Les Arcs Panorama, where every moment is an adventure waiting to be explored amidst breathtaking mountain panoramas.
Skiline.co.uk are Club Med's most successful travel agent in Europe, we love this hotel, its location is superb and it's highly recommended by us for successful family skiing holidays.
Contact the Club Med Panorama experts
All our ski holiday experts have stayed at Club Med Panorama. To answer any of your questions, or to book, call
020 8313 3999