Ski Line Win's Best specialist ski agent in the 2016 snow awards
1st November 2016
We have delighted to have won the "best ski agent in the Snow Awards at this year's London Ski Show. The awards run by the Daily Telegraph's ski and snowboard were judged by an independent panel of experts. These experts looked at our website and its content but also contacted us anonymously to ask for advice for a suitable skiing holiday with a set budget. It's the advice we gave that clinched it.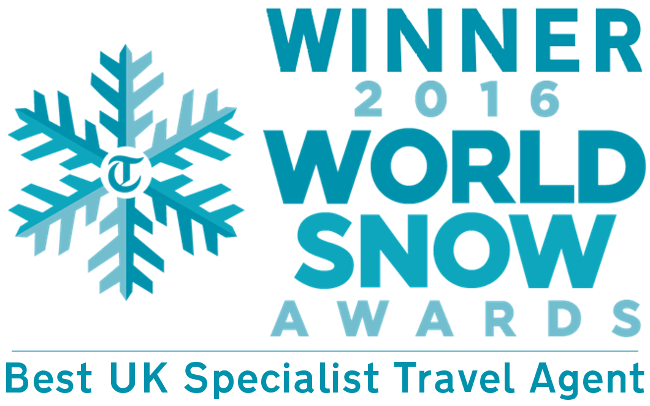 It's the people in Ski Line that make the difference
Our sales team are handpicked, as simply working fora ski season in Val d'Isere doesn't make you an expert travel agent!  We are "proper" travel agents, most of our team have been working at Ski Line for well over 12 years. Some of us for over 20 years.  Our competitors employing the ex-Val d'Isere chalet hosts may know where you can buy the cheapest beer, in Val d'Isere. (Petit Danios) but ask them about a luxury ski chalet with a hot tub in Zermatt and they might not be so confident. More to the point, would you feel comfortable taking advice about an expensive skiing holiday from a person that really only knows one ski resort?
Our knowledge goes beyond the best ski runs in the best ski resorts, we know the best hotels and ski chalets and even the best bedrooms to book.  We know which flights to book to avoid airport crushes, which ski schools to book lessons with and where to get the best deals on ski rental. We will look after EVERY aspect of your holiday from start to finish.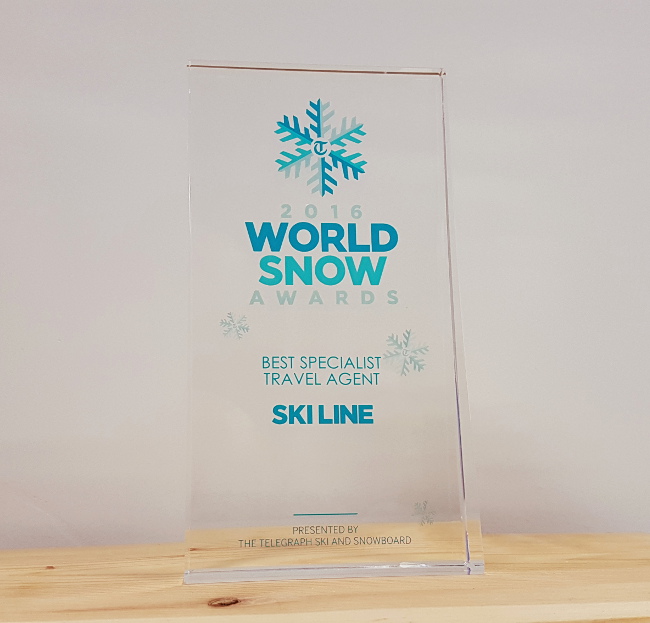 More choice often means better value
The Judges liked our website and the fact we deal with such a wide choice of ski holiday suppliers including not just the British tour operators that every travel agent deals with, but also a number of suppliers based in France, Germany, Netherlands, Austria, Ireland and more to bring the widest possible choice. When you ask Ski Line to find you a suitable ski holiday we will search the whole market for you, not just the local market of the UK tour operators.
One thing is for sure, when you ask a travel agent at Ski Line to find you the best skiing holiday your budget can afford, we will turn every stone to find it. We promise to put as much effort into finding your ski holidays as we do when searching for our own.
Congratulations to the other winners in 2016 World snow awards
| | |
| --- | --- |
| Resort Awards | Travel Awards |
| European Resort Of The Year | Best UK Chalet Company |
| Val d'Isere | Treeline Chalets |
| | |
| North American Resort Of The Year | Best UK Snowsports Tour Operator |
| Panorama Mountain Resort | Crystal Ski Holidays |
| | |
| Ski Resort Of The Year | Best Specialist Travel Agent |
| Val d'Isere | Ski Line |
| | |
| Family Resort Of The Year | Best Snowsports School |
| Meribel | MINT Snowboarding |
| | |
| Apres Resort Of The Year | Kit Awards |
| Val d'Isere | Best Clothing Manufacturer |
| | KJUS |
| Gastronomic Resort Of The Year | |
| Saint Martin de Belleville | Best Eyewear Manufacturer |
| | Atomic |
| Hardware Awards | |
| Best Ski | Best Safety Equipment Manufacturer |
| Nordica Enforcer 93 | Arc'teryx |
| | |
| Best Women's Ski | Best Technological Innovation |
| Völkl 100 Eight W | Arc'teryx |
| | |
| Best Ski Manufacturer | Retail Awards |
| Völkl | Best UK Snowsport Retailer |
| | Snow + Rock |
| Best Snowboard | |
| K2 Party Platter | |
| | |
| Best Women's Snowboard | |
| Capita Space Metal Fantasy | |
| | |
| Best Snowboard Manufacturer | |
| Salomon | |