Slovenia: 2019 Ski Destination With Lots To Offer
20th September 2018
If you are on the lookout for a ski destination that is a little bit different, Slovenia may be the ideal ski resort destination for your 2019 travels. There are not too many tour operators providing trips to Slovenia, so we are pleased to help you experience the delights on offer. One of the strongest reasons for considering Slovenia is that it offers an affordable way to enjoy a skiing trip; which is ideal if you are on a strict budget.
It would be fair to say that there is a small selection of ski resorts to choose from in Slovenia and the resorts are of a modest size. However, this is something that many people are looking for. While there are many travellers looking for resorts with fantastic nightlife and a wide range of activities, there are many skiers who want a compact trip with a simple range of attractions. If your focus is on skiing, you'll find that Slovenia is a perfectly suitable option when booking your 2019 skiing trip.
Novice skiers will love Slovenian slopes
The nature of the slopes in Slovenia ensures this is a resort that is acceptable to novices. It is natural that new skiers will want to take things slowly when they take to the slopes for the first time. Knowing that your resort offers a chance to develop your skills at a slow rate, you'll find that the ski schools are on hand to help you get better during your stay. Skiers who are confident and who are classed at intermediate or advanced level may find the slopes of Slovenia to be a bit too basic for their liking.
However, if all you are looking for is a break where you can enjoy some skiing and time to relax, Slovenia is going to be an ideal place to enjoy a break. With stunning surroundings and tremendous value for money, you'll find a lot to enjoy with a Slovenian ski trip and you may even manage to fit this holiday in around other plans or ski breaks for the year.
Enjoy a warm welcome in Slovenia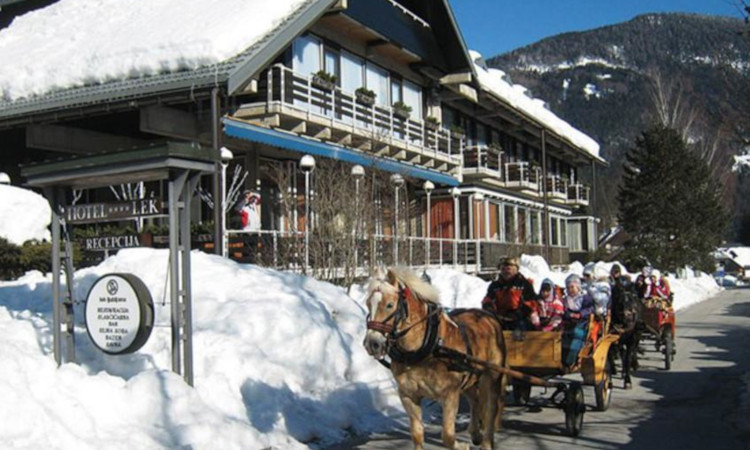 The Best Western Hotel (Formerly Hotel Lek) is rated as one of the best hotels in Kranjska Gora
We've also found that Slovenia has developed an excellent reputation for providing a warm welcome to its guests. No matter how much skiing you want to enjoy on holiday, it is still a break and you should still look to receive great customer service. This won't be a problem when it comes to Slovenian skiing trips and if you're planning your 2019 trips now; this is a resort that should be on your list.
Both Bohinj and Kranjska Gora are fantastic options for your next skiing trip, and the latter resort is also a well-known name in winter sports. With plenty of hotels, restaurants and even casinos on offer, the nightlife can be as exciting as your daytime ski activities in Slovenia. If you're looking to book an affordable ski trip for 2019, contact Ski Line and we will do our best to assist you.