Skiing with children under 4 years
16th May 2017
Taking young children away on a skiing holiday requires a little more effort than your trips 'before children'! If your children are too young to start skiing yet or about to try skiing for the first time, a skiing holiday requires a bit of additional planning. The good news is that you can still book an off- peak date, something you will appreciate once your child starts school, the costs of holidays in school holidays can be 30%+ more expensive. Make the most of it while you can!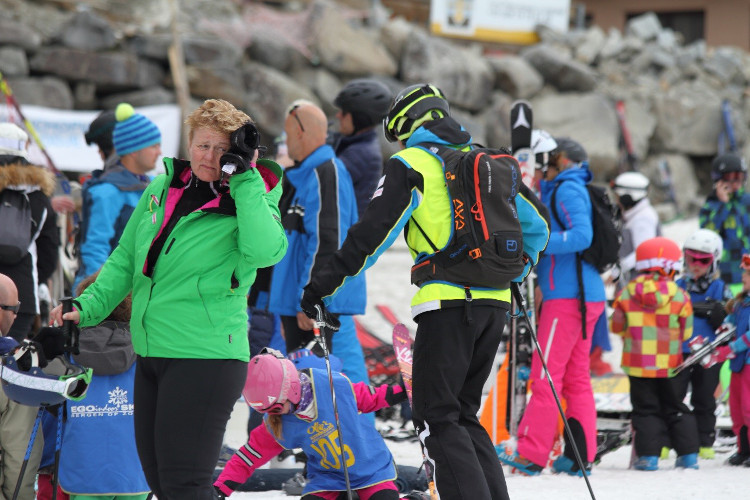 Take the Grandparents as built in babysitters (AKA Granping)
The options for many are to invite the grandparents along to care for the children while you and your partner ski, or book with one of the specialist family ski tour operators where everything such as childcare is offered for you.
Why wouldn't grandparents want to join your family skiing trip? So popular is this as an option that the phrase Granping was invented as a term (going on holiday with grandparents).
Many of our clients choose this as an option, booking a ski chalet for sole use is an ideal solution, you can go skiing, leaving the children in the care of people you really trust. However, it's perhaps the most expensive option and perhaps won't be as much fun for your "child minders" as it is for you skiing all day.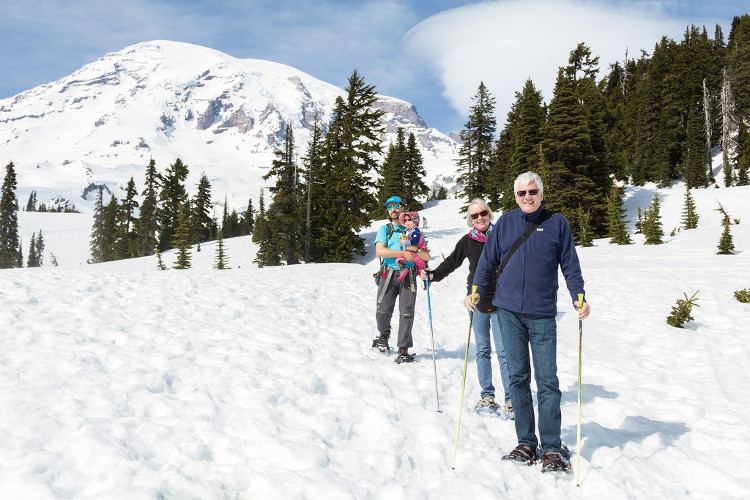 A high-altitude purpose built ski resort for non-skiers, isn't ideal, you should consider staying in a proper village or town, such as Morzine, Chamonix or Zell am Zee where there are plenty of other things to see and do. There are of course some exceptions. Avoriaz in France is a purpose-built ski resort but offers a Centre Parc styled swimming pool with flumes and wave machines and is a great option for families. However, most ski resorts will have a leisure centre with swimming pool.
If you are planning on bringing the grandparents along, we can arrange for them to join their grandchildren on the slopes using an adaptive ski and driver through one of the local ski schools. Even non-skiing grandparents can whizz around the mountain with the family, as this isn't available in all resorts, please ask us for more details.
Booking a family skiing holiday through a specialist tour operator might be a better solution
Skiline.co.uk deal with 5 ski tour operators that specialise is family skiing holidays, for these tour operators the younger guests are the most important ones and who specialise in getting your children ready to join their parents and the rest of the family on the slopes.
Best options for Families skiing with children under 4 years' old
Ski Esprit, the family ski chalet specialist
Ski Famille, the independent chalet specialist
VIP ski chalets with a private nanny
Mark Warner ski chalet hotels with childcare
Club Med, for all-inclusive family ski holiday
Ski Esprit only accept bookings from families, no adult only groups
Our relationship with Ski Esprit goes back to our beginning in 1995, when Ski Line was Ski Esprit's first ever appointed agent, today we remain their biggest agent in the UK. Many of our sales team's own children have experienced Ski Esprit's childcare first hand with our own children, so we will be able to give first-hand experience of our own skiing holiday experiences with our own children.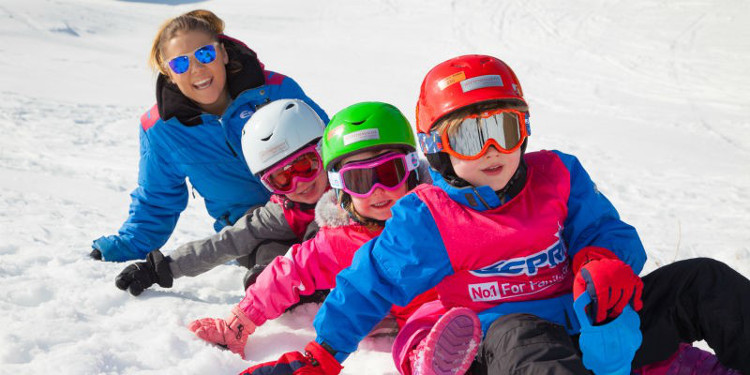 Esprit Nursery, is available for infants from 17 weeks to 40 months and operates 6 days a week from 8:30 till 5:00. This all-day childcare is supervised by qualified nursery staff (level 3 NVQ in Childcare or equivalent) who are enthusiastic and recruited for their friendly personalities. Many of Esprit chalets have fully equipped in-house crèches with soft play areas, separate sleeping zones. Supervised lunches are included. Weather permitting, fresh air outings are organised.
Spritelets is Ski Esprit special ski classes for 3 and 4-year-olds, a half days' introduction to skiing, to get them ready for proper skiing the next year. Spritelets ski classes are run in the afternoon when the weather is a little warmer for younger skiers. The cost for 5 x PM ski lessons is around £215 per child. You can book childcare for the morning sessions in the Snow Club 6 x ½ day childcare at £199 per child with a supervised 2-course lunch at £89, so don't worry about having to get back to the chalet to get you child delivered to the ski school. With Ski Esprit spritelets the emphases' is on play in the snow with skis with proper ski instructors, one of Ski esprit childcare team will always remain on hand to assist with non-skiing stuff such as nose wipes and cuddles.
Children under 12 with Ski Esprit always have high tea, rather than dining with the adults, this is designed to allow the children to have organised play while the adults enjoy grown up time.
Ski esprit operate ski chalets in the most popular family destinations in France, Austria and Italy. In addition, Ski Esprit run wonderful Santa Lapland trips in December a perfect trip for children in the build up to Christmas.
Ski Esprit offer package chalet holidays with flights from various UK airports, including, London Gatwick, Manchester, London Heathrow, Southampton, East Midland, Bristol, Birmingham and Edinburgh.
Ski Famille, a specialist family skiing holiday tour operator
Is a small independently run family ski specialist with catered ski chalets in Reberty 2000, Les Gets and La Plagne, all perfect destinations for young skiers and their parents.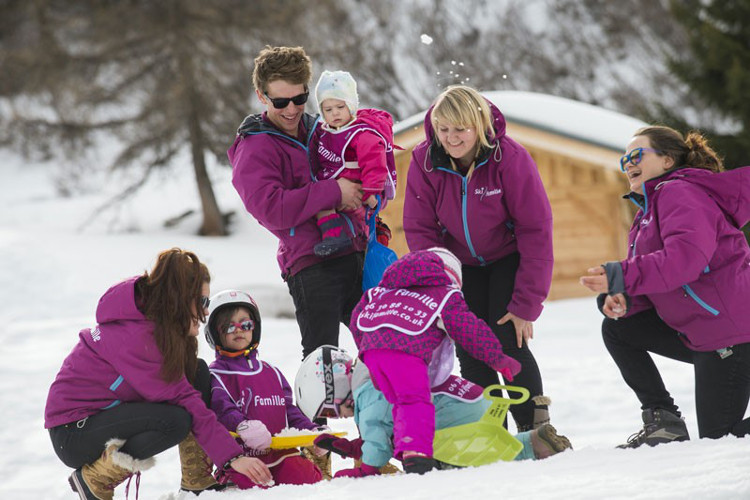 Mountain Marmots is for 3 to 4-year-old starting to ski. The ski lessons are AM; English speaking instruction is about 2 hours 45 minutes. The childcare team will get the children ready for skiing and deliver/collect from the ski school meeting point. Supervised lunch with Ski Famille is back at the chalet and costs £99 for 6 days.
Afternoon care in Monty's afternoon club is organised play in the snow (weather permitting) and includes activities such as tobogganing, arts and craft and includes supervised lunch at £239 per child on 6 afternoons.
Ski Famille offer their holidays as a package with flights from London Gatwick or on the daytime Eurostar service, alternatively, discounts are available if you prefer to self-drive.
VIP ski chalets -offer private nannies and shared nannies in Lech and St Anton
VIP Ski is one of the best affordable ski tour operators that we offer, as the same suggests, clients are treated as VIP's especially the younger ones. VIP operate 6 chalets that are dedicated for families and all have the option of booking a private nanny to care for your children and allow you the freedom that perhaps you had long since forgotten. VIP have limited nannies in each of their resorts so early booking is essential, particularly for the peak dates.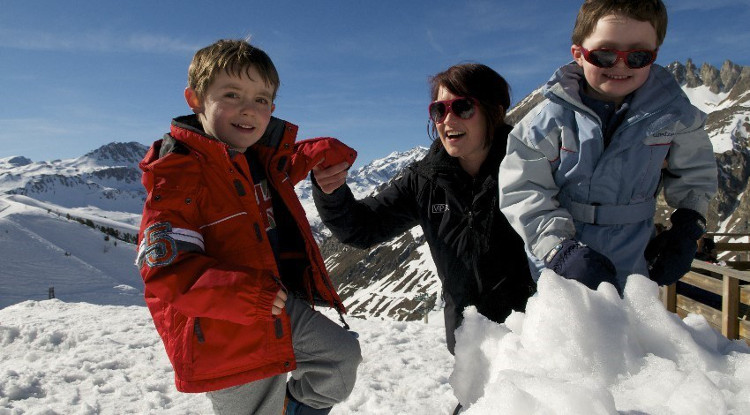 VIP's family chalets are based in Val d'Isere, Morzine, Les Gets, Alpe d'Huez, St Anton and Lech. Each of the chalets in these ski resorts are fully equipped for families with stair gates, changing mats Microwave sterilisers and you are welcome to use the washing machine. The chalet staff are used to Children and will quickly become your child's new best friend.
Feedback from our clients has always been very positive about the childcare team at VIP. Its not uncommon for guests to take the nannies home with them at the end of the season.
Not all of VIP chalets are suitable for families but 6 are ideal and have been selected as being suitable for family use because the rooms will take cots and some have bunk beds or rooms suitable to take an extra bed, ideal for younger guests. They tend to be close to the slopes and ski school meeting point.
Before you arrive in a VIP chalet, you will receive a bio about your nanny so the children know who will be looking after them. You will meet your nanny on the Sunday evening welcome meeting which is ideal opportunity to ask any questions you may have and to pass on any special instructions you may have for the staff about your child.
Your nanny will be available to bring your child up the mountain to join you for lunch if required.
There are strict guidelines regarding the ratios, one nanny can look after 2 children under 2 years, 3 children aged 2 and over or 4 children aged 5 or over.
VIP shared nannies are available in Lech and St Anton, this is an afternoon service designed for children who are attending ski school, our nannies will collect, feed and organised afternoon snow play, weather permitting.
Our team know the VIP chalets and resorts inside out, please call us for more details or to make a booking.
Mark Warner
Mark Warner's name has been synonymous with family holidays for decades and their skiing holidays are no exception. Mark Warner offer 3 options for skiing with under 4-year-olds.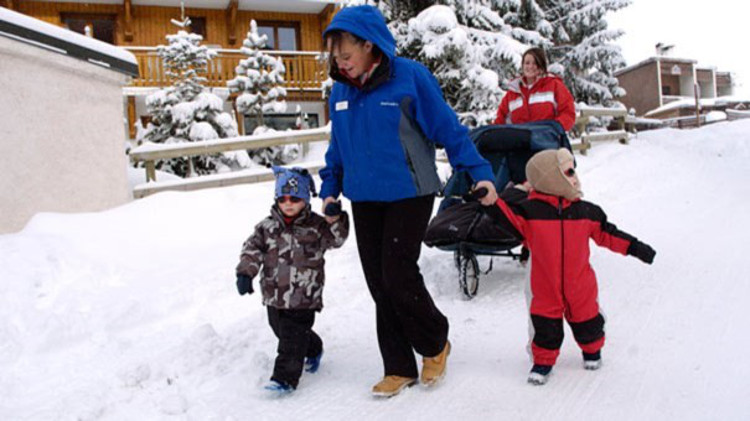 Baby Club is available for infants from 4 to 11 months. Your child's day is organised to fit with his/her daily needs whenever possible to fit in with nap and feeds, so at the end of the holiday, you can slip back into your normal routine. Its operates 6 days a week from 9 am to 5:00pm. With One nanny looking after 2 infants and includes a supervised lunch and free baby listening service in the evenings. The cost per child is £285.
Toddler Club is available for infants aged between 1 and 2 years and includes a busy activity of games, storytelling, music and art to keep the children assumed. Weather permitting snow play and buggy outing are arranged. Childcare is over 6 days and operates from 9am to 5pm. The ratio of children to nannies is 3:1. Supervised lunches and evening baby listening. The cost is £285 per child.
Mini Club is about fun, snowman building, sledging and cable car rides with stop offs for a hot chocolate. The fun also takes part indoors, with face painting and games. If you select the La Plagne chalet hotel, it can include a half days' ski school on 6 days as an introduction to skiing, the nannies will arrange the drop-off and pick up so your skiing isn't affected. Childcare is 6 days from 9 to 5 and includes supervised lunch. The cost is £180 per child + Ski school costs if required.
Mark Warner ski packages are available from London Gatwick, London Heathrow, Manchester and Birmingham.
Club Med is a French company, but many of the crèche staff speak English
Club Med hotels are big, lots going on all day, most of the hotels have swimming pools, ideal for families to enjoy time together. The all-inclusive ski package holiday has proved to be very popular with our clients and Skiline.co.uk is now Club Med largest agent in Europe, selling more skiing holidays than any other agent in the UK. Because of this, nobody can beat us on price or service when booking a Club Med skiing holidays.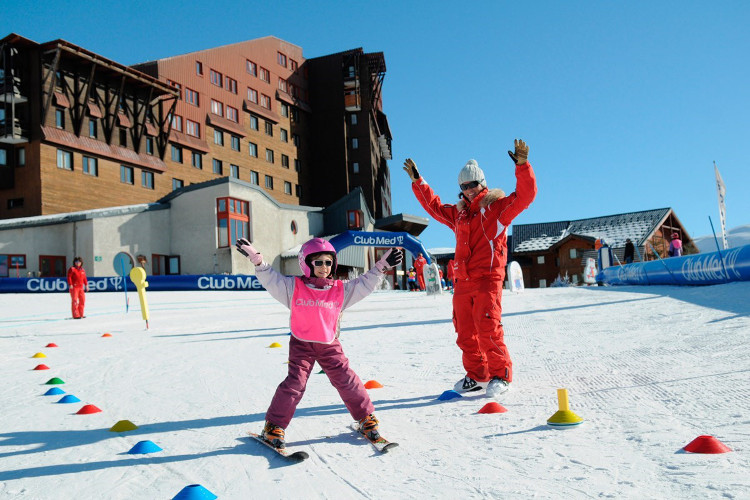 Baby Club Med is for infants from 4 months to under 2 years and operates in 6 of their resorts. English is widely spoken by the nannies, who are often French nationals. Activities are age appropriate.
Pettie Club Med is available for children aged from 2 to 3 years and operates in 12 of Club Med's resorts.
Mini Club Med is designed for children aged 4 upwards
With Club Med children start their skiing from the age of 4, in all resorts except Chamonix, where the age is 12
Skiing with young children, other factors to consider
Other considerations when booking skiing holidays with young children are the flight take off times from the UK and resort transfer times. Young children can find early starts and long coach journey's exhausting. Many Ski flights depart early in the morning, not all, an option could be to book a hotel at the airport for the night before. These can be a loss than you might expect and can include 8-days airport parking. Try and choose a ski resort within 2 hours of the arrival airport.
If you want your child to share a room with you and your partner, book early. Particularly if you are booking a ski chalet holiday, as not rooms will take an extra bed. Club Med interconnecting rooms also sell quickly.