Research released by Club Med suggests as many as 83% of families would consider going on a 3 generational family skiing holiday. Certainly many of the families booking through Skiline.co.uk, the skiers' travel agent are extended family groups just like this.
A skiing holiday is a shared experience and why shouldn't the grandparents be a part of it too?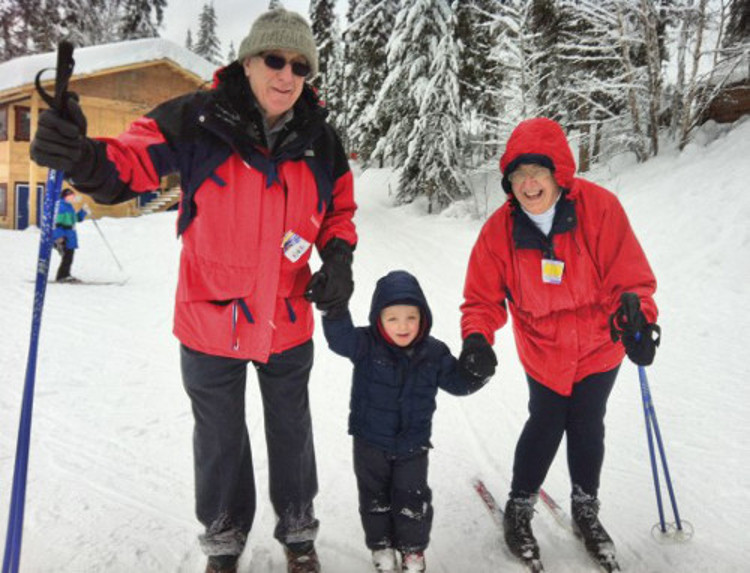 The benefits of skiing with grandparent's means there are more adults on hand to share the child care.
Another bonus for cash strapped parents is that it's the grandparents who are often willing to contribute more towards the cost of the ski holiday.

Ski Chalet holidays are perfect for extended families
Catered ski chalets are ideal for extended families, catered chalets are staffed homes in the mountains. The staff, who are often gap year students who cook and clean are on hand to make sure you get the most from your holiday. Our catered ski chalet holidays normally include flights which are available from most regional airports in the UK and include coach transfers between the arrival airport and the ski chalet.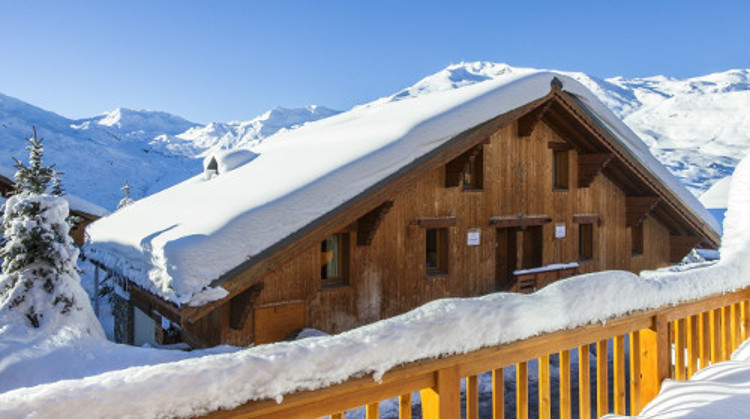 What do you do if the grandparents don't ski? Answer….A Ski Taxi!
In some cases grandparents won't be skiers and for some, the prospects of learning a new skill later in life won't be appealing, but in La Plagne in the French Alps, Oxygène Ski School has a solution that they call "ski taxi". Two of the directors at Ski Line put this new service to the test.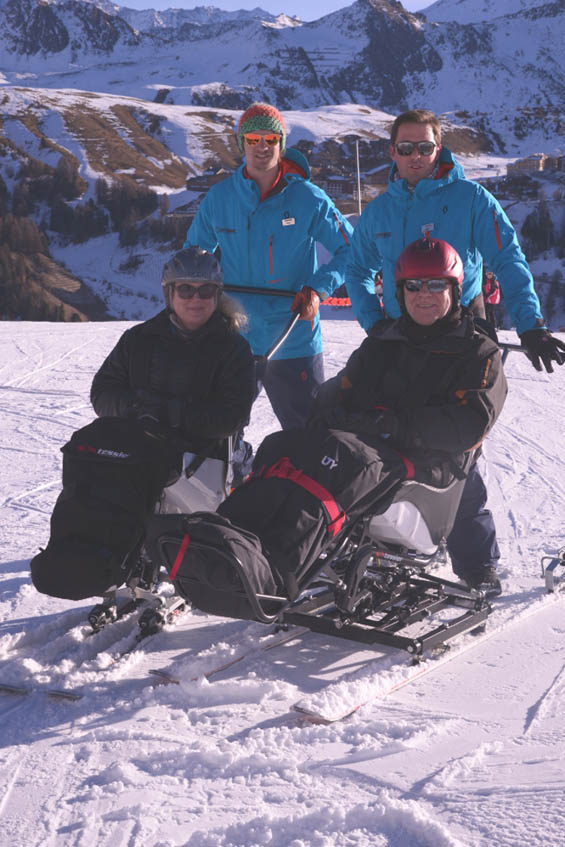 Ski Taxi is a piloted 'sit-ski', the passenger sits in a comfortable chair that is attached to a pair of skis with a series of spring suspensions to ensure a smooth and comfortable ride. The pilot (instructor) controls the skis from behind and can control the speed to suit the passenger, for the brave, top speeds can be as quick as any normal skier on the slopes, and for the more timid they can tailor make the ride to be slow and gentle. There is no need to leave the ski taxi to board chair lifts as the whole ski taxi can be raised to sit directly on to the ski lift.
Oxygène ski school have several sit skis originally designed for disabled skiers. Bertrand de Monvallier who is one of the owners of the ski school has identified another use for these fantastic adaptive ski machines, which allows non skiing grandparents to see first-hand how their grandchildren ski around the mountains, and to experience for themselves the thrill of skiing. Obviously this piloted sit ski service would work very well too for disabled adults and children with limited independence to give the same experience as traditional skiers would feel.
Bertrand said "We have worked with many severely disabled children and adults with conditions such as cerebral palsy, autism and visually impaired people on the mountain with our ski taxi service".
Sarah and Angus Kinloch, two directors at skiline.co.uk were met at their hotel (Club Med La Plagne 2100) on Boxing Day by two of the instructors, both of whom had undergone extensive training to enable them to control these fantastic adaptive sit skis and set off for a couple of hours of some of the fastest skiing they had done all week. Sarah Kinloch said "I can imagine my mother would love to follow my 17 year old son Max down the mountain in one of these sit skis, and with the instructors we had, she'd have no problem keeping up with Max. Something I've not managed to do for many years"
Sarah was keen to point out that the idea was to allow grandparents to experience skiing for themselves without having to do all the hard work, so was keen to check that the instructors could control the speed to something the grandparents would be happy with. Of course, with their extensive training they are able to do this with ease!

The cost of 2 hours in a ski taxi is €130 and includes the instructor to drive/control the ski machines and the use of the machines themselves, some of which cost more than a new small car! You will also require a ski pass which for grandparents over the age of 72 costs as little as €7 for a four hour pass. Younger grandparents under 72 pay €27.50. Oxygène suggest the best time for this between noon and 2pm when the slopes have less skiers because of lunch. Disabled skiers get half price lift passes in la Plagne.
If you are planning a family skiing holiday speak to one of the team at Ski Line who will be able to make suggestions of the best ski resorts and places to stay and help book the ski taxi service for you. Our team can be reached by calling + 44 (0) 208 313 3999 or email info@skiline.co.uk

About Oxygène ski School
Oxygène ski school is a real family business, run by three brothers and one of their sisters. Ski Line have been dealing with them for many years and their feedback from our clients has always been very positive. Small class sizes with English speaking instructors means all levels of skiers quickly develop their skills. As well as offering ski schools in La Plagne Oxygène also has a highly regarded ski school in Val d'Isere too.
Oxygène La Plagne
Imm. l'Oree des Piste
Plagne Centre
73210 La Plagne
+33(0)4 79 09 03 99
oxygene-ski.com
Email: laplagne@oxygene-ski.com
Oxygène Belle Plagne
Imm. Pierre de Soleil
Belle Plagne
73210 La Plagne
+33(0)4 79 06 53 36
Email: belleplagne@oxygene-ski.com