Val d'Isere – New Solaise Gondola And Ski Area
27th May 2016
So it's goodbye to our dear old friend The Solaise cable car in Val d'Isere which has been running for a massive 74 years ever since in 1942!
This heralds a fantastic change in Val d'Isere for the coming season, which we are super excited about. Work has already started in earnest with an £11 million project to improve the Val d'Isere Solaise area including a new gondola lift whisking 3600 people per hour from 1831m to 2550m in just 7 minutes. There will be 91 gondolas each seating 10 and each one will have heated seats, (joy of joys!); WIFI; plus, you will be able to either leave your skis outside in the racks or bring them inside too which will make it much quicker to load. As part of the development there will be a new children's area, covered magic carpet and tubing runs.
The total redevelopment of the area has meant that Bulldozers have shifted 70,000 cubic metres which equates to a million tons of earth to create the platform for a new mid-mountain station at 2500m.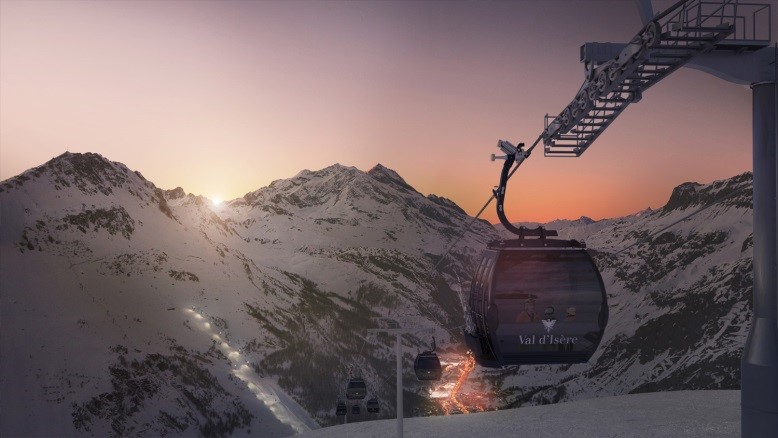 On the Val side of the Solaise a new covered magic carpet lift has replaced the old Terrasse button lift. This serves a new secluded beginner area for both adults and children where they can practice without fear of other more experienced skiers whizzing past and putting them off. The slope has been regraded from around 16% to 7% to make it way less scary than it was previously and will be a good secure beginners area.
The lift also serves the new tubing area for both adults and kids and on the far side of Solaise twin, covered magic carpets have replaced the short double chair that brought you to the summit.
Top stations for all three lifts are on one level beside the new day lodge containing a café, a picnic area, a sun terrace and toilets. It's a place where you will be able to take in the awesome views from the floor-to-ceiling windows that they have planned.
The lift company also been careful to minimise the environmental impact of the project. To give you an idea of the lengths they have gone to, every tree that has been cut down five others have been planted. Clumps of Sylène de Suède, A wild flower with distinctive pink petals that grows naturally on the mountainside which was due to be re developed has been carefully dug up and replanted nearby. And the noisy gondola machinery is being buried underground to reduce noise impact.
For last winter, a new snow-making facility with awesome capacity was built to service the Solaise development. Pumping out enough snow to fill an Olympic-sized swimming-pool in 30 minutes, and enough to cover Wembley stadium to a depth of half a metre in just 60 minutes, and enough for the whole of the Bellevarde mountain that is situated above it in less than a week. Le Snow Factory (as it has been named) cost £2.1million to build and is situated in a giant warehouse next to the Olympique gondola. IT's the largest snowmaking facility in Europe and went to work December 2015 when as we all know it was desperately needed! Hoorah!
Watch this awesome video here to see how it's all going to look…….we at Ski Line can't wait to see the transformation in this, the best ski resort in the world…….we're booking NOW
Related Blogs
Tignes or Val d'Isere
Val d'Isere starts work on Solaise ski lift upgrade
The best ski runs in Val d'Isere