Most of the team at Ski Line have or still do ski as a family unit, we understand what makes a good family skiing holiday, and choosing the right ski resort should be top of the priorities. Picking accommodation that's not too far from the ski school meeting point is important too, you know you will be carrying not only your own skis but the children's too!
The location of Both Les Gets and Morzine, just an hour in good traffic from Geneva airport, makes them a good option for families with young children. Few ski resorts tick this box for families, as many are over 2 hours or more from the nearest airport.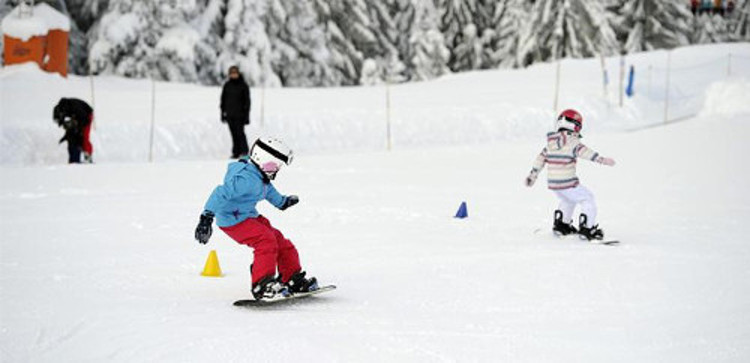 Les Gets and Morzine are part of the massive Portes du Soleil ski area that covers an impressive 650km of pistes. If the snow is good, the local ski pass covers both Les Gets and Morzine and offers plenty of skiing for a week with 49 ski lifts and 120km on mainly tree lined slopes. The additional mountain of Mont Cherry accessed from Les Get isn't connected to the rest of the Portes Du Soleil ski area by lifts and when conditions are good (its slopes face mainly South) it offers wonderful skiing on often deserted slopes, even on the peak weeks such as the February half term week the slopes are always quiet.
Fun for all the family on Les Gets Boarder cross, snow Park and Video Park
Ever since the Olympics first introduced boarder cross many skiers and snowboarders have enjoyed the fun of racing side by side and particularly children get a buzz from racing their parents. Les Gets has one of the few permanent boarder cross parks in the Alps.
The snow park on Mont Cherry is ideal with rails and kicks for all levels.
New for this winter is the video park where your child's skiing will be recorded, it is open daily from 10:30 and is included on your ski pass.
For families with younger children the "Milka mauve slope" is the place to head for. This gentle slope complete with animal cut outs serves both as a nice place for youngsters to ski and also with an educational value too. In French school holidays there is chocolate too!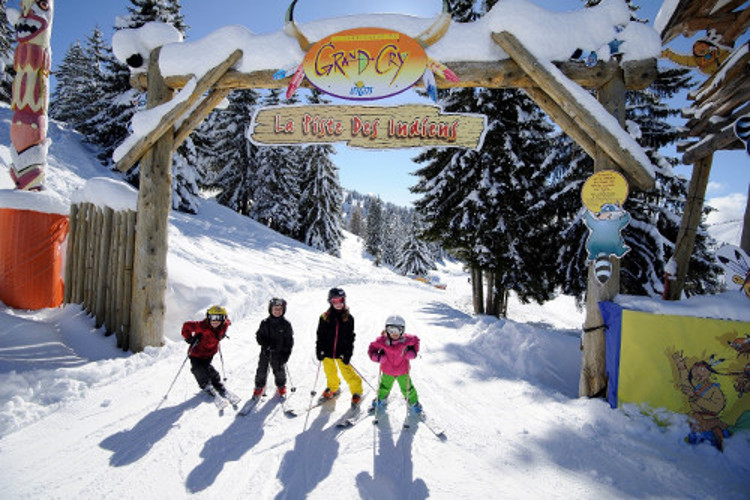 In Les Get the children's beginners area is safe, away from speeding better skiers, known as the Mappy area it offers four gentle slopes, ideal for young beginners. The lifts include 2 magic carpets, a snow cable and rope tow. This area has great access for pedestrians and non-skiers where parents are encouraged to support the younger budding ski champions of tomorrow.
Dye on the slopes this year's takes place between 10th and 13th March 2016
Les Gets ski Color operated for the first time last year and was a massive hit with youngsters. If you are planning on visiting either Les Gets or Morzine at this time, this is an event you must not miss. Don't worry about the children's clothes getting stained, as protective clothing is supplied. Even the parents will love this too.
Ski Passes deals for Families
The local ski pass costs €191 and covers both Les Gets and Morzine, combined, the ski areas are enough to keep most skiers smiling all week long. There is an option for families of 4 to get a 10% discount bringing the costs down to €171 for adults and €128 for children, seniors over the age of 65 pay €145, so why not invite the grandparents along too?
Where best to staying in Les Gets for families
A catered ski chalets are the most popular choice for most families, you can either book the whole chalet for your group, or if it's just your family you can share with others. A handful of the 28 catered ski chalets in Les Gets have child care if you need it. Our chalets in Les Gets are available both with and without flights, so if you are planning on driving or booking your own Easy Jet flights we are sure to have a chalet that ideal for your family.
The Chalet Delavay in Les Gets Is a popular choice with our clients it's superbly located in the centre of the village and sleeps between 12 and 16 guests.
Six of our ski chalets in Les Gets with in-house childcare offer an opportunity for parents to head off to the wider Portes du Soleil ski area knowing that the children will be well looked after. If the children are attending ski school the chalet nannies will deliver and collect them so it won't disturb your skiing.
Where is best to stay in Morzine for Families
The choice of catered ski chalets in Morzine is perhaps even greater, but those with in house crèche's are limited to just one, called the chalet du Pre This luxury chalet sleeps 10 and has a hot tub and sauna and is located in a perfect position for families, right by the nursery slopes and just 200m from the centre of the resort. The accommodation in Morzine is a little more spread out and the best advice for families is to choose one near the ski lifts, or you could face a walk or bus. Skiline.co.uk features 48 different catered ski chalets in Morzine.
Related Blogs
The perfect family ski holiday in Courchevel 1850
Family Skiing Holiday – Tips and Suggestions
Booking a ski chalet for a group