Hardcore skier, 65 set to achieve a new world ski record.
10th May 2018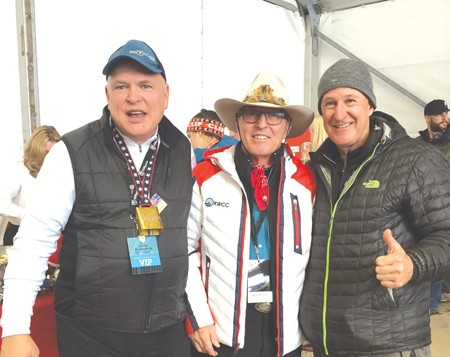 Figure 1 Scott Howard far right is attempting a new record for vertical skiing of 6.4m vertical feet
Hats off to a 65-year-old Vermont man who is trying to set a new world record for the amount of vertical feet skied in a season. My knees at 58 struggle to ski more than 30 miles a day!
Scott Howard is trying to set his record at Killington ski resort in Vermont, which plans to stay open at least to the end of May, which will no doubt assist him in his record attempt.
Scott ski's 8-9 hours a day, every day, seven days a week, clocking up around 60 runs a day.  So far, he has skied more than 6 million vertical feet (1.8 million vertical metres) this season alone.
Scott has his vertical measured digitally by an iPhone app called Trace and is aiming to get his achievement recognised by the Guinness Book of World Records for most vertical feet skied in one season.
His target is to pass 6.4 million vertical feet (1.95 million metres) skied before May 31st.
The current official record for the most vertical feet skied in one calendar year is 6,025,751 feet  (1,836,649m) achieved by Canadian Pierre Marc Jette in Whistler, British Columbia, Canada between 22nd November 2014 and 10th May 2015.
Mr Howard is reported to arrive at Killington before the lifts begin operating with his ski boots on and to only take two short breaks during the day in order to stick to his target, skiing regardless of weather conditions. That's a hard core skier.  Good luck Scott!