Eurostar To The Alps On Sale
20th July 2017
Eurostar tickets to the Alps on sale now from £150 return
Travelling by train to the Alps is by far the most relaxing way to travel and you can take as much luggage as you can carry, including your skis, without any restrictions.
You board the train at Either St Pancras in central London or at Ashford, but if you want to buy at the best rates do it now! The peak dates sell out quickly.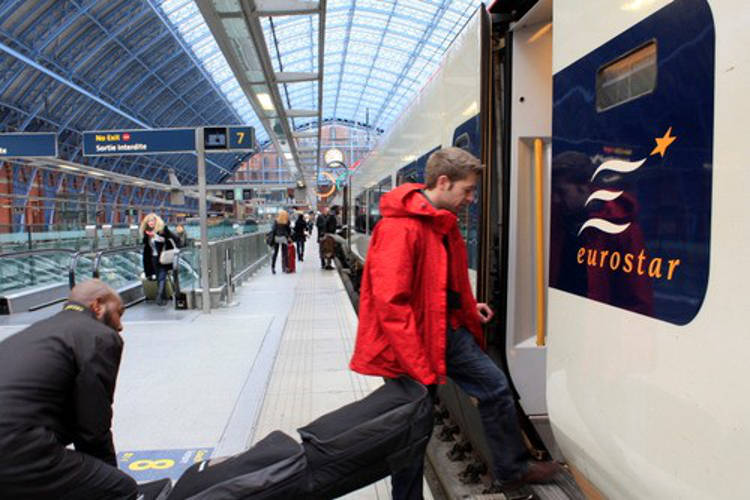 Daniel Elkin of Snow carbon only travels by train to the Alps on ethical grounds
The Direct day Eurostar to the Alps service runs from 22nd December 2017 until 7th April 2018
Departing on Saturday mornings, from London St Pancras at 09h45 and from Ashford International at 10h28, the Eurostar direct daytime service is the perfect choice for families. The train arrives into Moutiers, Aime la Plagne** and Bourg St Maurice stations in the early evening and with very short resort transfer times. Some resorts are less than 30 minutes by road. You will arrive rested, relaxed and ready to begin your skiing holiday. The return daytime train travels back on the following Saturday.
The Overnight Eurostar service gives you 2 extra days skiing
For those wanting to maximise their time on the pistes, the direct overnight train is a great option. Leaving from London St Pancras at 19H42 and from Ashford International at 20h28 on a Friday evening, the train arrives into the three alpine stations early the following Saturday morning. Each year it's a race to see who can be first up the mountain! The return overnight leg leaves on the following Saturday night, so you can get two extra days on the slopes.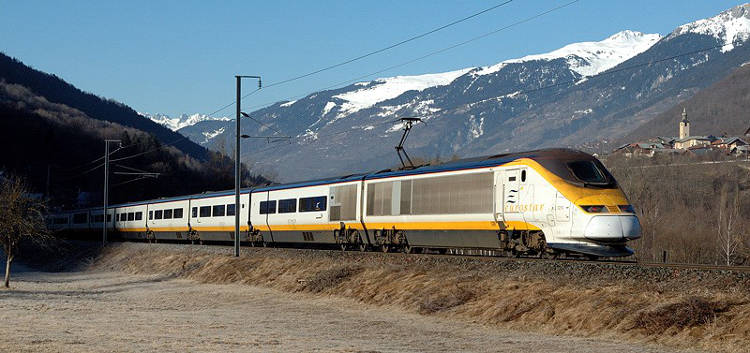 The ski Eurostar train just outside Bourge St Maurice.
Nearest ski resorts to the train stations around the French Alps via Eurostar
Find ski chalets that can be purchased without flights or transfers included, which can package with a Eurostar train seats.

Please note that your accommodation changeover day will have to be on Saturdays!
In addition to offering just accommodation that you can match up with Eurostar travel, we can also all tour operator bonded package ski holidays by Eurostar where the Train, transfers and accommodation are included in the price.
Call our team of ski holiday advisors for more details about skiing holidays by Eurostar on 020 8313 3999.