Top 10 Resorts for Lively Apres Ski and Nightlife
22nd January 2015
For many skiers, the après ski and nightlife plays an important part to their overall enjoyment and experience. We have selected 10 of the most bustling resorts where you will get the best of both worlds. Below we mention just a handful of venues on offer.
AUSTRIA
ISCHGL
Undoubtedly one of the liveliest resort in the Alps.  After a morning on the slopes, a relaxing lunch, and you are already in the mood for the Après Ski, there are many mountain restaurants where the fun begins early afternoon and doesn't stop until late in the evening, such as the Paznauner Thaya.
The Kitzloch is a great place eat (from 3pm until 7pm), with a lively atmosphere, friendly staff and great music thanks to its energetic DJ's where dancing on the tables in your ski boots is a common sight, and highly recommended if you are celebrating a special occasion.
Other lively Après ski bars to consider are the Kuhstall with a great party atmosphere and the Golden Eagle Pub which is very popular with the Brits.
To carry on dancing the night away, you can try Pacha (as in Ibiza and London), Bistro Bar Kiwi, The Champagner Alpine Lodge, Living Room and the Coyote Ugly to name but a few.
MAYRHOFEN
A carefree and friendly resort. When your day's skiing is over, the bars at the top of the Penkenbahn and Horbergbahn gondolas are extremely popular. For an unforgettable experience, you can spend a night of fun 2000m above sea level at the White Lounge ice hotel. Also worth a visit is the Pilzbar, which offers a warm welcome, fun, music and a great atmosphere. This is where it all starts way before the runs have closed.
Down in the Village you can party at the very popular Après Ski Ice Bar from 3pm to 10pm, featuring International DJ'S, dancing and much more. If you want to carry on until the early hours the Bruck'n Stadl is a good choice with live music, DJ's and dancing from 3pm until 2am, or the Speak Easy Arena which carries on until 4am.
If you are looking for a boozy Pub the Scotland Yard is the place to go. An English-Irish-Austrian pub which is a popular meeting place for the young and old alike.
For lively, but not too noisy then Mo's American theme bar, or the Harakiri bar lounge are a popular choices. Offering refreshing cocktails, international beers and fine wine from around the world along with live music, or the.
SAALBACH – HINTERGLEMM
Among one of the best resorts to offer Après Ski. Saalbach, in particular, is very lively form mid-afternoon until the early hours and can get quit wild. On the hill above Saalbach the Berger Hochalm is swinging from early afternoon, with 'happy hour' from 3.30pm.
2 minutes from the centre of Saalbach you will find the Hinterhag Alm, which is a renowned meeting place, with a legendary reputation. For a crazy atmosphere, live music, fun and laughter.  Also the Bauers Schi-Alm gathers a good crowd, and although they are both noisy, drunken places, good times can be had by all.
Always good for a night out is the Otzi bar , for a great party atmosphere every day of the week until the early hours. With live music, DJ's and dancing on the tables you can really let your hair down.
There are also several late-night clubs under various central hotels in Saalbach.
A popular Après ski venues in Hinterglemm is the Goasstall located just above the village. A great rustic goat themed bar with Music and dancing, where the beer flows and a buzzing time is on the cards.
SOLDEN
Nicknamed the "Ibiza of the Alps". There are numerous huts, snow bars, outdoor bars, pubs and discos to party and flirt in until the early morning hours.
Starting up in the mountain, you can cosy up at Eugen's Obstlehutte or at Bubis Schiihutte, where you can be entertained by men coming around the tables with their accordions singing Austrian songs.  Philipp's bar at Innerwald offers varied music and a good atmosphere where you can carry on until 2am.
Moving on to the many bars in and around the main street , with live bands, dancing and guest DJ 's the Liebe Sonne's Schirmbar is absolutely bustling with guests often overflowing into the road.
A good time can be had by all at Fire and Ice where you can dance the night away to chart-toppers and house with top DJ's, daily from 3pm until around 3am. If you still have the stamina Kuhstall carries on until 6am.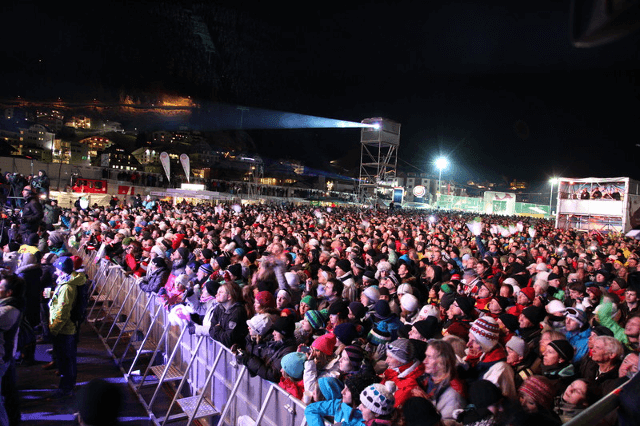 ST ANTON
Offering variety of entertainment for all ages. The bars rock from mid-afternoon until the small hours. There are a collection of bars on the lower slopes. The very popular and well rated Senn Hütte has a lovely traditional atmosphere, and often features live bands.
A bit further down is the Krazy Kanguruh which has recently had a complete makeover. With it large terrace with unique views you can soak up the sun. After sunset you can party on the open air dance floor.
A visit to the famous Mooserwirt where the music starts booming at 3.30pm and is uninterrupted until 8pm. At the bottom of the Galzig lift there is a great bar called Base Camp. Perfect for a last stop before a good night out.
The bars in town are in full swing by 4pm.
Specialising in cocktails, the crowd pleasing Bar Cuba features live music between 4pm until 7pm, with a happy hour until 6pm.
The Piccadilly, an Après ski bar, late night bar and live music venue is very popular. Adjoining this is the Post Kellar again a very popular bar and night club.
Playing funky and happy house music from 10pm until 4am your can dance to your heart's content at the Kandahar.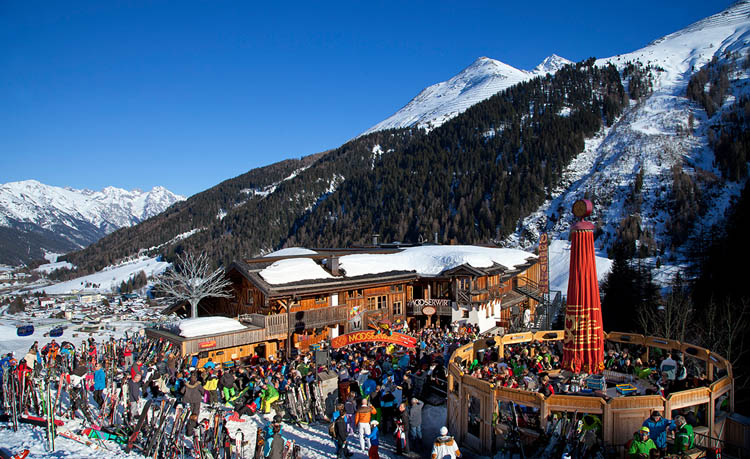 FRANCE
VAL D'ISERE
With its many of bars (and happy hours) live music and dancing, good times are plentiful.
The Folie Douce at the top of the La Daille gondola has become an institution. High altitude clubbing with live bands, DJ's , and cabarets, let yourself go with the crowds, even dance on the tables. The main fun starts a 3pm through to 5pm.
In downtown Val the Café Face and the Saloon Bar  are very popular and fill up quickly as the slopes close. Live music and a party atmosphere will get your evening off to a swing!
Barique is a 'very trendy' new wine bar, again with live music and a good vibe, and also offers good food, or for 'tempting cocktails' the Grand Marnier is a good choice.
Later in the Evening to you can visit Dick's Tea Bar, where they offer Apres Ski from 4pm until 10pm and around 10.30 there is live bands (featuring talented performers on violin, Saxophone & percussion) From 12.30 am Dick's main bar area opens up to the full nightclub going through until 5am. Another popular late night venue is the Doudoune Club where you can dance the night away until the early hours, or tucked away is Le Petit Danois. Although not the height of sophistication there is a great atmosphere, DJ, and dance floor complete with pole. Good times can be had by all.
MERIBEL
La Folie Douce
Check out the latest addition of Folie Douce  located by the mid station of the Saulire gondola, where it is packed out and rocking by 4pm.  An alternative, and possibly not quite as busy is the long standing teatime hot spot Rond-Point at the top of the village. Great Music, food and atmosphere are on offer.
In town is the long established Jack's Bar.  Offering daily 'happy hour' from 4 to 5pm, live music from 5 to7pm, 2-4-1 cocktails 9-10pm, Live Sport and Stand-up comedy. In the Meribel centre there is Le Pub , a British run pub, with ski in and ski out access making it easy for you to stop for an apres ski tipple at the end of the day.  Daily live music.  Also worth a visit is Lodge du Village which can be found in Meribel Village with live music at teatime.
O'sullivans, formally the legendary night club Dicks Tea Bar, has been completely re vamped and is  offering awesome events, great tunes and serious partying until the wee hours.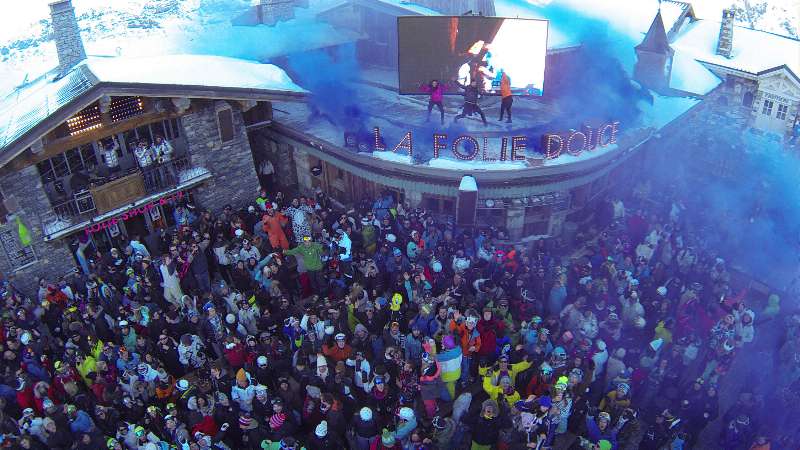 SWITZERLAND
VERBIER
Verbier boasts a very healthy nightlife, but will be very costly.
On the slopes, popular stops include Rocks Bar a Ruinettes, Chalet Carlsberg and Bar 1936.
In the town, popular Après Ski venues include the Farinet, which showcases live bands daily, and a happy hour from 4 to 5pm. On the weekends, the place transforms when guest DJs are flown in and thing become pretty full-on.  The Rouge at the foot of Le Rouge piste, with sun-soaked panoramic terraces, resident DJs and friendly staff. A good place to warm up for your night on the tiles.  Pub Mont Fort , known locally at ' the Pub'  with practically 'ski-in' location is a perfect place to meet up with friends, with its large sunny terrace and 'Happy Hour' drinks from 4-5pm.
Moving on to the Clubs and bars. The Casbah, a late night party venue. You can rock the night away to live bands and DJs often shipped in from Ibiza. The club is packed out with people dancing on the tables and the bar!
2 minutes' walk from Place Centrale, you will find The 'Farm Club'.  This is the place to been seen, and people watching is a must. Celebrities tend to make frequent appearances. Your wallet must not be shy here.
Crock No Name Bar, opens at 4pm until 1.30am, presenting live bands or DJ's playing. A good venue if you want a slightly quieter evening.
ITALY
SAUZE D'OULX
Apres ski is as lively or as quiet as you wish. There is a wide range of bars, pubs and clubs with many good and inexpensive restaurants and pizzerias. Most of the bars stay open until late.
A popular Apres Ski venue is the Ghost Bar which is located in a lively spot straight off the slopes offering good music and friendly atmosphere, or for crazy cocktails Moncrons will not disappoint.
Paddy Mcginty's is a friendly and lively bar, with live music several nights a week.
Il Lampione Wine Bar, located in the old town with a chilled out atmosphere, and live music. Offering a good selection of local wines and cocktails all reasonably priced or Osteria dei Vagabondi a late night music bar with live bands and DJ's.
For a real party atmosphere head to The Cotton Club, which hosts Jazz nights and live bands.
ANDORRA
PAS DE LA CASA
With its many Bars and Clubs, and the drink prices being lower and measures twice the size of a normal measure, it is no wonder that the young partying crowd love this resort.
Paddy's Irish Bar, as in the name is a typical Irish Bar with a unique friendly upbeat atmosphere. Cheap drinks and endless partying during the night. Every day between 4 and 5pm they have a crazy hour with crazy prices, followed hay a Happy Hour for 2 hours.
The Milwaukee, Pas de la Casa's largest and most established bar. Open from 4pm until late. Happy hour from 5 until 7pm. Music daily and live shows twice weekly.
Other venues with lively party atmospheres include Bilbord, where you can dance the night away to with their resident DJ from Ibiza, Amadeus a disco-pub with house and rock music, Habana Club, featuring disco music and has a good Latin atmosphere.
Related Blogs
James Bond's positive effect in Solden ski holiday sales
10 Best Ski Resorts for Snow Cover