Top 10 Destinations In France For Skiing Or Snowboarding
25th February 2022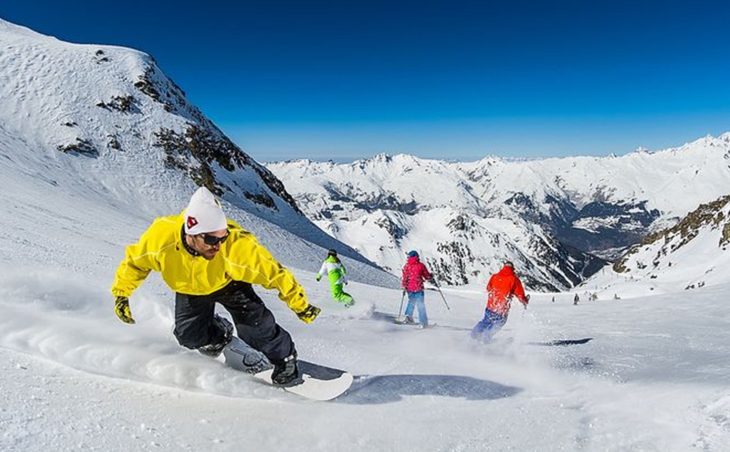 About 40% of British skiers and snowboarders choose France for their skiing holiday, making France the number one destination for Brits. We love the huge, linked ski areas and fast modern ski lifts systems that are common in the French Alps. The most popular ski resorts in France are those above 1,500m, which in most cases are the purpose-built ski resorts.
Although France has plenty of lower traditional villages below 1,500m too, we seem fixated about altitude and the perception that snow cover is better the higher you go, which generally is true.
We have listed the French ski resorts in their popularity with our ski and snowboarding clients.
#1- La Plagne, France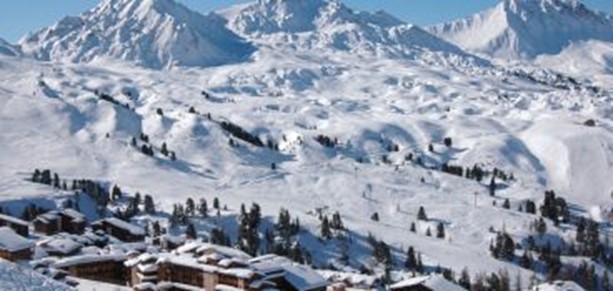 Ski range 1,100m to 3,330m
Resort height 1,860m
200km of pistes local, 425km in linked area
Great for mixed ability groups
Excellent off-piste that lasts weeks
La Plagne overtook Val d'Isere a few years ago to be our top selling ski resort. This was a huge surprise as Val d'Isere had been our top resort going back as far as 1995. However, La Plagne has made big investments in lifts and the pistes which are groomed to perfection. La Plagne is linked with Les Arcs and combined offers 425km of piste. The ski runs are generally wide, with a huge choice of Blue and Red runs. The Black runs tend to be higher.
There are 13 villages in La Plagne, the most popular are all above 1,800m, These include, Plagne centre, Bellecote, Belle Plagne, Plagne 1800, and Plagne Aime Plagne 2100 and finally Plagne Soleil.
La Plagne is very popular with mixed ability groups and families. Virtually every lift has a nice wide blue run making it easy for groups of different ski ability to ski together.
Although La Plagne has a reputation for being good for beginners, its off-piste skiing is some of the best in France and because it doesn't attract huge numbers of advanced skiers, the snow in the off-piste areas of the resort tend to stay good for weeks.
Where to stay in La Plagne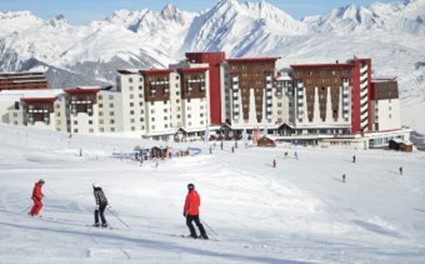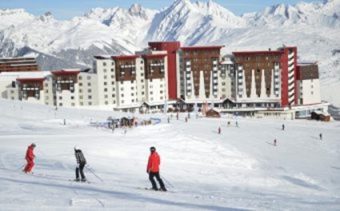 Club Med have been one of our top partners in recent years, our clients love the all-inclusive nature of Club Med holidays. All-inclusive means you can leave your credit cards at home as flights, transfers, all meals and drinks, wine, coffee, snacks, ski passes, and ski lessons and guides are included in one price. You don't have to search too hard to see the value a Club Med holiday represents, especially for families, which is why Club Med La Plagne 2100 is so easy to recommend.
CLICK HERE TO SEE ALL OUR HOLIDAYS IN LA PLAGNE
#2- Val d'Isere, France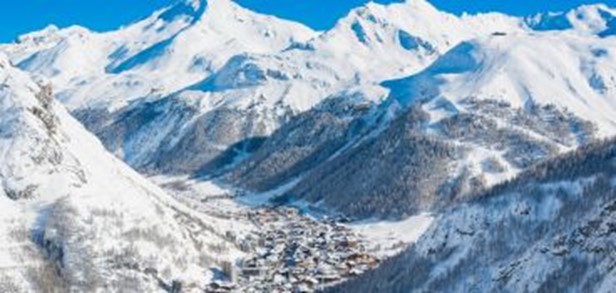 Ski range 1550m to 3425m
Resort height 1850m
300km of pistes
Great for Intermediate and advanced
Excellent lift-served off-piste skiing
Val d'Isere was for years our Top destination, but 3 years ago it dropped to second place. Val d'Isere remains the most popular ski resort for the staff here at Skiline.co.uk, it's easy to see why. Linked with its sister resort Tignes, it's one of the most snow-sure ski resorts in France. We have skied here in November and May!
Essentially, there are three parts to Val d'Isere, located along a valley, surrounded by mountains, they're all connected by an excellent bus service. Because of this, it doesn't really matter where you stay. La Daille at one of the valley has a funicular, chair lifts and bubbles connecting to the skiing, this end of the valley provides, the easiest way down, important if you are a beginner or early intermediate skier.
In the middle of the valley is Val d'Isere centre, most of the nightlife is here and there is excellent access to the lifts and the beginner slopes.
At the head of the valley is La Fornet, which is a wonderfully quiet area, a few degrees colder and provides cable car access to one of the three glaciers within the ski area.
Val d'Isere has the best lift-served off-piste access, no more skiing up to reach good powder. There is a popular off-piste route that takes 5 of the surrounding ski resorts of Tignes, La Plagne, Les Arcs and Sainte Foy. It's a full day's skiing, with just a short bus ride near the end.
Nightlife is a big draw for Val d'Isere fans and the party starts on the slopes at après ski bars like the Folie Douce. Then after dark, there is a wide choice of excellent bars, Clubs and live music available.
Where to stay in Val d'Isere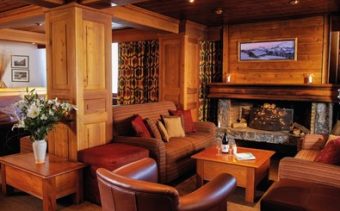 It's hard to beat the location of Hotel Le Val d'Isere. Once run as a Mark Warner hotel, but now independently run. its location is A1, right in the heart of the ski resort and just across the road from the lifts.
It also represents great value for money in the resort that be can pricey.
CLICK HERE TO SEE ALL OUR HOLIDAYS IN VAL D'ISERE
#3- Tignes, France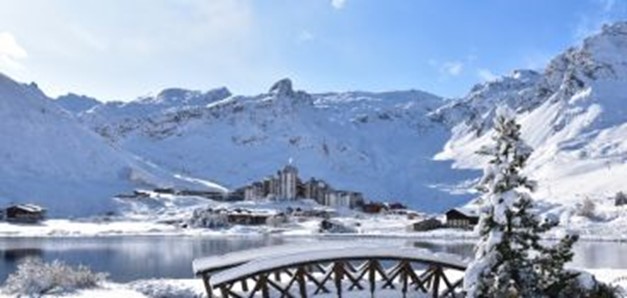 Ski range 1550m to 3425m
Resort height 2100m
300km of pistes
Great for Intermediate and advanced
Excellent lift-served off-piste skiing
Tignes is a great example of France's purpose-built, high-altitude ski resorts. With the villages at 2,100m this means if it is raining at 1,850m, it's probably snowing in Tignes.
Linked with Val d'Isere it's a must ski resort for all serious skiers and snowboarders. The Grande Motte glacier allows skiing all year round, competitive skiers take over the glacier for training in the summer. From the top it's possible to ski all the way down, a descent of nearly 2,000m.
There are three higher villages, Le Lavachet, Tignes la Lac and Tignes Val Claret. Each village offers excellent access to the slopes and most of the ski accommodation is of the ever-popular ski in/ski out variety. The lower village of Tignes Les Brevieres (1,550m) is becoming more popular but requires skiers to be confident on red runs to ski back.
What Tignes lacks in architectural beauty, (one client referred to as Croydon in the snow) it more than makes up for with slope-side accommodation and with a world-class lift system, queues are rare.
Where to stay in Tignes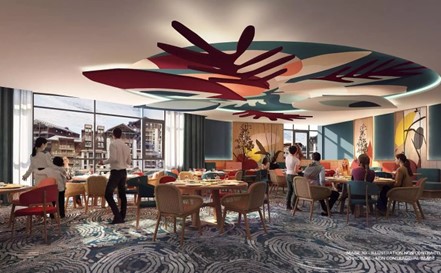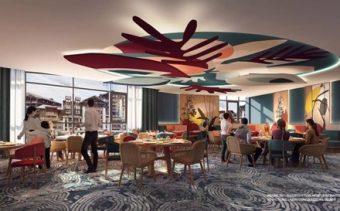 It has to be the New Club Med resort. We had to choose another Club Med for Tignes, this one is new and opened for the 2022 ski season, as with all new Club Med resorts, it's of course ski in/ski out and has a pool. A selection of restaurants, bars. As ever the all-inclusive concept is so popular with our guests, leave your credit cards at home, everything except travel insurance and ski rental is included, that includes a free bar!
Skiline.co.uk is Club Med's most successful agent, we think you're going to love our Club Med deals.
CLICK HERE TO SEE ALL OUR HOLIDAYS IN TIGNES
#4- Les Arcs, France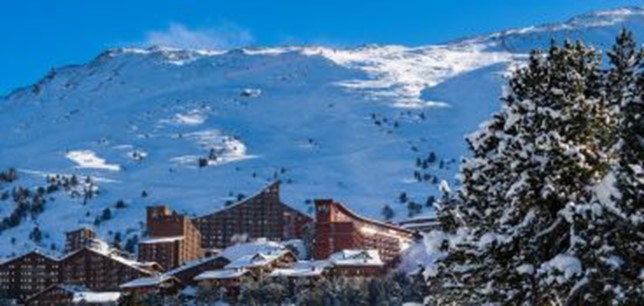 Ski range 1200m to 3250m
Resort height 1860m
200km of pistes local, 425km in linked area
Great for mixed ability groups
Excellent off-piste that lasts weeks
It's a testament to the fact British skiers love big, linked ski areas, that's what you get with Les Arcs and La Plagne, although the link between the two requires a cable car with a glass floor, not great if you suffer from vertigo! This ski area is on the list of most skiers and snowboarders.
The four main villages are Arcs 1600, Arcs 1800, Arc 1950 and Arcs 2000, the numbers indicating the altitude. Most of the accommodation here is located by or near to the slopes. Two smaller villages of Vallandry and Plan Peisey which are the most convenient for the link across to La Plagne (Vanoise Express) are becoming very popular with our clients.
Most of the skiing in Les Arcs is above the tree line. On snowy poor visibility days, most head for the lower skiing between the trees.
Les Arcs is a very popular choice with skiers arriving by train at Bourg St Maurice train station, where the Eurostar finishes. It is at the bottom of the valley and connected to the skiing via a funicular.
Where to stay in Les Arcs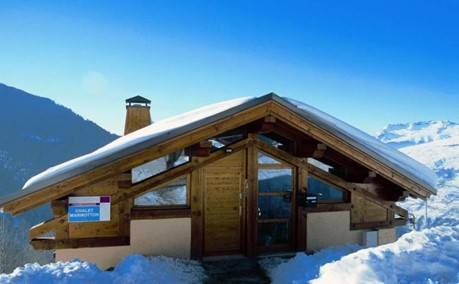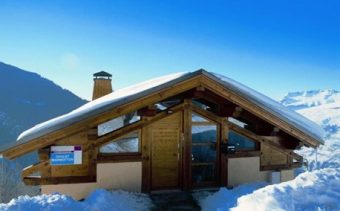 The location of Chalet Marmotton is excellent for skiing in both Les Arcs and La Plagne. Chalet Marmotton is one of 5 chalets, all owned by a friend of Ski Lines, they are operated by one of our ATOL bonded partners and are offered with flights and transfers. Prices are always very good value. The nearest lift is just 150m away and all rooms have ensuite, most with balconies.
CLICK HERE TO SEE ALL OUR HOLIDAYS IN LES ARCS
#5- Val Thorens, France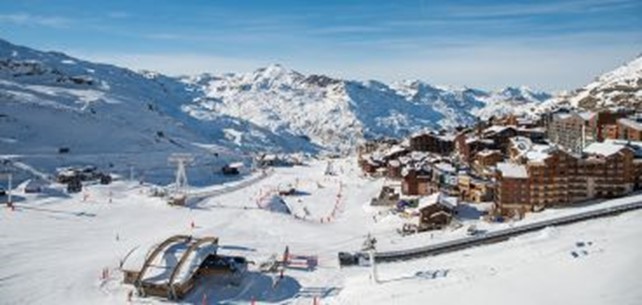 Ski range 1260m to 3230m
Resort height 2300m
150km of pistes local, 600km in linked area
Great for mixed ability groups
Excellent off-piste
Val Thorens is the highest ski resort in Europe at 2,300m, but it's not just the height that makes Val Thorens so popular. Being part of the massive 3 valleys ski area, which includes 600km. VT is popular with guests worried about a lack of snow, its height means if it's raining in Meribel, it's probably snow in VT.
The whole ski area has made massive investments in faster, bigger lift systems to get guests around the whole area as quickly as possible.
Where to stay in Val Thorens
We have chosen another Club Med hotel (Club Med Val Thorens Sensations) as the best option for Val Thorens. We used this hotel for several years for our legendary end of season ski trip, our biggest group being over 200 guests. The feedback was some of the best we ever had.
This modern hotel opened a few years ago, it's a great choice for adult groups and families alike. The climbing wall in the reception is popular. But like with all Club Med hotels, the food entertainment and all-inclusive nature of the holiday, is the biggest draw. Some weeks it's cheaper to book an all-inclusive deal with Club Med than it is to stay in an average catered ski chalet.
Everything except travel insurance and equipment rental is included in one price, so no bar bills, no ski school charges and no nasty credit card bills when you return.
CLICK HERE TO SEE ALL OUR HOLIDAYS IN VAL THORENS
#6- Courchevel, France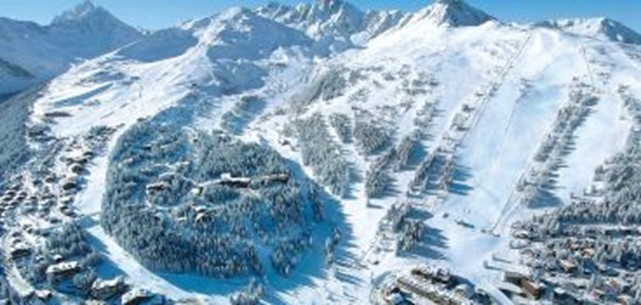 Ski range 1,260m to 3,230m
Resort height 1,350m, 1,550m,1,650m & 1,850m
150km of pistes local, 600km in linked area
Great for mixed ability groups
Excellent off-piste
Courchevel is made up of 4 or 5 villages, which are located at 1,300m, 1,550m, 1,650m and 1,850, the latter has a reputation for expensive 5* hotels catering for once Russian Oligarchs. The Russians have largely left Courchevel in favour of Sochi, their own ski resort, which is seen as the more patriotic destination. But the 5-star hotels remain. 1,850 is also home to some of the most luxurious ski chalets.
For better value, drop down the valley 200-300m and stay in either 1,650 or 1,550, both offer exceptional ski chalets, mainly catered. Access to the slopes is very good for everywhere around Courchevel. Also consider staying in La Tania, originally the accommodation for athletes competing in the winter Olympics but now a really excellent but small satellite village to Courchevel and home to a good choice of ski chalets.
The pistes are renowned for excellent quality snow and being perfectly groomed.
Where to stay in Courchevel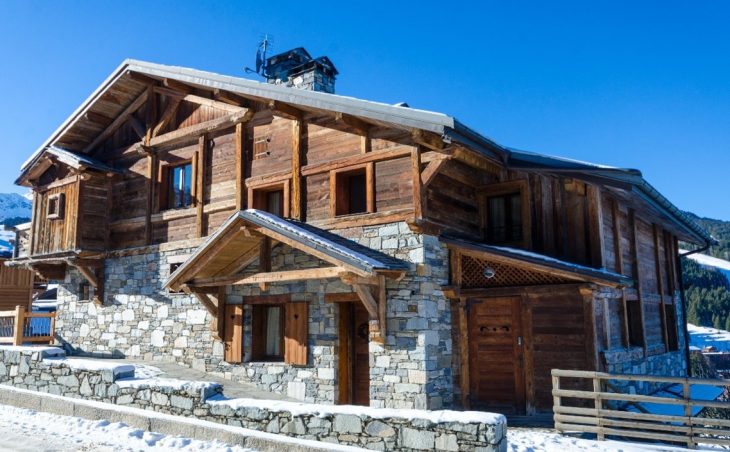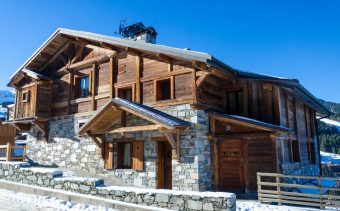 Catered ski chalets are king in Courchevel, we chose Chalet Golden Eagle as our top recommendation, located in 1,650, it's the perfect choice for groups with children. The chalet has a separate media suite, away from the lounge, perfect for teenagers and younger children to escape their parents. Its location to the brilliant water park Aquamotion make it a no brainer for families.
CLICK HERE TO SEE ALL OUR HOLIDAYS IN COURCHEVEL
#7- Alpe d'Huez, France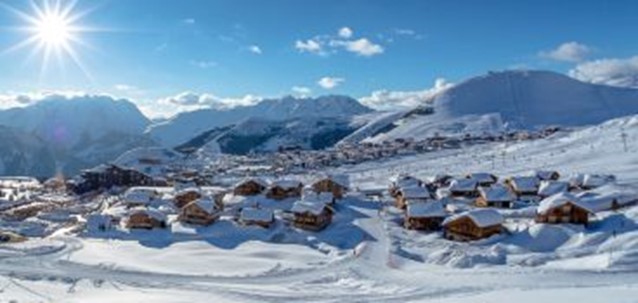 Ski range 1,100m to 3,330m
Resort height 1,860m
250km of pistes
Great for mixed ability groups
Excellent off-piste that lasts weeks
Alpe d'Huez is another excellent destination for mixed ability groups, for beginners and early intermediate skiers, the pistes are wide and long, in fact, the resort is home to the longest ski run in Europe, called the Sarenne which drops 2,000m and is over 16km long.
The nursery slopes are excellent, well away from speeding skiers and at a pitch to help build confidence for even the most nervous of newbies. The progression slopes are ideal with lots of gentle green runs.
52% of the ski area is perfect for intermediate skiers and boarders with wide carving Reds and Blue runs.
Alpe d'Huez isn't a destination that will appeal to advanced skiers, although there is some steep terrain, the best skiing is off-piste, where we suggest booking a guide.
Where to stay in Alpe d'Huez
The Hotel Club Les Bergers is excellent value for money, this full board hotel is located alongside the piste and has a brilliant terrace for the sunny days and a good spa, when it's not.
CLICK HERE TO SEE ALL OUR HOLIDAYS IN ALPE D'HUEZ
#8- Meribel, France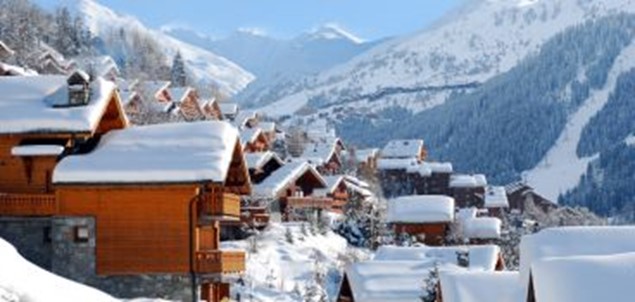 Ski range 1,260m to 3,230m
Resort height 1,450m & 1,700m
150km of pistes local, 600km in linked area
Great for mixed ability groups
Excellent off-piste
Meribel sits in the middle of the Three Valleys ski area, sandwiched between Courchevel and the Belleville valley where you find Val Thorens and St Martin de Belleville. It's this location that makes it such a popular destination. Within an hour you can reach either direction and start to explore the biggest lift system in the world, an impressive 600km of piste and loads of off-piste skiing too.
Meribel is predominantly a resort of ski chalets, they are spread over the whole resort and it's in ski chalets most visitors stay when skiing in Meribel. At one time we offered nearly 300 different catered ski chalets here but despite the huge numbers, very few are ski in/ski out, but what they lack in ski convenience, is more than made up for by the additions of hot tubs and saunas and well-trained staff.
The buses in Meribel are regular, reliable and connect the outlying chalets to the various lift points.
Try to book ahead for the best mountain restaurant if you like to eat at lunchtime, especially if you lunch in Courchevel, some are pricey, especially the red checked table clothed ones around 1850.
Where to stay in Meribel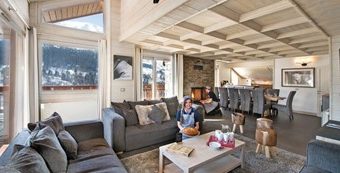 We think you will love the Chalet Cedre Blanc, we have been around long enough to see this chalet offered by many different tour operators but the owner obviously settled on a tour operator they trusted to care for their several million Euro investment.
This high-quality chalet is furnished with style and taste and sleeps 10 to 12 guests in 6 bedrooms all ensuite and unusually, most with baths, much better than a shower for soaking.
The location is good, it's a 4-minute flat walk to the bus stop that connects to 3 different lifts.
CLICK HERE TO SEE ALL OUR HOLIDAYS IN MERIBEL
#9- La Rosiere, France
Ski range 1175m to 2610m
Resort height 1850m
160km of pistes
Great for families and mixed ability groups
We first visited La Rosiere over 20 years ago, back then very few visitors knew that this sunny high, snow-sure ski resort would be developed into a world-class ski resort, which it is today. The resort has always sold itself as a family destination, the slopes are very wide, with lift improvements over the past 20 years, its popularity is only like to grow after Club Med opened its latest resort Hotel here for the 2022 ski season.
La Rosiere is linked to the Italian ski resort of La Thuile, visitors love comparing the different cuisines available on the Italian side, which I must say is better value.
Where to stay in La Rosiere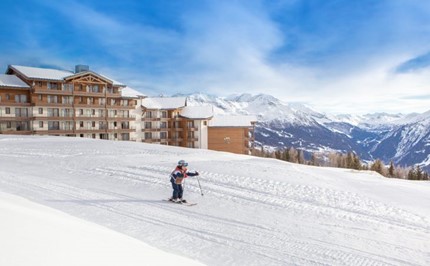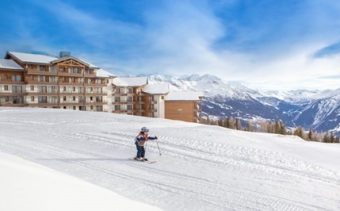 Again, I've chosen a Club Med hotel (Club Med La Rosiere) as the best place to stay, it's difficult to beat, the all-inclusive nature where nearly everything is included in one price is refreshing.
Our first clients are starting to return, and the feedback has been very positive. Club Med get family skiing holidays, there are lots of interconnecting bedrooms, kid clubs, children's restaurants and locations on the slopes. But don't be thinking Club Med is just for families, we send lots of Adult groups with Club Med too.
CLICK HERE TO SEE ALL OUR HOLIDAYS IN LA ROSIERE
#10- Avoriaz, France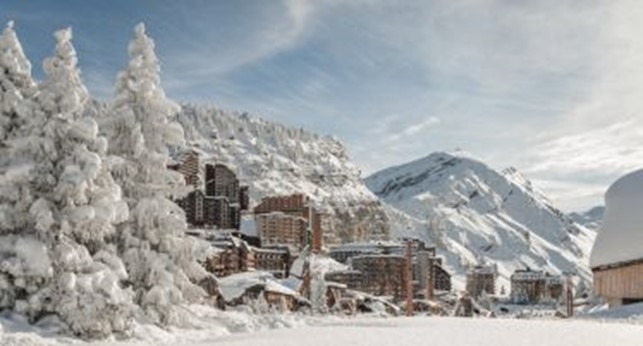 Ski range 1,100m to 2,275m
Resort height 1,800m
75km of local pistes, 650km in linked area
Great for families and mixed ability groups
Where to stay in Avoriaz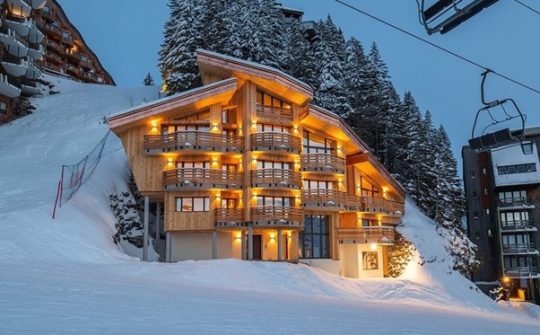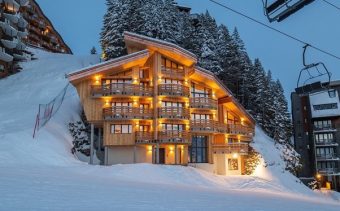 We love Chalet Beluga, which sleeps 10 to 14 guests, it's ski in/ski out and offers superb mountain views. This chalet is available to independent travellers, as a fully catered ski chalet holiday minimum stay 7 nights. Geneva airport is under an hour away.