The fabulous end of season ski trip April 2019
1st May 2019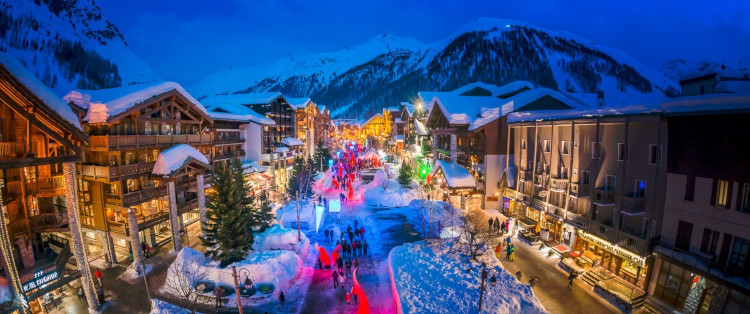 Val d'Isere centre at night
This year we went to our old favourite Val d'Isere again. Why? Because it's snow sure with its height and its 2 glaciers (one in Val d'Isere and the other in Tignes). It's also because Val d'Isere is one of the most iconic ski resorts with some of the best skiing in the world and it also has some of the best nightlife and après skiing in France…what's not to like?!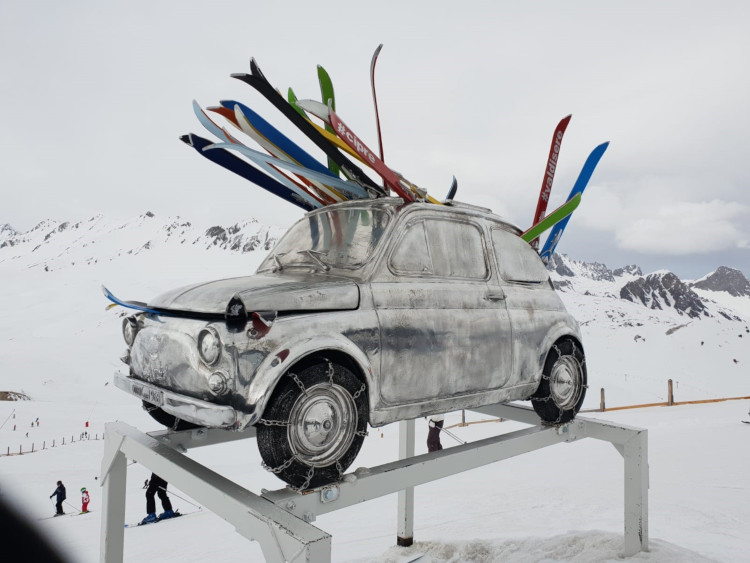 A 'Funky Fiat' Art installation on the slopes
The village height at 1850m means that we can ski right down to resort level even though it's the end of the season and the skiing in the Espace Killy area is from 1550m in Tignes Les Brevieres up to 3565m at the Grande Motte glacier in Tignes.
There are in fact 2 glaciers in the Espace Killy area – the Grande Motte in Tignes and the other being at Le Fornet at 3488m. There's over 300km of skiing in this area with fabulous ski areas for all levels of skier. The Solaise side of the mountain has been remodelled and with its new fast chair is now much easier to negotiate.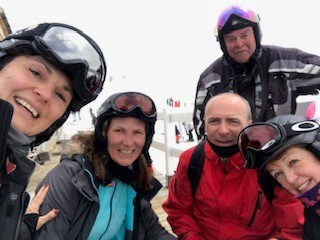 Val, Leah, Tony Kim and Katherine on a hot chocolate stop!
On one of the last dates to fly out in the Season we normally get an 'empty leg' flight that is going out to collect the last full weeks of guests – so we are usually the only people on the flight and have the whole plane to ourselves!
Transfers are included by coach straight to resort – no stopping to drop anyone off anywhere!
This year we had 3 hotels to choose from. We had 3*, 4* and 5* rated hotels all on a catered chalet board basis, to suit every pocket and we had flights available from Gatwick Birmingham and Manchester too.
We stayed in the Champs Avalins 3* down in La Daille as well as the Ducs de Savoie 4* rated and the Le Savoie 5* which were both in the centre of town close to the Petit Danois bar and the main lifts.
There was a large group on our trip this year, some of which were returning regulars and others that were newbies. The ages ranged from 15 up to 80 with a good match of every level of skier which meant that we were able to ski together in small groups.
Old friends were reunited by their love of skiing and the first night in the hotel was a hubbub of conversation and clinking glasses as the new members were introduced and new friends were made.
We have many single people who join our end of season trip too. They can elect to share a room with another single person of the same sex or to pay for under occupancy to have a room for sole use. We have a mix of tables at dinner so that everyone can be accommodated and that no one is left to their own devices!
We also organised lessons for anyone that wanted them with New Generation ski school which are one of our trusted suppliers.
The snow conditions this year were very good indeed as we'd had such great snowfall throughout the year and we had extra dustings of snow almost every day. The weather was cold which meant that the pistes stayed in good condition throughout the day. We even saw the sun sometimes too!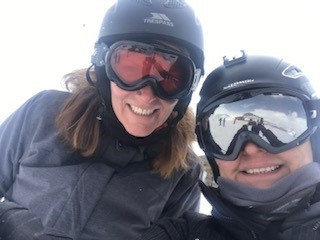 For those of you who don't know how it works – here's the lowdown and timeline:
April – September The year before
Around NOW, and up to a year in advance the End of Season trip goes on sale!
We announce the resort we will be going to and and to which hotel.
We send out an email to our clients giving full details and you can also see the details of next years trip HERE
If you book at this time you will get first dibs of the best rooms and you can request rooms next to each other if you are a large group of a family too.
Details of next years trip will also be updated HERE
If you book at this time you will get first dibs of the best rooms and you can request rooms next to each other if you are a large group of a family too.
We include the outbound flight and transfers both ways. You book your own flight home (we will let you know which date). When the low-cost flights are released for the return date of the trip get yours booked as soon as possible to take advantage of the cheap prices.
Our deposit is only £168 per person.
You will need to let us know which equipment you want to order or if you want ski carriage on the flights.
Let all of your friends know as this trip will go on general sale to the public so places get booked up very quickly.
Balances are due around 12 weeks prior to departure.
Next season we are in negotiations again with Club Med – so our trip might be all inclusive again which will include lessons or guiding all day every day.
Darren and Lee chilling with a beer or 2 in the famous Follie Douce Apres ski Bar on the slopes