Hotel Le Savoie in Val d'Isere wins Skiline.co.uk hotel of the year 2015/16
17th July 2015
Hotel Le Savoie in Val d'Isere wins Skiline.co.uk hotel of the year 2015/16
We started our hotel of the year award last year and the then newly opened Club Med Sensations in Val Thorens was the winner. Our clients booked and loved it so finding a hotel good enough to follow wasn't going to be easy but we're pleased to say that we've found a clear winner.
When selecting the "Ski Line Hotel of the Year" we look for new innovations to help raise the standards and holiday experience of British skiers and snowboarders.  This year's winner certainly achieves this.  The winner of the 2015/16 Ski Line hotel of the year is the 5* Le Savoie in Val d'Isere.
We are amazed that Hugh Walton the commercial director and his team of contractors at Inghams, Ski Total, and the family specialist, Ski Esprit have managed to secure this wonderful 5* hotel which was only opened by its owners 3 years ago.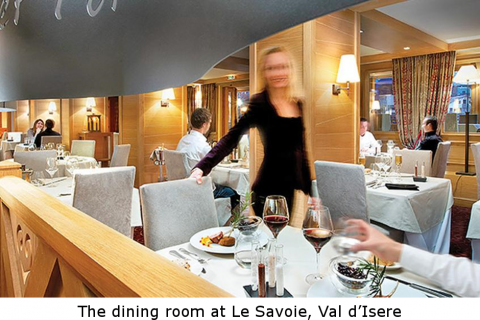 We are used to seeing Hugh's team secure some wonderful hotels such as the slope side hotel Hermitage in Sauze d'Oulx, the chalet hotel Parc Victoria in Cortina; and the enormously popular Chalet hotel St Christoph in the St Anton ski area and all have become firm favourites with our clients. But this is a real 5* hotel and judging by the prices they must have secured an extremepy good deal!
Book it now as prices won't be this low next year!
Prices start at just £999 for a week in a 5* half board hotel including flights and resort transfers.
Follow this link to see the full details, prices and availability from up to 9 regional airports.
It's the first hotel that Inghams have graded as Platinum standard, so we are expecting this hotel will be a winner, not just because its location is A1, but the food and wine are both upgraded too.
We are told the wine that served with each evening meal is worth about €100 per person over the week, so expect more than just Chateau Plonk with your evening meals.
Hugh Walton said, "We knew we had to upgrade everything for Le Savoie, so we are offering an extended menu with 3 choices of evening meal which will including veggie options. The other key difference will be the dining time, we are going to offer for the first time, extended dining with evening meals available anytime between 7:00 and 9:30pm, with a similar arrangement for breakfast so you can have a lie in if you want".  Val d'Isere is a party town and our meal time's wont impact on the clients après ski enjoyment."
Le Savoie will be run by British staff employed by the three tour operators but we understand the staff will all be wearing branded uniforms displaying Le Savoie logo.  Only Inghams best chefs and staff will be working at Le Savoie.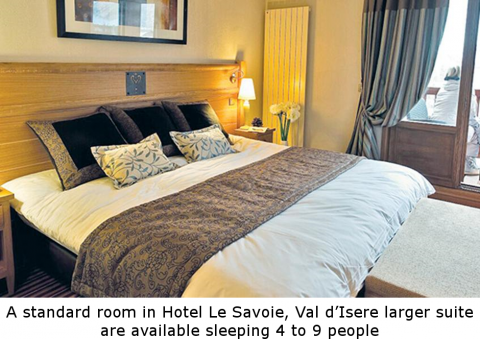 Previous year's winners of the Ski Line hotel of the year
2014/15 winner Club Meds Sensations Val Thorens
2016/17 winner Hotel Theodul, Lech