Samoëns, the authentic ski village that should be on your ski bucket list.
15th February 2017
Samoëns dates back to 1167, its name derives from a medieval expression meaning "the Seven Mountains", the seven peaks that surround Samoëns are Cuidex, Vigny, Folly, Oddaz, Bostan, Chardonnière, Freterolles and La Vullie. It's perhaps these peaks that are behind the excellent snow conditions that can be found on the shady slopes around Samoëns.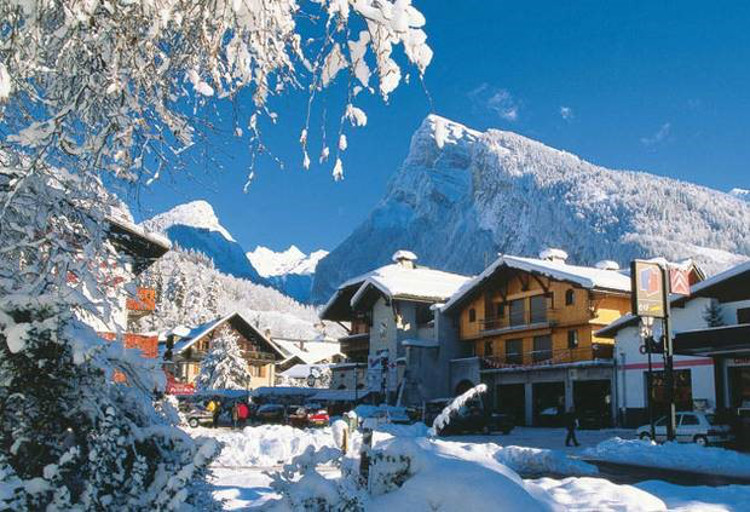 Samoëns buildings date back to the 10th Century
Samoëns was once a busy centre for stonemasons and as a result, the architecture is unlike many mountain villages that you may be familiar to you. Grand stone houses mix with older medieval buildings. The are no less than 9 old chapels located around Samoëns, most date back to the 17th century, but one dates back to the 10th century!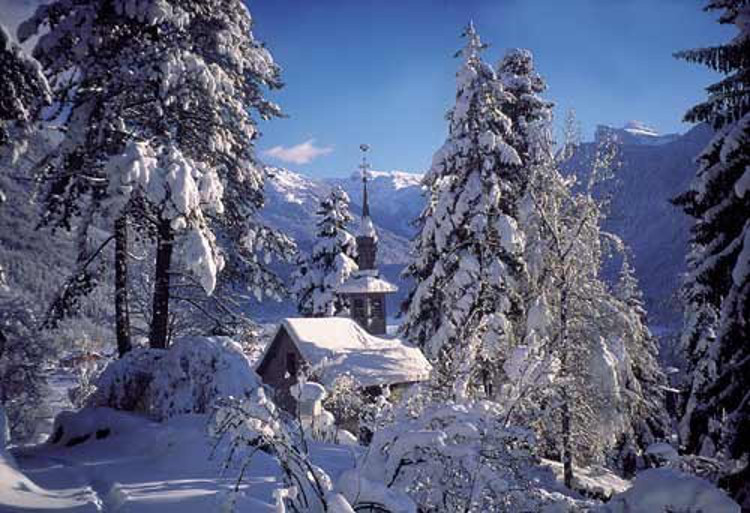 One of the 9 chapels in Samoëns
The centre of the village is charming with narrow shop-lined traffic free streets, and tree lined pretty squares with stone water fountains. Wednesday is market day and an opportunity to buy some of the locally produced cheeses and wines. It's a stark contrast to the purpose built and perhaps better-known ski resort of Flaine with which it shares its ski area, the Grand Massif.
The 4th largest ski area in France, that the French would rather keep a secret
It was my French cousin Michele that let me in on the "French Secret" with an invite to join her family for Christmas 2012. I had visited the nearby resort of Flaine the year before to see the various hotels, chalets and apartments we offer there, but my skiing only lasted a day, before I had to move on to the next resort. So to spend Christmas week in Samoëns a new ski area for me, was a delight.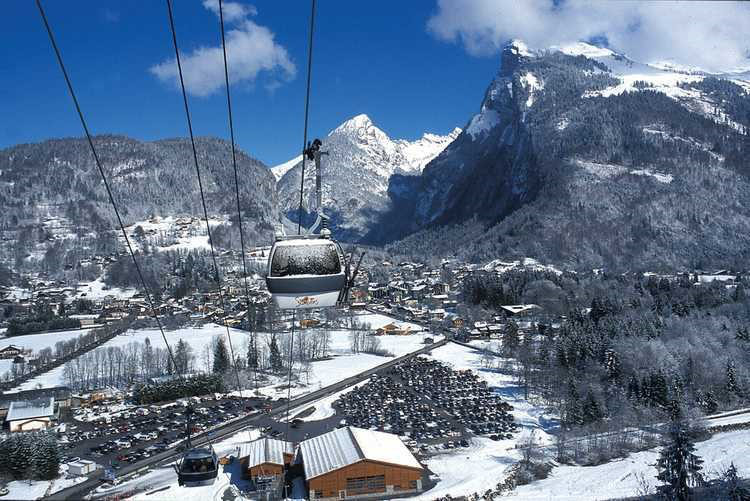 On of the gondola's connecting to 1600m
Access to the skiing is via two gondolas located at either end of the village, both are connected by a frequent and reliable bus service, free with your ski pass. Skiing back to the village is only via red or black runs, so bear this in mind if you are a blue run skier. Don't worry if you can't or won't ski a red just yet, you can ski back via blue runs down to Sixt or Morillon from where a bus connects back to Samoëns or come down via the gondola but that always seems a silly thing to me!
The skiing extends from 700m to 2,480m once at 1,600m above the village you have two options head over towards the runs of Flaine and the Vermant bowl or turn right and to slopes of Morillon and Les Carroz. Covering a total of 265km of piste served by 68 lifts the Grand Massif, we think should be on one of your lists.
Ski suitability for mixed ability groups and families
There is no doubt that Samoëns has a big appeal to families, the excellent ski school Zigzag runs English speaking classes with groups of no more than 8 to a lesson. The choice of non-ski activities includes bowling, toboggan runs, a sports centre, bowling and cinema make Samoëns an ideal choice.
The skiing in and around Samoëns is suitable for all levels, advanced skiers will love the steep terrain on Tele des Saix are some of the most testing in the Grand Massif and the off-piste runs are wonderful. Intermediate skiers won't have any problems, as long as the red back home is OK. There are plenty of great long runs in both directions. I particularly love the Cascades in the Flaine sector. It has to rank as one of Frances best blue runs.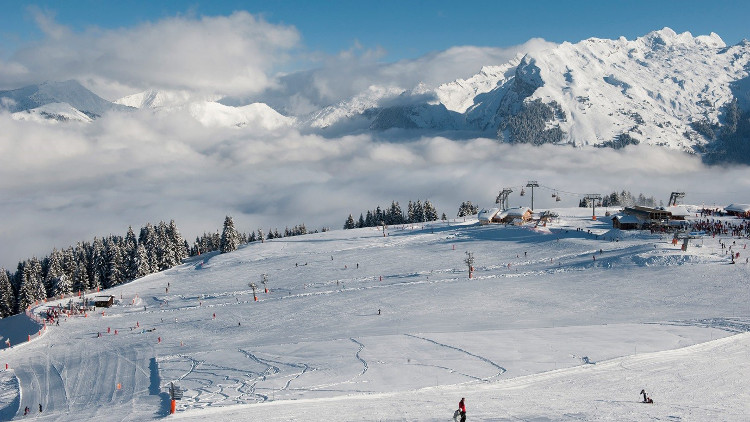 The site of the new Club Med hotel in Samoëns
Beginners have an option to buy a special beginners pass to go up to 1600 offers gentle runs of various lengths with some good progression slopes in Morillon with long greens perfect to hone skiing skills.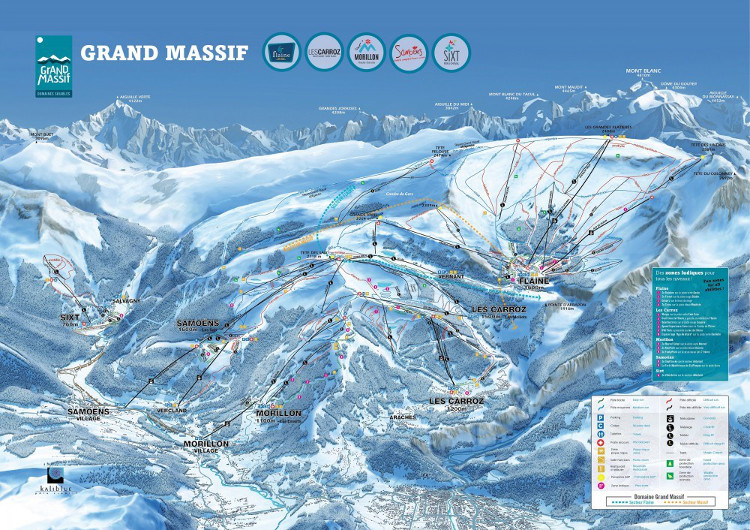 The Grand Massif ski area covers 265km of piste
Where to stay in Samoëns
We are very excited at the arrival of the new Club Med hotel to Samoëns which opens in December 2017. Club Med's new hotel comes with a new lift. The new Club Med Grand Massif Samoëns has been built on the edge of a cliff at 1600m and hails the arrival of an all-inclusive skiing holiday option to Samoëns.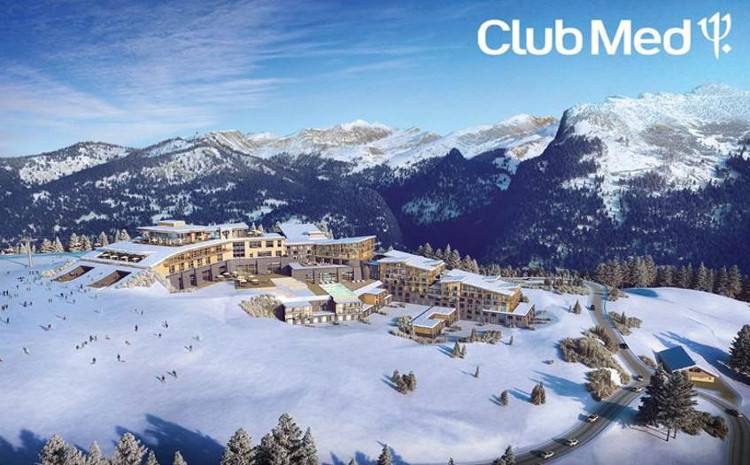 The new Club Med hotels opens December 2017
Catered ski chalets are rare, some independently run ski chalets operate here, but it's mainly hotels and some excellent self-catered apartments some with swimming pools and spas. CGH offer apartments sleeping 2 to 12 persons which are slope side.
British skiers love the large linked ski areas and that's why areas such as the Three Valleys, Espace Killy and Paradise ski area are so popular. We think it's about time the Grand Massif became a British favourite too.