For me, as both a parent and a skier, nothing compares to the family fun of a skiing holiday. Beach holidays are great fun too, but once you've built a couple of sandcastles or played beach tennis for 30 minutes the chances are that you and the children could be bored. In comparison, the thrill of skiing as a family, snowball fights and seeing your child's first turn, first blue, red, black run or first off-piste ski run you do together is really special and for me, skiing wins every time.
A successful family skiing holiday doesn't just happen, it requires planning. Home to resort travel time should be a consideration for families with young children. The distance to the ski school can be a real issue if you get it wrong. Try getting on a busy ski bus carrying your own skis and your children's! For families with teenagers, decide if your teenagers are to be allowed to "enjoy" the après ski scene if not, a more sedate ski resort might be more suitable.
Skiing with other families is even more fun
Of all the family skiing holidays I've had over the years, the best ones have been when we skied with up to 6 other families. This takes organisational skills if you are acting as the group planner, we suggest the leader looks for 5 or 6 options that suit the groups needs and pockets and then present these to the other families. Groups, booking as one party, will always attract generous group discounts, so you not only save money, but then you find the children entertain themselves leaving the adults to enjoy themselves too.
Travelling with babies
Just because a child is too young to start skiing, doesn't mean you have to forego your ski holiday. There are lots of options for childcare during the day, whether in a creche within a ski chalet run by a family ski specialist, or in a resort operated creche. Do consider the transfer journey from the arrival airport to the resort. If you book a package holiday, the journey will be included but coach seat belts are usually just lap belts and won't secure a child seat properly. To travel safely, we recommend booking a private transfer via minibus, the seat belts will then 6securely fit a child seat.
Choosing where to stay
Club Med is now the most popular choice for families. With 18 different resorts to choose from, most have excellent facilities for families. 95% of Club Med's resorts are located right on the slopes, as the only truly all-inclusive ski package holiday, you really can leave your credit cards at home. Everything except ski rental as a lot of Club Med's guests own their own equipment and travel insurance is not included in the price. This means that all the extras that add up on a ski holiday cost are included. These include a ski passes, ski lessons or for the adults are advanced skiers, an off-piste guide. All the meals, even lunch is included, with good quality wine. Kids clubs and childcare are also available in most of Club Med ski resorts on certain dates. Pre-dinner drinks and canapes are also included, so too is evening entertainment.
Combined family groups benefit from generous group discounts with Club Med but to get the best deals early booking is essential, with guaranteed savings of up to 15% available when prices first go on sale, which is normally in January.
Catered ski chalets have always been a popular choice for families. Ski chalet's come in lots of different sizes from a snug chalet for two, up to larger chalets sleeping 20+, these are ideal for families that like to book as a group. Most ski chalets sleep between 8 to 12 people.
Catered ski chalets typically have two staff members who prepare a three or four-course evening meal with wine on 6 nights of your stay. Breakfast and afternoon tea is provided every day. The staff carry out light cleaning duties during your stay, so your home feels warm fresh and welcoming each day.
The standard of ski chalets has risen over the years, today most have en suite bathrooms, balconies, some even offer hot tubs and spas. There are several ski chalets that provide in-chalet childcare with fully registered carers operating from a fully equipped creche. There are strict regulations about the ratio of children to carers. This can be very convenient for the adult's ski time, when a nanny can collect children from ski school and provide lunch, so you don't have to come back halfway through the day.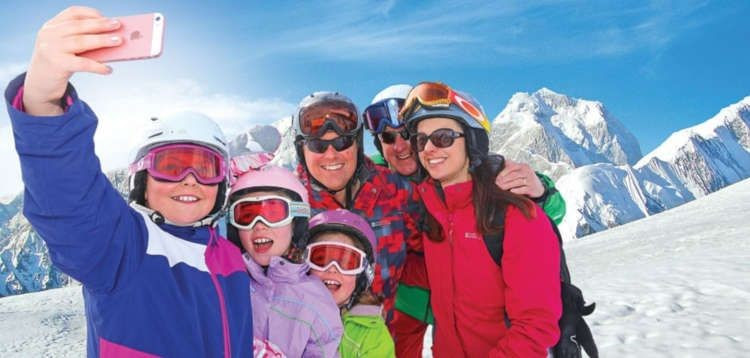 Don't forget to book ski school
For every ski school across the Alps, the kid's holidays are when they expect to sell out. Some of the more popular ski schools will run out of space very quickly over New year and February half term so book this early or you could have a disaster on your hands!
School holiday dates
If you can, try to avoid the peak school holiday weeks. Lower demand for skiing on the off-peak weeks means lower prices and more choices of where to stay.
For families with school-aged children, early booking is essential. Thankfully schools in the UK are closed over 5 weeks of the ski season. Some of these weeks are a lot cheaper. Christmas is a funny week in the ski season, many skiers would never be away from home over the festive season. But a white Christmas is a big draw for other families. If you are skiing as a group, book early, but if you are planning on getting away with just your immediate family, we often have last-minute ski holidays at Christmas.
New Year is another school holiday week, but demand for skiing over the New Year makes it one of the busiest weeks in the ski calendar and early booking is essential.
The February half term is the families first choice for skiing, again it's one of the most popular weeks to go skiing and most expensive. The other drawback in France especially is that our school holidays often clash with the busy French half-term meaning the slopes are busier, lift queues longer and places in ski schools are greatly restricted. It's worth remembering that neither Italy, Austrian or Andorra have a school holiday in February, meaning fewer skiers on the slopes and more choices of places to stay.
Over Easter, schools close for two weeks, this is great when Easter falls early in the winter. The snow should still be excellent in the higher ski resorts. Skiing at Easter is up to 30% cheaper than over the February school holiday dates. The second week is normally less popular, as it's considered a week later in the season and the perception is that the snow will be worse. The reality is that April sees more snowfall in the Alps than January, it's a little warmer so it doesn't last as long, but there is a good chance of a few bluebird powder days, which more than compensates for spring conditions.