7 nights
Independent Travel
Les Arcs Ski Resort Guide
Why Ski in Les Arcs?
New For 2018/19 Ski Season In Les Arcs
Les Arcs has literally moved mud and stones to replace the previous back run (Comborciere) with a new Red run. Gone are the bumps and some of the pitch has been replaced with, we are told, a more enjoyable and less intimidating run of over 2km just below Arcs 1950 – so, a new run to ski for both newcomers and return visitors!
Getting back to resort basics…The ski area of Les Arcs is linked to that of its neighbour La Plagne thus forming the huge Paradiski area. The slopes are surprisingly varied, so there really is lots to suit all abilities from beginner to expert, and they include some heart-stoppingly steep, ungroomed black runs plus plenty of easy cruising runs. Up to 70% of Paradiski's pistes are situated above 2,000m thereby delivering perfect snow cover for longer. Boasting an altitude range of 1,200 – 3,250m plus a whopping 425km of pistes…this is a perfect recipe for an excellent skiing holiday!
Les Arcs is now made up of 4 main villages, Arc 1600, Arc 1800, Arc 2000 and (Arc 1950, self-catered apartments only here, we sell them too!) – each number denotes the approx height of the village. In addition to these are the two smaller villages of Vallandry and Plan Peisey which are the most convenient for the link across to La Plagne (Vanoise Express) Ski Line's chalets are predominantly in Arcs 2000, Vallandry and Plan Peisey. However, we do have a limited number in the traditional village of Villaroger across from the ridge above Arc 2000. The chalets in Arcs 2000 are mainly apartment styled chalets, many offer indoor pools. Some offer in-house childcare. Our most popular all-inclusive adult only Club Med hotel is also here.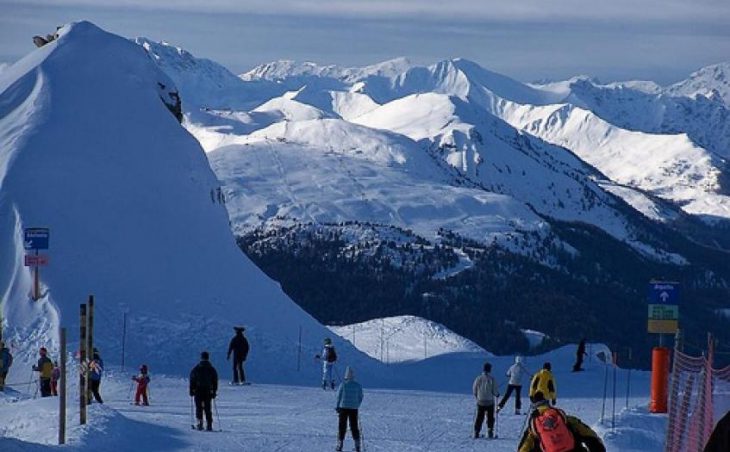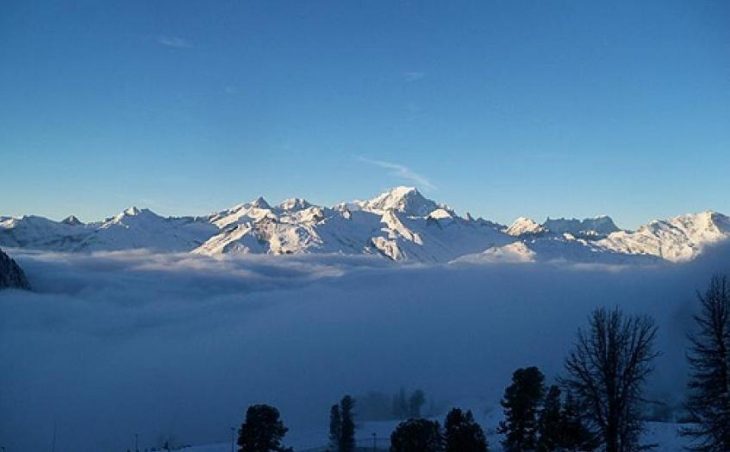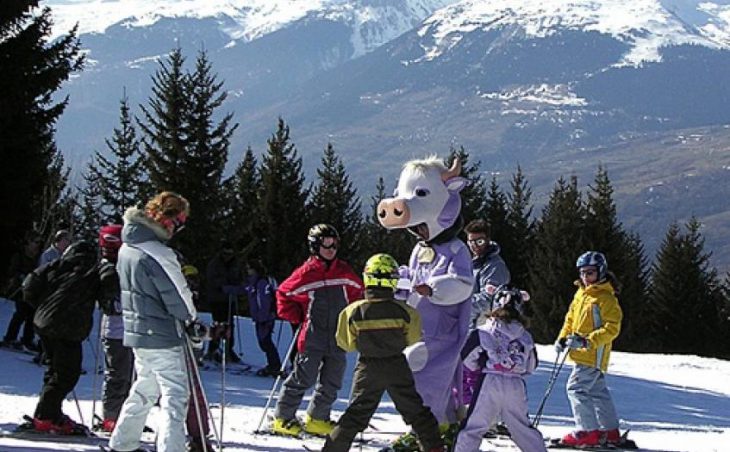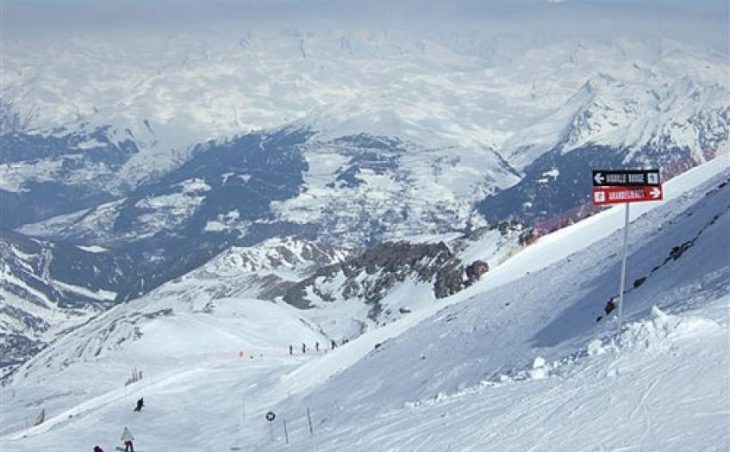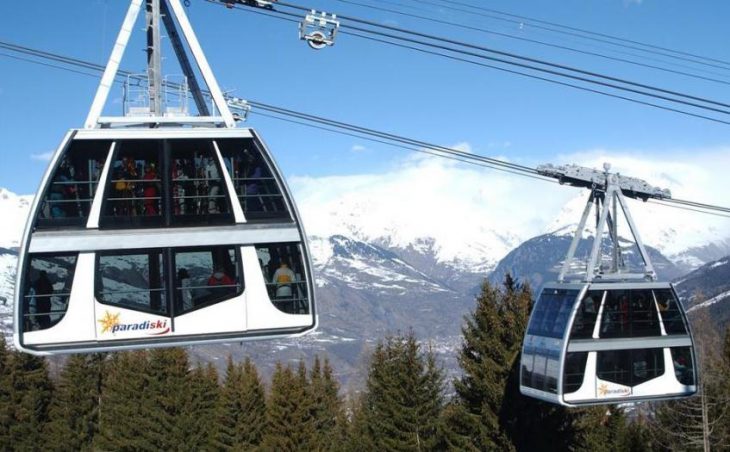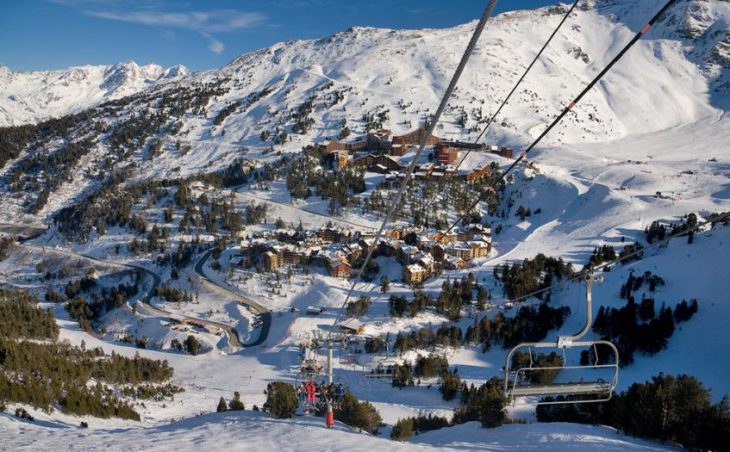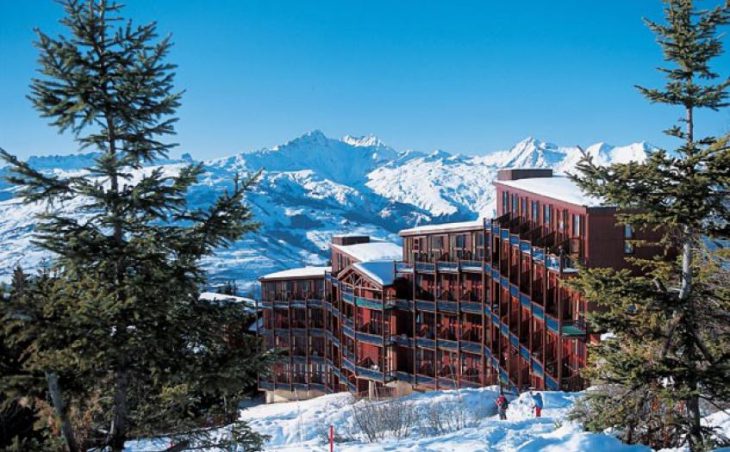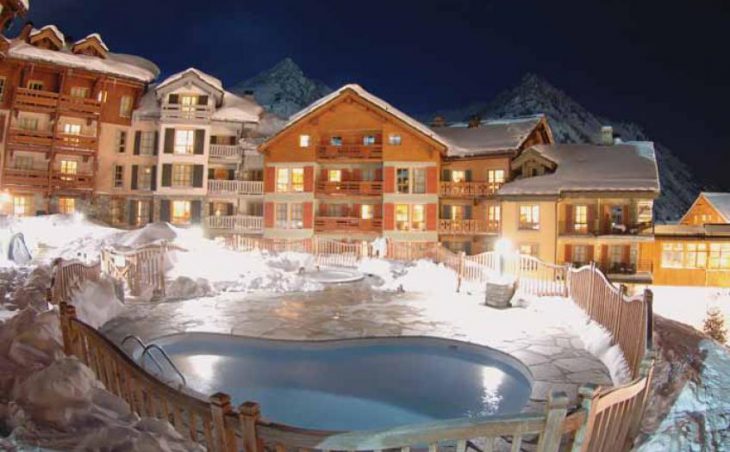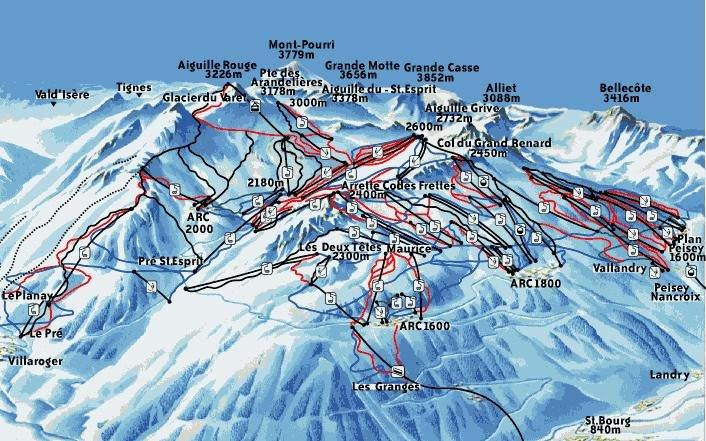 Upper Piste

depth

Lower Piste

depth

Weekly

Snowfall
0 cm
100 cm
200 cm
300 cm
400 cm
Based on weekly average snowfall data November 2000 - April 2018
Pistes
Altitudes
Resort Altitude


2000m

Highest Piste


3250m
Expert Ratings
Beginners Skiing In Les Arcs
All of the villages in Les Arcs have a "Ski Tranquil" area and each has a free lift at weekends. You can take the Villards Gondola which travels for 600m to the Mille 8 zone and at the top of which you will find Le Lodge which is a great place to stop for a bite or slurp. Next to this is the gentle green run which is serviced by a covered Magic Carpet and is a particular delight in the evenings when it is floodlit. The natural progression from here is the Cabanes piste.
Intermediates Skiing In Les Arcs
One of Les Arcs biggest strengths is the excellent variety of skiing and boarding for intermediates as the mountain is literally awash with blue runs. There are good blue runs down from any of the lifts making Les Arcs the ideal choice for groups of varying levels and most of the blues are correctly classified which is not always the case in some resorts – having said that there are some which are at the more challenging end of the spectrum. The reds will thrill – they are widely spread across the ski zone and are pleasantly varied in character. Try the woodland runs around Villaroger and down to Plain Peisey. With over 80 of the runs in Les Arcs being classified Blue or Red slopes – you really are spoilt for choice in this resort.
Advanced And Off Piste Skiing In Les Arcs
Les Arcs certainly won't disappoint expert skiers or boarders offer-ing as it does plenty of challenges both on and off-piste. Many of the blacks in Les Arcs are now not pisted so by the end of the season have huge mogul fields. However, for true Powder Hounds, it is the off-piste skiing that is the biggest draw because, there is loads of it and the snow here lasts so much longer than in the more macho off-piste resorts such as Chamonix where fresh tracks disappear after just a few hours. There is also a good group of Blacks on the Aiguille Rouge, though not very long, they are worth a go.
Ski Chalets In Les Arcs
Here at Ski Line our most popular choice of accommodation in Les Arcs is by far and away the catered ski chalet – this resort isn't known as 'Chalet Central' for nothing! We are proud to have a mahoosive range of chalets to suit all group sizes and budgets so we are confident that we can find a chalet holiday that ticks all our clients' boxes. We also offer several chalets in the small village of Villaroger.
Ski Hotels And Apartments In Les Arcs
Ski Line can offer you a choice in whichever village you choose as your base. Les Arcs 1600 and Les Arcs 1800 offer the best nightlife and views towards Mont Blanc which may well influence your choice… Arcs 1950 is an American built ski in ski out village with some of the best self-catered apartments available anywhere in the Alps. Peisey Vallandry is where the Vanoise Express double-decker cable car links to La Plagne which makes it very popular with guests looking to ski the full area.
All Inclusive Holidays In Les Arcs
The absolute flagship in all-inclusive ski holidays is provided by Club Med which explains why their hotels are increasingly the destination of choice for a winter holiday, especially for those travelling in groups or with families. Ski Line can offer 3 Club Med hotels in Les Arcs at Les Arcs 2000 (adult only) Arcs Extreme; A fabulous 4 trident hotel has opened in time for the 2018/19 season in Les Arcs 1600 (Panoramique) and their 3rd is at Peisey Vallandry which is close to the link over to La Plagne. With their fantastic value for money, inclusive packages, these holidays are a bit of a no brainer…we at Ski Line began offering Club Med ski holidays in 2008 and are über proud to be one of Club Med's biggest ski specialist travel agents and the cherry on the cake came in 2011 when we were appointed Club Med Infinite agents. In layman's terms this means that we and therefore our clients have access to special rates not available to many other agents, so when you buy from us you can do so in the knowledge that you have been given the best price available.
Snowboarding In Les Arcs
There is one excellent Terrain Park – The Apocalypse which is situated between 1600 and 1800 and it's reached by a boarder friendly J Bar drag lift. It has been regarded for many years as one of the most advanced parks in the Alps and on a level footing with the one in Avoriaz. If snow cross runs are your thing, some can be found under Col de la Chal.
Restaurants In Les Arcs
Les Arcs' eateries can be a tad uninspiring but panic ye not as there are some exceptions to the rule which are well worth seeking out. The choice and quality of the restaurants have improved over the years and there is now a much wider selection of restaurants to choose from. On the mountain – Le Bulle Café (The Bubble).
The vast terrace, often hosts live music, and a rather attractive , transparent igloo – so it's a fabulous place to sit and enjoy this restaurant's huge, cheap pizzas which are large enough for 2 to share, or delicious sandwiches and snacks, or indulge in one of their amazing seafood platters – a delight to behold! Le Bulle is to be found just before the base of the Arcabulle chairlift above Arc 2000.
Off the Mountain, you will find The Savoy… Don't' be put off by the name! This traditional French brasserie is in Arc 2000 where the restaurant and separate bar serve food and drinks until midnight. The generous menu features melt in the mouth steaks, escalope de Veau and lamb shank alongside typical Savoyard favourites such as fondue and tartiflette. It has a rather good wine list too.
Vegetarians, Vegans and those with special dietary requirements – Most restaurants have Vegetarian options on their menus and some are also on the catch-up with Vegan options too. There is also the excellent and increasingly popular Huski Catering company who will deliver delicious oven ready meals to your door which includes many Vegetarian, Vegan options – all you have to do is switch on the oven and pour the wine! We also recommend that you call any restaurant you wish to visit and ask if they are willing to adapt their dishes to accommodate your dietary requirements – many are happy to do so.
Apres-Ski In Les Arcs
Les Arcs 1800 is the main focus of après ski activity so this is where to point your skies if you are looking to party! Here you will find bars and clubs to suits everyone's taste, whether you are looking for a quiet drink after the last lifts or want to party into the wee hours along with fellow wild things.
The Après Ski kicks off around the main square at Villards and continues the resort's two clubs at the Charvet end. With so many places to choose from it is hard to settle on a favourite but Chez Boubou can certainly lay claim to this title. Over at Place des Villards revellers will find the Red Hot Saloon. This is the largest bar in the resort and is worth dropping in to enjoy some great live music in the evenings or if you prefer sport they show this on the massive TV screen. Bar King Mad dishes up delicious food served throughout the day in a convivial atmosphere. Diehards should make for Apokalypse, the largest and most popular club in Les Arcs. Spread over three floors the classic euro favourites pump throughout the building until 4am.
Activities Of The Piste
In addition to the excellent Mille 8 which is a great place for kids and adults alike where you will find leisure pool indoors and tobogganing outdoors. The resort also has 2 bowling alleys and a cinema and new for the 2018/19 season electric snowmobile racing for kids has been introduced at Les Arcs 2000.