Ski Holidays From Your Local Airport
Ski Line is a specialist travel agency selling only skiing holidays, we deal with over 200 different ski holidays providers and are able to offer our skiing holidays from most regional airports around the UK. If you can't see the package skiing holiday you want to book here, it's worthwhile calling our knowledgeable team as we can tailor make a package for you from your local airport with any airline to any ski resort for any duration.
You can search for the best ski deals from your local airport simply by clicking on one of the airport links below.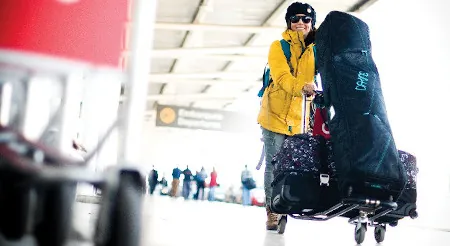 Adding Ski Carriage
If you are intending to bring your own skis or snowboard please let us know at the time of booking, most tour operators and airlines charge for Ski carriage and some airlines have restrictions on the number of skis or snowboards they will load. If you try and add ski carriage at the last minute, it may be too late. If you have added ski's you can also bring a boot bag on the flight with additional costs.

Luggage allowance
Most airlines will allow up to 20kg of luggage to be boarded on to a flight, this is in addition to any ski or snowboard carriage you might have pre-booked. Please check with us for details and any weight restrictions on your flight.
Always pre book airport parking
If you are planning on driving to the airport, you can make big savings if your pre-book airport parking.
Don't Miss your flights
With added security it's important that you allow plenty of time to clear security, as your flight won't wait for you! You should arrive at the airport with at least 2 hours to spare.
New added Security checks on electrical devices
It's well documented that liquids are now restricted on flights but new regulation now requires all electrical equipment is to be charged enough for security staff to see that it can be switched on. If security staff can't switch on your phone, laptop, camera, i-pod or any other electrical device you may not be allowed to bring it on the flight.