On a recent short break to visit a friend and her husband who have been working for one of our most respected ski tour operators, my companion and I decided to quit skiing one whiteout day early in the trip and go to Aquamotion as everyone gets one free entry with their lift pass even if they are only skiing for a short length of time, which was a huge bonus as the entry is normally €25 for the main pool area.
I was blown away by the sleek architecture, it reminded me of the Sydney opera house – lots of glass looking out onto the wonderful views of the snow-covered mountains and fluid looking ceilings which mirrored the moving water below.
The place was absolutely spotless, modern fresh and new looking although it's been open for a number of years you would have thought it had opened just 24 hours ago!
If you want access to the adult only spa you pay €34 (about £30pp) and you can stay all day if you want to.
The changing rooms were large and clean with a simple locker system that worked well. The showers were great and there was a huge area set aside with plenty of hairdryers in front of huge mirrors and also a costume spinning machine to dry out your wet togs which were all free of charge.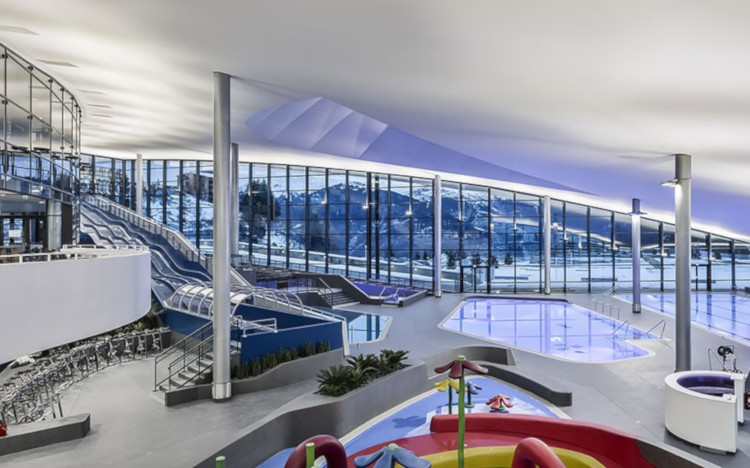 If you are a family the children will absolutely love the family area – it's bright and colourful and full of everything aquatic that a child will absolutely love. There's an indoor/ outdoor heated pool, three 45m water flumes to slide down and a pool which is specially designed for jumping in and diving. There's also a 110m long wild river too. The baby pool is full of brightly coloured water-based fun sprays, waterfalls and slides. The whole family will enjoy this area and will probably want to come back for more!
The even better news is that children under the age of 3 are free of charge, 3-12 years of age are only €6.50 and you can also buy family passes which are good value too.
There's also a specially designed wave area where you can learn to surf or practice surfing, it's an extra cost but is a great deal of fun! It's also great fun to watch others try it out too.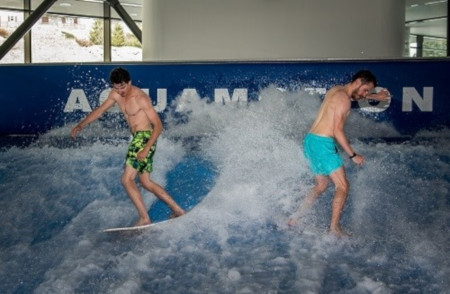 The Aquawellness area was so relaxing as they don't allow any children in there. There's a large indoor heated indoor/outdoor pool surrounded by comfortable loungers and double cocoons.
As you swim through to the outside pool the steam rising from the warm water clears and you have a beautiful view of the surrounding pine trees and mountains covered in snow. The outdoor pool area also has jets and waterfalls to pummel your aching muscles and a jacuzzi area too.
There's a saltwater cave which has flotation aids and where the lights are low. This is a very relaxing area – they often have videos playing with soft music too.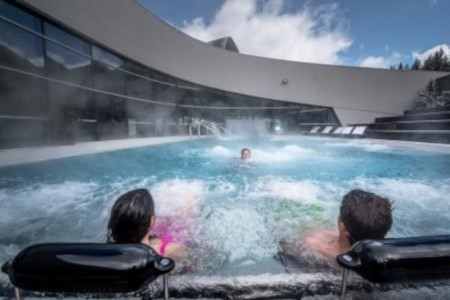 The 3 steam rooms are fabulous, in fact, I'd go as far as saying that they were the best steam rooms I have ever been in, you didn't even notice a temperature drop when the door opened, that's unusual. There are ample showers and cold buckets for the cooldowns too.
The Finnish and regular saunas were glass fronted to make the most of the views and were also excellent.
If you want to book a massage or any type of beauty treatment, they have everything there that you could possibly imagine.
There are plenty of restaurant and snack spaces to choose from catering to all ages and preferences too.
If the spa and water thing isn't your scene there's also the huge climbing wall. This can be seen from outside the building and through glass panels in the corridors inside the building too. There climbing walls especially for children and also for adults and for all levels too with fully qualified instructors on hand.
There's a well-equipped gym if you fancy stretching your muscles after a hard days skiing.
One of the most interesting things I saw was the ICAROS flight simulator on which you wear 3d virtual reality glasses. The machine was fabulous and gives you the effect that you are flying, diving or driving through virtual worlds (a bit like Superman or woman!) It makes you use lots of different muscles in your body too so it's a great workout and something completely different which may be in a few years will catch on and we'll all be doing it instead of the gym. This, of course, is at extra cost.
You can get to the Aquamotion on the free local buses which are fast and frequent, however, we walked from Courchevel 1650 which only took about 10 minutes.
You can watch a quick video here of the entrance, flight simulators, and views of the climbing wall.
You can see all the details on their website here:
https://aquamotion-courchevel.com/en/
There are some great properties to be found in the 4 different areas of Courchevel from small little apartments up to 5* luxury chalets and everything in-between.
My favourite part of Courchevel is La Tania which is the one that's closest to the links over to Meribel. There are mainly chalets in this tree-lined valley and a red blue and green slope down to the pedestrianised hub. 2 of my favourite chalets there are the Chalet Elliot East which has a hot tub and log fire and loads of character – a proper 'log cabin' and is a short stroll from the piste.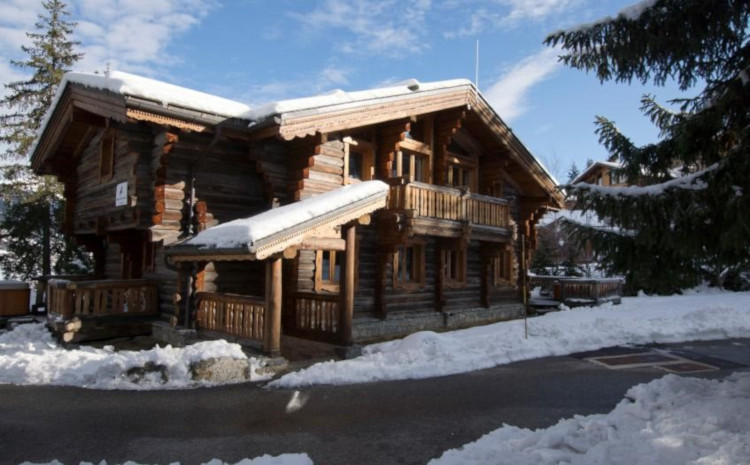 Another favourite in this resort is Chalet Johanna which has a superb lounge, wonderful views from the hot tub and an open fire. With a great location of only 50m to the piste what's not to like?!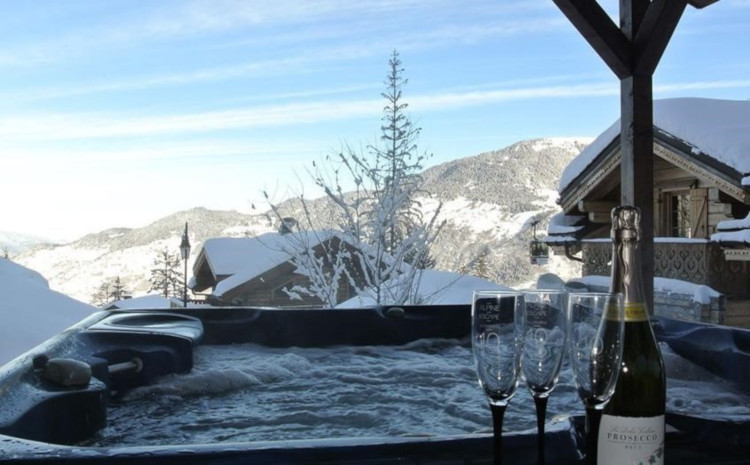 Courchevel 1650 (or Moriond as it's now known) is the closest to Aquamotion and also has a wide range of accommodation to choose from. We like this Chalet Rikiki which is ski in out, large and spacious.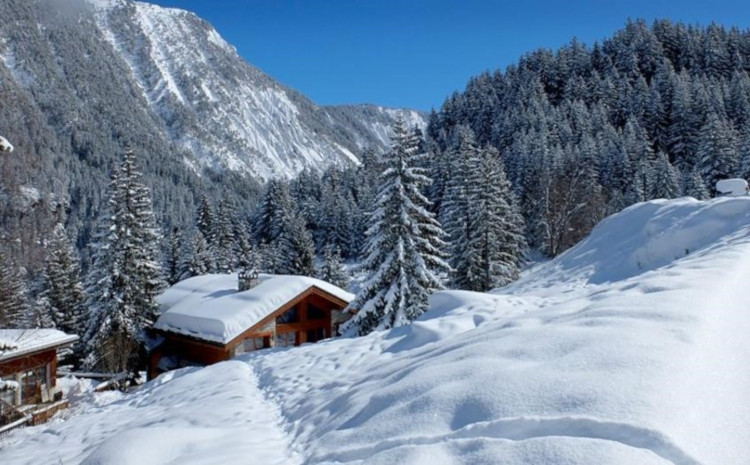 The Loft apartment is self-catered and sleeps 8 – it's very comfortable and has an indoor hot tub, spectacular views and is a fabulous choice for a group who don't want to be tied to certain meal times. There are a vast variety of really good restaurants to choose from in Courchevel Moriond where this super apartment is situated.